It's 2023, and Volusion and Shopify stand as two of the best e-commerce platforms in the world. Volusion has recently revamped its interface to offer a more streamlined editing experience, but
Shopify's simple dashboard and site builder remain superior.
Additionally, Shopify comes with tons of helpful features and lets you access over 5,000 third-party apps. With a more intuitive interface and stronger features, it shouldn't come as a surprise that
 Shopify is the overall winner in my book.
So then, Shopify must be the best option for you, right? Well, not necessarily.
My testing also revealed that Volusion has several key strengths
. For example, it doesn't charge transaction fees and has great analytics tools. Plus, Shopify's library of integrations is a double-edged sword, as the costs can pile up quickly. Even if
Shopify is the overall winner
, it's essential to take into account the small differences – and that's what I'm here to do. Read on to find out which site builder is best for growing your business.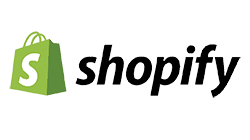 Try Shopify for FREE for 3 days!
See if it's right for you - no credit card required.
Get your first 3 months for only $1/month!
407 users used this coupon!
Templates
Shopify Offers Almost Twice as Many Templates as Volusion
Most of Volusion's templates look sleek and polished, but there are only 45 of them
.
About 11 templates are free
, while the rest cost $180 a pop. The templates aren't categorized either, so finding the right design for your industry may be a bit time-consuming.

On the plus side,
all Volusion templates are mobile-responsive, so your store will automatically look good on smaller screens.
 You can customize colors and fonts, although there are not many colors and fonts to choose from. And if you know how to code, you can make more changes by editing your site's CSS and HTML.
Shopify offers over 80 templates, 9 of which are free
 (premium templates cost between $100 and $180 apiece). The templates are modern, professional, and mobile-responsive. You can customize colors, fonts, layouts, social media buttons, and more. Plus, each template comes with 2-4 alternative color palettes, so you can easily change your site's tone.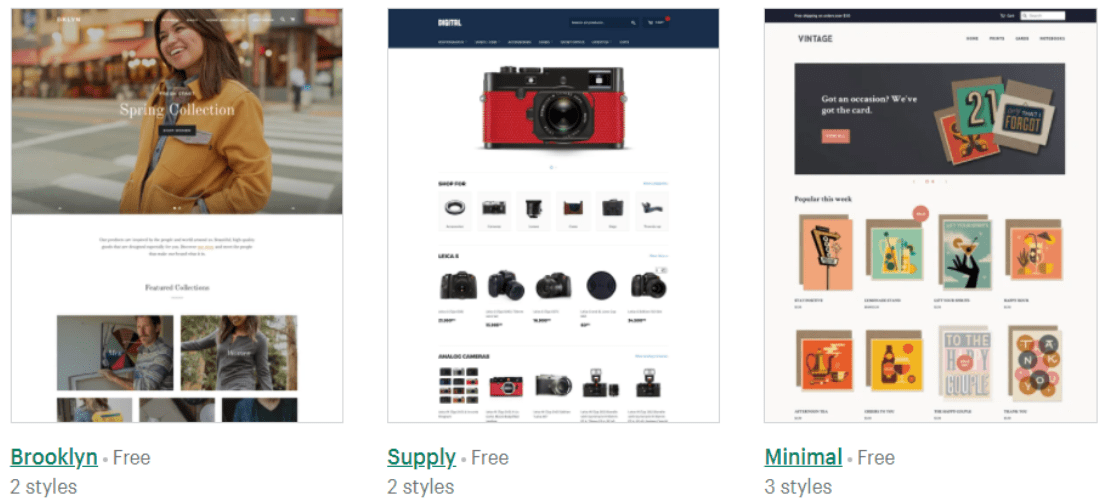 If Shopify's templates don't cut it,
you can get a template from a third-party marketplace like ThemeForest, or hire a developer to create a custom design for you.
 You can also edit your template's code, but you should have a basic understanding of Shopify's unique templating language first.
Features and Ease of Use
Can Volusion's Revamped Editor Compete with Shopify's Super-Intuitive Interface?  
Volusion has redesigned its drag-and-drop editing interface to be more intuitive, but it's still far from ideal
. It's difficult to add new page elements, like one for your company's background, or edit existing content. For instance, it took me a while to realize that you need to click on a blue link on the left to edit text boxes.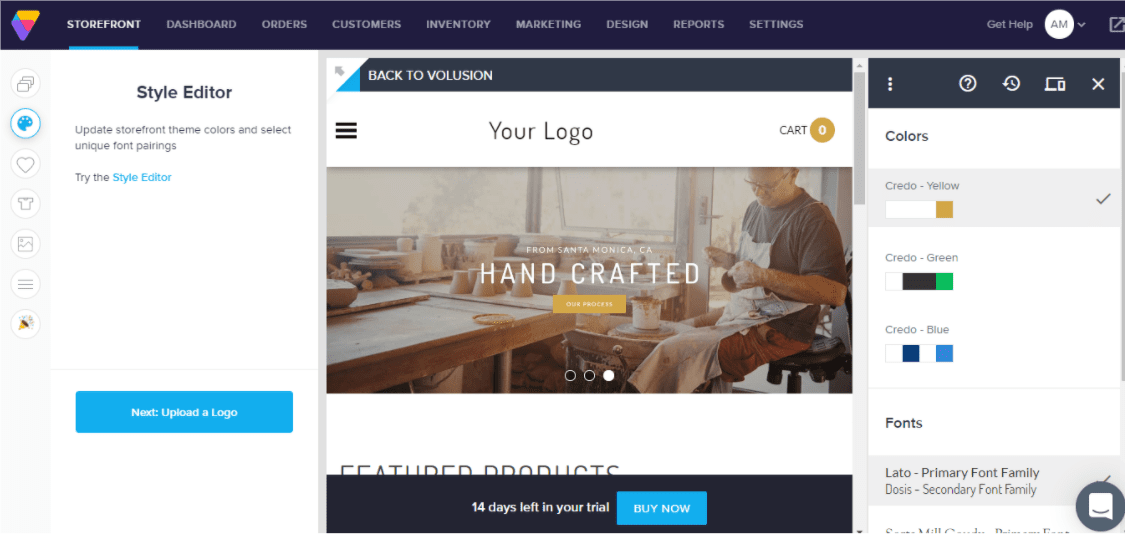 Luckily, Volusion's editor has
built-in tutorials for every stage of your store creation, from adding products to designing your site's navigation. But while these tutorials are helpful, there's still a lot of unnecessary clicking required just for simple actions, like displaying a piece of text.
By contrast, Shopify's drag-and-drop editor is much better suited for beginners
. It's very easy to add and customize template sections such as columns, images with text overlaid, testimonials, slideshows, newsletter sign-up forms, and more.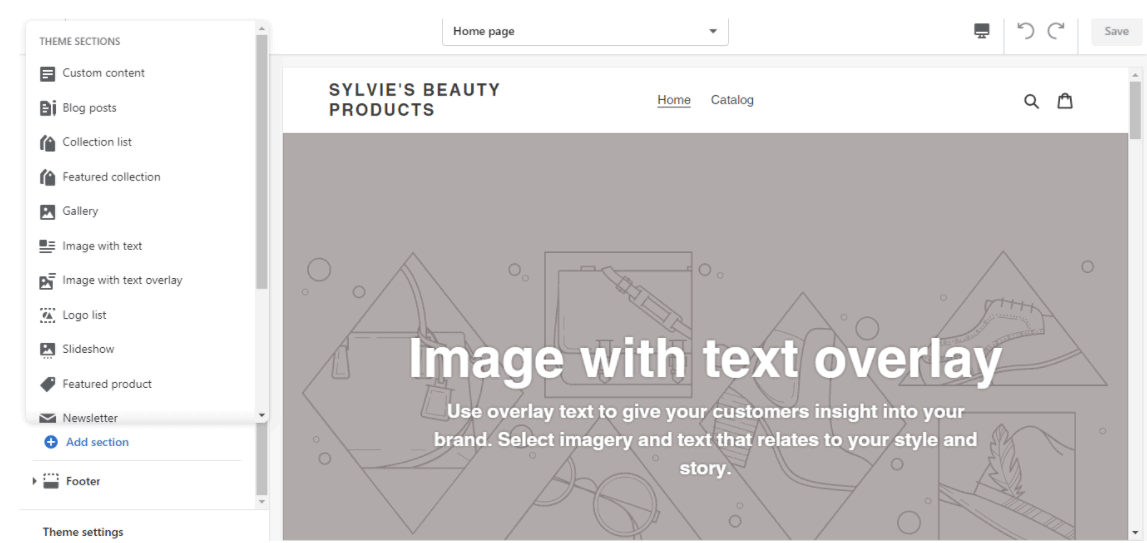 E-Commerce Features
Volusion has a couple of standout features that make it a worthy competitor to Shopify. For example, its
Deal of the Day feature
 lets you create a landing page for a particular product you want to promote, which you can then add to your store's navigation.

Volusion also includes a feature for suggesting related products to your visitors – something that you'd need a third-party app for on Shopify. And, unlike Shopify,
with Volusion's point of sale (POS) system,
you can create orders for your customers
, which comes in handy if you accept phone orders or in-person orders. Other perks with Volusion include a mobile app for managing your store on the go, tools for building affiliate programs, the ability to sell digital products, and recurring billing systems. On the other hand, Shopify's slick dashboard makes it easy to manage products, orders, and inventory. Some cool tools include the ability to: sell digital products; create pages that require customer logins;
synchronize your physical and online shops via Shopify's POS system
; and
enable one-click checkouts
, so your customers have a seamless shopping experience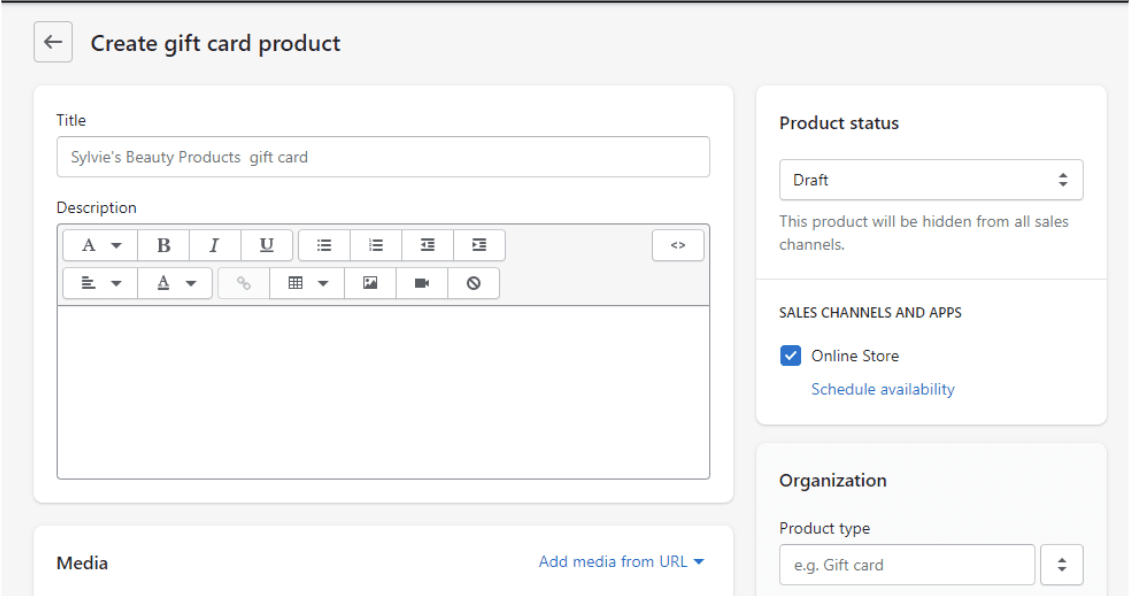 One standout feature is the Shopify Fulfillment Network, which lets you know which fulfillment center you should ship your products to, based on where your orders come from. And if you live in the US, you'll be able to use Shopify Shipping, which
displays different carriers' shipping rates in real time and gives you big shipping discounts.
Blogging Features
One big downside of Volusion is that it doesn't have its own blogging tools
, which are important for reaching customers and ranking high in search engine results. The most you can do is link a blog from another platform to your Volusion store.
Shopify has a built-in blogging platform with all the essential features,
 such as the ability to add images, embed videos, manage comments, schedule post publishing in advance, and more. You can also choose to publish posts in bulk and invite customers to subscribe to your blog through an RSS feed.
SEO and Analytics
Volusion has a solid set of SEO features that allows you to modify titles, meta descriptions, URLs, add alt text for images, and more.
 However, there are a couple of shortcomings. The first is that Volusion attaches strings of letters and numbers at the end of your customized URLs, which looks bad and can hurt SEO. Second, when you upload images, they are automatically given generic names, like "product/236," which also doesn't help your SEO. You can still edit the names, but it's a hassle. What's cool, though, is that
Volusion automatically creates a sitemap of your online shop
, so that search engines can scan your site easily.
Shopify has similar SEO capabilities, including the ability to edit titles and meta descriptions, and automatic sitemap generation.
 It also has a system that lets you redirect visitors from an outdated URL to the new one, which reduces 404 errors. Plus, Shopify's URL strings aren't as messy as Volusion's, and take the form of actual keywords, such as /category/.
Analytics is where Volusion really shines
. It has a comprehensive reporting system that lets you generate reports based on order information, product views, category views, and more. There's also an ROI tracker that provides info on sales driven to your store via advertising campaigns, affiliates, and more.

Shopify Analytics gives you insight into your store's transactions, speed, and visitors.
 Financial reports and product analytics are available on all plans, while more advanced metrics like order reports and sales reports are only available on higher-tiered plans. You can also integrate third-party tools, like Google Analytics.
Marketing Features
Volusion has strong marketing features:
 you can set up a store on Facebook, Google, eBay, and Amazon, so your products are available everywhere. You can also create coupons and discounts, enable Google customer reviews, and more. However,
Shopify's marketing tools take the lead here – especially its email marketing features.
Shopify Email lets you run and analyze marketing campaigns
. You can choose from ready-made email templates that automatically pull your logo, products, and store colors. Best of all, you get to send up to 2,500 emails per month for free.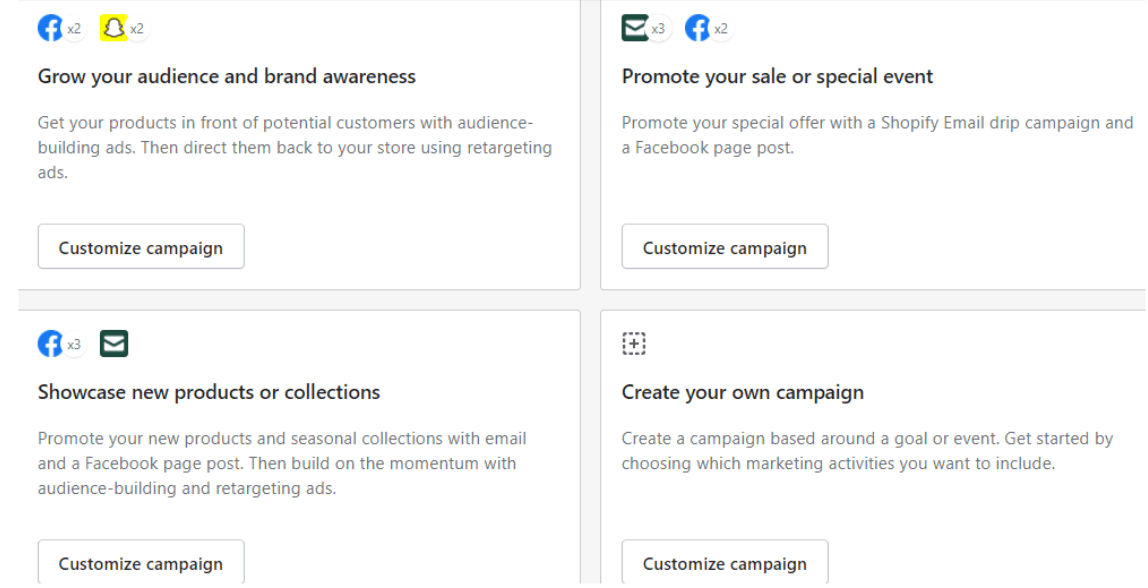 Other standout features include an option for promoting your products with free Google listings, selling on Facebook and Instagram, and Shopify Ping, which is a free messaging app that allows you to stay in touch with your customers and your team members.
Apps and Integrations
Volusion Has More Built-in Features, but Shopify's Extensive App Store Is Tough to Beat
Volusion includes a lot of features that you can only get by installing third-party apps on other e-commerce platforms. But if you need more,
Volusion's App Market counts around 70 apps
, ranging from marketing tools like Justuno to customer support platforms like Answerbase. However,
Shopify excels when it comes to third-party integrations, as you get access to over 6,000 free and paid apps.
 You'll be able to find a tool for practically anything, including dropshipping apps, live chat apps, countdown timers, loyalty programs, and a whole lot more.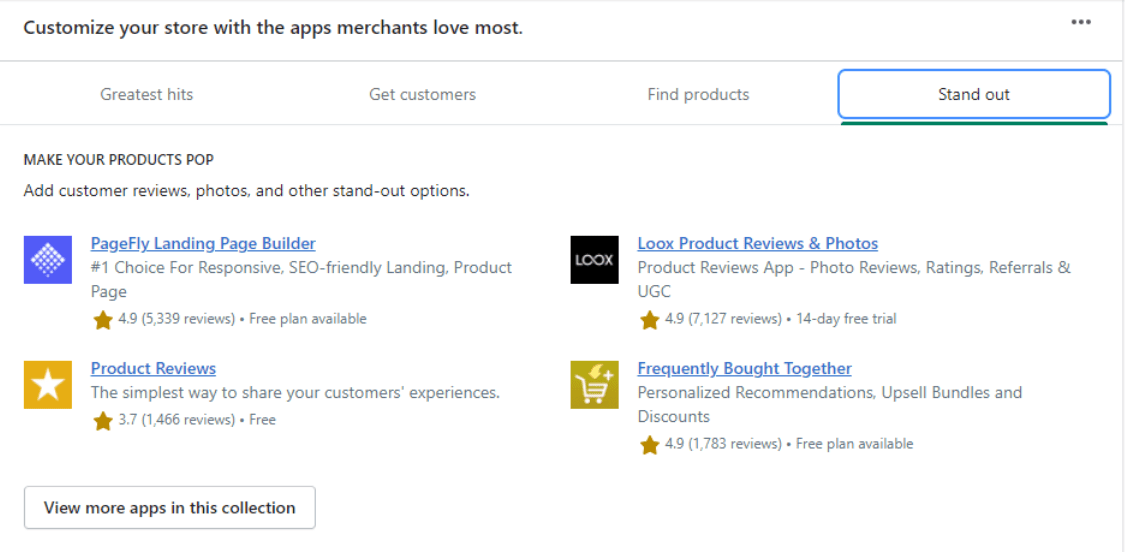 Volusion integrates with over 30 payment gateways, including PayPal and Stripe.
 However, the number changes based on your location – if you're in Europe, you have significantly fewer options compared to users based in the USA, for example.
Shopify takes the win here as it integrates with over 100 payment gateways.
 Both platforms also have proprietary payment solutions – Volusion Payments and Shopify Payments – but Volusion Payments is only available in the US, while Shopify Payments can be used in 17 countries. Shopify Payments gets rid of the transaction fees you would have to pay if you used another payment gateway. With Volusion there are no transaction fees to begin with, but
you do have to
pay a monthly fee to use Volusion Payments
. And unlike Shopify Payments, it doesn't support multi-currency selling.
Pricing
Both Builders Have Similar Prices, but Shopify Provides Better Value
Neither Shopify, nor Volusion have free plans, but both offer
14-day free trials
 that give you access to most major features.
Volusion has four plans: Mini, Plus, Pro, and Premium.
 All plans include SEO tools and social media integrations, while features like Deal of the Day and Amazon and eBay integrations are only available on the higher tiers.
Shopify has three plans: Basic Shopify, Shopify, and Advanced Shopify.
Each plan offers a range of features, including unlimited products, abandoned cart recovery, Shopify Shipping, Shopify Payments, multilingual stores, and 24/7 support. With higher-tier plans, you gain the flexibility to increase the number of staff accounts and allocate inventory to additional locations.
Shopify lets you sell unlimited products on all plans, while Volusion caps you at 100 products on the first tier.
 However, Volusion's second tier (Plus) is closer in price to Shopify's first, and that plan lets you sell 1,000 products – so for smaller stores, this may not matter much.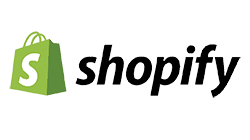 Try Shopify for FREE for 3 days!
See if it's right for you - no credit card required.
Get your first 3 months for only $1/month!
407 users used this coupon!
With both platforms, it's important to pay attention to extra costs
. If you don't use Shopify Payments, you'll have to pay Shopify transaction fees in addition to any fees imposed by third-party payment processors, and the overall cost can build up significantly depending on how many apps you use. With Volusion, you also have to take into account credit card processing fees and app costs, and you'll have to pay extra for SSL certificates and fraud protection. And with either platform, you may end up paying for a template.
Volusion Mini
Basic Shopify

Free SSL certificate

✘

✔

Bandwidth

Unlimited

Unlimited

Staff accounts

1
2

Number of products you can sell

100

Unlimited

Abandoned cart recovery

✘

✔

24/7 customer support

✔

✔

Starting price

$

35.00

$

29.00
Support
Volusion's Live Support Is More Responsive, but Shopify Offers More Channels
Volusion doesn't have email support, but it does offer live chat access on all plans
and phone support on the Professional plan and above, in addition to plenty of helpful articles and guides. Their customer agents are friendly and always ready to help.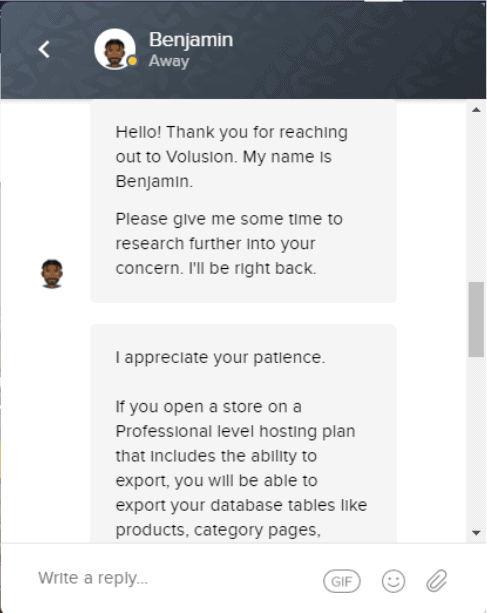 Shopify offers email, live chat, and phone support
. However, since it handles a much higher volume of support requests, it's a lot less responsive compared to Volusion. Shopify also has a community forum, and a help center with how-to articles on everything – from creating dynamic color schemes to customizing email notifications for your clients.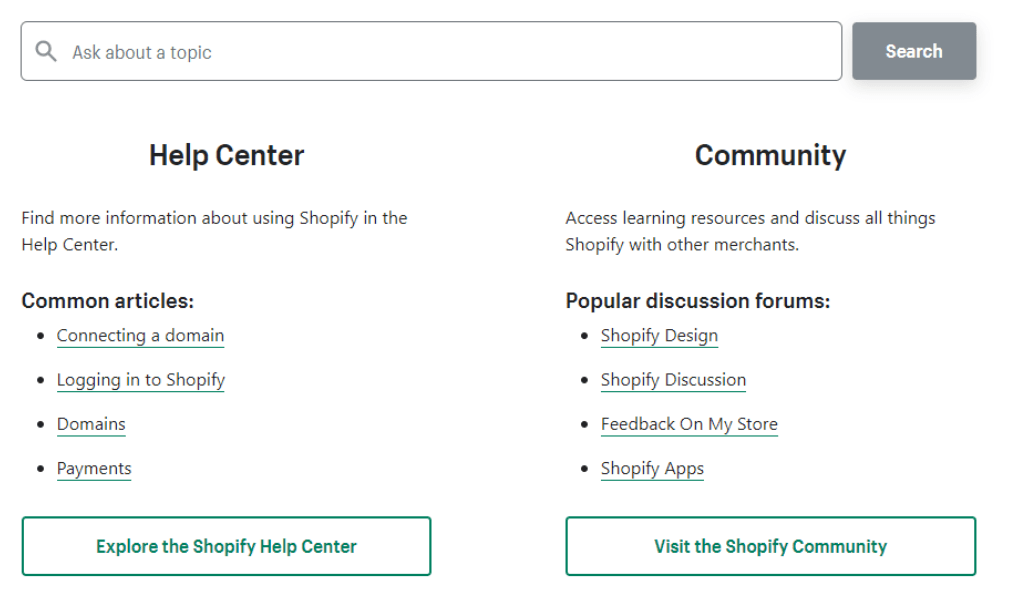 Volusion Tries Hard, but It Can't Outperform Shopify
If you're looking to scale your business quickly, Shopify is the best choice
. It's suitable for beginners, offers better sales features, and has a plethora of third-party integrations to extend your site's functionality. On the other hand,
while Volusion excels at analytics features, navigating its interface can be tricky for newbies.
Even so, it comes with attractive designs and plenty of helpful features to help you create a simple online shop. If you're not into either of these platforms though, take a look at our list of
the best website builders for 2023
 to find what you need.
Apps, Plugins, and Add-ons
Pricing and Plans
Free trial and four paid plans
Free trial and four paid plans
Support
Support documentation, live chat, and phone support
Support documentation, community forum, email, live chat, and phone support
FAQ
Is Volusion better than Shopify?
Volusion has some polished templates and a solid set of features, including strong marketing and analytics tools. However, Shopify has a more intuitive interface, better sales features, and more third-party integrations. Shopify also lets you sell unlimited products on all tiers, while Volusion does not. So overall, Volusion can be more affordable for smaller stores at first, but Shopify is best for businesses looking to grow. And if you're prioritizing ease of use, Shopify is definitely better. If you're worried about the cost, you can use our coupons to get discounts on Shopify's annual plans.
Which is easier to use, Volusion or Shopify?
Although Volusion's interface is more user-friendly than it used to be (and has helpful built-in tutorials), it's still not as intuitive as Shopify's. Adding products is straightforward on both platforms, but it's easier to personalize your store with Shopify because it requires fewer steps to make basic changes.
What is the best website builder for a small online store?
Both Shopify and Volusion are solid choices, but if you only want to add a few products to your store, there are other, easier-to-use options out there. Zyro is an excellent choice for smaller shops: it's super simple to navigate and doesn't charge transaction fees. Our list of the best website builders for e-commerce has even more options.
Is Volusion going out of business?
In 2020, Volusion filed for Chapter 11 bankruptcy protection to "recapitalize the company, fund future innovation, and strengthen our balance sheet." However, this hasn't stopped it from operating as usual for customers.