Providing customer support that is easy to access and quick to respond is key for turning website visitors into customers and keeping current customers happy and loyal. We spoke with
Pascal van Opzeeland, CMO
of
Userlike
about how their unique platform combining website chat and messaging channels fulfills everything customers are looking for in support and more, while at the same time making the process smooth and enjoyable for the operators.
This interview was originally published on May 17. 2020.
What is Userlike?
Userlike is a customer support solution for website chat and messaging channels, the combination of which sets us apart from other platforms.
What are some of Userlike's features that help build customer satisfaction?
Customers want to access support services quickly, with minimal effort and want their issues resolved promptly. For these reasons, telephone support is notoriously frustrating. Customers need to look up and dial a number and then wait in a queue for an uncertain amount of time. And finally, when they reach a support representative and explain their issue if that person cannot help, they are transferred to someone else and must go through it all again. Customer support through chat and messaging makes the process a lot smoother and easier. The only effort involved in connecting to a representative is usually a click, and as they type, everything is instantly documented. In the event, the first person they communicate with cannot help, a transcript of their issue accompanies them to the next representative eliminating the need to repeat themselves. We built these and other features into Userlike to make the customer experience even better. For example, whenever possible, our
Sticky Chat
logic automatically connects visitors to the operator with whom they have chatted before. Speaking to the same person and having context helps build personal relationships. Our
Group Select
feature gives you the ability to group your operators by department or expertise, so customers can select who they want to talk to from their very first communication.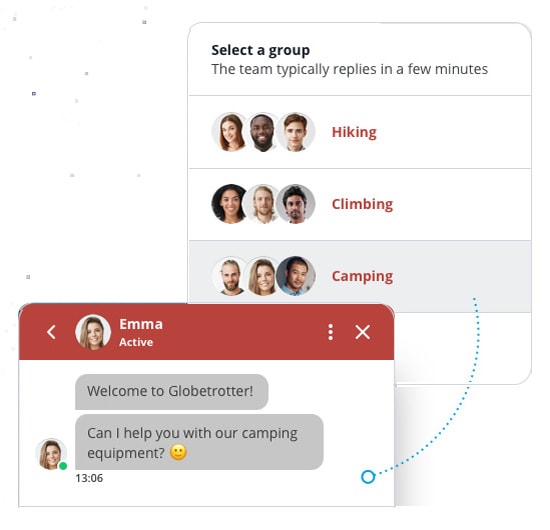 In more advanced setups, by adding
Skills
to your operators, you can route customers to the appropriate chat operators. For example, you can configure Userlike so that customers who initiate a chat while viewing Product A on your Spanish website are routed to an operator who is knowledgeable about Product A and speaks Spanish.
Can customers rate their experience?
After a support interaction, customers receive a prompt where they can rate their experience from 1 to 5 stars, and if they want, add qualitative feedback. This feedback is immediately available to the operator so they know how they have performed.
What features improve the chat process for operators?
We put a lot of care into making our solution enjoyable for the operator as well, since it can be quite challenging to give excellent service when you are frustrated.
Chat Macros
significantly increase an operator's speed. These are predefined answers or "canned messages" if you will, for common questions and situations. Operators can use a shortcut or simply start typing, and the system recognizes it and displays the entire message.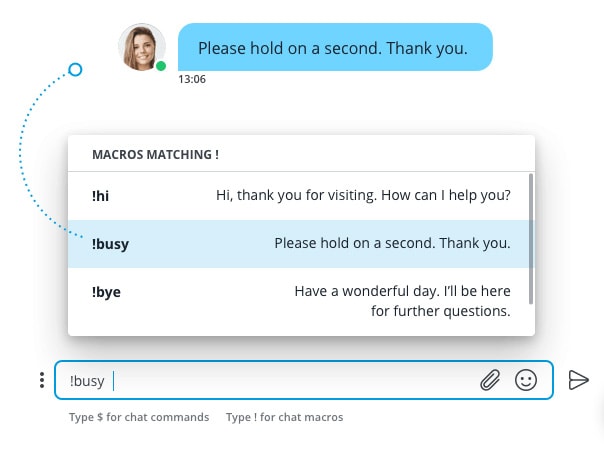 Chat Slots
are unique to chat and messaging as compared to the phone. Since chats do not take an operator's entire focus, you can use slots within Userlike to define how many customers an operator can chat with simultaneously. Of course, this type of multitasking comes with experience, and while we make it is possible to help up to ten customers at the same time –  I don't know anyone who can do that! One of our newest features is
Live Translation.
In the event a user from, let's  say
,
France connects with a German chat operator, you can activate live translation, and it will automatically translate messages from French to German and vice versa.
How can Userlike be used for lead generation?
The inherent nature of chat, especially website chat, makes it an excellent tool for lead generation as the people asking questions are already interested in your product. Our
Chat Push
feature can guide a customer from their initial question through the sale. With the customer's permission, you can take control of their website session and take them to a page on your site to help close the sale. To avoid abuse, customers can only be guided to pages on your website.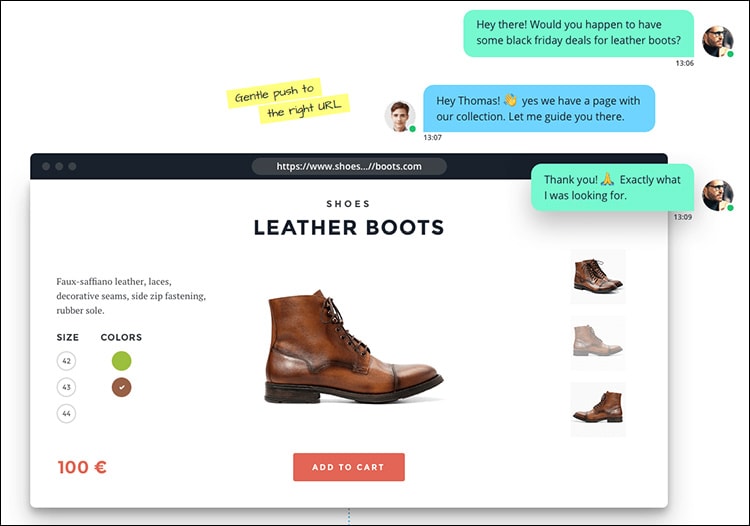 Companies can also use our JavaScript API, which requires a bit more of an advanced setup but allows them to connect Userlike to their back end. Now, for example, an operator can see any products already in a customer's shopping cart and use that knowledge for upselling. While website chat is great for making quick sales, messaging channels like WhatsApp are very effective for closing sales on products with a longer buying cycle. Business software, for example, rarely goes from initial contact to purchase in the first session. Messaging is an excellent way to maintain customer relationships by staying in touch and answering follow-up questions.
Does you support other messaging apps for keeping customer connections in a single platform?
We believe messaging – whether on a website or over mobile messengers – is the best, most convenient way to communicate. Currently, we support WhatsApp, Facebook Messenger, SMS, Telegram, and website messaging, with plans to expand to other messaging apps in the future. When customers send questions and receive answers on their phone, they can read their messages at their convenience without disrupting their day. And of course, in the event both the customer and operator are online and available at the same time, their messaging can be synchronous.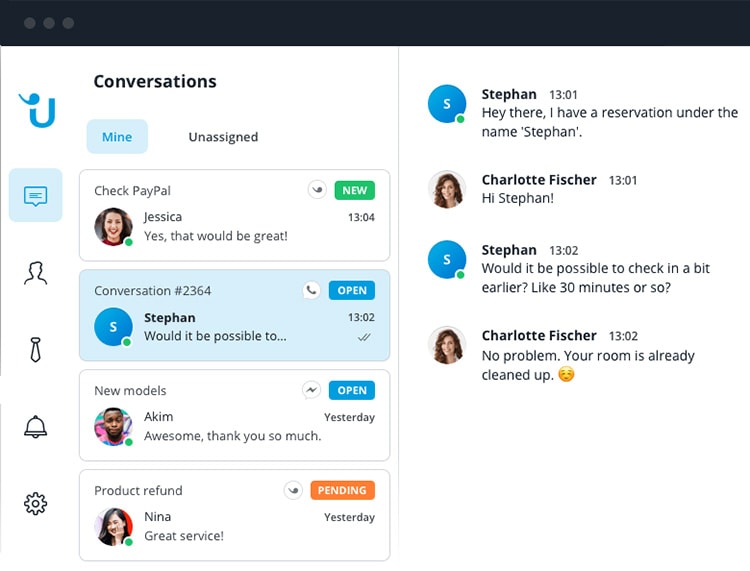 With what other types of apps can Userlike integrate?
We integrate with communication tools like Slack, which notifies the group when a customer is waiting to chat. So, if you have a small support team, no one needs to be online unless they receive a notification, at which time somebody can just click the link within Slack and jump right in. Of course, we also have integrations with CRM solutions like Pipedrive and Salesforce since once Userlike creates a lead, many of our customers prefer to follow it up inside their CRM system. We also offer integrations with helpdesk/ticket solutions. While we are not fans of the ticket approach to customer support, we understand that is how some companies are already operating.
How easy is it to install Userlike?
When signing up with Userlike, you'll receive a unique piece of code to copy and paste into your website. This is an easy process, whether your website is custom built or  using a platform like WordPress, Squarespace, or Shopify. Once installed, you can change the design assets to match your site and configure the logic for the chat features and behaviors you want, such as operator groups or registration forms. You can make changes at any time and they are instantly activated.
Is Userlike GDPR compliant?
As a German solution, following the GDPR policies was not difficult for us because Germany already had strict rules about data privacy, many of which officially became part of GDPR. Within Userlike, we built a data privacy switch that, when turned on, will not collect any customer information that they do not expressly provide. Also, should a user refuses cookies, you can set up the chat so that the button is still visible, but your web visitors will be notified that they must opt into cookies to chat. In Germany, some work councils also require anonymity for operators as protection against being doxxed or harassed, so that is an option we offer as well.
What type of analytics are available, and how can that data help companies improve their customer service procedures?
Most of our customers use our built-in analytics, but Userlike can also be integrated with other analytics solutions like Google Analytics, Kissmetrics, or Mixpanel. Our data can show if your support services are over or under capacity. If you see times when all the chat slots of every operator are occupied, and new chat requests are switched to leaving offline messages, you might want to add another operator during those times. Conversely, if you see there are times when almost no operator has any chat activity, you are likely at overcapacity. There is also the ability to compare an operator's performance against the average or to others in their group. Take the metric of response time, for example. If an operator's average response time is two minutes, while most operators have an average response time of 30 seconds, that indicates a problem. Combined with customer feedback, it's a powerful and important tool for quality assurance.