StoreYa first broke into the market with it's Facebook eCommerce app, the flagship app that allows online retailers to display and sell products right from Facebook. Six and half years later, they have an impressive suite of marketing and advertising apps which help over 200,000 SMBs increase sales, leads and social following. In this interview,
StoreYa COO Eyal Reich
describes the challenges that eCommerce SMB's are dealing with and gives some valuable conversion tips for all digital entrepreneurs out there.
Please describe your personal and company background
I'm Co-founder and Chief of Operations at StoreYa. Before founding the company, I was working as a project manager in a company that specializes in the design and development of sites and mobile apps. I Managed large scale projects for clients like National Geographic, MTV, 888, Twitter, and many more. That's where I got my experience in creating an online business. I spent 4 years doing that, and another 2 years as an online retailer. I sold Holyland products for the conservative evangelist market in the US. On this particular project, I had about 20 bloggers writing content about Christianity and Jesus. I developed a Shopify store, an eBay store, and sold a lot of merchandise on Amazon until I reached a 7-figure business. At the same time, I was managing a Facebook community that had a lot of content shared on it, but I wasn't making money out of it, so I began to think,
how can I monetize Facebook
? Together with my soon-to-be partners, we began developing a Facebook shop App which displays products on your Facebook fan page, and I was the ginny pig 🙂 I saw a positive ROI and decided to leave the other business so I could focus on further developing it. That's how StoreYa's first product was born. After that, we continued to develop more marketing and advertising apps which increase conversion rate and sales. These days, StoreYa is 6.5 years old and has a range of apps it offers to over 200,000 clients in the US, EU and the rest of the world. We support more than 30 e-commerce platforms, including all the big names like Shopify, Magento, Woocommerce, and Opencart, to name a few. We developed onsite promotions, coupon pop-ups, and referral programs, but identified that the biggest challenge for SMB's is getting targeted traffic. So we launched the traffic booster which helps customers set up, manage and optimize Google ad campaigns that we operate on their behalf. We use the entire arsenal of business tools that Google has to offer in a straightforward way that any customer can relate to. All they need to do is fill out a form and let us do all the heavy lifting for them. They can see the traffic, orders, and sales we generate for them by logging into their StoreYa account, Google Analytics or via weekly email reports.
We have 3 plans to choose from. You can start with a minimal plan and upgrade once you see the positive ROAS.
Traffic booster has been a game changer for us because our clients get much more business out of it. To duplicate our success, we are working on advertising our clients on Facebook and Instagram so we can provide across advertising solution for our clients.
What are the challenges that online retailers are facing today, and how does StoreYa help?
Amazon, the biggest player in the market, which is also the most trusted site online with the biggest product catalog and best shipping options, is just one of the giants that are challenging SMB's today. The combination of size and reputation makes it very hard for SMBs to compete with. Finding the right products to sell can also be challenging. eCommerce platforms like Shopify make it very simple to import thousands of products to your store, so anyone can launch an online store these days, but in order to do it in a smart way and build a real brand around it, you need to choose the right products. Finding the right audience in the right media channel, and driving them to your store with an advertising budget that makes sense will keep you (the online seller) with a positive ROI. With conversion rates ranging between 1% to 3%, online sellers must put a lot of effort into generating leads in order to get the most out of their marketing. Online shoppers changed the way they shop these days. They use sites like Amazon to search for products and not just Google. They ask for recommendations on Social Media and use their mobile phones to read product reviews while they are inside the store. They pay for purchases using all sorts of payment methods that they haven't used before. Online sellers can face growth challenges so it's very important to choose the right technology partners that will add value and take your business to the next level. With StoreYa's Traffic Booster, we provide our clients the option to keep focusing on their products, keep doing what they love and let us drive their targeted traffic using Google, Facebook, and Instagram ads. Our passion is helping a small business owner to put food on the table and not help a CEO of a fortune 500 company to buy a 3rd Ferrari.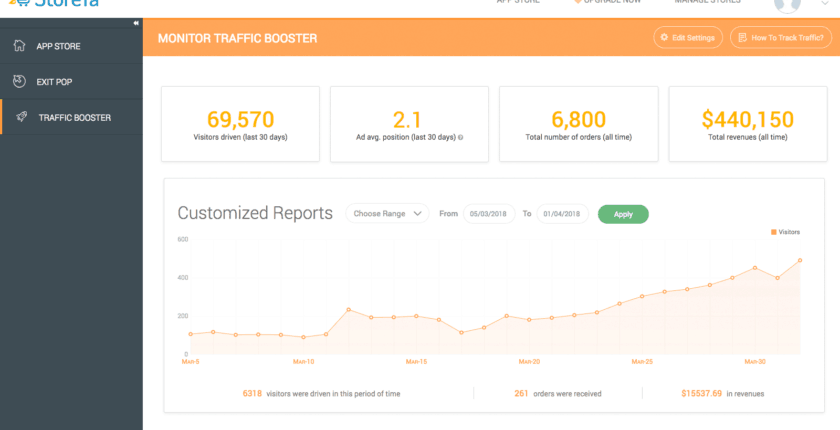 What are your top recommendations for increasing conversion?
There are a few things you can do that are all easier said than done. First and foremost, you need to focus on a niche. Don't open a general store selling multiple products from different categories. Build a brand and start to promote your best selling product with promotions. Try to be as communicative as you can, as that is the value of SMB's over monsters like Amazon. You get the option to be personal with your target audience. Add a chat widget like messenger or WhatsApp on your website. Try to provide the best support possible, and give your customers the right advice at the right time. You can improve sales by at least 20% just by providing the right support at the right time. Try to provide the best shopping experience in as minimum clicks as possible, from homepage to product to check out.
Avoid compelling users to open an account and reduce the number of checkout fields to a minimum. Utilize recognizable trust badges, affirming "secure payment by XXX." Demonstrate the security of your site and assure the safety of payment and personal information. Foster a sense of comfort to facilitate a swift and confident checkout experience. Implementing these strategies will result in heightened conversion rates and a reduction in bounce rate. We also see that in order to improve conversion you need to offer promotions with banners, pop-ups, and other eye-catching elements. Regardless of how you do it, it's really a must. You're competing against bigger players and they are providing promotions. You don't have to provide large discounts. An offer of 50% off could sound fishy and smell too much like a scam. Provide a promotion that is real for your clients. According to a case study we did in the US, tracking the behavior of 30 million people, the sweet spot for online promotions is between 10-15% discount. So offering discounts is important, but don't overdo it. Another thing which is important is to create a great product description. A lot of people tend to not focus on the product description but it really is a must. The majority of customers still prefer offline shopping, because they can examine the products closely. You need to be able to resemble that experience by making your product descriptions as detailed and as possible. If you provide 2 lines on each product, your bounce rate will be high because you didn't provide enough information or you didn't have the right tone of speech. You should try to find out what lingo is perfect for your audience according to geography and demography. Humor can be quite useful if it fits with the brand lingo. Essentially you want to create a sales pitch that is perfect for your specific target audience.
Which technologies do you find to be most intriguing these days, and why?
There is no doubt that AI is the next big thing in eCommerce and in general, and we see that with our solution.
We basically take a huge bite out of traditional agencies in the way they advertise. StoreYa built an AI system that will set up your campaign and optimize your ads in real time, 24/7. It doesn't matter if you have a dedicated campaign manager or ten of them, they will never do it better than an AI system. I also see great potential in niches like virtual reality, which is still making its first steps in eCommerce. I can say without a doubt that virtual reality will get bigger as time goes by. We all want a good shopping experience that gives customers a sense of the products' look and feel, and to conclude in as fewer clicks as possible. We want customers to feel confident about their purchase and do it as quickly as possible, from homepage to checkout. Another thing I strongly believe in is voice search devices like Alexa. In years to come, voice search will become bigger, and small business owners will need to prepare themselves to a revolution where people will stop typing search queries and start asking their device instead. Questions like "Looking to buy the new iPhone" will output recommendations based on multiple parameters. In order to be noticed, sellers will need to prepare themselves with the right skills, tools, and ads. It will be a challenge for online sellers, but once it takes off, a lot of fascinating things will come to life.
Is there anything else that you would like to say to our readers?
If you're reading this and you're selling online, you are a part of the future. I'm very optimistic about the future, but there are a lot of challenges ahead. Focus on your brand, show your unique voice and provide added value to compete with big players.