StoreMaven
is an AI-powered mobile growth platform and the world leader in App Store Optimization. In this interview, CEO Gad Maor talks about the inherent difference between web and mobile optimization, and expresses his views on the future of the industry.
Please describe the story behind StoreMaven and its evolution so far.
Ten years ago, my two co-founders and I started a company called Shaker. We had a completely different vision then, to replicate experiences that previously were only possible in the physical world. While trying to get people together and connect artists and fans, we managed to raise 22M dollars from supporters like Lady Gaga and Justin Bieber. A few years later, we converted Shaker into a gaming company, which eventually was acquired by Playstudios, a brand which, nowadays, is one of the top gaming companies in the US. Our story begins when we pivoted from games to web to mobile. During those days, a lot of companies were becoming mobile-first. As you look at the inherent difference between web and mobile, one of the first things that come to mind is that when your product is an app, the only way users can install it is on the app stores. Unlike the web where you have Google analytics and you can experiment on the website and optimize to get more business, on the app store there's no website, just a page on the app store. Those industries that we take for granted like optimization and analytics, which help us understand what potential users are doing when they interact with our brand, are only relevant to the web. In the app store, such a solution didn't exist. There was no way to understand what users are doing on the app store: why aren't they installing the app, and what can we do to get more audience. So when we pivoted to mobile we realized we had lost control over the heart of our funnel, which is the app store page. We invested a lot in driving users to the app store, but there was no ability to optimize the results. We searched online for a solution to the question, how can we optimize app store entries, but there was nothing there. It was interesting to discover that this space was completely uncovered, but more importantly, we really felt this is something that needs to be resolved. Taking on this challenge seemed only natural for the people we are and the companies we've built. As it's hard to just guess what to put on the app store, making brave decisions through data was the right way forward. We started StoreMaven officially in 2015. Unlike the first route where we raised VC funds, here we completely bootstrapped. We had an interesting philosophy on how to build Saas companies, which said we don't just develop, release, and gather reviews, but we do all that while collecting relevant data from clients to help us make better decisions. We started with a small business team. Wherever we had to service a technology that quickly engages with clients, they could see the value before they even finished the development cycle. This meant that we started to solve the problems even before developing the full product. These clients started to get valuable insights and helped us build the perfect product to solve the app store problem. They also got a good understanding of their audience, helping them to distill their strategy of building great products. So 2015 was all about launching. We quickly got adopted by some of the top game clients in the San Francisco bay area, because we were the first to say there's a way to understand why users are not installing apps. We're empowering marketers on this sensitive area of the app store. Right before users click the BACK or INSTALL button, that's where we can learn about the decision process. We grew with clients like Candy Crush, Zinga, and Electronic Arts. Later on, we were seeing more apps coming into this market. To summarize, we are an unbiased partner for app store testing and analytics, showing what users are doing when they land on an app store page, and helping our customers make better decisions based on real data.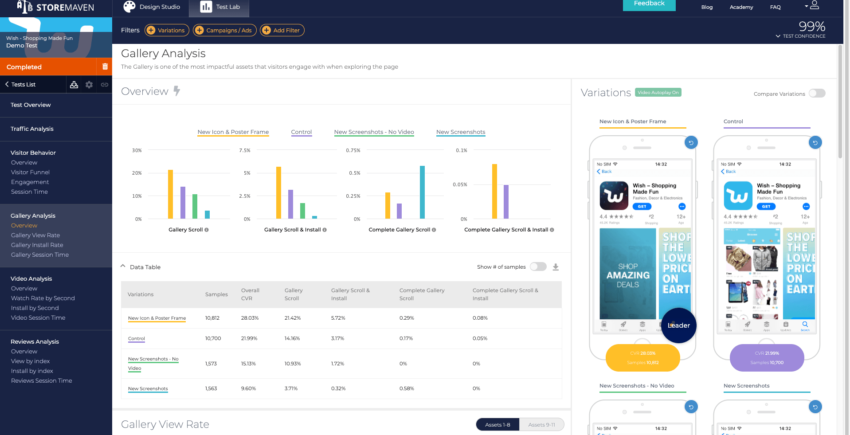 What are the Fundamental Principles of Good App Store Optimization (ASO)?
I've spent a lot of time thinking about the market and criticizing old beliefs about what optimization actually is. Optimization is about taking something good and making it better, making the most of it. The optimization market started with 2 pillars:
Optimizing creatives to get more conversions, I can upload icons, screenshots and any visual information that will make my app more appealing to the specific audience I'm targeting.
Optimizing keywords that help to get more discovery and work better with search algorithms, so that users searching the app store will hopefully find my app.
When we look at app store optimization, it becomes much bigger, not only because of the tremendous value and impact it has on the number of installs but because of the way we interact with the industry. We compare it to the stock exchange market. Everyday companies are listed and there's trade, PR, word-of-mouth, advertising, and Competitors Actions. The audience buys and sells and at the end of each day, everything we did changes the stock market values. When you look at it from that perspective, the app store is very similar. When I search for a taxi, will I see Uber or Gett? This is a reflection of what happens on the market. There's movement, and the ranking changes virtually all the time. It's a result of something competitors are doing. We started learning how these actions are reflected in the app store. It's not a wall to climb, but a mirror that can shed more light on the impact of what you're doing and what your competitors are doing.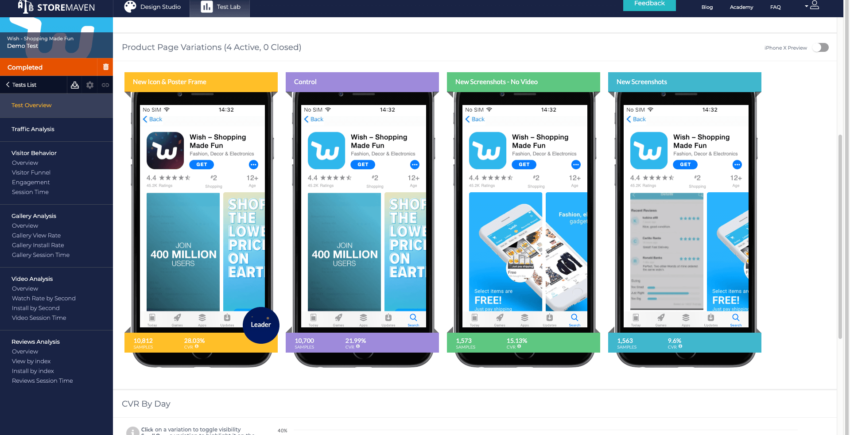 These days, people expect to get digital services for free. What would be your advice for monetizing apps without scaring the users away?
Definitely, the market is dominated by freemium apps. Installing them is free, and then you offer a premium service, game credits, or simply shove ads in the user's face. Apps and digital services are all the same, if you deliver value and explain that value through the app, you can capture some of that value and monetize it. If I'm giving a great experience, and I have the right mechanics to deliver it, that's a value that we as end-users will feel more comfortable spending and participating. If you take a look at the ratio between how much people are willing to spend today as opposed to the past, you'll see that it's changing a lot. We trust the platforms, we use more apps, and our habits are changing. Take Uber for example. Their model is based on convenience, making life easy and simplifying things that we're already used to doing- like taking a taxi. My advice is somewhat naive, you really need to show value, but you also need it to be polished as the level of apps is getting better, and user experience is becoming very competitive.
How do you see the future of mobile marketing?
We're spending a lot of time thinking about that because it's important for us to be agile. We see ourselves as industry leaders and share a responsibility to drive the industry to where we think it should go. One of the biggest problems is that the measurement is terribly broken. When I analyze my ads on Facebook, the focus is on ad spend ROI and not at the broader effect of the campaign. So yes, they are installing my app, but they don't like it and will leave a bad review which Google will respond to. So there's a halo effect to everything we do. Expedia can talk about luxury vacations or affordable ones, and that's going to change the entire campaign, starting from the type of users they target, potential revenue, and conversion rate. If the conversion goes down, the ranking goes down with it. There's a strong correlation between actions and long term effects. Since we're looking at it from the app store perspective, I think as measurement will evolve, we will see more platforms that take the whole cycle into consideration. We're working closely with enterprises and work hard for them to understand the connection between different events and actions they perform, and their impact on overall growth performance. StoreMaven is so data-focused that if you ask me what's the exact impact of a decision you've made in the last month, many times I can give an estimation based on the type and amount of data you have. There's a trend happening these days of people becoming experts in just one field. We don't need to know 10 languages, but we can be really good at one or two of them. As a developer, I don't need to know how to build websites, all of the infrastructures are accessible to me through the cloud, and I believe this will also happen in the mobile marketing space. Take the hard work of collecting data and analyzing it off your shoulders, and free more time for people to think rather than gather information. Store Maven's vision is to create the next era of analytics. We are all about making sense of the world through data to maximize the human potential. We are against mundane work and aspire to automate decision making. Right now we are working on an interesting technology which is very different from what we've seen so far. We're revolutionizing data analytics by making it less about how to present the data and more about helping people make decisions accurately: who to hire, which market to expand to, how to measure the impact and learn from mistakes. We're very excited about that technology, which is already being used by Google. In a world where data is not perfect, we're never going to have all the factors, so there's a lot of space for making brave decisions that make things better.