SE Ranking
is a marketing platform designed to assist marketers and SEO experts do their work, from keyword selection and analysis to tracking performance on search engines. In this interview,
SE Ranking CMO Bogdan Babyak
reveals the company's story and offers valuable tips and insights on search engine optimization in 2020.
Please describe the story behind the company: What sparked the idea, and how has it evolved so far?
SE Ranking
's story began in 2014 when the SEO team of one of our CEO's companies came up with an idea to create an in-house SEO solution. It turned out to perform so well that the team decided to scale it up to the global SEO market in 2016. 
A lot has changed since then. SE Ranking turned into a fully-fledged platform packed with various tools that help marketers, SEO specialists, and agencies ease their daily grind. The company tripled in growth over the past three years. We are now a global business with offices in Palo Alto, London, Minsk, Kyiv, and Moscow, trusted by more than 400,000 clients around the world. 
Our team is working hard to make SEO easy. As part of our corporate culture, our mission is to develop an SEO software that allows anyone to independently optimize and promote a website on the web, regardless of the level of expertise. We're constantly improving the user experience, functionality, and support to provide the best possible options for search engine optimization available on the market today. I want to give a special shout-out to our CEO Valery Kurilov. Kudos to his vision and dedication that keep the whole team motivated and eager to take on new challenges.
We have lots of plans ahead, most of which are based on our clients' wishes. Our vision and approach are to create tools and features that our clients need, and not what we think is best for them. And this approach ultimately proved to result in a win-win. 
How does SE Ranking work? 
SE Ranking is a powerful cloud-based SEO and marketing platform packed with over 30 tools and features. It provides entrepreneurs, SMBs, agencies, and enterprises with all the assistance they need to get their websites to the top of the SERP and stay there. 
With SE Ranking, you can run advanced competitive and keyword research, track your rankings in every major search engine across various locations, launch an in-depth website audit, and learn which technical issues drag you down, analyze any backlink profile and keep track of the most important backlinks. 
Besides essential SEO tools, SE Ranking has features designed specifically for beginners like a step-be-step Marketing Plan to get started with SEO as well as features developed for agencies such as White Label or advanced SEO reporting. 
Business owners who don't do the website's SEO on their own, but still want to keep an eye on their projects love SE Ranking's mobile app. In a matter of seconds, you can launch the app and check the website's overall visibility as well as its rankings and SEO audit score on the go. 
All SE Ranking tools are housed in a user-friendly interface that turned even more intuitive and customizable after our recent
big update
. And we keep increasing the capacities of the platform by introducing new tools and polishing off existing ones based on our customers' feedback. 
Probably the best thing about SE Ranking is that you can choose which tools from our pool you currently need and then extend your toolkit as your business grows. We try to be flexible to fit any budget and help any business, be it large or small, boost their online visibility, and generate a higher ROI.
Here's a quick view of SE Ranking's SEO tools: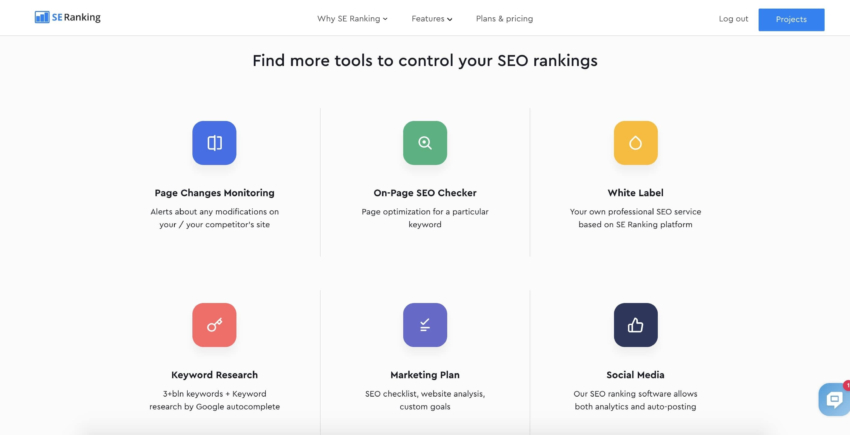 And a view of SE Ranking's website audit: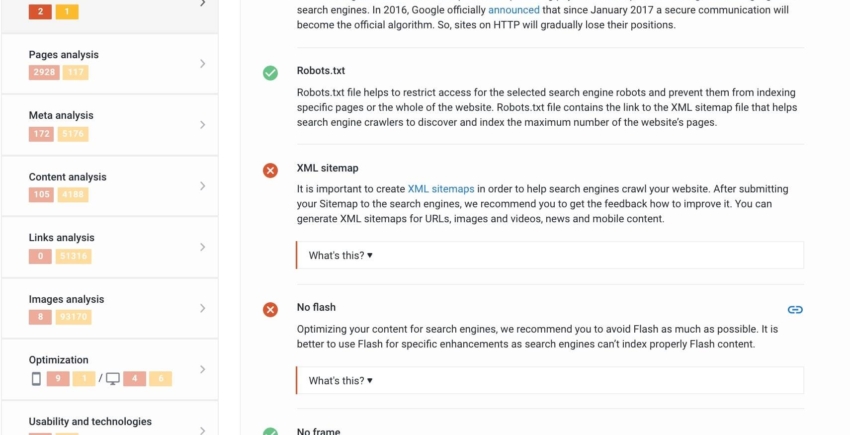 What would you say are the most important factors to consider when creating an SEO strategy?
First of all, you have to analyze the market, it's capacity and the niche growth potential. Then you have to calculate the semantics volume in this niche and understand how you're going to monetize traffic from it. After that, it's important to research the backlink competition and the quality of competitors' content, whether you have resources to come up with something better or at least create competitive pieces of content. Moreover, it's essential to analyze what user problems competitor websites are solving, and build your strategy based on the real needs of your target audience and not your assumptions. 
What are some common SEO mistakes and how can they be avoided?
The most common SEO mistakes I tend to notice are:
Keyword spam

Weak, boring content

Lack of preliminary analysis of the market, competitors

Little attention to project analytics

Lack of quick adaptation to changes in search engines

Incorrect distribution of SEO resources

Inability to wait
To avoid these mistakes you need to carefully analyze the market and build a viable SEO strategy concerning the resources you have on hand. Don't look for shortcuts and never compromise on quality as in the long run the quality of your content and backlinks along with top-notch technical scores is what allows you to succeed. If the niche is highly competitive, make sure you can afford to wait a while for the first results to be seen without fidgeting and trying to find workarounds to speed up the process. 
What would you say are the main pain points in SEO today for website owners and marketers?
The first and main pain point is the lack of expertise. Not all website owners and marketers are proficient in SEO. The industry is changing very fast, Google and other search engines update their algorithms, and lots of new approaches appear. Something that worked a year ago, might not work anymore, and it's the reason why good SEO specialists have to constantly learn and stay up-to-date. For those who want to hire an SEO specialist, it means that finding someone knowledgeable who will be able to achieve the promised results is a truly challenging task. There are lots of amateurs on the market, and sometimes it's difficult to understand this at first glance. And you won't be able to understand whether you've made the right choice or not fast enough since SEO is a long-term investment, and you have to wait for at least 3-6 months to see the first results. 
Another pain point is the increased impact of the website's technical parameters on its rankings. Today, it is crucial to have a fast-loading mobile-friendly website to rank well. Various technical issues that may seem minor can drag you down the ranking ladder if their amount is critical. To check if everything is ok with your website technical-wise, we have a tool called
Website Audit
. It will crawl every page of your website and evaluate it against numerous parameters and then will come up with an overall health score of your website. The tool shows you the list of technical errors you need to fix along with tips on how you can amend everything. If you have any issues with website security, crawling, internal linking, meta tags, images, website loading speed, etc, the tool will highlight these issues for you.
Getting back to SEO pain points, another one is stiff competition in the digital landscape. With over
200 thousand domains
being registered daily, competition for traffic is as tough as ever. While launching a new website is relatively easy, making it visible is way more challenging. You need to put way more time and effort into making your website rank high and gain targeted organic traffic. 
How do you expect privacy regulations like GDPR and CCPA to impact SEO now and in the future?
We've all seen users' privacy being brutally violated before GDPR and CCPA regulations have been enforced, so I believe it's great that now our rights as users are well protected at the state level. We at SE Ranking put the confidentiality of users' data first, and we've taken all the measures to take good care of the private information we handle. Now that the state of California has finally passed the statue that enhances the privacy rights of its residents, I believe that other states may follow the lead and pass similar bills.
As for the impact on SEO, it isn't all bad. Users will still want to search for the goods and services they need online, they just want more choice about how they are shown ads and marketed to in general. Since SEO is all about attracting potential clients with an initial intent to make a purchase, all the privacy regulations didn't really impact the way SEO works.
How do you think voice search is going to impact the SEO industry?
Voice search has been a big thing for many years now, but it hasn't yet become truly mainstream. As SEO people, we are still waiting for Google to take some steps to make voice search a part of its algorithms. The trick here is that the search giant should do it in a way to keep both users and webmasters satisfied, which is a challenging task. 
My guess is that with the further growth of voice search's popularity, we'll have to deal with more unique but often poorly spelled queries, more informational queries with no SEO value. To build a viable SEO strategy, we'll have to check how Google algorithms work and what kind of search results rank high for such queries and react accordingly. 
Which trends or technologies do you find to be particularly promising these days and why?
The first thing that comes to my mind is the trend towards building remote teams around the world. The last six months allowed many companies to understand that they can remain efficient as a team while not sharing the same office space. It opens new hiring opportunities since recruiters are no longer limited geographically and can look for the best professionals all around the globe.
Speaking of technologies, I would single out digital assistants and machine learning since both have a direct impact on SEO. Digital assistants make our lives easier by fulfilling simple tasks like messaging, calling, or running a search. Voice assistants are now often a part of a smart home ecosystem, where they help users control all their smart home devices. And since such digital assistants rely on voice to get instructions from users, their increased popularity boosts the development of voice search, which we discussed earlier. 
As for machine learning, it helped us take language processing to a completely new level. Google got much better at understanding the content it crawls since machine learning became a part of its algorithms. On top of that, thanks to machine learning, computers are getting much better at writing humanly-readable texts. In the long run, we can expect to witness a revolutionary shift in the way we create content.
How do you envision the future of your industry?
Speaking of SEO in general, in the post-pandemic world where many businesses are forced to go online or cut advertising budgets, more people are now keen to explore the SEO potential of their websites. I think this trend will keep growing. 
Speaking of SaaS SEO tools, the future of the industry largely depends on search engines' algorithms, policies, and updates. If one day they decide to drastically change the algorithm or block crawling for third-party applications, it will affect the entire industry, and all the software providers will have to adapt. As for now, all is good.