Miraheze
is a free open-source platform where communities can build Wiki articles collaboratively and share them with the world. I sat down with
co-founder Ferran Tufan
to discuss the advantages of Wiki technology, and the challenges of delivering an excellent service for free.
Please describe the company's story: what sparked the idea, and how has it evolved so far?
At the moment, I'm a computer science student in the Netherlands. I've been volunteering on all kinds of Wikis since the age of 12, when I contributed to the Dutch Children's Wikipedia. Later on, I moved on to the real Wikipedia project and ended up going into the technical side of it. I met quite a few volunteers who do the same work and have common interests. In 2014, I came across a project that allowed anyone to build their own Wiki for free. There was quite a lot of interest in hosting your own Wiki and being able to choose your own topics. I contributed there for over a year until eventually, it became the victim of a cyber-attack and the service was terminated. In 2015, along with John Lewis, my co-founder, and a few other volunteers, we decided to recreate that project and Miraheze was born. We started offering free Wikis to communities. Our initial expectation was to have just a few Wikis to service, but before we knew it, we were servicing over 4,000 Wikis. We do all the work in our spare time because we love doing it. That is one of the things that make Miraheze so awesome. Users expect to be able to read and edit Wikis and interact with their peers at any time of the day, so downtime must be kept to a minimum. Over the years, we have invested a lot of time in building self-service tools that automate some of our duties, so people can perform those tasks easily, quickly, and securely without our interference. That has helped to reduce our workload and invest more time supporting the community. So, while Miraheze's focus used to be managing the technical side of the platform, we have now broadened our duties to offer advice on how to grow your community, improve your Wiki's content and make optimal use of technology.
Here's a view of the main Wiki at Miraheze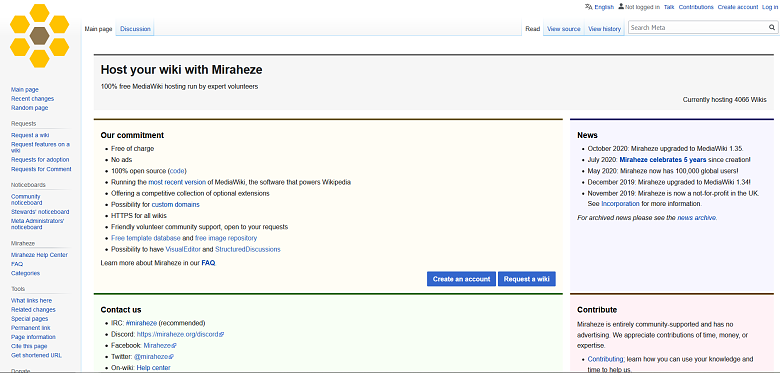 And here's how you request a Wiki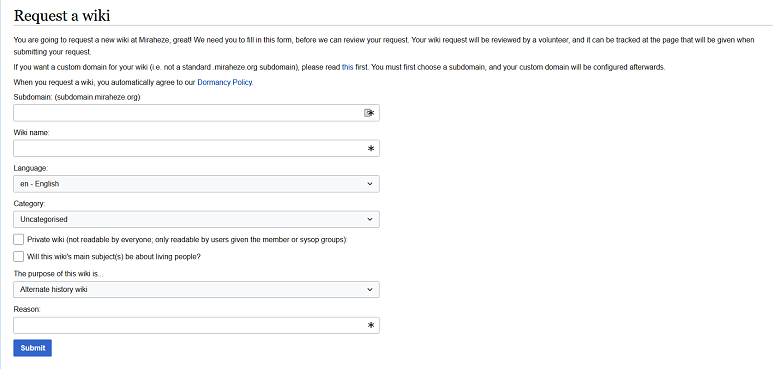 How would you explain Wiki as a concept, to those who aren't familiar with it?
A Wiki is a digital platform that allows communities and users to write articles collaboratively and share them with outsiders. Even if you only have a few contributors, the intention is to share the content with the world, and Wiki makes it possible. Each collection of articles makes up a Wiki. The articles can be about any subject you like. We have Wikis for gaming, science, technology, history, art, and more. While traditional websites only have a small vetted list of people who can access the backend and upload content, by default, anyone can contribute to a Wiki. Wikipedia is a great example because most people are familiar with it. It is one of many Wikimedia projects, including WikiData (a free knowledge base), Wikimedia Commons (a free collection of media files), and others.
What's the difference between Miraheze and Wikipedia?
The Wikipedia community is large because it has multiple languages and communities around the world. The English Wikipedia alone has over 6 million articles, written by thousands of volunteers from all around the world. It contains articles about every possible term you can think of, but even though their mission is to provide a free online encyclopedia, some articles are not allowed and may be subject to deletion. With Miraheze, you can build a community around a video game, for example, where gamers share tips and tricks. While that's very interesting for a subset of users, it might not be as relevant for the Wikipedia project. We use the same software as Wikipedia's. Most of the contributions to the software come from the Wikimedia Foundation, which is the legal entity behind it. If Wikimedia improves the software, we benefit from it. The big advantage is that users don't depend solely on us to improve the technology. Our websites look similar to Wikipedia, but our goals are different. Articles that may be out of scope for Wikipedia, are welcome at Miraheze. Therefore, we can provide a much more diverse set of Wikis and content. We like offering the platform without needing to worry about billing or legal issues that might come up. The community gets to decide the direction of the project, its focal points, policies, workflows, and community support. We are there to help people build communities and support them all the way through.
How do you assess the reliability of contributions made on your platform?
Miraheze allows users to create a Wikipedia-like platform where they collaboratively determine the scope of the articles. We are not in the position to make restrictions on what people post, besides the obvious illegal stuff. With just a handful of volunteers, it would be impossible for us to review every single contribution, and it is not our job either. Each community reviews its own content. Multiple people can work collaboratively and review each other's contributions. If someone makes a statement without a referenced source, and someone else thinks it's factually incorrect, they can ask that person to provide a source to back their statements, or revert the edit, just like on Wikipedia, Occasionally, you might find someone is vandalizing your Wiki by inserting nonsense into articles. Fortunately, the software contains a version history of all articles, so you can revert edits easily or even block users, as a last resort. Stewards and Global Sysops are users elected by the Miraheze community to assist Wikis with various such issues. A community may request their help, but in general, it is up to each community to manage blocked users. Other than violations of the Code of Conduct or the Terms of Use, Miraheze's volunteers will not interfere with community policies.
What can you tell us about Miraheze's unique business model?
Our business model is rooted in our commitment to providing a free open-source platform that anyone anywhere can use and change the code as needed, without having to pay for a license. We want our service to remain free for as long as possible, while also providing the support that users need to operate their Wikis. We operate voluntarily and that is true for every person involved: the founders, the technical engineers, the editors, and the board of directors. Despite that, we are committed to making our operations sustainable. Our volunteers spend their spare time helping communities to grow while taking on the challenging parts, allowing users to focus on writing content and building their communities. Users who wish to help sustain the project can either donate or volunteer. Several other projects on the market also offer Wiki hosting, but they have annoying advertisements that negatively impact editorial independence. Miraheze's purpose is to provide complete editorial freedom and excellent support. Communities like to see us as their partners. Our position towards the community has been shifting over the years, as more and more volunteers became involved in the project. Our community-centric model means that it is not solely up to me to decide what is going to happen at Miraheze, it's up to the volunteer community. If they want to see Miraheze going in a certain direction, that's where we will go. This has been a growing focus and I think it works well.
What are some important lessons you've learned from operating a free, community-supported service?
As a young project, we have some advantages compared to other organizations. We don't have the hassle of managing a physical office because we've been working on this project from home since day one. We have been accustomed to things that some other organizations were forced to implement this year. Miraheze is very efficient in terms of expenses because we don't have paid employees. Our operating budget is quite small for a business that has one of the top 19,000 ranking websites in the world. Our servers are responsible for over 90% of the expenses, and volunteers are the real lifeblood of Miraheze. As the project continues to grow, so do the expenses. We currently have about 120,000 unique daily visitors, and about 200,000 registered users. Since we don't charge our users, we're 100% dependent on their donations. If you donate $10, that's about 2% of our total monthly bills. That may not sound like a lot of money, but the more users donate, the quicker it adds up. We encourage users to reach out and use our support. If you're missing a feature you feel is important, we want to know about it so we can help you. All that costs money and that cost grows over time. Around December, we have our annual fundraiser where we try to raise the funds needed for yet another year, but to date, we've never been able to raise it all at once. Insufficient funding has always been a big threat to the project, and after five and a half years, I cannot say this has changed. Naturally, most of us are computer scientists, so raising funds is not our expertise. We hope to create a more diverse group of volunteers that will assist us in taking care of all the other needs that we have, such as marketing, community engagement, privacy and security, technical support, and legal protection. We don't want to charge a monthly license fee from our users, but as a non-profit, it's very difficult to raise the necessary funds. So, one of our main focal points for the coming years would be to create a stable source of income. That said, we never would have gotten to where we are without our volunteers. The majority of our volunteers are people that have been with us since day one. I am grateful for the amazing people who love Miraheze and contribute whenever they can.
How does Miraheze adapt to the frequent developments around privacy, security, and copyrights?
Copyrights have been a recurring topic. For example, Article 13 of the new EU Copyright Directive requires platforms with user-generated content to employ "effective and proportionate" measures to prevent copyright violation. When that law comes into effect, we will need to screen every edit before publishing to filter out copyrighted content. We don't want to limit editing to just a vetted number of volunteers, so we will need to find an automated solution. Security is another hot topic. While information technology brings a lot of advantages, cyber-attacks have become a daily threat. We take preventative actions against cyber threats and work to limit the damage in the case of an attack. Security is not the mere responsibility of IT staff, though; every user, regardless of role, is responsible for securing their accounts, equipment, and information. We must stand together against cybercrime. Finally, privacy regulations like GDPR have changed people's mindsets. Privacy is very important, but it required us to make huge changes to the way Wikis run. That also came with some issues but generally, we are doing fine and we hope to improve the service nevertheless.
What are some trends or technologies you plan to utilize in the coming years?
These days, more and more Wikis are relying on structured data to improve user capabilities. You can attach various attributes, such as a title, author, timestamp, comments, etc. to any object to structure your database. The rise in mobile editing is another huge trend. All websites are now mobile-optimized because people don't want to be attached to a fixed desktop anymore. However, the Wiki software wasn't initially written for mobile. It's fine for reading, but mobile editing is still a huge challenge and there's a lot of progress to be made on that front.