Wishpond
is a platform designed for growth, making it easy for SMB's to create landing pages, forms, website popups, contests & promotions, and email automation campaigns and A/B test them in minutes. If this interview, Chief Product Officer Nick Steeves describes what Wishpond is all about, and how it can help drive growth to small and medium-sized businesses with limited marketing resources.
Please describe the story behind Wishpond
Wishpond is a privately held company. Since its inception in 2009 Wishpond has grown to help more than 100,000 marketers in North America and globally to effectively drive customer growth and engagement through online marketing channels. The company was founded by Ali Tajsekandar as a local product search engine, allowing users to search for products and services locally. We saw it as a way to bridge the gap between people who are looking for those services and retailers who are not plugged into the digital marketplace. At some point, we moved from local search to proprietary solutions for SMB's. We started getting into social contesting apps, which have been very effective for our clients and were gaining popularity as Facebook and Instagram were becoming bigger and bigger. In the last 2 years, Wishpond has shifted from application suites to a more general marketing automation platform that does landing pages, online forms, lead generation email content and sales for small businesses.
What's unique about Wishpond?
We combine both the software and service into a complete suite that people can work with. As much as we try to make our tools easy to use, most of the SMB's that we work with are not marketing experts. They may be experts in their own domain, but they haven't taken a digital marketing course and often don't know what to do with the tools that we provide them. So we help them by providing support and guidance that they can translate into results. What we've been doing is blending software packs with service and training to provide them with the necessary expertise so they can better utilize our tools and get results. Here's a peek preview of the Wishpond landing page builder: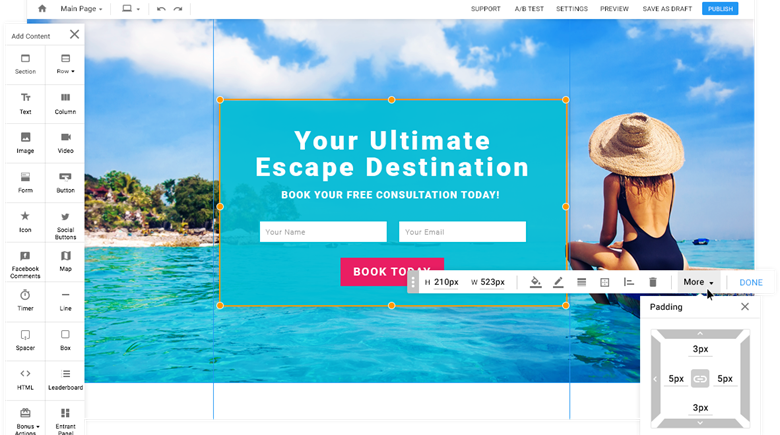 And the Wishpond weekly report: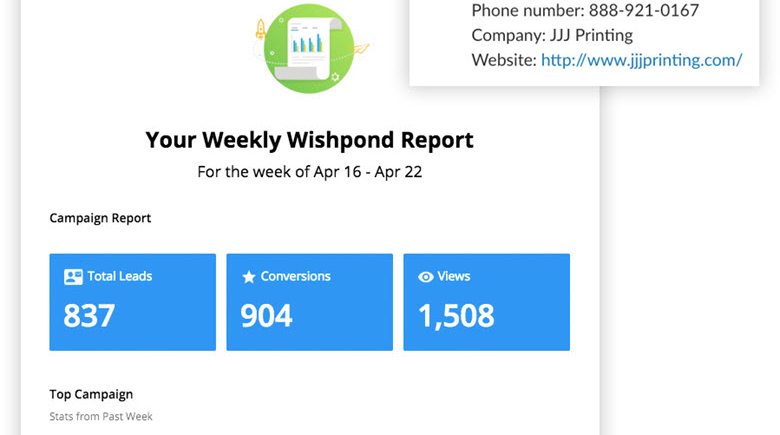 What are the main challenges that SMB's are facing when it comes to digital marketing?
A lot of SMB's just have a single tool that they are using that only shows parts of the picture, but they don't get full visibility of what's going on in the funnel, so they cannot put the pieces together and make it successful. The best way to drive growth is to utilize a variety of tools and build an entire platform of solutions that your business actually needs. For example, if they want to capture leads but they don't have the means to drive traffic, or they have traffic but they don't capture leads, or if they get leads, but they don't do the tracking that is needed to turn them into sales. You should aim to connect all those dots together.
What are some of the trends that online marketers should be aware of these days?
What we're seeing is that there's a lot of competition everywhere. The main advice I can give you is to do your follow up. Small businesses get lots of leads and traffic but most of the time consumers aren't buying online. They see lots of things at once and even if they convert by giving you their email address, they're not just going to fall for you. You need to overcome the noise to get their attention, especially when it comes to first-time customers.
How do you see the future of digital marketing in the next 5 years?
From a platform perspective, there will be a lot more companies growing horizontally. Squarespace and Wix are good examples of that. They are adding more and more features. Squarespace just bought a social media marketing app, and they are becoming a lot bigger. I also see many vertical platforms emerge, basically building all the points that a single industry needs to manage businesses that are much more integrated with each other, like Clio for law firms.