RiteKit
is a social marketing automation platform that aims to maximize views, engagement and link click-through rates on everything you share socially. In this interview, Founder & CEO Saul Fleischman discusses the story behind RiteKit and how it can help your content shine on social networks.
Please describe the background, vision, and evolution of RiteKit So far
Eight and a half years ago, a big tsunami hit Japan and devastated the Fukushima nuclear reactors. We were not getting good coverage in the media, so the best sources of information were coming from Twitter.
What I noticed was that people were adding two, three or more hashtags to each tweet, and it looked like they all meant the same thing: #LoveForJapan, #PrayForJapan, etc. It seemed to me like people were just guessing, without actually knowing which hashtags were most relevant or actually getting engagement for their topic. Like other social networks, Twitter will tell you what's trending. Trending, though, just tells us that many people are including a hashtag in tweets, but tells us nothing about how likely the hashtag is to get positive outcomes for those who include it in a Tweet. So I created a concept called TagBag. I did the usual thing we do when we endeavor to build a team, going to meetups and posting in web groups. I soon found a guy who would build a  one-page website. He immediately found a job and had no time to work on TagBag, so I was left to rebuild the team, which took a few months. In the meantime, since I'm not an engineer or a programmer, I did an unpaid internship with IdeasWatch. I was working for Michal Hudeček, and after a few months, we decided to pick up TagBag and changed its name to RiteTag. Since then, we have been self-funded. I encourage other people to consider bootstrapping or self-funding rather than getting in business with investors since they tend to have a conflict of interest with the founders. We've always been 100% bootstrapped.
We began to monetize our operations with our browser extension. You can find hashtags for any term or phrase on the RiteTag website for free, but if you wanted hashtags right inside your workflow, integrated with Hootsuite, Sprout, and a bunch of other tools, you would use our browser extension and get your tags right when you're doing your work. So, after a year and a half unmonetized, we initially changed money for the full RiteTag product, which included the browser extension (Chrome, Firefox, Safari).
What are some of RiteKit's service offerings?
RiteTag
does hashtags for photos as well as text, in English and 27 other languages. It's the only tool that does hashtag generation in languages other than English, integrated into anyone's workflow, right in the social media publishing tools and social and content networks they already use.
RiteForge
is a crafting & publishing tool that allows you to craft, schedule and publish remarkable posts with an auto-magical
Enhance
button and many other time-saving features. Enhanced does all your social media crafting, so if you want to share a post with a URL and a photo, instead of creating or finding an image online, and instead of doing hashtag research, you do all that in one click. You also have a lot of choices and customization options, so you get a six-minute job done in 1.8 seconds.
RiteBoost
is intended for users who already have a favorite publishing tool and want to Enhanced posts in bulk from RSS feeds, Feedly or Pocket, Slack, Trello, SubReddit or YouTube, and in all, 14 ways of importing content in bulk, generating vibrant and effective social posts, and getting your content scheduled for social publishing.
Rite.ly
adds self-branded Calls-To-Action on links and tracks clicks and conversions. If, for example, you have a social post that includes text, a link leading to an external resource, perhaps an image and maybe more, the call-to-action would be to click the URL. This is the one thing we want people to do, but if they do not use Rite.ly to place their advertisement on the URLs they share, the connection between them and their audience is broken. Using
Rite.ly
will present a customizable ad, so when you share URLs in social posts or emails, you get to keep the connection with your audience.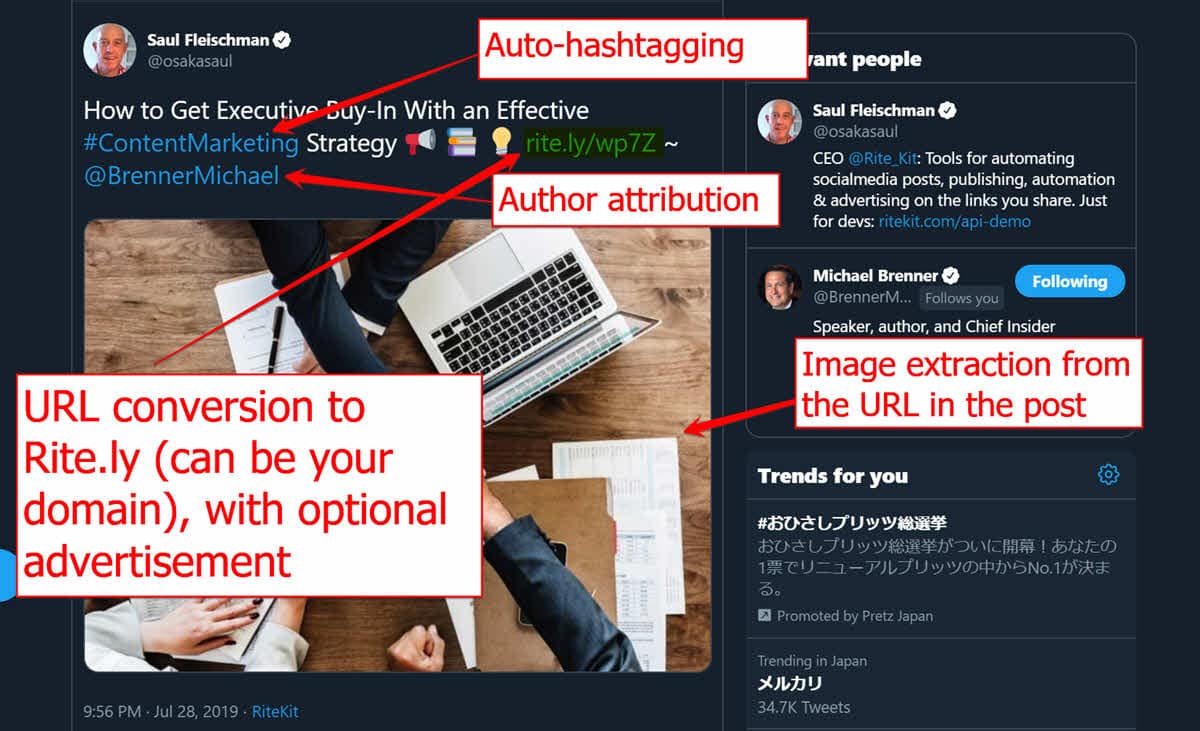 Follow this link on
Twitter 
to see a live example of how Rite.ly works.
What are your tips and best practices for using social media effectively?
When you're sharing other people's content, you're sharing with your social profile. That's your audience that you've earned, but if people click a URL in your post and land on a site that is not yours, the connection that you earned is broken. So that's my tip: use Rite.ly with RiteForge to keep the connection when you share webpages, and use them as an opportunity to advertise your own business. When you are ready to Enhance multitudes of posts with hashtags, images and of course, your advertisements on links (URLs) you share in posts, also use the RiteBoost Bulk Creator automation dashboard, which makes use of your Rite.ly ads in link shortening and RiteForge for social media scheduling and publishing. I really hope to inspire people to build their own startups, and I would suggest they consider doing it with what they can afford to do themselves, with their own finances. Expect to bootstrap all the way, and retain not just equity, but also autonomy and control of your brainchild.
Basically, there's a conflict of interest with investors that want to flip you. To understand this idea, I recommend reading the book Venture Deals by Brad Feld and Robert Mendelson.
How do you envision the future of Social Media Marketing?
What I think about a lot from the beginning of social networks, their interests have always been in conflict with the interest of power users. If someone is a power user, whether they use Instagram, Twitter or other networks, they want to get something back from those platforms. Social networks think the time of their staff is worth something, but the time of their users is worth nothing. The power user wants to get more done and get a return on their time investment. This had always been the conflict that those using social media professionally have had with social networks.