If there's one thing I enjoy about my work, it's meeting with brilliant young minds like Jiaqi Pan, CEO at
Landbot
.
Landbot manages and automates conversations to help you design, deploy, and analyze conversational strategies and send information across without writing a single line of code. In this interview, Jiaqi discusses the challenges that COVID-19 has brought to the table and offers some valuable insights on leveraging automation to maintain business continuity.
Please describe the company background and its achievements so far.
We started 4 years ago with a completely different business model. We focused on end customers, helping them to get things done by ordering food and buying things online in the form of a concierge service. Everything went through our system in a conversational way. So we had a lot of agents communicating with customers, and that's when we realized we needed to build a more efficient way to engage with customers. We started using different technologies to help our operation become more efficient. Over time, the concierge service wasn't going so well, but we realized that the technology itself was very interesting for other businesses. 
So we changed our business model into a SaaS model. We help other businesses to automate their customer communication. Today, we work with 50,000 businesses all around the world, from small startups to big brands like Uber, LG, and Loreal. There's a very wide range of businesses that use our solution. 
What are the core features of Landbot?
We are a communication automation platform. We help automate the interaction with customers throughout their customer lifecycle. Normally people use Landbot for marketing and lead generation campaigns, promoting products or services, and customer service. What it comes down to is you don't need to have a human agent to answer all of the customer's questions.  
One of the core features of Landbot is what we call the No-code block builder. Essentially, this is the solution people need in order to define what sequence they want to automate during the interaction with the customer, and the bot will perform those sequences. 
Landbot is a visual Drag & Drop interface. You can easily define different types of actions that the bot can perform, no coding experience necessary. 
We made it very easy to connect with external systems like Slack, Mailchimp, Hubspot, Google sheets, and others. These types of solutions that businesses typically use in their workflow can be integrated with the bot so the data that the bot is collecting can be routed back into their internal systems. 
Here's a sneak preview of what you can expect from Landbot: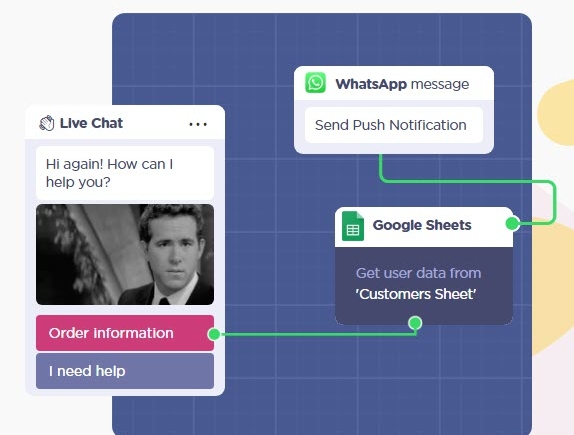 What are the most fundamental factors that marketers should consider when automating customer service?
We have a framework we call the 4C's- customer, content, context, and channel. These are the four main factors a business should take into account when doing communication automation. I will briefly go through all of them.
Customer

– You need to think about who is the user you want to communicate with.  Everything should be aligned with the profile of the customer and his needs.

Content-

What are you going to say to the customer? In which format? Are you going to say it in text, audio, images, video? All of these need to be taken care of so when you send your message out to the customer, they receive it in an easy-to-consume way.

Context-

What are your customers doing? Are they working? Are they at home? Are they busy? You can communicate with customers in the most convenient way possible. There's a concept called Real-time asynchronous communication, which is how messaging apps like WhatsApp work. You send someone a message. That person might not answer immediately, but eventually, they will see the message and respond to it. If you're both available, you can continue the engagement right away. This type of communication really puts convenience on the side of the customer, and this is very critical for creating a good customer experience.

Channel-

How are you going to engage with the customers? Which channel will you use? Is it a website, email, Slack, or other platforms? Each channel has its own limitations and specific characteristics to take into account in order to create good communication. 
How has Covid-19 affected your business and industry?
I'll start with a quick side note. Back in January, when COVID-19 started, I was trapped in China for a month and a half. When it finally got more contained and controlled, I went back to Spain. Then in February, Spain also started having the same outbreak, so I'm now experiencing this for the second time. Wherever I go, Coronavirus follows. That being said, I'm already used to the quarantine experience. In fact, I'm fine with working from home without needing to travel. The whole remote work experience is quite interesting.
On the business side, specifically in the chatbot industry, because that's where we operate and have the most experience, what we are seeing is that most businesses are now restricted to working remotely. The need for efficient communication with customers is greater than it ever was, therefore, it must be digitized. So we are seeing a huge demand for chatbot solutions, just because of the way businesses need to operate these days. 
If you go to Google trends and search the term chatbot, you can see huge growth in the level of interest. In that sense, we are fortunate to be well-positioned in the bot space. It's helping us to win a lot of new customers, primarily essential services like healthcare, some eCommerce, and ad tech solutions. These businesses are growing and they have a lot of demand. On the flip side, we also have a lot of customers that are working in the most impacted areas: restaurants, hotels, shops. These types of businesses are now starting to use our product for the first time and they suffer the most because they have no customers to talk to. So one thing is compensating the other and it balances out. 
Which trends and technologies do you find to be the most intriguing these days, and why?
I think there are 3 trends I'm personally very excited about. The first one is
webinars
, which is very related to the context we are in today. I think more and more businesses are trying out webinars as a new way to have a closer relationship and better engagement with their customers. The problem is when everyone is doing webinars, you get conflict because, in the end, the user only has 24 hours a day. If they attend one webinar they wouldn't be able to join another. So, how do people choose between different webinars? What are webinars showing people? What value can webinars deliver? I think that a lot of things that will need to change in the webinar space to really make it valuable and engaging. 
The second trend I'm really excited about is the use of
messaging solutions
. I mentioned before that we, as consumers, are used to chatting with each other on Whatsapp, for example. But interestingly, businesses are also starting to leverage these channels to engage with their customers. Specifically WhatsApp, which already has about 2 Billion multi-active users. Lately, it has been growing in usage as well because people can't go anywhere and they take their conversations to the chat. They share news, thoughts, and photos with friends and family. So the popularity of those channels is bigger than ever, and the question is how will brands be able to leverage those channels to engage with customers?
The final trend I will mention is the
No-code
trend. A lot of new solutions have been coming out lately with a completely different mindset. In the past, many solutions were designed for very technical people who have coding or programming skills. But now numerous no-code platforms have made the solutions so simple that even non-technical people can use it. 5 years ago it would be very hard for somebody without experience to build a website or a mobile app by themselves. But today, there are so many low code solutions that help people do it with minimal effort, at a very fast pace. They develop the initial version and then integrate it based on that. It completely changes the way people use technology. For example, let's say that only 1% of the people in the world know how to develop a program. What about the remaining 99%? Maybe we can do something without depending on the developer. So this is another exciting trend that I think will affect a lot of existing players in the industry.