For four decades, Deltatre has been the technology partner of choice for the most high-profile sports and entertainment organizations around the world. 
As such, we're passionate about delivering the most cutting-edge sport and entertainment experiences to viewers across the globe, across all devices.
Our work encompasses over-the-top (OTT), streaming experiences, UX management, website and app design, build and provision, data collection and harnessing, broadcast graphics, and much more besides. O
ver its 35-year history, the company has grown to employ more than 1,000 staff who are globally distributed across its hubs in 16 key cities.
Deltatre clearly understands the importance of a strong User Experience (UX) – what are some key points to remember when creating good UX?

It's important to remember that all a user wants is to have a great interaction with your business. 
Driving engagement and increasing participation is therefore made by putting the emphasis on understanding and optimizing for their motivations and the goals they are trying to achieve, alongside pure functional efficiency in order to craft powerful experiences that your fans will want to be a part of, creates value for them and returns measurable results for you.
We call this process
fan-focussed design

.
Creating good UX is more than just wireframes and visual design. It is about finding that sweet spot where usability, utility and feasibility meet.
Of course, this starts with a clearly defined product vision and strategy.
With so many services and sports competing for eyeballs and our time, prioritizing UX that focuses on usability, as well as possesses a clear identity, is a vital part of retaining fans' interest and reducing churn.
Also, we shouldn't forget about how important it is to re-invigorate in-market products, and to identify areas to drive engagement and loyalty.
What are some common UX mistakes?
A lack of testing. It's important to implement a system whereby your decisions are informed by detailed actionable data and research, too. Don't assume anything when it comes to UX – that will lead to solving the wrong problems, and in turn an unhappy customer.
Another mistake I'd highlight is trying to incorporate too many features or buttons. Don't throw too much functionality at a problem. Simplicity is key, and everything you do include should have a very clear and defined reason for being there – it must have a function! After all, viewers want that easy interaction and usability above all.
Another is having a template from which you apply to every project. Those clients that have entrusted you deserve that originality, and that requires a process which prioritizes exploration and co-creation. Of course, a brief is important in that design implementation, but don't let it define the whole project at the expense of new thinking.
In your own words, how would you describe your advanced OTT player, DIVA? What problems has DIVA solved for the viewer? 
DIVA is an advanced OTT player, synchronizing real-time data with rich interactivity. We believe DIVA is a perfect example of the intersection of design and technology.
The modern viewer wants control over their own viewing experience, and they want to shape what they're watching to match their own preferences and circumstances. That is what DIVA allows.
This means the forward-thinking broadcasters need an
interactive OTT player which supports live game stats, social media integration, full DVR with visual timeline, and multi-camera viewing.
The way in which viewers can interact, personalize and ultimately enjoy the viewing experience through advanced functionality like on-screen data visualizations and smart highlights is a great example of our work and innovation to date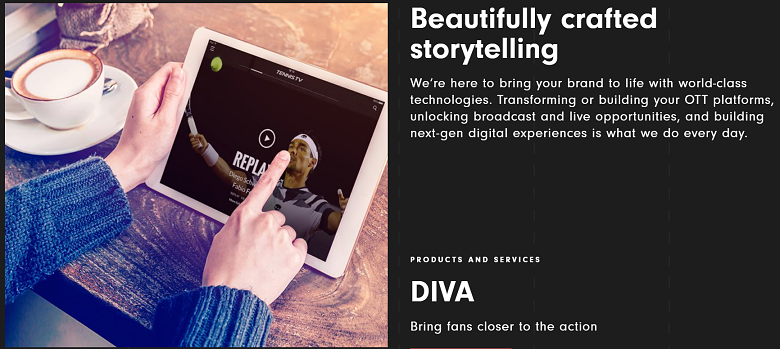 What is Deltatre's biggest achievement in the last year?
Of course, as with any other business, Deltatre faced challenges related to COVID 19. We're proud to say we have continued to deliver incredible fan-first experience for our clients, helping maintain the bond that users have with their favorite sports, teams and players. 
We've worked on a range of very challenging and complex projects alongside industry leading names such as the Tennis Channel, the NFL, Major League Soccer, Volleyball World and Juventus. We're extremely proud to power the digital properties of three of the top five sports leagues in the US. Our sports specific publishing platform, FORGE, has been central to so many of our sophisticated and eye-catching client deliverables. 
That being said, if I were to single out one achievement, it would be the launch, and subsequent roll-out of our brand-new product, mtribes.
mtribes is a platform for real-time, data-driven UX targeting. What's more, mtribes easily plugs into an existing sport technology stack and gives operators full insights into how their audience is interacting with a service, as well as the power to customize the features, design, and content shown to each user.
What can we expect from Deltatre in the future?
Deltatre – once known exclusively in the sports industry – continues to make great strides across entertainment, and the wider OTT space.
In terms of technology, we're always searching for what the fan of tomorrow will demand from its viewing experience.
Led by Pietro Marini, our Head of Innovation, our innovation is working on services and solutions that will shape the way broadcasters and streaming services engage with viewers.  That includes advances in AI/AR, watch together features and more. 
You can learn more about our exciting work here.