Almost two billion websites are live right now, with more being added every second.
That equates to a gargantuan amount of competition.
In such a contentious online marketplace, it's crucial to optimize both your income and expenses to stay ahead of the game. One great way to minimize expenses is by choosing the best VPS host for your growing requirements. After all, there's no point paying for a whole bunch of features you don't need.
Not all Virtual Private Server (VPS) plans are created equal. Indeed, some represent remarkably better value than others.
That's why we've narrowed down the best VPS hosting services available in 2018 for you, outlining what we liked, what we didn't like, and the kind of businesses each host is best suited for.
Our Top Five Contenders
Since their humble beginnings in 2001, InMotion Hosting has developed a client base of over 450,000 domains, which are split between their two East Coast and West Coast data centers in the United States.
What We Like
InMotion Hosting's biggest claim to fame is their outstanding customer service. The company requires each of their in-house support staff to undergo a rigorous 160-hour training regime, while the qualified team works around the clock to ensure response times are quick.
While most web hosts offer a 30-day money back guarantee, InMotion Hosting extends theirs to 90. This gives users an extra two months to determine if they're a suitable option and proves how much the company believes in their product.
What We Don't Like
The discounted price advertised only applies to a 24-month plan, and the verification process for non-United States customers can be lengthy.
Who Is InMotion Hosting Best Suited For?
Not only does InMotion Hosting provide amazing customer service when things go wrong, but they also educate their clients on all aspects of VPS hosting and account management to make the process as easy as possible right from the start.
Free materials such as email tutorials, extensive FAQS, community support forums, YouTube tutorials, and online tools and resources make InMotion Hosting the ideal option for businesses new to the VPS hosting space and that might lack the necessary expertise.
You get what you pay for.
And for businesses who demand performance, scalability, and a myriad of other add-ons, Liquid Web's cloud VPS servers deliver just that. In fact, big names such as Porsche, National Geographic, and Home Depot have all put their trust in the brand.
What We Like
Scalability is the biggest advantage of a cloud VPS, which differs from a traditional VPS platform. During high levels of traffic, a cloud VPS can automatically draw resources from other servers within the network to provide your website with the power it needs.
Customization is another big Liquid Web drawcard. For example, administrators have full root-level SSH and (S)FTP access as well as admin and RDP access for Windows.
What We Don't Like
Quite simply, the price.
But that's not to say Liquid Web is a rip-off. On the contrary, they offer excellent value for money considering the service and performance they provide.
However, small businesses with low requirements and a modest budget may wish to look elsewhere.
Who Is Liquid Web Best Suited For?
The instant scalability afforded by Liquid Web's cloud VPS is awesome for businesses that expect sudden and unpredictable spikes in traffic, such as viral digital media companies.
Furthermore, Liquid Web has built a reputation for their ability to customize tailor-made solutions for even the most demanding business requirements. Specialized organizations with strict compliance and regulatory safeguards to fulfill, such as healthcare providers and government agencies, often seek out the company for their bespoke services.
Hostinger is huge, boasting over 29 million customers worldwide. In fact, a whopping 15,000 new users sign up for the service every day.
And with such a hefty customer base at hand, it stands to reason their infrastructure would be among the best in the industry.
What We Like
Operating in bulk allows Hostinger's ultra-quick SSD drives to deliver a high level of performance for a low monthly fee. Another standout feature is burst RAM, which provides additional memory on demand during peak periods.
Customers also appreciate the sheer variety of plans on offer. Currently, Hostinger offers six different VPS plans, starting at just a few dollars per month.
What We Don't Like
A lack of managed services means Hostinger isn't ideal for consumers without technical skills. Nevertheless, their built-in admin portal is sufficiently easy for novice administrators to navigate their range of Linux-based operating systems.
Free domains are also notably absent. However, the registrar's huge purchasing power allows them to offer a multitude of .com domains for under $10 per year.
Who Is Hostinger Best Suited For?
One look at Hostinger's price list and it's plain that the company offers excellent value for money. As a result, Hostinger is great for small businesses that have recently outgrown their shared server but are still reluctant to invest large sums of money in a premium VPS service.
Best of all, a large selection of VPS plans means it's simple enough for customers to gradually upgrade as they need to.
4. A2 Hosting
Another solid premium option, A2 Hosting stands out from the crowd by offering lightning-quick page load times for a marginally higher than average monthly fee. Both managed and unmanaged options appeal to new and advanced server administrators alike.
What We Like
A2 Hosting is all about speed. And considering nearly 50% of users will close a website if it fails to load within two seconds, page load time is a crucial component of any online business.
To run at optimal speeds, A2 Hosting uses SSDs across both their file servers and MySQL database servers (as opposed to just the file server). As a result, the company claims to have page load speeds up to 300% quicker than their competitors. Another nice little speed boost is their Turbo option, which uses SSL-compliant and optimized caching and software tools to further improve velocity.
Conservationists will love A2 Hosting's environmental policy. The company is 100% carbon-neutral through their participation in a carbon offset scheme.
What We Don't Like
Much like Liquid Web, A2 Hosting is a premium service so you can expect to pay a little more. While there is a bargain basement low-end plan, it won't offer enough juice for most users.
Who Is A2 Hosting Best Suited For?
As you know, A2 Hosting is all about those uber-fast page load times. Consequently, they're an excellent option for download-heavy online businesses such as photography portals and the like.
Forming part of the monumental Endurance International Group, iPage is a popular web host which serves over a million websites across their two U.S.-based data centers.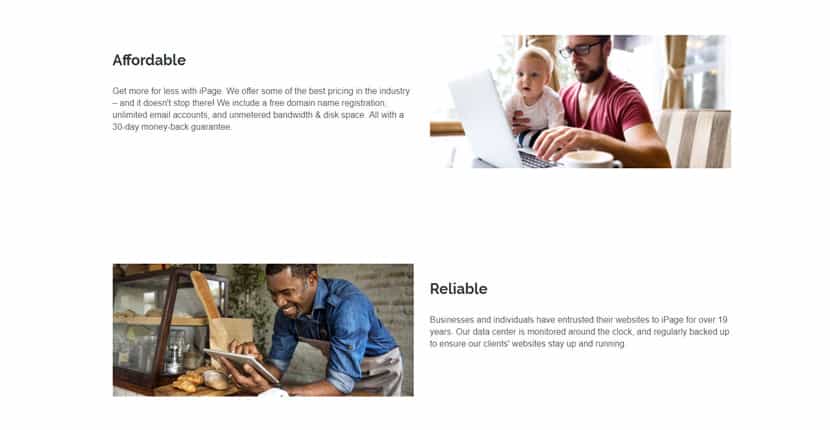 What We Like
The first thing you'll notice about iPage is that they offer almost unbeatable value for money, especially once the free one-year domain registration and unmetered bandwidth are factored in. However, there's always a catch.
What We Don't Like
The attention-grabbing prices listed on their website are only for the first term of service, meaning you'll automatically pay the higher rate once that period expires.
Other qualms include unlimited not really being unlimited (see their T&Cs) and some rather average page load times and uptimes.
Furthermore, there's no cPanel. Customers must use their built-in vDeck interface, which can be confusing for new users.
Who Is iPage Best Suited For?
Think of iPage is kind of like an all-rounder. It's easy to use, cost-effective, and requires little effort to maintain. Therefore, the service is perfect for small to medium sized businesses who just want a stress-free solution that works.
Choosing the Best VPS Host for Your Business
There we have it: the top five VPS hosts for 2018.
Weigh the most important factors for your business against your budget to determine which of these options is best for you.
2 billion websites: http://www.internetlivestats.com/total-number-of-websites/
Nearly 50%: https://neilpatel.com/blog/speed-is-a-killer/