AEserver
is Middle East's Largest Domain Name Registrar & Web Host, based in Dubai. In this interview, Founder
Munir Badr
shares his company's story and offers invaluable tips for any business seeking to establish an online presence in the UAE market.
Please describe the story behind AEserver.com.
This is a classic story of a startup that did not have a clear business plan or funding. I've always been curious about internet technologies so I just experimented with how websites work, how to register a domain name, how to get a web hosting account, and so on. Over the years, my curiosity developed into a business idea that revolved around local domain names. I discovered a very interesting niche market of local domain names in the United Arab Emirates, which is the AE country code top-level domain (ccTLD). Back then, the registration process for domain names was manual. You had to print a PDF file, fill it out by hand, and then fax it to the registry along with credit card authorization. I was too young to even have a credit card, so I had to borrow my dad's. The business came from the fact that only local residents or companies in the UAE were allowed to register AE domain names. It was a time of economic boom of business abstraction and tourism, and lots of people from all over the world started targeting the UAE market. Internet marketers started looking at ways to build local websites and came to find that they cannot book an AE domain name while sitting at an office in the US, Europe, or anywhere else. They needed a local representative, and this is where we filled in the gap by serving as a local representative for domain registrations, and of course, we bundled it with our web hosting solutions. In 2007, the UAE government decided to set up an independent regulatory body called the Telecommunication and Digital Government Regulatory Authority (TDRA). As part of that, they have a separate entity called the AE Domain Administration (aeDA), which initiated a registry-registrar model that is similar to what is done in most large economies. This meant that any company working online with domain names can apply to become an official registrar like us, get their accreditation, and start selling domains. Up until that point, I was just a freelancer working from home. In 2008, I quickly set up a company with the most economic licensing option and a small office. We got the accreditation and we started selling domains and hosting services. Fast forward, we turned into one of the largest domain registrars and web hosting providers in the UAE. We now register all domains, not just. AE ones, and we also operate as registrars in two more GCC countries – Qatar and Bahrain. According to our research & data, we are probably one of the largest registrar of QA domains as well, and we are very proud of that. We are also a RIPE member and run a data center in Dubai. We host our regional clients, providing everything from cloud hosting and VPS to dedicated servers and private cloud.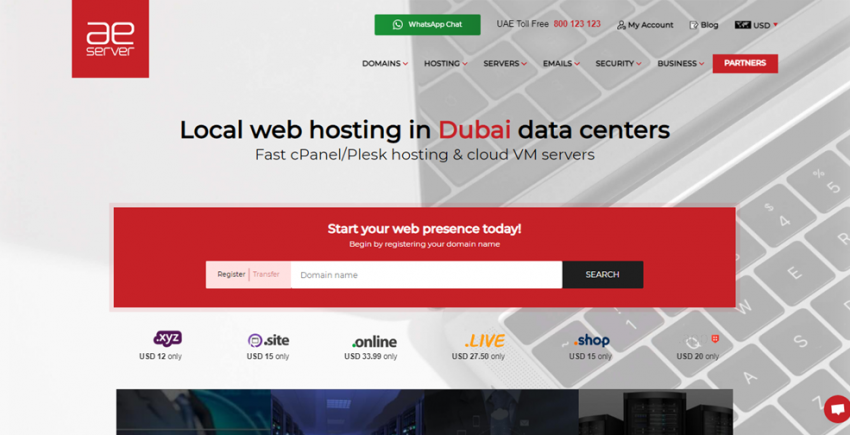 What differentiates the UAE market from other markets? How would you advise companies to interact with the UAE market?
The population of the UAE is made up of 90% ex-pats from all over the globe who come here to work and make a living, and around 10% local Emiratis. Most of them come either from the neighboring Arab/African countries, followed by the United States and European countries, and the Asian subcontinent: India, Pakistan, Bangladesh, and other Asian countries. A lot of the ex-pats come here with some sort of experience in IT, technology, or anything to do with the internet and the digital world. They are familiar with how web hosting and domain names work, so they obviously know about the big brands as well. This is where our creativity and our message come to attract such clients. We don't try to compete with international players like GoDaddy and others, because those are multi-billion dollar businesses with a global presence. Our main differentiator is the localization of services. We offer local hosting, local domains, and local support. We are here locally on the ground. You can call us through a local number. We know the local language, we understand the mentality, and we accept local payment methods. It's all about localization and personalization. Every country, population, and nationality has its own conventions, anecdotes, manners, and slang. Everybody knows that in the Arab world, there's a lot of attention to the service level. Service is a top priority. When people go to a hotel or a restaurant, they always expect top-notch service and this is also something we try to implement in our services. This is why we offer 24/7 support in multiple support channels. I've been living in the United Arab Emirates since 1996, when I was a child. I have seen this country grow from a desert to a futuristic city. It's a very unique region, mainly because of the way everything is governed here. The leadership is very visionary. However, there as some differences, for example, the cost of internet bandwidth is significantly more expensive here than in Western countries. I'm mentioning this because we often get inquiries from European/US clients, for instance, and they don't understand why it's so much more expensive than in Europe. They think we are greedy but they need to understand that there are geographic factors that are beyond our control. Internet connectivity is routed through underwater cables which are much more costly to operate so there are local regulations in place in terms of data transit/peering, and the cooling of data centers in the summer heat requires way more power than a data center in Norway, where it's cold. Unfortunately, some clients don't consider these costs. This is why you have global hosts and local hosts. When you approach a local host, you need to keep in mind that there are specific items that might cost more. But overall, the region is expanding and it's attracting more and more talents, so you can see that it's becoming a great place to build startups and companies. Infact, the UAE has been rated as one of the best places for remote working during the last few years as well as during the pandemic.
What are some trends or technologies that you find particularly exciting these days?
I'm a big fan of everything related to business automation. I think the pandemic has played a crucial role in accelerating this digitalization. The UAE government has been trying to go paperless and cashless for many years, but during the past 2 years, they accelerated this vision and suddenly it all happened overnight. Most business processes as well as most government services have been digitized, including things like e-signatures and e-payments, which made handling paperwork a whole lot easier. I think this is the biggest trend these days. Right from the start, we always used to call ourselves
an online company doing online business, online
. We don't expect customers who come to our website to then have a meeting with us, fill up a contract, and then have it delivered to them by post. When you deal with us, everything is done online. We were the first company to offer a WhatsApp business chat channel. For us, it doesn't really matter where the chat comes from, because we have one platform where everything flows in, but if you're brainstorming a business idea and you want to quickly book a domain name, you don't want to send a question and wait for an answer, you want the information straight away. WhatsApp is a really powerful tool for that. During the pandemic, everything was on delivery, even things like cakes and flowers. During that time, it was the service industry that made most of the money. All these companies went on a crazy hype and they started going online. The majority of businesses who came to us during the pandemic were brick-and-mortar stores or retail businesses that didn't even have a professional email or did not have a nice-to-have social media presence on Instagram. They realized that their competition is going online and that should also start doing it. We have some government and corporate clients who had very complex procurement processes. They would have to have a tender, procurement, purchase order, invoice, and all this paperwork that, during the pandemic, was causing intolerable delays. We've seen large corporations pay with a credit card, which was new to us because they would always pay through a purchase order. This is where I'm seeing automation and digitalization happening. This was a top trend and I really hope it will go on. Some of our competitors in the Enterprise space are hosting in ] ISP-owned data centers that are very complicated to deal with. You have to set up calls and meetings, and they often require a business plan to understand who you are, then make you fill out forms, just to buy a single dedicated server. We come from a more advanced background. We know that you can go online to a European or a US provider and just buy a dedicated server online and have it ready within half an hour. We do the same thing. We bypass all the paperwork and physical meetings process without compromising security or the KYC. We still do the verifications, we know who we work with, but it's mostly business to business in 99% of the cases. Occasionally you hear people say they cannot sell online because they might have spammers signing up, but I think those are just cover-up stories that people make up to leave things as they are. In our case, it's always been a complete one-click automation. You just go online, buy the services you need, and you're good to go. Since the pandemic, the online industry has been accelerated all over the world. I am extremely happy to see these changes and I'm looking forward to seeing more competition because without competition there is no innovation and without innovation, there is no growth. We will continue competing and riding this wave.
What are your tips for people who are considering starting a website or an online business?
The first tip is to do a background check on the providers you want to work with. There are providers of so-called resemblances out there that exist today but might not exist tomorrow, even though you find them on the first page of Google or sponsored ads. The reason being is that when you book a domain name, it's no different than registering a car or a piece of land under your name. It's a digital asset. You have to think of a domain name and this is your address and identity online as your intellectual property. If it goes into the wrong hands, or if the provider is chosen is a reseller who doesn't have the necessary experience, you might be subject to losing the domain name. So it's very important to do a background check and verify who the provider is. Are they a reseller or a direct registrar? How long have they been in business? Who runs the company? Online reviews are very important. There are lots of tools that showcase verified online reviews, not just purchased or paid reviews. We use websites like Trustpilot, which is very popular in this region. It shows verified reviews because we share the orders data with them. Of course, you need to understand the initial cost that you're going to pay and what will be the cost when it's time to renew the service because this is mostly what happens in the hosting industry and then clients start moving around. We like to be very transparent with our prices. When you place an order, we show you what renewal will cost you one year from now. Another thing is the service that they offer. Do they only offer the domain name or do they also offer hosting? What if tomorrow you decide to sell online, do they offer an eCommerce solution? Ideally, you should choose a company that offers a one-stop-shop solution. Last but not least is support. It's a technical service so you will need support at some point. How easy is it to reach support? What is the response time? What are the channels? If you don't see a phone number or a live chat on the website, that might be a bad sign because nowadays most online companies have these tools available. You should be able to trust that if you have a problem, someone will be there to help you.