This week, we had the opportunity to speak with Pavel Sher, CEO of
Nimbus Web
. We discussed their beginnings, their mission, and what separates them from other similar websites/companies.
What is Nimbus Web? Please describe the story behind the company: What sparked the idea, and how has it evolved so far?
Let's start with the story behind Nimbus Web. I have more than 10 years of experience working on many products with different teams. Surprisingly, everywhere I saw the same challenges with gathering and sharing information. Usually, you have a bunch of separate files in diverse formats. Each file format works great for a specific task, but it has limitations. You can't use the same tools for working with visual, textual, or digital content. And that means you can't gather multiple types of content in one place. For instance, you can't add a GIF to .pdf or an audio file to .docx. Of course, folders and archives can help gather files, but they lack explanations. Even if you share a folder or an archive via email, you have to write blocks of text to describe the files it contains and how to use them. What's worse, some attachments require specific programs to be opened. So, you need to waste your time downloading, installing, and learning how to work with new software. The problem is that keeping the information in isolated files, programs or tools doesn't allow you to see a panoramic picture nor does it provide efficient information sharing. According to statistics, switching between tasks and tools decreases productivity by 40%. But why can't we use our time in a smarter way than just jumping from different formats, email threads and so on? I couldn't find a solution that would meet my needs in information management and sharing. That's why I've created it with my team.
Nimbus Web is a new-generation hub that unites multiple content types under one roof and lets you share everything with just one link.
Our team started working on the first instrument
Nimbus Note
 in 2014. During the first few years, we led profound research and development activities. We tried various technologies to make Nimbus powerful, efficient, and simple for users. The idea was to make our tool intuitive and user-friendly for people that are not into technology and who don't have time to delve into the new software. Our team had to work for several years to make Nimbus easy-to-use from the start, and I'm quite proud of what we have right now. In Nimbus Note, you can create super documents that will unite all content types you need: text, images, videos, embeds, bookmarks, or databases. After a while, we've added a visual communication tool
Nimbus Capture
 and a powerful web clipper
Nimbus Clipper
. With them, you can easily create an annotated screenshot or screen recording with voice-over and webcam recording. We felt the urge to add tools for visual asynchronous communication which is a must in online workspaces. Our three instruments are integrated and together form a powerful Nimbus Web ecosystem. In the beginning, Nimbus Web was mostly used as a personal hub to gather and manage crucial information. In the body of Nimbus super documents, you can attach files of any format, embed dynamic content, add tables and explanations. Now, we have powerful features for collaboration and communication: one-link sharing, internal links, real-time editing, permission levels, and disabling editing of selected blocks. Many useful collaboration features are coming soon: comments, upload forms, chats, and activity feed. More and more users are starting to use Nimbus Web as a client portal to deliver outstanding performance to their customers.
What services do you offer?
Smart information management and collaboration are game-changers for businesses. By organizing information, Nimbus Web offers solutions for enhancing both internal and external communication. Nimbus enables you to:
Unite visual, textual, and digital content on one page. With Nimbus, you can record a video, write down highlights, add attached files, embed Google Slides and/or Google Analytics. You are no longer limited by file formats and isolated tools.
Benefit from visual messaging. Visual communication is faster, more straightforward, and also adds a human touch to business correspondence. It nurtures your relations with leads and clients.
Share everything you need with just one link. Your prospects/colleagues don't need to install or explore new software. Nimbus super documents look like usual website pages.
Customize shareable pages with your branding: add your domain, logo, and custom design. You can make a memorable impression on your clients by using the branded client portal in Nimbus.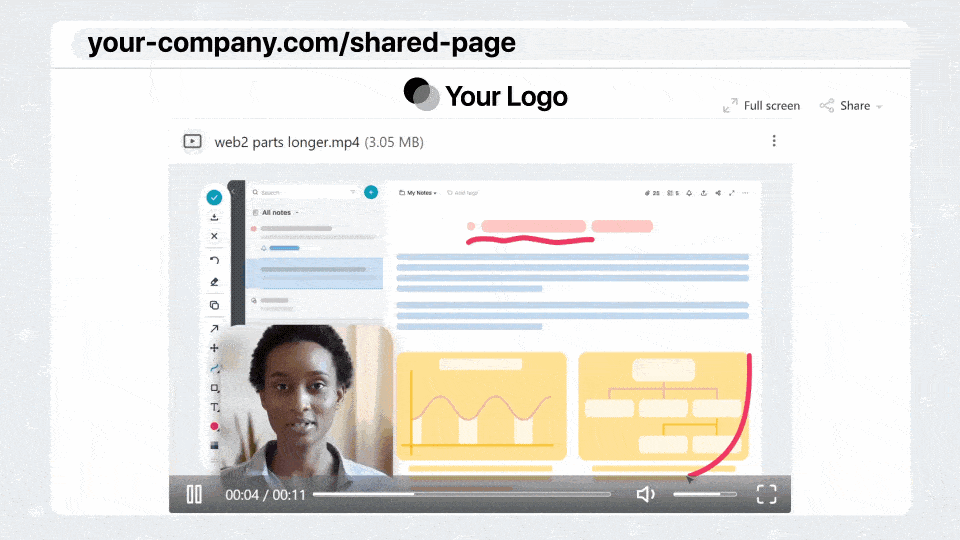 Nimbus Web proves to be extremely efficient for client communications through all stages: from lead generation to project completion. It gives your prospect/client a helicopter view of project terms, executions, and results. Easy-to-use and always up-to-date, Nimbus super documents save time for both clients and service providers.
What is the mission of Nimbus Web?
Our mission is to
make your workflow simple and efficient
with smart information management and better digital collaboration, especially with non-geeky people. Super documents (Nimbus Note) and visual communication (Nimbus Capture) help people save time and achieve more. Our tools enhance workflow, as Nimbus users no longer waste time gathering dispersed pieces of information. We also create easy-to-use solutions that bring people who are not into technology to efficient collaboration with digital service providers. If you use Nimbus for communication with clients, they don't need to sign in, install or explore any software. Once they have a browser, they are working with you. You can always protect your client's information with a password for security reasons. While Google helps you search for information, Nimbus allows you to store, customize and share it with your colleagues and clients.
What separates you from other similar websites/companies?
We started as an information hub where people can save all-important content. For many users, Nimbus has replaced note-taking services such as Evernote or Notion for several reasons. Firstly,  we offer the ability to work with various content types. Secondly, Nimbus is based on a nested structure of folders and subfolders. The structure is similar to the one we all have on our desktops which, once again, makes our apps easy to work with. Thirdly, you can use our app on any platform for as many devices as you need. Once you
download Nimbus
 on your desktop or mobile, you can work offline. Finally, our users claim that Nimbus has a lower price, grows much faster than similar services, and has top-notch support. Today, we move our focus to organize internal and external communication. We see that modern collaboration and communication tools lack several important points:
Comprehensiveness Many services focus only on one type of content to share. Some of them, like emails, use only static content: text combined with attached PDF files. Others, like Figma or Loom, work only with visual content. We want to bring various formats and tools together to skyrocket users' productivity.
Efficiency: Some services decide to create their tools instead of integrating already working ones. Trying to be all-in-one, such companies are feature-poor in each field, even though they claim to be universal. We don't want to reinvent the wheel, that's why we've created all-together solutions. We don't suggest using Nimbus instead of all the tools you're using today. Use it with your tools to get the most out of them. Think of Nimbus as a tool bag that keeps your instruments organized and ready to be used at the right moment. A well-thought-out tool bag is way more useful than a hundred separate instruments or one little Swiss knife.
User-centricity: Customer portals often forget that they were created to make clients' lives easier rather than more complicated. Some customer services require months or even years of practice to get the most out of their features. Does your client have enough free time to learn how to work with you? Probably not. Clients want results and a comfortable communication flow. You can achieve this with one-link access and organized information in Nimbus.
Who are your typical customers, and what do you think is the main challenge that your product solves for them?
Nimbus users are mostly digital professionals—people who provide professional services in a digital environment. They are website development agencies, advertisers, digital marketers, personal coaches, consultants, and various creators: from copywriters to designers. We have solopreneurs, freelancers, agencies, and professional teams as users. I believe that hearing our users' needs and desires is the key to creating a really useful product. I often communicate with our customers personally on our Facebook community and via interviews. During interviews, a great majority of our customers name client communications as their main challenge. Our community stated that more than 70% of their clients are not tech-geeky and prefer simple tools to complicated client portals. Installing Photoshop to open a PSD file or creating an account in Google Analytics can seem easy for digital professionals. However, it doesn't seem so easy for clients.  They work too and have enough on their plates as it is. Clients want quick visible results without email ping-pongs, long meetings, unusual format files and switching back and forth on tools. What's more, organized communication with clients saves time for digital professionals as well. Did you know that unnecessary emails and meetings steal 22% of the working week? Imagine having this extra 22% of the time to scale your business: it's almost one extra day a week!
How do you envision the future of your industry?
Information changes, so do communication. To meet contemporary needs, collaboration tools should be flexible and offer an outstanding user experience. Since we all work with complex content, offline meetings, emails, and even Zoom conferences are no longer enough for efficient collaboration. PDF, Microsoft Word, and Google Docs are also outdated and bring chaos instead of clarity. Firstly, people should see exactly what they are working on via a set of digital tools and programs. Secondly, to deliver value, knowledge bases shouldn't be chaotic or dispersed in multiple formats. Super documents can include anything you need and keep all information structured. That's why we believe super documents are the future. People already need more freedom in their work: even more, employees are switching to working from home, teams and companies are going remote and providing services in a digital environment. The quality of their work greatly depends on their collaboration. We, at Nimbus, understand this responsibility and do our best to enhance business communication with our solutions. I think that in the near future we'll see the growth of asynchronous multi-format communication. People no longer need tiresome online meetings, nor impractical email correspondence. They need action items and a clear understanding of what should be done. Visual communications can greatly help but needed to be paired together with other digital content. I believe that only by bringing all types of content together can we make a drastic change in the way people collaborate.