What does Auphonic do? And what sparked the idea for the company?
Auphonic
does automatic audio post-production. What we mean by that is that when we get an audio file, the audio file will be analyzed as a human would do it. So we will detect different speakers and music parts and other parts (noises, etc). From there we apply the audibles production algorithms according to this analysis. This will do things such as – equalize the levels between speakers so that you can hear each speaker equally well, remove background noise and filtering and loudness normalization, etc. The idea is to analyze the audio and then do all the post-production steps, as humans would do it- but according to the analysis which was done before. I founded the company because I was a heavy podcast listener and there was a very famous podcaster in Germany who always complained that things were so complicated- both for production and the encoding of different audio file formats.  I studied Audio Engineering, Computer Science, and machine learning so I started to make simple scripts to automate this workflow. We added more and more features, it grew over time, and then we built the company out of it.
Are there any other companies that do what you do? What makes you stand out from them?
No, there are not many other companies that do what we do – we work in quite a niche area. Of course, there are many audio editing software companies, but they are more focused on processing everything by hand or in a way that you need to know what you're doing- how to apply compressors, and limiters and how to apply different filters, etc. At Auphonic we try not to go into the editing space and rather focus on automation. Everything should be automated so the user does not have to do any fancy editing. He or she just throws in a file and everything should be automated. As far as I know, no one else does this at the moment.
Who is your target market?
We started in the podcasting space because a lot of podcasters just want to speak like anyone wants to write a blog post, for example. However, they do not know the audio post-production stuff. We now work in other industries though, basically everywhere where speech is an important part in recordings and also where there is a big recording amount that you cannot do all the post-production by hand- therefore requiring an automated way to do this. Some examples of where we have been used are:
Recordings of lectures and conferences, this is a very big thing for Auphonic because at universities you don't have the time to post-process every lecture.
Radio and broadcasters are using our services quite a lot. There are a lot of small private radios and lots of public radio stations here in Europe.
Audiobooks, which are quite similar to podcasts.
Videos and screencasts.
You use AI-based audio algorithms. Can you explain how these are used?
Yes, we use lots of AI-based or machine learning-based algorithms. For example, when we get an audio file it will be analyzed. We have different kinds of classifiers which learn from the audio to detect things such as: Where there is speech or music/ when the speaker changes, etc. So we have lots of different classifiers. Then we also have algorithms that take in, for example, noisy audio, and then they learn from all the data and our service to put out the enhanced audio so that some of the noise is removed. So the API-based algorithms are basically everywhere in our system and they are trained on the data of our service and from other data sets.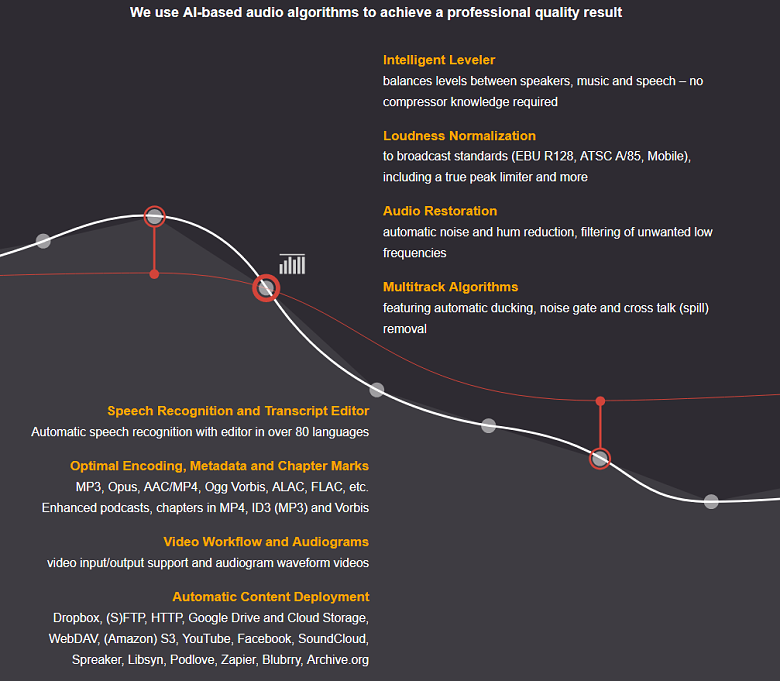 The world has been affected by the Covid-19 pandemic. How has that affected Auphonic for both your employees and customers?
First of all our customers, the audio amount increased a lot. People were using a lot of lecture and podcast recordings. So this was a big boost in our usage which was a great side effect for us. In terms of our employees. This is interesting, before the pandemic we were a remote team. We had different people in different countries. When the pandemic hit, some of those stopped working for Auphonics. So we searched for other people and found a more local team. At the beginning of this year, all the employees wanted to go to the office again. So we now have another office in the city where six of us are now- so basically the effect of the pandemic was that everyone wanted to return to the office.
What can we expect to see from Auphonic in the coming months?
We have a few collaborations coming up with a few other podcasting-related companies. We have some new features coming up and new algorithms in development at the moment as well as new interfaces and additional features. One example of this is a 'watch folder'. This will allow you to put an audio file in your Dropbox and we will check your Dropbox and see when the new file is there, we will take it and automatically process it and other similar things.