Signing up for one, two, three, or even four (!) years may seem risky if you're just starting out
– especially considering the substantial lump-sum payment that's required up front. Sure, web hosts may offer a 30-day (or longer) money-back guarantee, but
what if the quality of hosting on your long-term plan starts to decline after six months?
Or even right after the guarantee runs out?
All of the providers on this list offer reasonably-priced monthly billing
so you can quit at the end of any month if you're no longer satisfied with the service. Read on to find one that's right for your project.
Short on Time? These Are the Best Web Hosts With Monthly Billing 2023:
Hostinger – Top-value monthly plans with surprisingly great performance and reliability.
Nexcess – High-end managed WordPress hosting with a cloud infrastructure.
InterServer – Affordable monthly billing with unlimited resources for an unlimited number of websites.
What We Look For in the Best Web Hosts With Monthly Billing
For this list, I've included web hosting providers that offer the best value in return for your monthly payment. So no matter which one you choose, you should be able to count on the following:
A fair price. I've been careful to compare pricing for each of these hosts, as plans that are billed on a monthly basis are usually more expensive than longer-term contracts. The various types of hosts on this list offer the best prices available when it comes to month-to-month billing.
Useful features. All of the hosts on this list offer worthwhile and useful features with their plans, so you're getting more than just a space to put your website.
Adequate resources. It can be difficult to know how much storage and bandwidth you're going to need. These hosts offer enough of each for a brand-new website with room to scale in the future.
Good performance. Your site visitors won't stick around if your website takes forever to load. We've tested each of these hosts to ensure performance is solid, and we've checked whether they offer optimizations for WordPress, the world's most popular content management system (CMS).

While you'll usually get the best deals on its long-term contracts,
Hostinger's month-to-month plans offer a good price-to-performance ratio
. The entry-level Single Shared Hosting plan costs about the same as your Spotify subscription, and comes with enough storage and bandwidth to support a growing website for a long time. Based on our testing,
Hostinger is at the top of this list thanks to its superior performance and reliability ratings
compared to any other company offering budget shared web hosting. Its machines are optimized for WordPress sites, with the LiteSpeed web server and the LiteSpeed Cache plugin working together to deliver superb loading speeds.
Hostinger accepts many payment methods
in addition to credit cards, including Google Pay, Alipay, PayPal, and CoinGate for cryptocurrency
.
The only real downside is that signing up for a month-to-month plan will incur a setup fee.
A free domain name is included with some hosting plans from Hostinger
Features
WP Starter wizard. If you're new to building websites, the WP Starter site-building wizard speeds up the launch of your site by helping you to install and configure WordPress and to choose a theme (design template) for your new site.
Site staging tool. If you want to test changes to your site's layout without altering the live site, this feature will come in handy. It'll allow you to make preliminary changes to – or install new plugins on – a copy of your site that only you can see. You are then given a choice to push the changes to your live site.
Free weekly backups. These weekly snapshots of your website will allow you to revert to an earlier version should your site sustain any irreparable errors.
hPanel. This is Hostinger's proprietary control panel which some people find easier to use than the industry-standard cPanel. It will allow you to control all aspects of your website's back-end environment.
Read our expert Hostinger review for more details
.
WordPress optimization?

✔

Storage
30GB – 200GB
Bandwidth
100GB – unlimited
Starting Price

$

1.99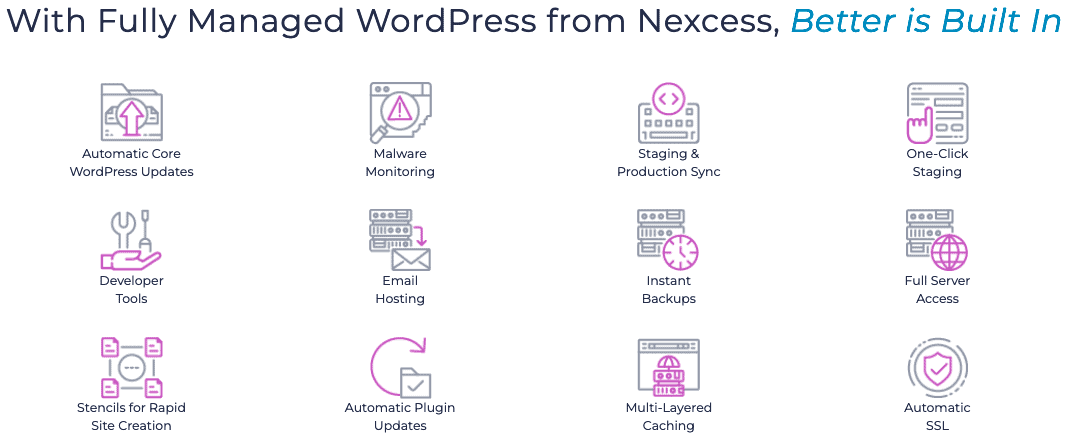 Nexcess offers month-to-month, cloud-based, managed WordPress hosting.
This includes software tools and hands-on support for a wider range of issues than unmanaged web hosts. And it offers all this at very competitive prices.
Nexcess's entry-level Spark plan
comes with 2TB of bandwidth and 15GB of storage, which can more-than-adequately support a new online venture. Nexcess's cloud-based infrastructure also allows your site to scale as its traffic increases over time. Payment methods include credit card, PayPal, wire transfers, and checks – but your initial order must be paid for using a credit card or PayPal. It might appear a bit expensive compared to the usual shared hosting – but
Nexcess's managed service and scalable cloud infrastructure makes its price worthwhile.
Features
Nexcess CDN. This is Nexcess' own content delivery network (CDN) – it caches your content as closely as possible to where your individual site visitors are, meaning they will spend much less time waiting for images and other content to load.
iThemes Security Pro. A premium WordPress plugin, iThemes Security Pro protects your website from a range of malicious online activity.
Plugin Performance Monitor. The Plugin Performance Monitor can discover and eliminate any website loading issues caused by WordPress plugins you've installed. If you've had any experience with WordPress, you know this can be valuable.
No overage fees. While there are bandwidth limits on each plan, Nexcess typically does not monitor or charge you for going over these limits, within reason.
Our expert Nexcess review has many more details
.
WordPress optimization?

✔

Storage
15GB – 800GB
Bandwidth
2TB – 10TB
Starting price


$

21.00

InterServer's Standard shared hosting plan is offered on a monthly billing model only.
You can't save money by paying for a longer term, but the monthly price is one of the best on this list, and it includes virtually unlimited resources
including storage, bandwidth, email accounts, and the ability to host as many websites as you wish. The web server stack is a proprietary blend of technologies. No need to get too technical here – basically,
the server will automatically cache any website content that is getting a lot of attention so that it loads more quickly.
I am not a big fan of the DirectAdmin control panel on offer here, which I find less intuitive than the industry-standard cPanel. Fortunately, cPanel is also available, but you'll have to pay roughly one dollar more per month to use it. But even when you consider the slight price increase to use cPanel, InterServer still remains the cheapest month-to-month hosting option on this list.
Features
SitePad website builder. A drag-and-drop site builder, SitePad can offer you the ability to build a respectable-looking website quickly with its several dozens of templates and many useful widgets. If you're not concerned about using WordPress, it's a beginner-friendly alternative.
Single-click WordPress installation. WordPress isn't as easy to use as SitePad, but it does offer many more functions and features for more advanced websites. It's the most popular CMS in the industry for a reason.
"Inter-Insurance." While there is robust security in place, if your site is compromised for any reason, InterServer promises to help you fix it.
Free website migration. Unhappy with your current web host? InterServer will move your site to its servers for free with the purchase of a plan.
Read our expert InterServer review for more details
.
WordPress optimization?

✔

Storage
Unlimited
Bandwidth
Unlimited
Starting price

$

2.50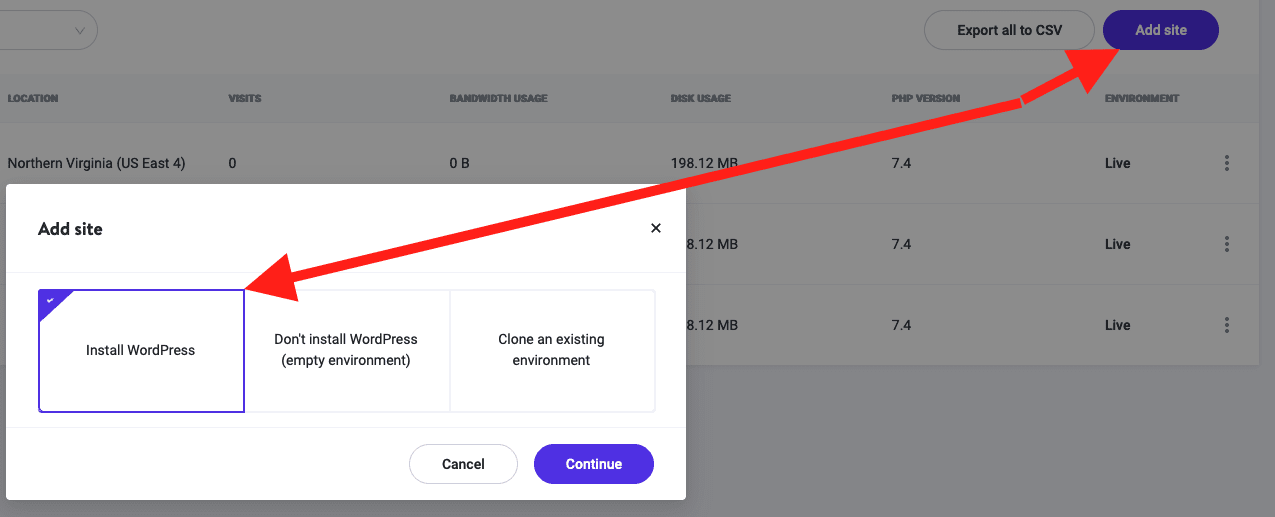 Kinsta offers top-tier managed WordPress hosting
on Google Cloud's infrastructure. It provides its own custom web hosting stack driven by the NGINX web server. Plans aren't cheap, but Kinsta is one of the best providers available of this type.
While there are good savings to be had with its annual plans, you can also choose month-to-month terms.
You can pay by credit or debit for monthly plans, and if you choose an annual plan you can additionally pay by ACH or wire transfer. Kinsta will handle setting up your server and software as part of its managed hosting service, and its support representatives are WordPress experts, so they'll provide advanced help to fine-tune your website so that it can take full advantage of the heavy-duty hosting technology on offer.
Features
Prorated refunds. Register and test out Kinsta's service with almost no risk. You can increase, decrease, or stop your subscription whenever you want, and you'll receive a partial refund for the hosting you didn't use without any delay.
Google Cloud machines. Kinsta uses Google's C2 machines for the best possible performance.
Application Performance Monitoring (APM). If your WordPress site is experiencing performance issues, Kinsta's APM tool can help diagnose and repair any issues quickly.
Cloudflare Enterprise. Cloudflare is a content delivery network (CDN) which helps your site content load much quicker for your international site visitors. The Enterprise-level service is a significant step up on the free tier.
Read our expert Kinsta review for more details
.
WordPress optimization?

✔

Storage
10GB – 250GB
Bandwidth
25,000 – 3,000,000 monthly visits
Starting price


$

24.00

Though A2 Hosting offers decent discounts if you sign up for a year or longer, it also offers reasonably-priced monthly shared hosting plans.
A2 Hosting's entry-level Startup plan costs a little more per month than Hostinger's entry-level plan, but offers more than triple the storage at 100GB, and unlimited bandwidth
compared to Hostinger's 100GB. Payment methods include credit card, PayPal, Skrill, check, money order, or wire transfer. A2 Hosting's
"A2 Optimized" WordPress installations offer security and installation configuration settings that can give you the best possible performance on its servers.
Turbo Server upgrades are available at a reasonable additional cost – you can host as many sites as you like on these high-powered machines equipped with AMD EPYC processors and superior NVMe SSD storage.
Features
A2 SiteBuilder. Included for free with all hosting plans, A2 SiteBuilder enables you to build a single-page website with a drag-and-drop interface.
Automatic daily backups. Whereas many shared hosting plans offer weekly backups only, A2 Hosting offers them on a daily basis at no extra charge.
Anycast DNS. Anycast DNS allows your site to load more quickly by routing simultaneous requests to view your site more efficiently.
Perpetual Security. This is a proprietary A2 Hosting software setup which can detect and prevent threats to your site like hacking, viruses, and malware before they arise.
Read our expert A2 Hosting review for more details
.
WordPress optimization?

✔

Storage
100GB – unlimited
Bandwidth
Unlimited
Starting price

$

2.99
Monthly Hosting Is a Good Way To Establish Trust With a Hosting Provider
Opting for monthly billing will result in higher long-term expenses compared to committing to a longer-term contract. However, it affords you the flexibility to transition to a different hosting provider at the conclusion of any monthly cycle. Once you've built a trusting relationship with a specific vendor, you can consider transitioning to an annual or extended payment plan to enjoy cost savings. If you're still having trouble making a decision, here are my recommendations. For the best price-to-performance ratio,
Hostinger is an ideal choice.
It has consistently scored highly in our testing in spite of its status as a budget hosting provider. Its entry-level Single Shared Hosting plan is a good starter option for one website, and offers a solid feature set. Nexcess, on the other hand, offers affordable managed hosting.
Nexcess's entry-level Spark hosting plan
 is specifically designed for WordPress users. The cloud hosting infrastructure will scale your site's resources to meet temporary surges in traffic as your site grows in popularity.
InterServer's shared hosting plan
offers one of the lowest monthly prices you'll find on this list. It includes many unlimited features and resources, and allows you to host as many sites as you wish.
Here's a quick summary of the hosts on this list:
| | | | | | |
| --- | --- | --- | --- | --- | --- |
| | Standout feature | Site builder included? | Money-back guarantee | Monthly price | |
| Hostinger | Excellent price-performance ratio | ✘ | 30 days | $9.99 | |
| Nexcess | Affordable managed hosting with cloud scaling | ✘ | 30 days | $13.30 | |
| InterServer | Cheapest monthly shared hosting plans | ✔ | 90 days | $7.00 | |
| Kinsta | Best-performing WordPress hosting | ✘ | 30 days | $35.00 | |
| A2 Hosting | "A2 Optimized" performance enhancement | ✔ | 30 days | $10.99 | |
FAQ
Can I get web hosting for just one month?
Yes. Many web hosting providers offer monthly billing. However, keep in mind that monthly hosting plans are generally always more expensive than if you were to commit to a longer term. If you're looking for monthly hosting because this is the first time you've ever launched a website, you might want to have a look at our step-by-step guide to building and hosting your first website.
Why is monthly web hosting so expensive?
Hosting providers offer lower monthly rates on annual plans because this encourages you to commit to their services for a longer term. However, we've found that hosting with monthly billing can be quite reasonably priced.
Which host has the cheapest monthly plan?
InterServer is the vendor with the lowest monthly rate on our list, but this is for shared hosting, so it might not give you the level of performance you'd get at a higher price point. If you decide that you might be willing to commit to a longer-term plan to save money, you may want to have a look at the top current web hosting providers for 2023.
How much does it cost to host a website on a month-to-month basis?
The cost will vary significantly depending on the type of hosting you're looking for, and on your project's specific requirements. Cheaper monthly web hosting options like InterServer and Hostinger provide entry-level shared hosting for starter websites, whereas service providers like Kinsta and Nexcess offer powerful cloud-based hosting for more established websites – but at a higher cost. See our comparison table for current pricing.