level up your business skills
, you often have to choose between these two options. Udemy's been around for a while and it's the first site most people think of when it comes to online learning. Udacity, on the other hand, is one of the newer Udemy competitors, but it's managed to gain a pretty good reputation of its own. But which one really delivers
the kind of online training that can help you meet your personal goals?
Which one will help you land your dream job? And which one's the best option for your budget? To help you decide, we've pitted Udemy against Udacity in various categories, including:
Course selection
Ease of use
Course length and delivery
Instructor quality
Student support
Certifications and employability
Pricing and refunds
We've looked at key aspects of each feature, and have examined where each platform shines – and where there's room for improvement. By the end of our Udacity vs. Udemy comparison, you'll know which online learning platform wins for you.
Udacity Offers 200+ Courses – Udemy Has 100,000+
Udemy is well known for having an
extensive selection of online courses
. Its catalog lists more than 100,000 courses, with multiple options to choose from in almost every category. Whether you're interested in enhancing your professional skills or working on your personal development, you can find a course that suits your needs in
Udemy's huge catalog
.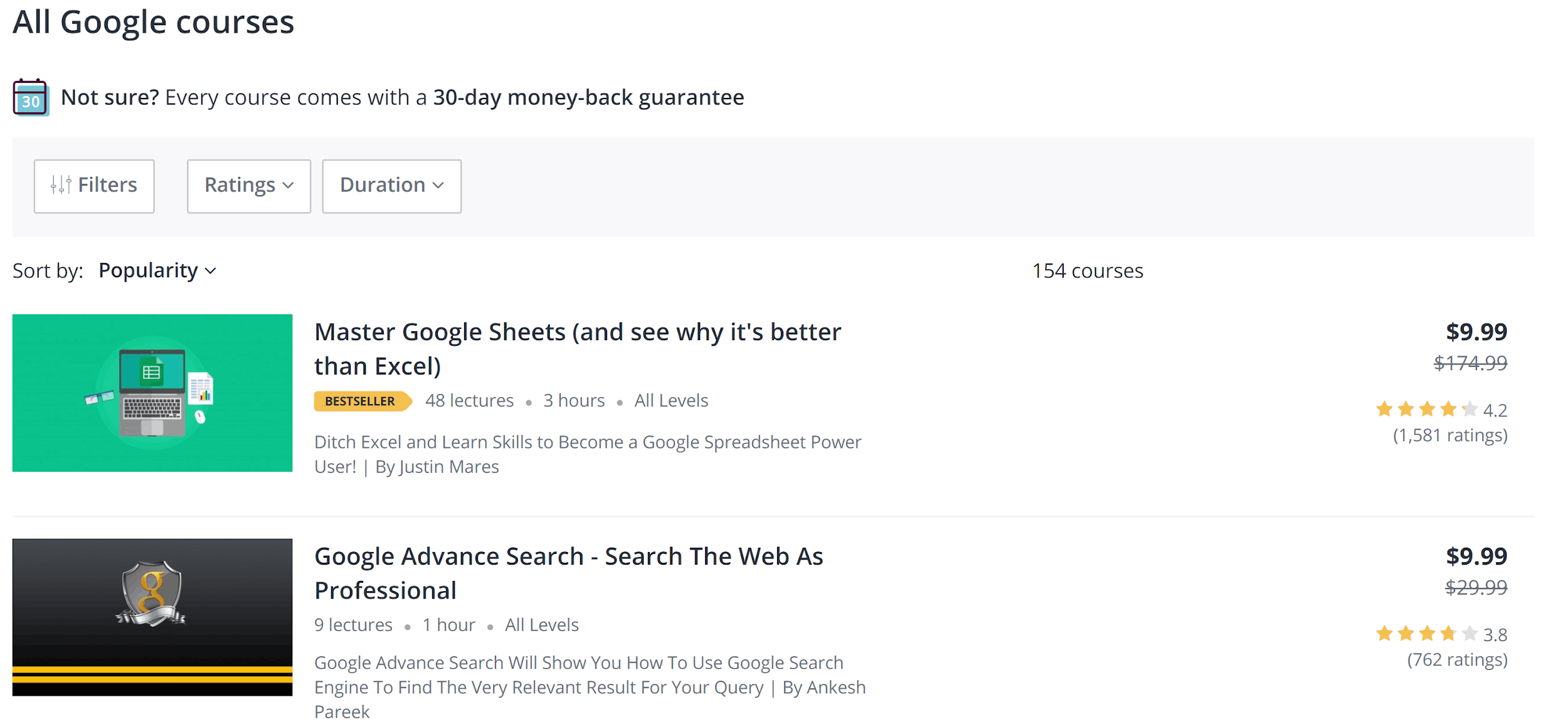 The onscreen menus make it easy to drill down and find the right course. Plus there are no prerequisites, so you can choose whatever appeals to you the most. In contrast, Udacity has a much smaller course portfolio, with only about 200 courses offered. The big difference is that
Udacity is
more of a specialist online learning provider
than a general one, so its courses are much more focused.

While the course catalog includes
some
business courses,
you'll get more from Udacity if you're interested in keeping up-to-date with the latest technological developments
. It's got courses on artificial intelligence, cloud computing, data science, programming, autonomous systems, and more. If you're not technically inclined, Udacity probably isn't for you. If you are, then you'll get a lot of benefit from this online course provider.
And the Winner Is… Udemy
. You just can't beat this platform when it comes to the breadth of instruction. With 100,000+ courses available, it's got more than enough instruction for almost anyone. Of course, as we'll see, that doesn't mean that all Udemy courses are the right quality, so don't make choosing your learning simply a numbers game.
Udacity Is Simple to Use – Udemy Has Better Course Descriptions
If you're trying to further your online education, the last thing you need is for the website to get in the way. Luckily, that's not a problem with either provider.
Both platforms are pretty easy to use
. Udemy divides its course catalog into sections and subsections that you can browse easily from the navigation menu. In fact, you can drill down about three levels to find the perfect online course.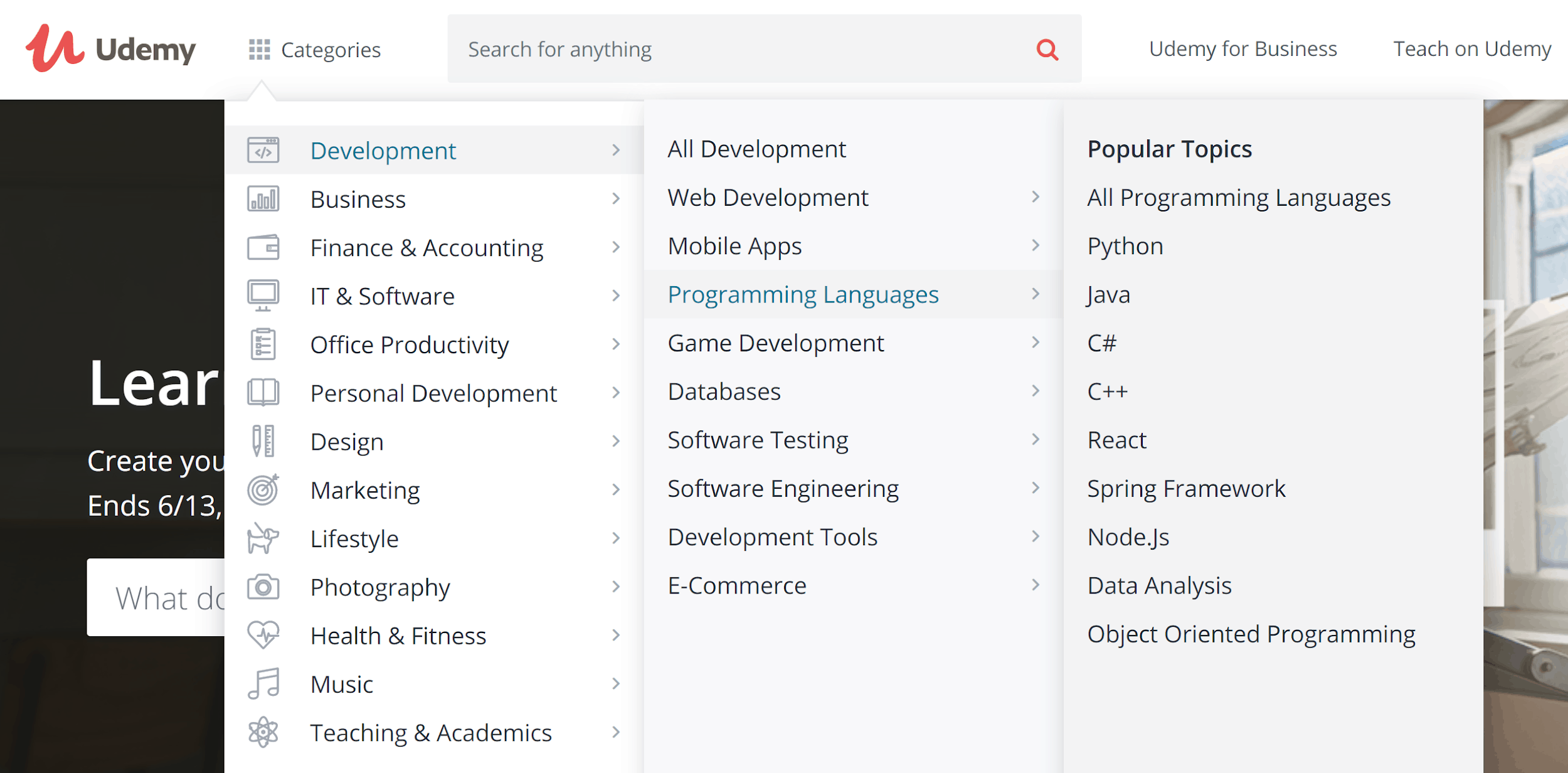 Another way to find the right course on Udemy is to type keywords into the search bar. Once something catches your eye, you can find out more by looking at the course page, which has an overview and a video preview. With Udacity, you can also find courses by typing keywords into the homepage search bar. Or you can use the menu to drill down a couple of levels and search through available courses. And you can also choose your courses by selecting the course level (beginner, intermediate, or advanced) plus duration.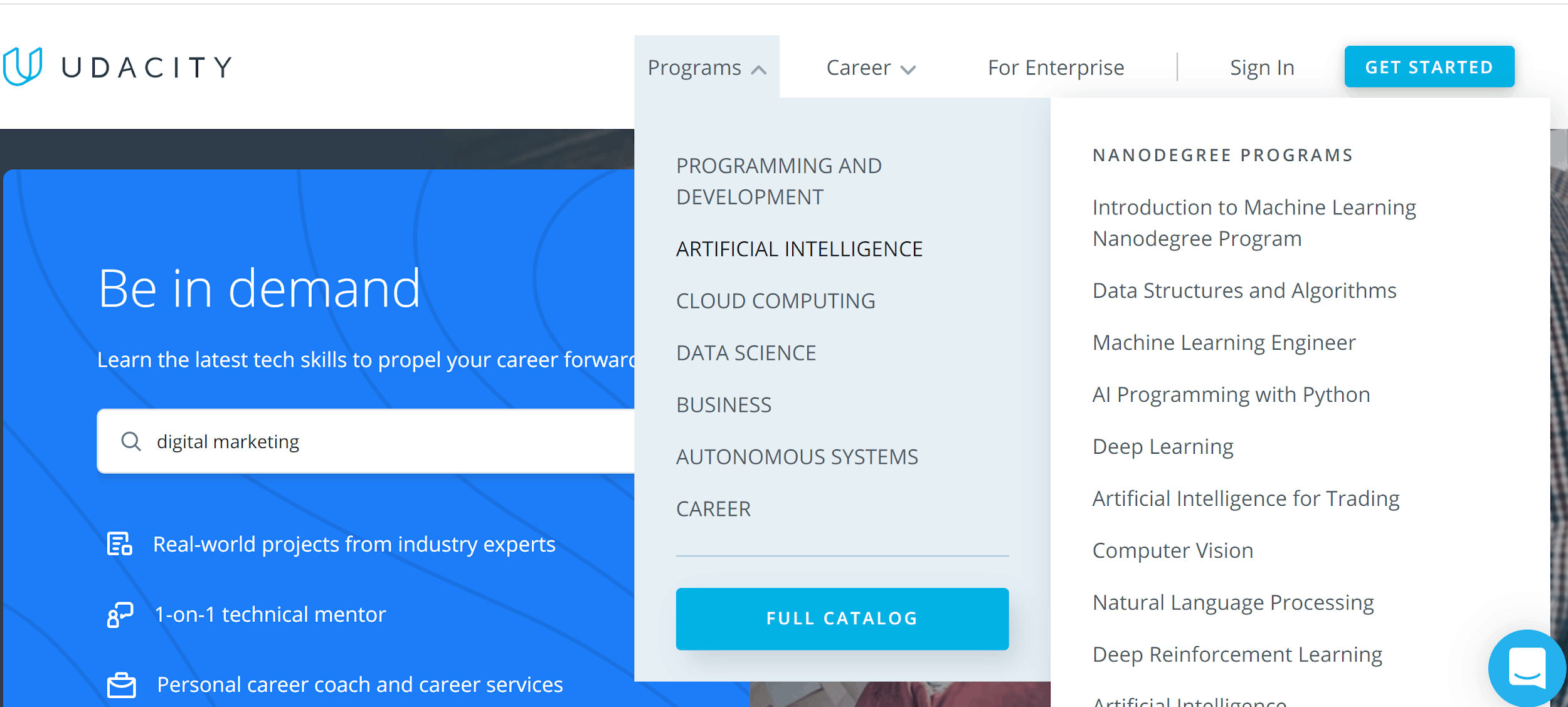 Once you find a course you're interested in, you'll see a description of what it covers and the time required. However, these descriptions aren't as detailed as Udemy's so it's a little harder to know exactly what you're getting.
And the Winner Is… Udemy
. When it comes to being able to find the course you want, you'll get a lot more information on Udemy before needing to make a decision. But we still like Udacity because of the option to choose courses by level.
Udemy Helps You Level Up Fast – Udacity Offers In-Depth Degrees
Udemy courses are primarily video-based, and you can download content for offline study. Course length varies – a lot! For some courses,
you'll spend about eight hours learning the topic
, but there are others that run more than 50 hours. That's definitely something to consider when you're deciding which course to study.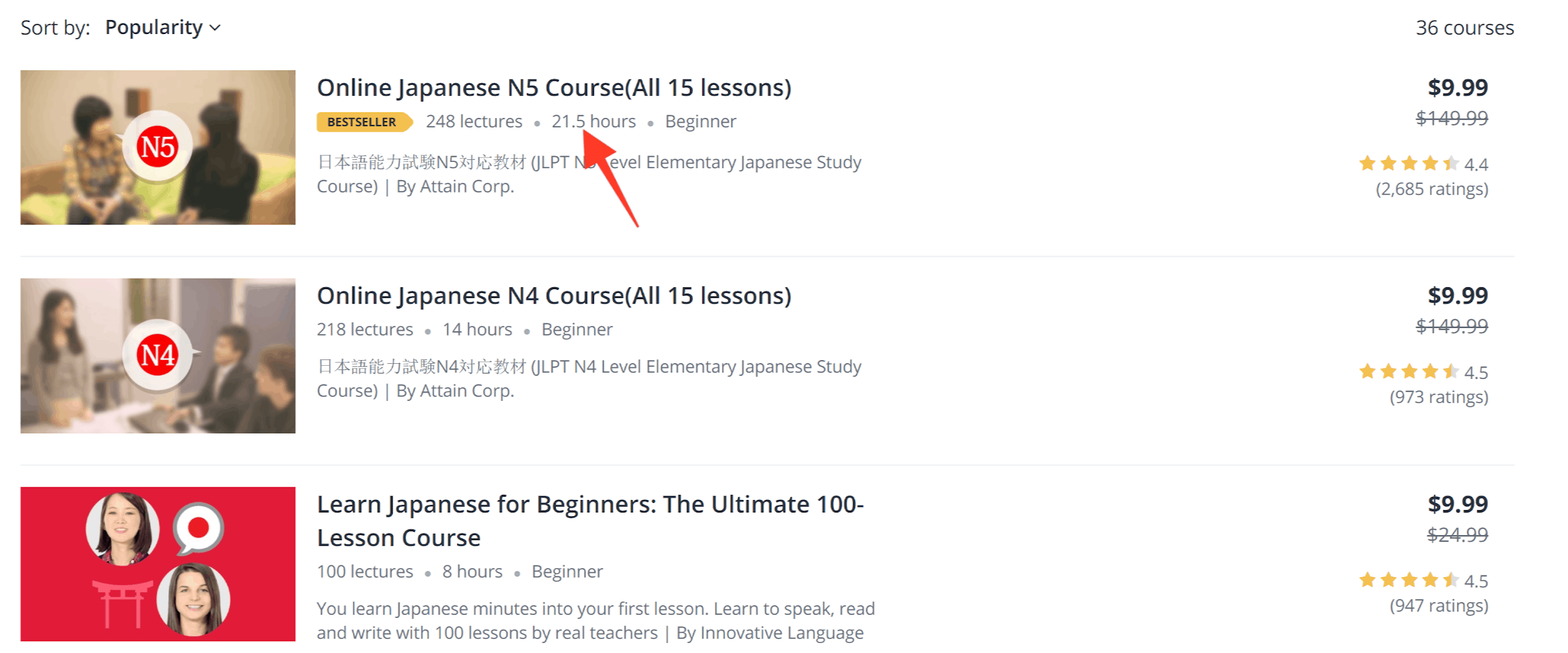 Some courses include external projects, so look out for these if you like doing hands-on work and having a practical aspect to your learning. In addition to some shorter courses,
Udacity's unique selling point is Nanodegrees
. These are degree courses delivered by video in bite-sized chunks. You can download course content for offline study.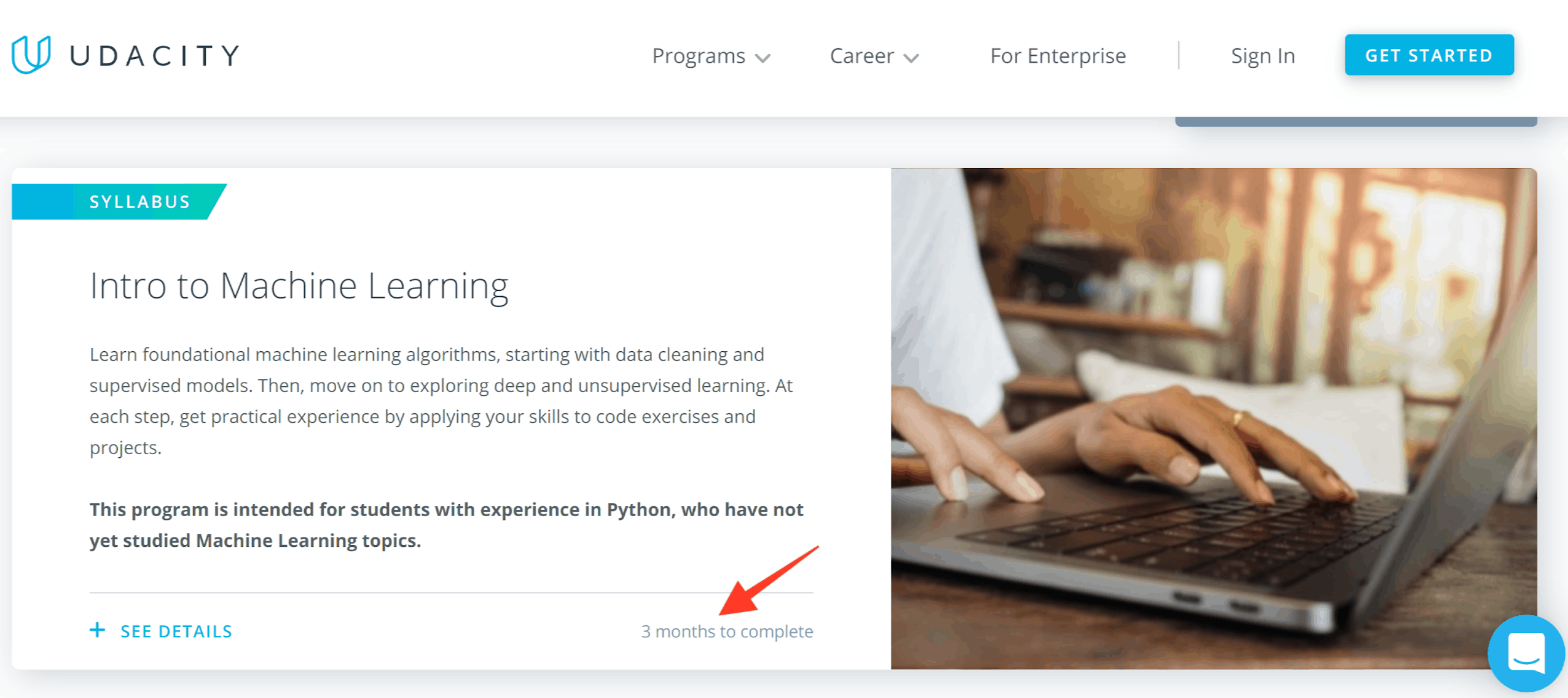 As you'd expect, you'll get a thorough approach to your subject when you take one of these courses.
Udacity's not a quick fix for leveling up your skills, but a major commitment
. Courses can run for several months, and students must also commit to doing extra work outside of instruction time. In addition to the course content itself, Udacity lets students learn directly from industry leaders via live chats. Plus, you'll get to work on real-world projects which provide useful experience. Udacity also has an active learning community that you can engage with throughout the course.
And the Winner Is… it's a tie
. Udemy's a great choice if you want a quick way to improve your skills in a wide range of areas. But Udacity's perfect for those looking to explore technical topics through deep learning.
Udemy's Instructors Are Enthusiasts – Udacity's Instructors Are Experts
Anyone can become a Udemy instructor – just join the platform and upload your course. That means the quality of the courses is variable and you can't be sure they're all led by experts. If you want to be sure of instructor quality on Udemy, there are a couple of ways to check. First,
pay attention to course ratings and reviews
. These will let you know which courses have scored well for quality and usefulness. The more ratings a course has, the more you can trust those ratings to help you decide.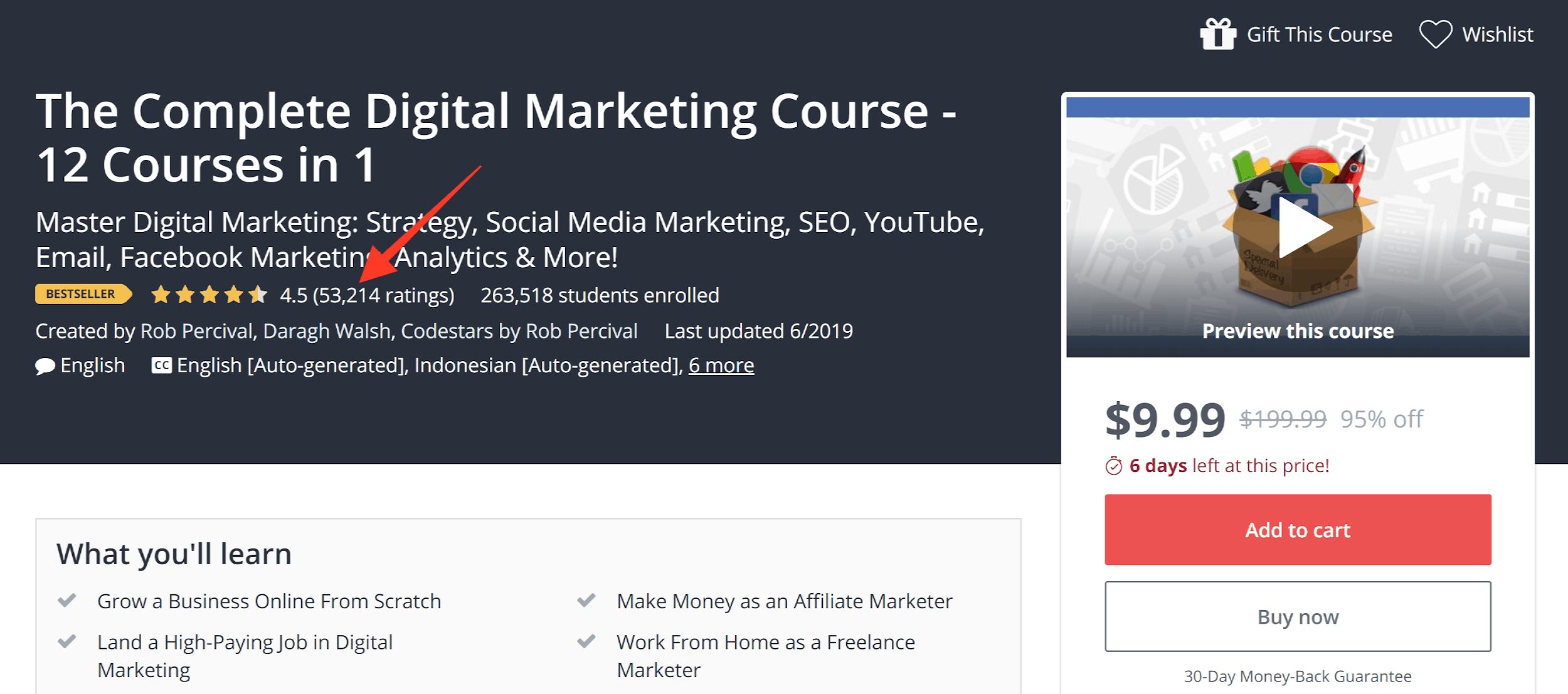 You can also check out instructors' ratings on their profile pages. And you can Google them or visit their LinkedIn profile to check out their level of expertise. Udacity vets every instructor to ensure that they are all experts in their respective fields.
That means that when you take a Udacity course, you're guaranteed to get high-quality training
.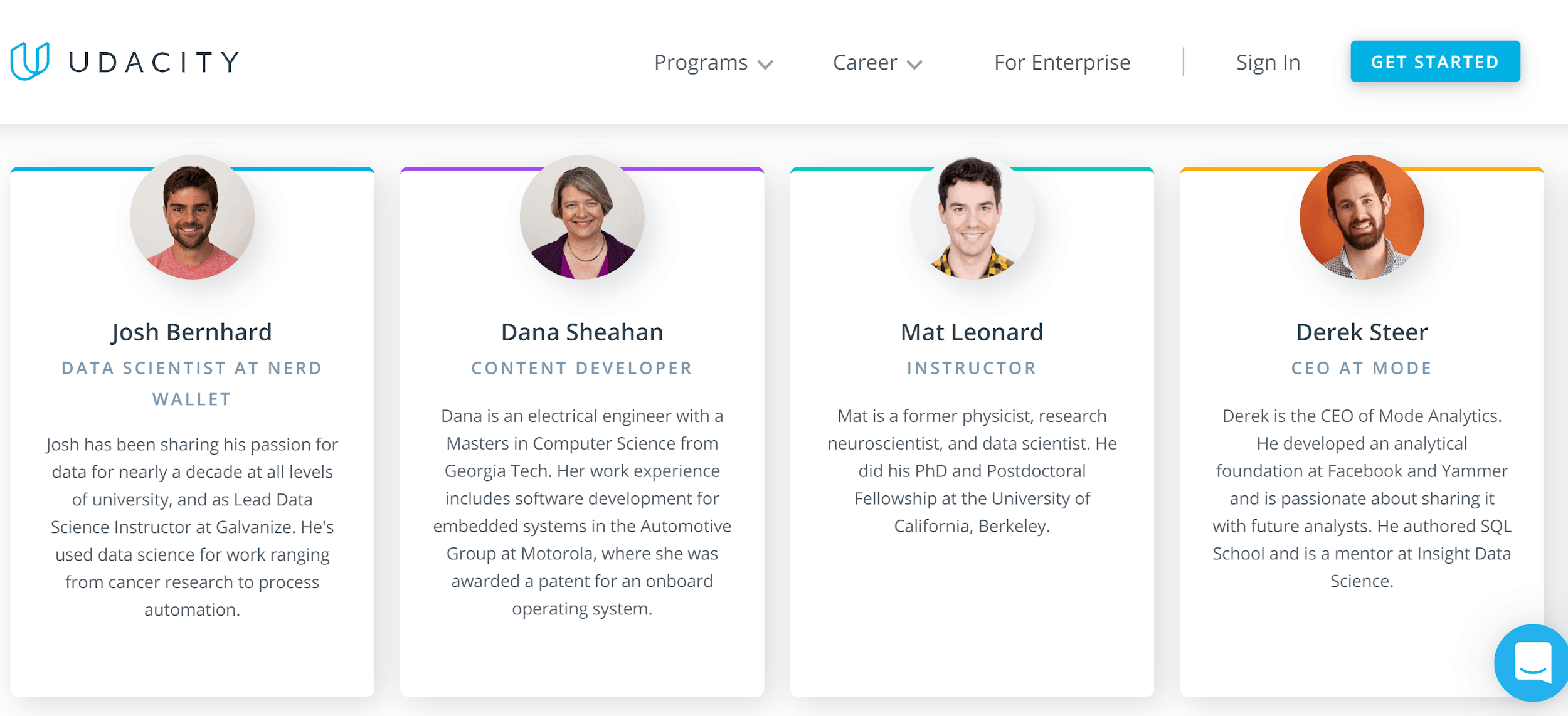 One thing we'd like to see is more in-depth instructor profiles, though.
And the Winner Is… Udacity
. There's no substitute for expertise. But that doesn't mean you should ignore Udemy – you'll just have to dig a little deeper to find your experts.
Udemy Has Variable Student Support – Udacity Offers Personal Mentoring
When comparing Udemy vs. Udacity for student support, one provider really stands out. As a Udemy student, you'll benefit from a support forum and interaction with instructors within the course. However, this varies greatly depending on the instructor, so you could find that the level of support doesn't meet your needs.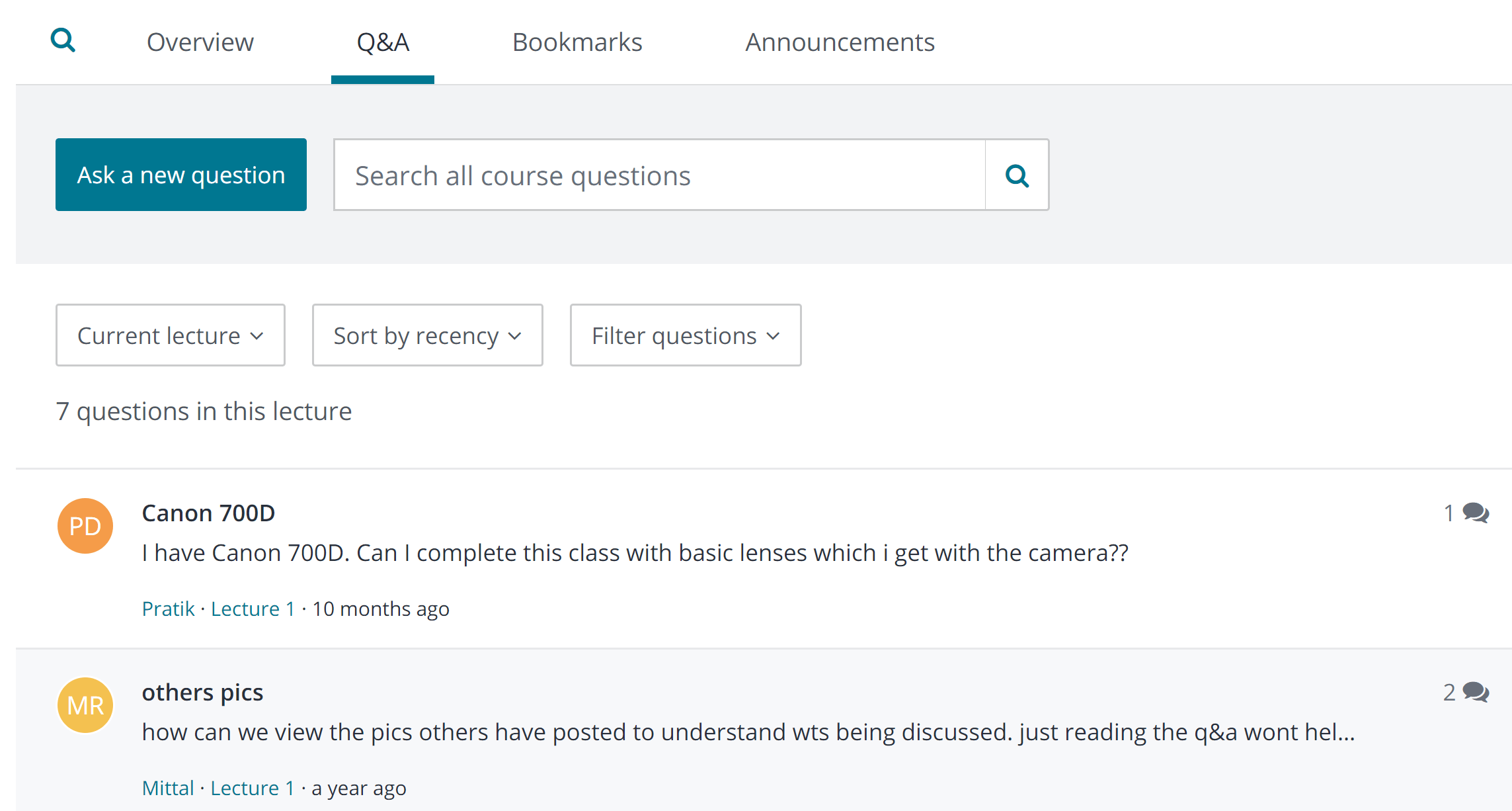 In contrast, Udacity offers
flexible learning and individual mentoring
with all courses.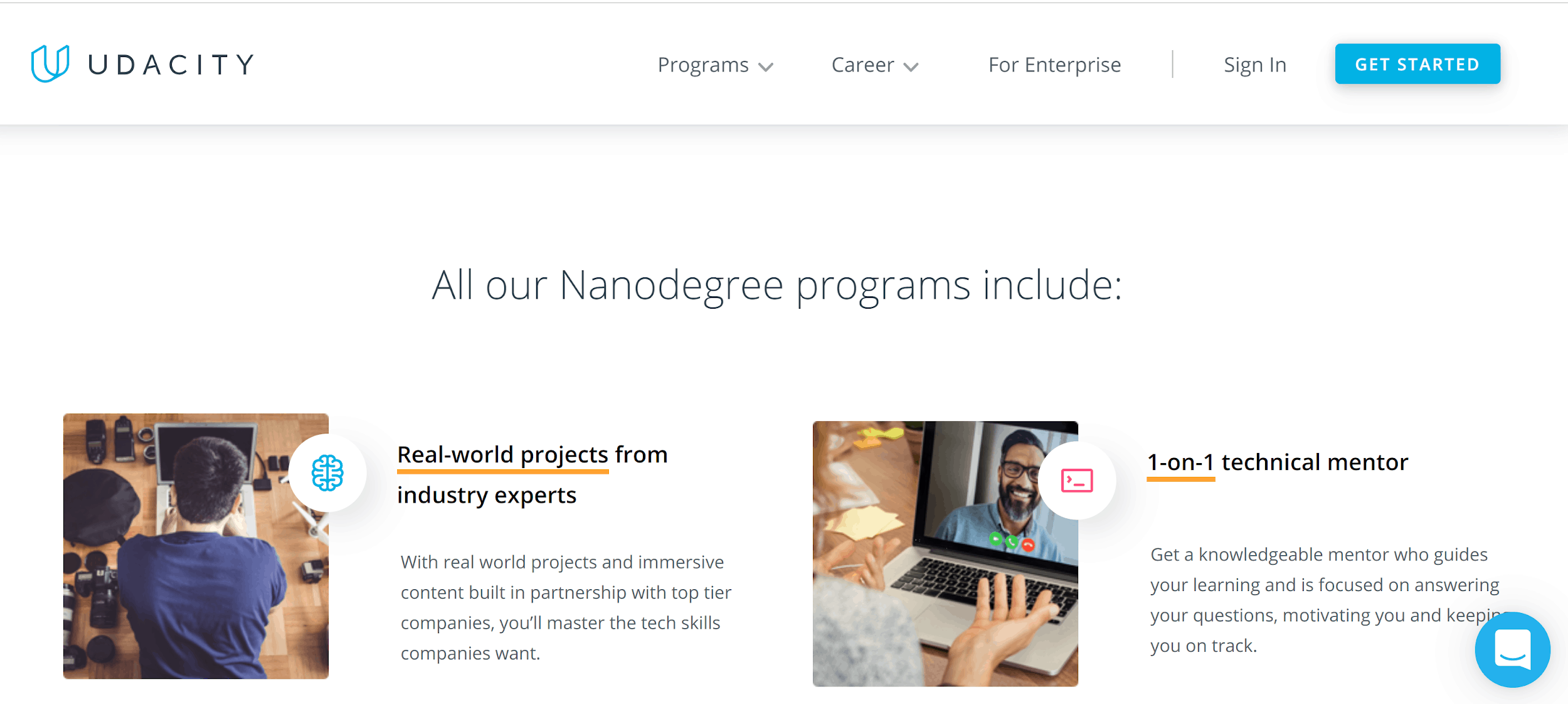 You can reach instructors via office hours and Slack channels, and there are even helpful webinars. Plus, instructors will help you create a job-winning portfolio.
And the Winner Is… Udacity
. There's no contest in this category, because you can't beat the unparalleled student support offered throughout all the courses.
Udacity Offers Tech Job Prospects – Udemy Has More General Instruction
One of the factors to look at with Udemy competitors is whether taking a course will help you get a job. Udemy provides certificates at the end of your course. However, since anyone can become an instructor, having a Udemy course certificate won't always improve your job prospects. The smart thing to do is to vet your instructors as we recommended earlier, so you're sure your course is delivered by an expert.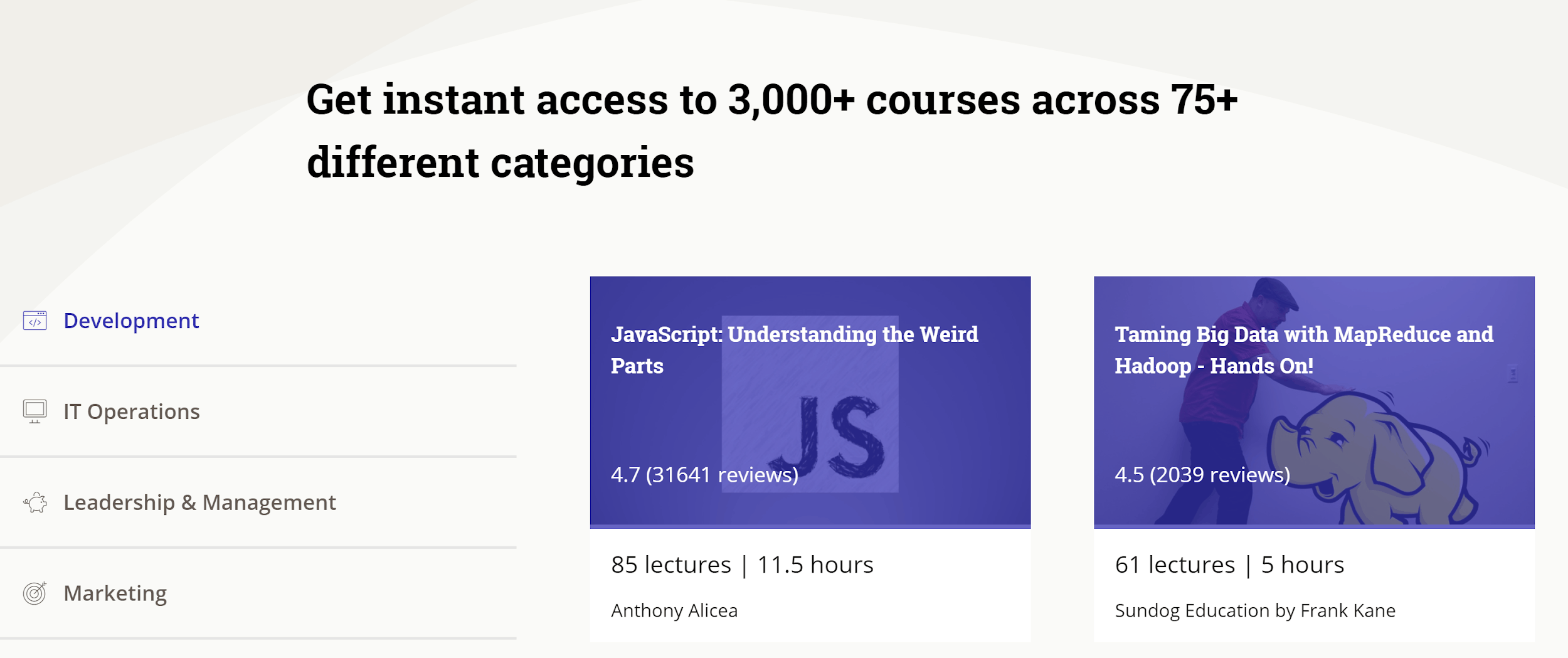 If you're looking for expertise on Udemy, another option is to check out the vetted courses available via Udemy for Business. To find them,
go to the Udemy homepage
, scroll down to the very bottom, and click the
Udemy for Business
link. Just keep in mind that you'll need to talk your employer into this, since personal plans aren't available. Expertise isn't something you'll need to worry about with Udacity, as all instructors are trusted professionals in their field. One of Udacity's big advantages is that Silicon Valley firms recognize its certifications.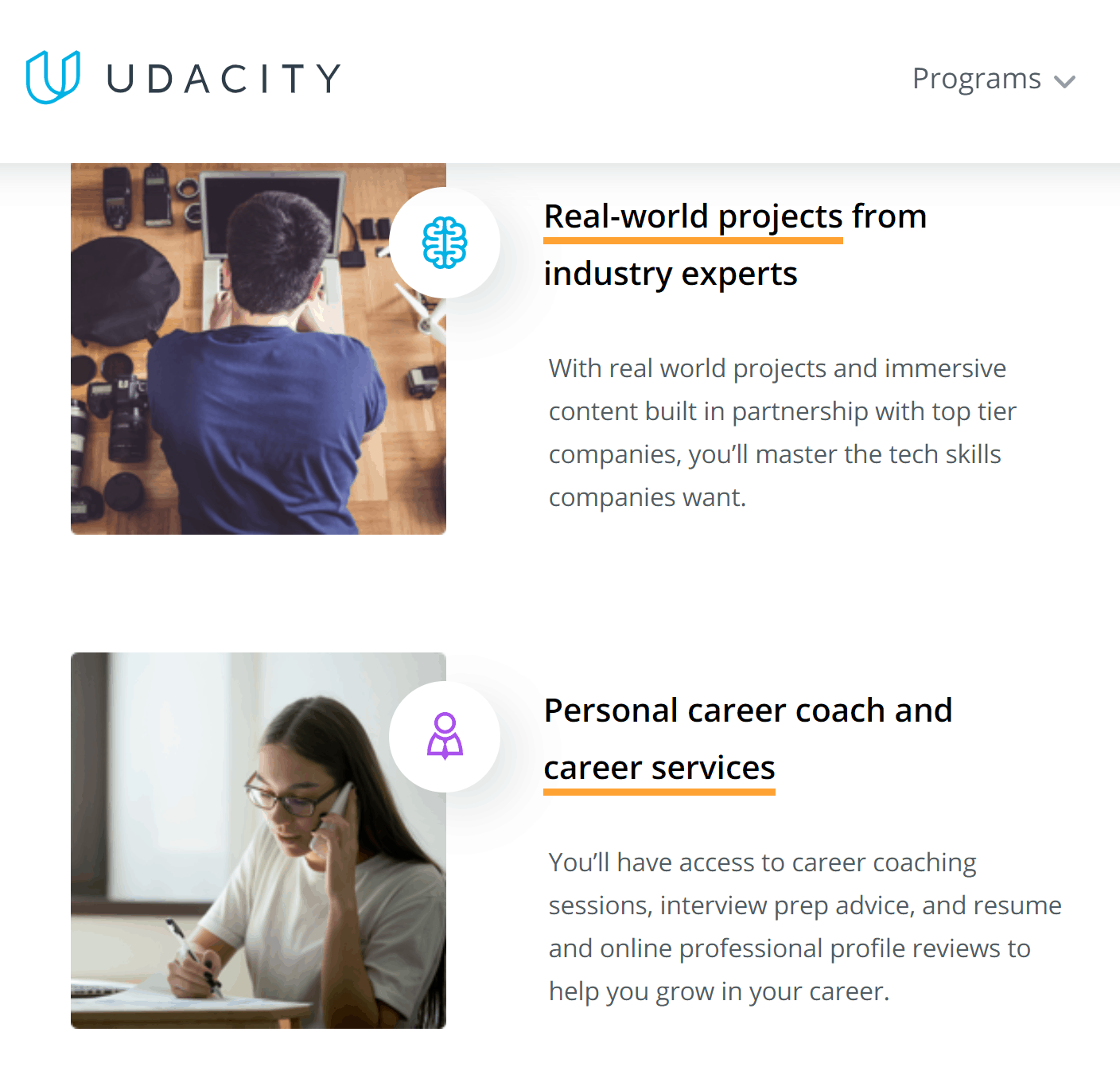 While that still doesn't guarantee you a job, it certainly doesn't hurt. And the
personal mentoring from instructors and career coaching
can also help you get closer to your career goals.
And the Winner Is… Udacity
. It never hurts to get expert instruction, but this is critical if you're in the tech field. In other industries, though, check your Udemy instructors for expertise that will help you improve your job prospects.
Udemy Has a 30-Day Refund Window – Udacity Only Offers a Short Trial
In terms of pricing, each provider utilizes a distinct model. Both providers grant access to several complimentary courses. Beyond this, Udemy employs a per-course charging system, whereas Udacity implements a monthly fee structure for the completion of its Nanodegrees. On Udemy, most courses are between $20 and $200, and you get
lifetime access to course content
. The monthly fee for many Udacity courses is a few hundred dollars, and you
only have access for 12 months
after you graduate. Wondering how to get a refund on Udemy or Udacity if you're not happy? Both providers have a refund policy, but you have more time to assess your courses with Udemy. Udemy has a 30-day refund window, compared to only seven days for Udacity.
And the Winner Is… it depends
. Udemy's definitely more affordable than Udacity, but you also get what you pay for. If you need serious tech skills, then the monthly fee for Udacity might be worth it.
So, Which Online Learning Platform Takes the Crown?
After comparing Udemy vs. Udacity, it's pretty clear to us which one wins. Udacity beats Udemy in many categories, as the table below shows:
| | |
| --- | --- |
| Feature | Conclusion |
| Course selection | Udemy's 100,000-strong course catalog is more extensive than the 200+ tech-related courses Udacity offers. |
| Ease of use | Both websites are easy to use, but you'll get better course descriptions with Udemy. |
| Course length and delivery | If you want a quick fix, Udemy is a good choice, but Udacity is a better choice for deep learning. |
| Instructor quality | Udacity's instructors are experts in their fields; that's not always the case on Udemy. |
| Student support | Udacity offers a number of student support channels, while support on Udemy varies by course. |
| Certifications and employability | If you're looking for a tech job, pick Udacity for its industry reputation. |
| Pricing and refunds | Paying per course on Udemy is a more convenient option than Udacity's subscription model. Udemy's refund policy is also more student-friendly. |
But this doesn't tell the whole story. Taking an online course is a personal decision, so here's how you determine which one's right for you:
If there's no doubt that you're looking for jobs in the tech space, then Udacity is the best option by far.
However, if you simply want to broaden your skills on a wider range of topics, you'll find much more choice in Udemy's extensive course catalog. You can also read our Udemy review here.
Taking time to improve your skills and invest in your education is always a good idea. So if there's something that you've been wanting to learn – go for it! Find a course that you're interested in and sign up. It's as simple as that. And, if you're worried about how to manage an online course along with all of your other obligations,
these productivity apps
can help.