OVHcloud might seem like a good choice, but its website is overly complicated, and getting a refund is quite challenging. On the other hand,
InterServer's stronger set of features and 30-day money-back guarantee are just two reasons why it outperformed OVHcloud
in this contest.
To make a fair comparison, I tested the two services in five categories; pricing, features, performance, security, and support. InterServer beat OVHcloud in all but one category, making it the winner of this comparison.
Click here to see InterServer's latest deals
or keep reading to see what makes InterServer the winner of this comparison.
1. Plans and Pricing
InterServer Secures a Win with Its Cheaper Prices
With InterServer, you can choose various hosting solutions, including shared hosting (for Linux and Windows), VPS (for Linux, Windows, and WordPress), e-commerce hosting, reseller, and dedicated servers. OVHcloud offers shared, cloud, VPS, and dedicated server hosting. InterServer has one package for shared hosting, while OVHcloud offers a wide range of options categorized into Personal, Professional, and four Performance plans.
A free domain name is included with some hosting plans from OVHcloud
Nevertheless, InterServer's shared hosting plan is packed with more features and resources than OVHcloud's most expensive Performance package (see the Features sections).
It also costs a fraction of the price.
Although the price of the shared hosting plan does rise after renewal,
InterServer still remains significantly cheaper
.
You'll get a free domain with OVHcloud but not with InterServer. In contrast, InterServer offers free website migration, but OVHcloud doesn't. InterServer has a 30-day money-back guarantee, whereas OVHcloud doesn't have a money-back guarantee but offers partial refunds depending on your plan. However, it's
difficult to get a refund from OVHcloud
.
The winner is InterServer. Offering superb value for money and a 30-day money-back guarantee, InterServer effortlessly beats OVHcloud in the pricing round.
2. Features
You Get Lots of Unlimited Resources and Freebies with InterServer
With InterServer's standard shared hosting plan, you get unlimited EVERYTHING, such as unlimited ultra SSD storage, hosted websites, email accounts, bandwidth, databases, and FTP accounts. This single plan also includes cPanel, application installer (450+ apps), free SSL, free Cloudflare CDN, CloudLinux OS, LiteSpeed server, free SitePad website builder, and weekly backups. In contrast, OVHcloud offers from 100 GB to 500 GB HDD disk space with the Personal, Professional, and Performance packages. OVHcloud also provides up to 200 x 5 GB email accounts, a custom control panel (OVH control panel), an application installer, and automatic daily backups. Unlike InterServer, OVHcloud provides CDN and SSL certificates at an additional fee. Check out the following side-by-side comparison table to further compare InterServer and OVHcloud:
InterServer
OVHcloud
Hosting Types
Shared (Linux and Windows), reseller, email hosting, e-commerce hosting, VPS (Linux, Windows, and WordPress), dedicated servers
Shared, VPS, cloud, dedicated servers
Free Domain

✘

✔

Free SSL Certificate

✔

✔

Disk Space
30 GB – Unlimited
10 GB – 640 GB (depending on the plan)
Bandwidth
1 TB – Unlimited
Unmetered
Automatic Backups
Daily, Weekly

✔

Control Panel
cPanel, DirectAdmin, Plesk
OVH control panel
Email Accounts
Unlimited
10 – 1,000 (depending on the plan)
Free CDN

✔

✔

(Depending on the plan)
Free Site Migration

✔

✘

Money-Back Guarantee
30 days
Partial refunds (depending on the plan)
The winner here is InterServer. As you can see, InterServer offers more resource allocations and value-added features for free than OVHcloud.
3. Performance
OVHcloud Showed Faster Website Loading Speeds
InterServer operates through two server locations, and both are in the U.S.A. OVHcloud, on the other hand, has 12 server locations. These include four in the U.S.A., and the rest in Singapore, Australia, Poland, Germany, the U.K., Italy, the Netherlands, and Spain. You'll get a free CDN with all of InterServer's plans, but OVHcloud only includes it with some. A CDN, or Content Delivery Network, boosts your website's loading speed by placing it on a global network of cloud servers. Both InterServer and OVHcloud use SSD storage with all plans. SSD storage is another booster as it performs much faster than traditional HDD storage, reflecting on your website's loading speed and stability. When I put the website loading speed of Interserver to the test, most locations showed promising numbers, with only a few showing slower speeds. This resulted in a slightly disappointing overall score. On the upside, the fast locations were the ones where InterServer targets.
InterServer's full review has the test details
. OVHcloud showed excellent loading speeds in almost all locations resulting in a perfect global score.
Check out the test numbers in OVHcloud's detailed review
. Even though InterServer has slightly more performance features, OVHcloud outperformed it in the real world, making it the winner in this round.
4. Security
InterServer Offers More Advanced Security Features
Most of InterServer's security features, which come with all its plans, are included in a package called InterShield. These features include DDoS/Brute-Force protection, a virus scanner, a machine learning firewall, and an in-house malware database that it obtains from thousands of servers and websites worldwide. In addition, InterServer includes another unique feature called Inter-Insurance, which is responsible for cleaning out any compromised, hacked, or exploited accounts. OVHcloud applies DDoS protection with all its plans through VAC Technology. VAC analyzes traffic in real-time and prevents attacks, including DDoS and Brute-Force. InterServer uses CloudLinux OS with all its Linux-based shared hosting plans, while OVHcloud uses a similar system, called LXC Containers. Both have the same purpose of securely isolating each account on a shared server to protect it against threats targeting others. They also ensure the fair allocation of the server resources. Both hosts provide free automatic regular backups with all plans. InterServer offers a broader range of advanced security features, meaning it wins the security round.
5. Support
InterServer's Support is More Responsive
Even though both InterServer and OVHcloud have knowledgebases, InterServer's is more comprehensive. InterServer's support is available 24/7 via live chat, phone, email, and support ticket. The phone channel operates through native-speaking call centers in the U.S.A., the U.K., Israel, Brazil, and Mexico. When I went for the live chat, I instantly connected, but the agent wasn't very helpful. It was clear they could benefit from further training.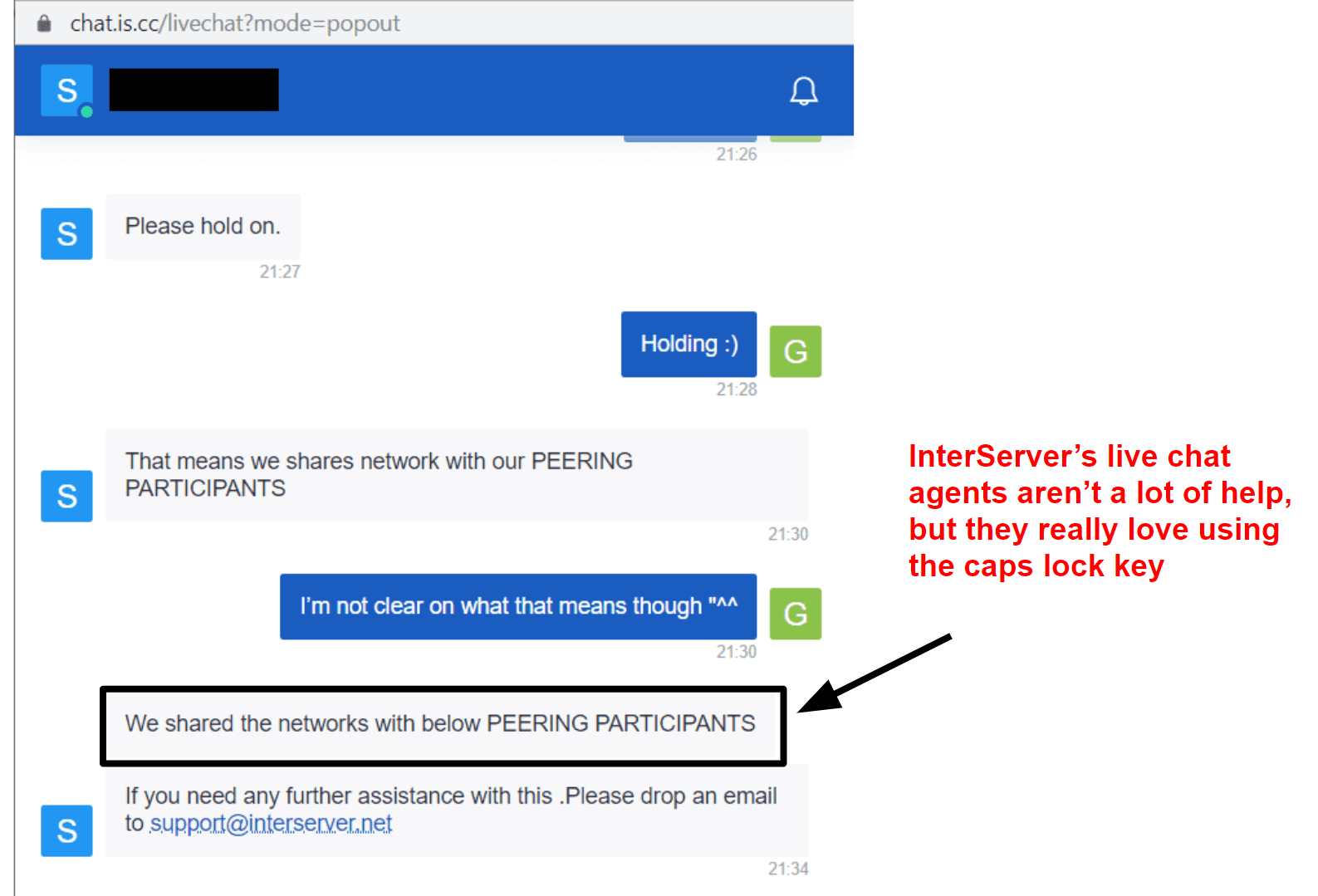 OVHcloud also has 24/7 support via email, support ticket, and phone. When I submitted my questions in a ticket, it took about three business days to get the full reply I was looking for.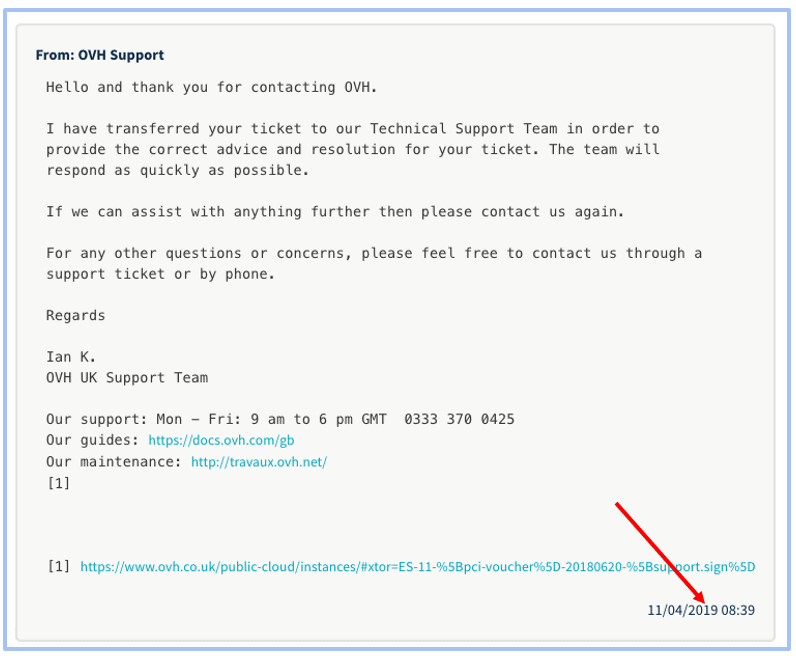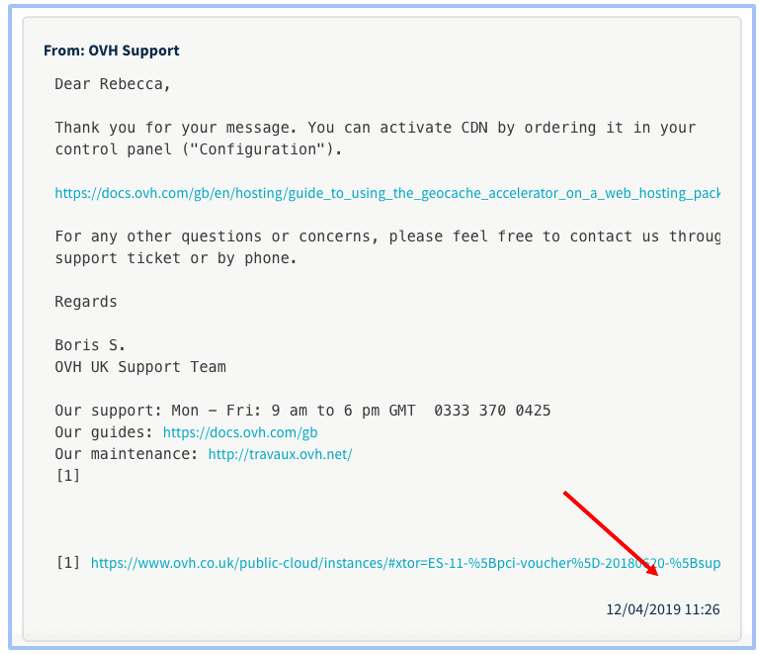 Both hosts experience fluctuations in support quality, but OVHcloud's notably sluggish responsiveness becomes a decisive factor for me. InterServer takes the lead in this round due to its extensive knowledgebase and prompt, responsive support.
OVHcloud Loses Out to InterServer
If you are considering the host that will give you your money's worth,
InterServer takes the lead. It offers significantly cheaper prices
than OVHcloud, a wider range of valuable features, more advanced security with its plans, and better customer support. No wonder it's featured in our
list of the best web hosting services
.
Plans and Pricing
Single shared hosting plan that's cheaper and offers better value. 30-day money-back guarantee.
More expensive than InterServer. More plans. Partial refunds with certain packages
Key Features
Free website migration, Free SSL certificate, unlimited ultra SSD storage, unlimited email accounts
Free domain, free SSL certificate (with some plans), and SSD storage (with some plans)
Performance
Fewer server locations, free CDN with all plans, slower loading speeds
More server locations, free CDN with specific plans, faster loading speeds
Security
InterShield, Inter-Insurance, CloudLinux OS, free automatic backups
VAC Technology, LXC containers, free automatic backups
Support
More comprehensive knowledgebase, 24/7 live chat, phone (multiple global call centers), email, and support ticket, highly responsive, the staff isn't very helpful
Less comprehensive knowledgebase, phone, email, and support ticket, low responsiveness, the staff is helpful
FAQ
Is InterServer good for WordPress hosting?
Yes. InterServer combines both high quality WordPress hosting and affordability, making it a great choice for WordPress hosting users. InterServer is also listed among the best managed WordPress hosting services.
Does OVHcloud use SSD?
Not with all hosting plans. OVHcloud offers SSD storage with high-tier web hosting plans and some dedicated server plans. OVHcloud isn't cutting it for you? Check out our list of the fastest and cheapest SSD hosting services.
Is InterServer good for VPS hosting?
InterServer is among the best trusted VPS hosting services in the market. With InterServer for VPS, you can purchase a VPS server by the slice (one slice includes 1 vCPU, 2 GB RAM, 30 GB disk space, and 1 TB bandwidth) and customize your package. If you buy four slices, you'll get a fully managed VPS server.