GoDaddy is one of the few hosting companies big enough to become a household name, but size alone doesn't guarantee quality.
GoDaddy has the backing of Amazon's AWS infrastructure, a huge workforce, and mom 'n' pop brand recognition in its favor. Independent companies like Hostinger have to work hard to compete with these big, established brands, and they'll often go the extra mile to win you over.
Hostinger vs GoDaddy: Which one will perform best for your website? I'll tell you right now, Hostinger gives you the best value for your money and really impressed me with the quality of its support.
I thoroughly tested both hosts and compared their shared hosting plans, security, and support. Read on to see why Hostinger gets the win in this battle, or click here to see Hostinger's best plans.
Plans & Pricing
GoDaddy and Hostinger Cost About the Same, but Hostinger Gives You More
Hostinger and GoDaddy both offer big discounts for long-term commitment when you sign up for their shared hosting plans. So the key is to look at the actual monthly rate, not the headline offer price, and consider whether you're willing to stick with one host long-term.
A lot can happen in three years – your host might be bought out, it might get hacked, or it might overpopulate its servers, all of which could seriously affect your site's performance. So don't overcommit for the sake of a bargain. If you do decide to leave, keep in mind that GoDaddy doesn't refund unused months. Hostinger will give you a pro-rata store credit, but that isn't going to be much use if you're leaving the service.
Both hosting companies have website builder tools that make it easy to create a professional website without any technical know-how. A drag-and-drop website builder is included with all Hostinger's shared hosting plans, so you can start out with the builder tool and switch to WordPress or another CMS (content management system) later if you want. GoDaddy's website builder is only available on a separate website builder plan.
GoDaddy offers both cPanel and phpMyAdmin (a tool to help developers manage the database that contains all of the content and metadata for the site). The cheapest GoDaddy shared hosting plan limits you to one website with 100 GB of storage, but its other three options include unlimited websites and storage.
 All GoDaddy's hosting plans can be instantly scaled up, so you can add more RAM or processing power without upgrading your whole package. That could save you money if you have a traffic spike and need a temporary increase in resources.
Hostinger plans are comparable to GoDaddy's, right down to the 1 website and 100 GB storage on the cheapest option. But there are some key differences, such as Hostinger's custom control panel and a free SSL certificate when you sign up for at least 12 months. GoDaddy charges an additional fee for SSL certificates unless you opt for the most expensive plan.
I've broken down the features on the two cheapest plans from each host so you can see where they vary.
 
Hostinger
GoDaddy
Plan
Single
Premium
Economy
Deluxe
Free Domain Name
No
Yes
With annual plan
With annual plan
Number of Websites
1
Unlimited
1
Unlimited
Disk Space
10 GB
20 GB
100 GB
Unlimited
Bandwidth
100 GB
Unlimited
Unlimited
Unlimited
RAM
256 MB
512 MB
512 MB
512 MB
MySQL Databases
1
Unlimited
10
25
Subdomains
2
100
10
25
Free SSL
With annual plan
With annual plan
No
No
Free Automatic Backups
No
Weekly
No
No
Website Builder
Included
Included
No
No
Control Panel
Custom
Custom
cPanel
cPanel
In addition to shared hosting, both hosts offer VPS (virtual private server) hosting. GoDaddy also has dedicated servers and reseller hosting packages. Hostinger offers cloud hosting as well, but there are no dedicated server or enterprise options to step up to.
WordPress Hosting
Hostinger's MultiSite WordPress Beats GoDaddy's Single Site Plans
A WordPress hosting plan streamlines the process of getting your website started. WordPress is installed for you (or available to install with a single click). Hostinger and GoDaddy will run WordPress plugin updates and software scans on your behalf, so there is less ongoing maintenance to handle.
Is Hostinger good for WordPress? Yes. It has an optimized plan offering a 99.9% uptime guarantee, and pre-configured caching, which helps to speed up your website loading time. For developers, there is support for WP-CLI to control WordPress from the command line. Pricing and features mirror its shared hosting plans – free SSL is only available on the top-tier plan, and you can get your site started quickly with its one-click installer.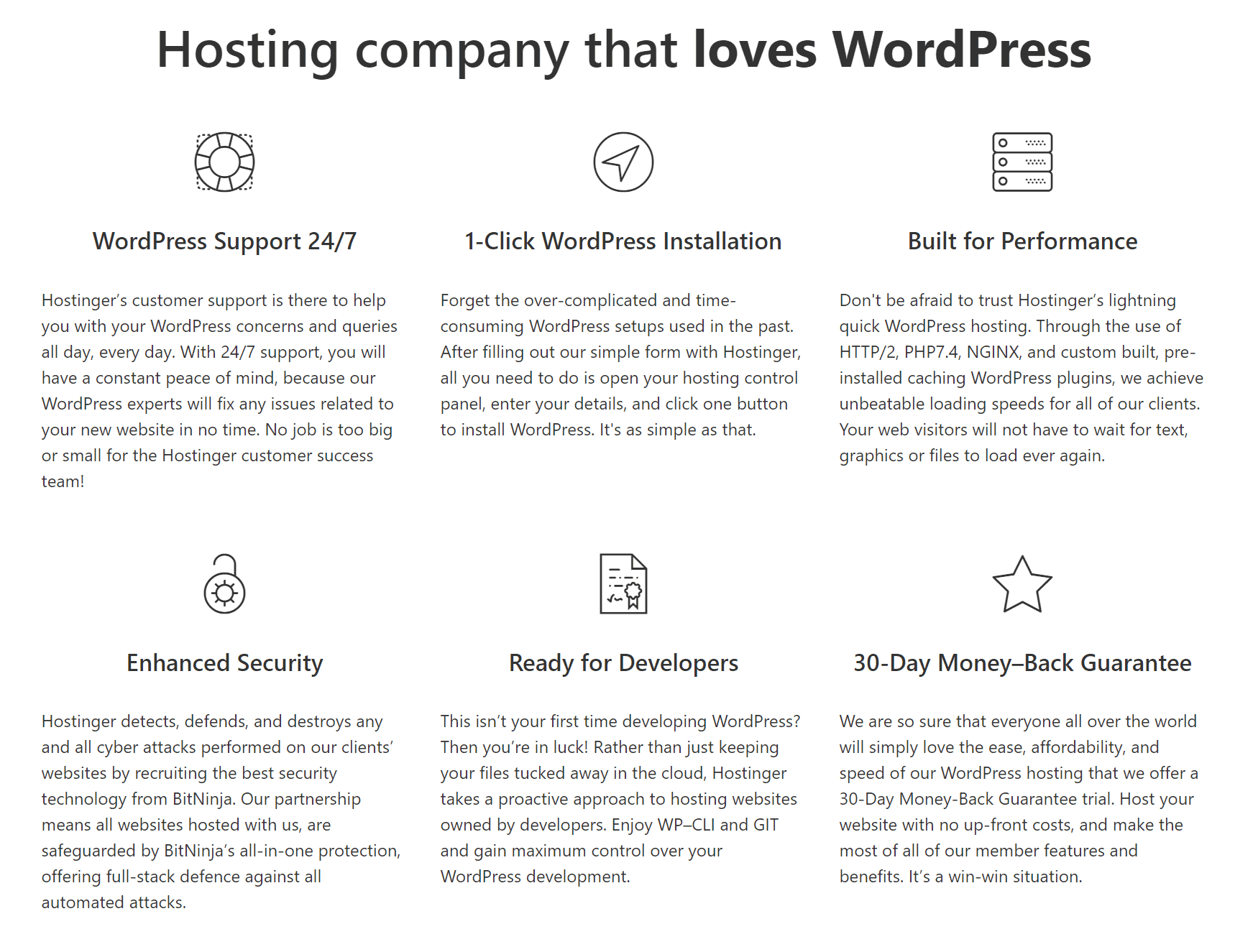 GoDaddy measures your bandwidth in terms of visitors rather than bytes. Otherwise, it has a similar price plan structure, with a free SSL on the top two tiers out of the four.
But there is one limitation that might kill your interest in GoDaddy's WordPress hosting. All GoDaddy WordPress hosting plans only allow you to host one website. So even though its top-level WordPress plan looks generous, with unlimited storage and unlimited visitors, consider whether that single-site limitation will prevent you from making the most of it.
Hostinger offers 24/7 WordPress support. GoDaddy offers a premium WordPress support option that incurs a fee on top of your hosting cost. Again and again, GoDaddy looks for ways to upsell, and there's no exception here.
Security
GoDaddy's Paid-For Security Service Wins Over Hostinger's Lack of Tech Detail
Hostinger has advanced security modules installed at the server level to prevent hackers from running malicious code. It also has 2FA (two-factor authentication) available on all customer accounts, which requires users to log in with a one-time security code in addition to a password. It runs BitNinja on its servers to fend off hacking attempts.
GoDaddy partners with Sucuri to provide a premium add-on package, Website Security, which covers your site against malware, hacks, and Google blacklists. It also has some brand reputation monitoring features, although it's an alert service rather than a management tool. You'll have to pay for these security features, and they don't come cheap.
With both Hostinger and GoDaddy, you can manually back up your site whenever you wish. Most websites benefit from being automatically backed up as well, and this is where the hosts differ slightly in what they offer. GoDaddy has a Website Backup service for an additional fee that includes daily backups, malware scanning, one-click restore, and the ability to download your backups to your computer.
GoDaddy also offers an Essential Website Security add-on that includes malware removal and site repair, which means a GoDaddy engineer will personally remove the malicious code. Consider whether rolling back to a daily backup would be enough, or whether you would like to spend more for the extra reassurance of a manual clean-up. However, adding both of these security features will significantly increase your monthly hosting costs.
Hostinger includes free automatic weekly backups on its Premium shared hosting plan and daily backups on its top-level Business shared hosting plan.
Performance
Hostinger's Traditional Data Centers vs GoDaddy's AWS Infrastructure
To compare Hostinger vs GoDaddy on performance, we need to consider the infrastructure they have behind them. There is a huge difference in the way they host customers' websites.
Hostinger uses seven data centers that are distributed globally (in the UK, US, Brazil, Netherlands, Singapore, Indonesia, and Lithuania) to reach customers in different geographical regions. Until recently, pretty much every hosting company used this model.
But recently, GoDaddy has shifted away from globally distributed data centers – it now hosts its customers' websites on Amazon Web Services (AWS). So when you deploy, say, a managed WordPress site on GoDaddy, you're using the Amazon cloud – it's not being served from a facility owned by GoDaddy.
There are benefits and risks in partnering with Amazon in this way. You would expect uptime to be superb since Amazon is so far advanced in cloud computing technology. But outages do happen, and when they do, multiple big brand sites go down all around the world. If you need your data to remain in one physical location, you might also prefer your site to be in one data center so that you have total confidence that you're compliant.
Hostinger's traditional model gives it direct control over its own servers. Its website boasts a very detailed server status page, along with some historical uptime statistics and a brief note about the last recorded episode of downtime. If you're a Hostinger customer, and you know your server name, you can instantly see how it's performing.
Amazon has a similar status page covering its entire AWS network. But it's massive. I'm not sure that it would be much help to you if your GoDaddy-hosted site were down.
Hostinger scored an impressive 4.9 out of 5 on our performance tests. Read our full Hostinger review for all the details.
GoDaddy, on the other hand, scored only 4.5. To find out why, check out our full GoDaddy review.
Support
Hostinger's Ticket System Is Simpler Than GoDaddy's Multilingual Support
Hostinger has a support ticket system as well as live chat, but the latter is only available to paying customers who are logged into their Hostinger account. It also has a knowledge base and tutorials if you want to find answers on your own. Phone support is not available.
I tried Hostinger ticket support and found that responses are quick and friendly. Even on a weekend, answers come back from Hostinger's operators within a few minutes. For more complicated questions on security, it took around an hour for a response to a ticket, which I still think is reasonable for a non-urgent inquiry.
GoDaddy has a busy community forum, a knowledge base, a live chat system, and dozens of local telephone numbers for support in multiple languages. I tried its live chat system and found that the response was practically instant.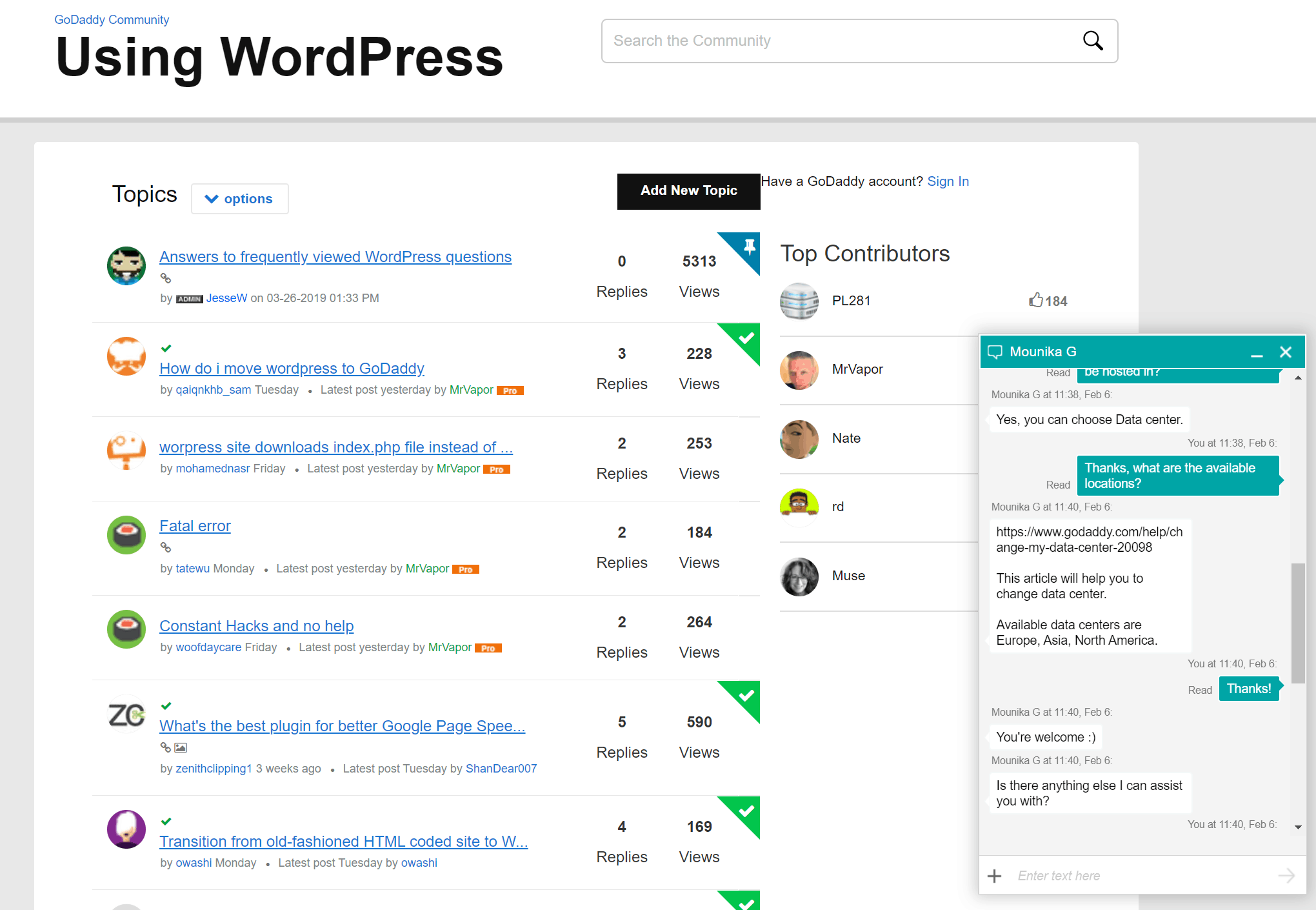 I asked if I could choose my data center location, a feature that I know is only available on the Linux shared hosting plans at GoDaddy. The operator gave me an answer quickly, but it was quite simplified, and they referred me to the website for the full explanation. I felt that GoDaddy's support staff may be under pressure to close down requests quickly.
GoDaddy's Faster, but Hostinger Has Better Features and Security
Hostinger is a clear winner on backups, free SSL, and plan features. Hostinger and GoDaddy are closely matched on price, but drilling into the detail, Hostinger gives you a little more on most points of comparison.
For example, if you have a business website, Hostinger's Business plan has all the features you need, including free SSL and daily backups, without the need to pay more for additional packages.
I also felt that Hostinger's support was better, with more detailed answers for pre-sales inquiries.
With a very big host like GoDaddy, you get the reassurance of AWS and the all-important speed boost that it brings. But I feel that Hostinger is a better option overall thanks to its packages and features, which provide essential room for growth.
| | | |
| --- | --- | --- |
|   | Hostinger | GoDaddy |
| Plans and Pricing | Premium and Business plans deliver most of the features you need with shared hosting | Generous plan limits, but security and backups will cost you more |
| WordPress Hosting | Optimized WordPress, one-click installers, and automatic plugin updates | You only get to host one site, which limits the flexibility of its plans |
| Security | Daily backups on the Business plan; security at the server level | Many features are paid add-ons, including daily backups |
| Performance | Slow loading time in our testing | Amazon infrastructure gives a performance boost |
| Support | Live chat (customers only), ticket support, knowledge base, and tutorials | Live chat, multilingual support via phone, knowledge base |