But I've actually tested both services for several months, and I'll tell you right now that GoDaddy isn't great.
To properly compare Hostinger vs GoDaddy, I've looked at everything from pricing to features, performance, security, and support.
Hostinger came out on top in every single category. It's cheaper, much faster, and far more generous with its plans.
Compared to Hostinger (and most other hosts in the industry), GoDaddy gives you far less value for your money.
Some essential features are missing from its shared hosting plans, its performance is disappointing at best, and its customer support is simply a wreck.
 The domain registration service is still pretty good, but as far as hosting is concerned, it's not a great choice.
Click here to see Hostinger's latest deals
, or read on to find out why it's the ultimate winner of this comparison.
1. Plans and Pricing
GoDaddy Is Significantly More Expensive, and for No Good Reason
Hostinger and GoDaddy offer a range of web hosting services, including shared hosting, managed WordPress, and VPS.
 They are both best-known for their shared hosting plans, which come with considerable discounts for long-term contracts. That's where the similarities end.
Hostinger's entry-level Single shared hosting plan is about six times cheaper than GoDaddy's Economy for the initial term
(and four times cheaper after renewal).
A free domain name is included with some hosting plans from Hostinger
GoDaddy Hosting Web Hosting
A free domain name is included with some hosting plans from GoDaddy Hosting
Sure, GoDaddy gives you more storage space and unmetered bandwidth, but the 30GB of storage and 100GB of bandwidth that you get with Hostinger's Single plan are more than enough for a small website. Why pay extra for resources you won't use?
Even if you do need more resources, you're better off with Hostinger's Premium plan, which is 50% cheaper than GoDaddy's Economy
and comes with 100GB of storage, as well as unlimited websites, email, and bandwidth.
Both hosts give you one email address on the entry-level plan, but with GoDaddy, there's a catch:
The email is free for the first year but will cost you after that. And GoDaddy won't ask you whether you want to renew the email – you'll be charged automatically at the end of the first year unless you remember to cancel the subscription. In terms of managed WordPress hosting,
Hostinger is again cheaper and gives you more features.
GoDaddy has more storage space and includes better security tools than with shared hosting, but it's still missing a lot.
2. Features
GoDaddy Has More Storage Space, but Hostinger Has Better Tools
Both GoDaddy and Hostinger claim that their shared hosting plans are well-suited for beginners, but when it comes to the client dashboard, Hostinger has the upper hand. GoDaddy uses the classic cPanel control panel, while Hostinger has developed a proprietary solution. cPanel isn't bad by any means, but it's not the most user-friendly tool. By contrast,
Hostinger's hPanel is less cluttered, better organized, and overall simpler to navigate.
Both Hostinger and GoDaddy offer one-click installations for all the popular content management systems (CMS), including WordPress.
 However, Hostinger also gives you the free version of the Jetpack plugin preinstalled on most managed WordPress plans. This includes several security features for WordPress, automatic updates for your plugins, additional caching, and extra themes. In addition,
Git is already installed on all Hostinger plans, which is not the case with GoDaddy.
Git is primarily a tool for developers, but even if you're a beginner, you can use it to track changes on your website or add collaborators to it.
One drawback with Hostinger is that SSH access is not included on the Single plan, so you'll have to upgrade to Premium if you're a Linux dev.
 But as I've said before, even if you do go with the Premium, you'll still be paying only half the price of GoDaddy's cheapest plan.
| | | |
| --- | --- | --- |
| Feature | Hostinger | GoDaddy |
| Hosting Type | Shared, WordPress, cloud, VPS | Shared, WordPress, VPS, dedicated servers |
| Free Domain | Yes, on most plans | Yes, on all yearly plans |
| Free SSL Certificate | Yes | Only on the Maximum plan |
| Disk Space | 20GB – 300GB | 20GB – unlimited |
| Bandwidth | 100GB – unmetered | Unmetered |
| Automatic Backups | Yes (weekly) | For an extra fee |
| Control Panel | hPanel | cPanel |
| Email Accounts | 1 on Single, unlimited on all other plans | 1 Office 365 email on all plans, but it's only free for the first year |
| Free CDN | Yes | No |
| Free Site Migration | Yes | No |
| Money-Back Guarantee | 30 days | 30 days |
3. Performance
GoDaddy Can't Compete with Hostinger
Even on paper, Hostinger's infrastructure is superior to GoDaddy's.
GoDaddy is one of the few web hosts that still use HDD storage, rather than the newer (and faster) SSDs.
 In addition, GoDaddy uses the older Apache web server, whereas Hostinger has LiteSpeed, which is significantly faster and more stable.
Both hosts let you choose from multiple data centers, but GoDaddy is pretty secretive about its locations.
 With Hostinger, you can host your website in the US, Brazil, the UK, the Netherlands, Lithuania, Indonesia, and Singapore. Meanwhile, GoDaddy says that it has servers in North America, Europe, and Asia, but offers no further details. Nor does GoDaddy offer any kind of integrated CDN technology. On the other hand,
Hostinger lets you activate Cloudflare with a few simple clicks, so you can expect excellent performance around the world.
As for website caching, GoDaddy mostly pretends that it doesn't exist. Maybe the marketing team thinks that if they don't mention "caching" anywhere on the website, people won't know that it's missing. But I know. And so should you.
Hostinger includes LiteSpeed caching on all plans, even the entry-level Single, and you can easily turn it on from the dashboard to improve your website loading speeds.
To be honest, I expected Hostinger to have superior performance results, but I was surprised that GoDaddy was this bad.
After testing both hosts for several months, GoDaddy's average page loading time on GTmetrix was an appalling 2.94 seconds, with a best recorded time of 2.2 seconds. You can see the full test results in our
in-depth GoDaddy review
.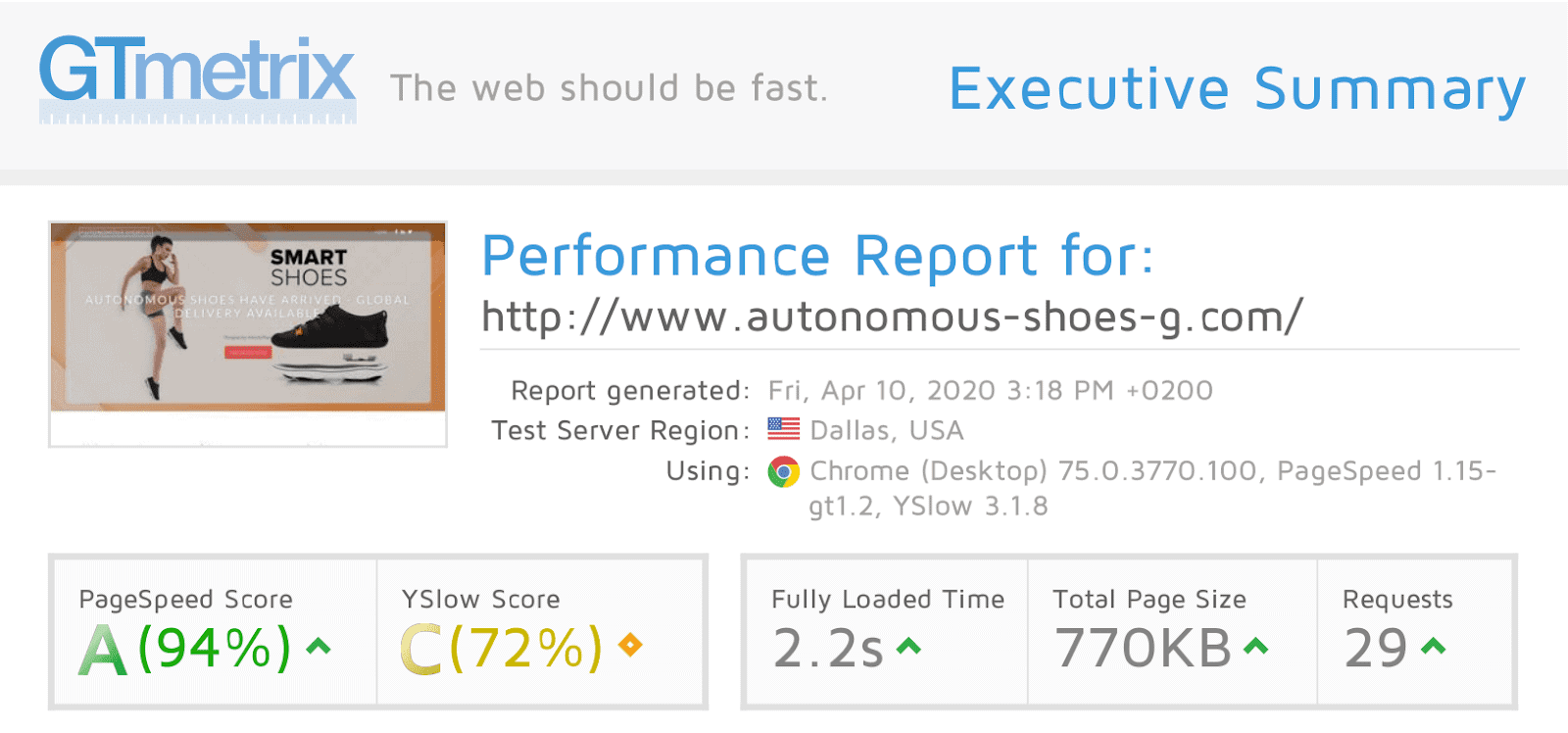 Hostinger performed exceptionally well for a shared hosting platform, with an average page loading time of 1.56 seconds. At its best, Hostinger loaded my website in just 1 second. This made it one of the fastest shared hosting services we've tested. Find out more in our
full Hostinger review
.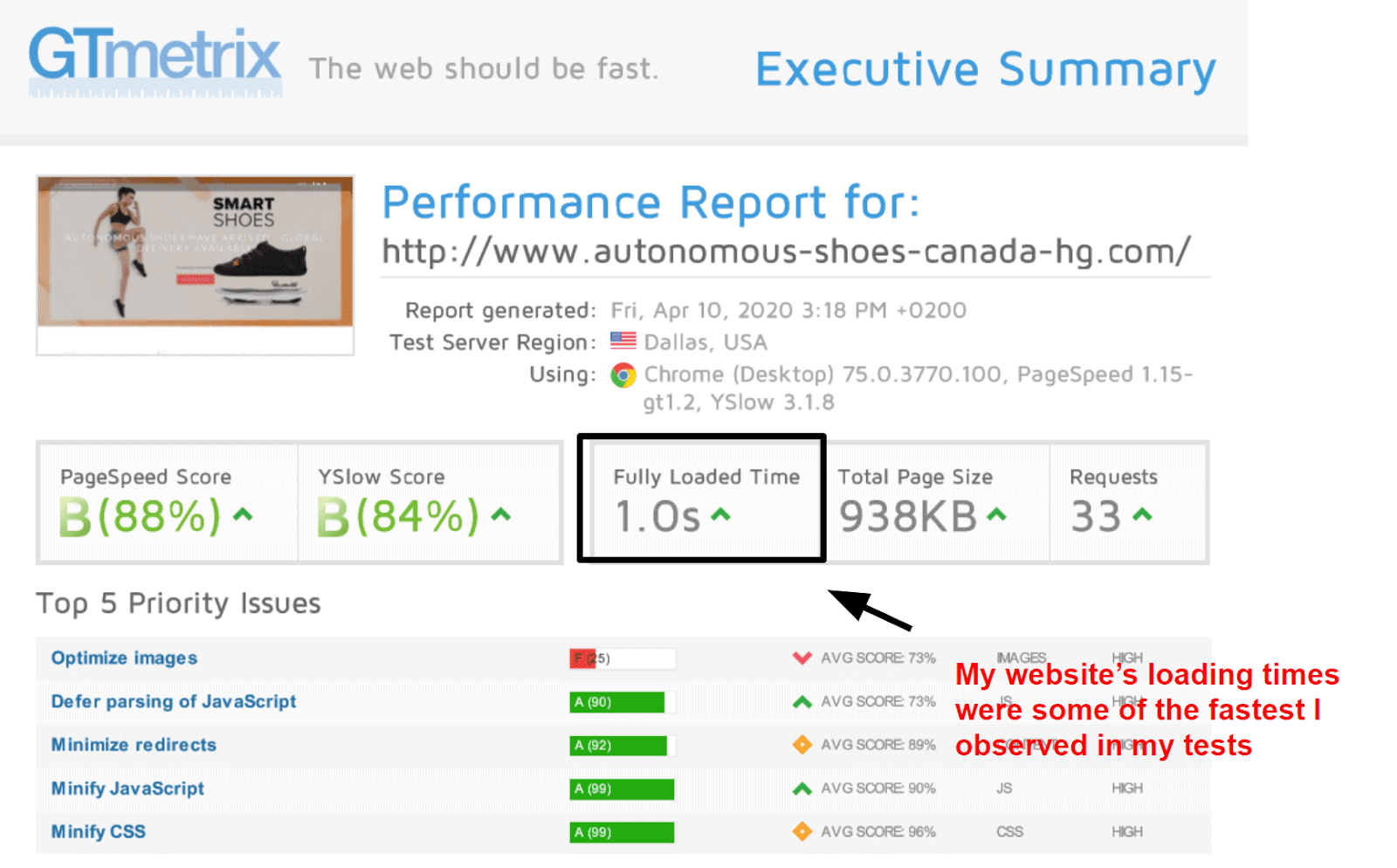 Sucuri confirmed these results. GoDaddy got an average of 4.16 seconds, which is almost double the recommended page load time – can you really expect your visitors to wait that long for your website to load?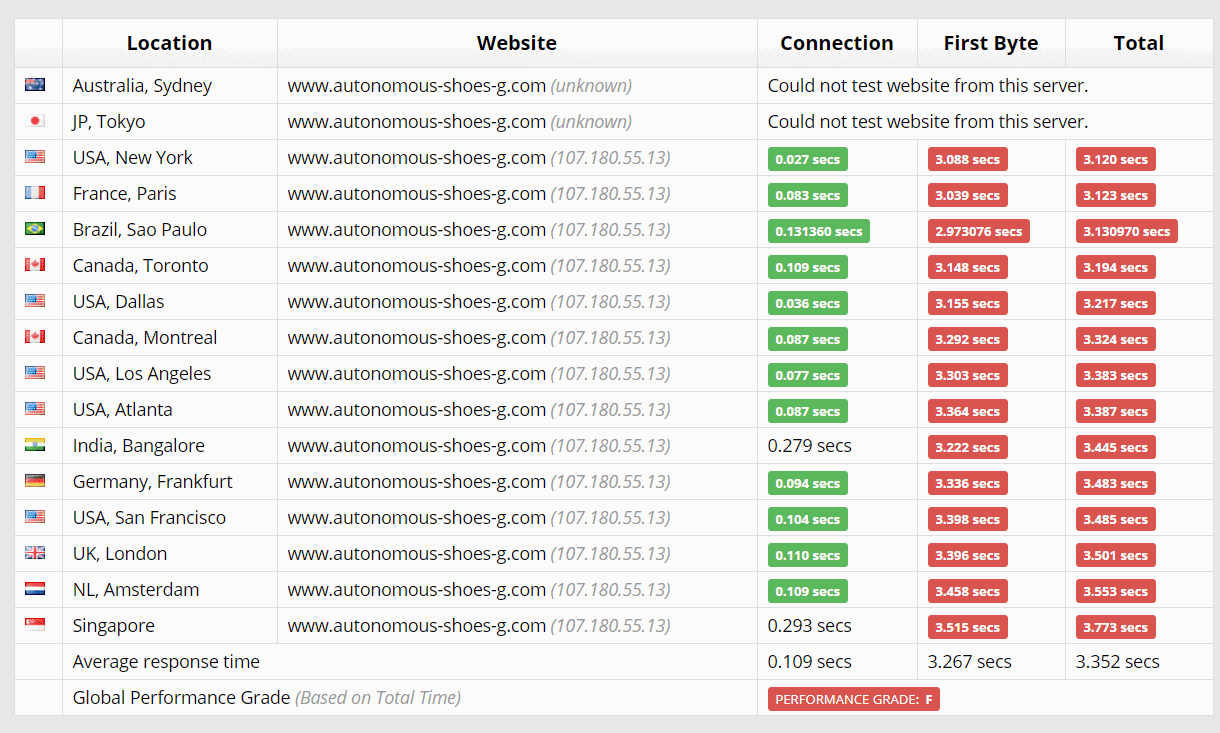 Hostinger's average was 0.499 seconds, which is why it got an A+ overall score. Even in Bangalore, halfway across the world from my data center, I got decent speeds.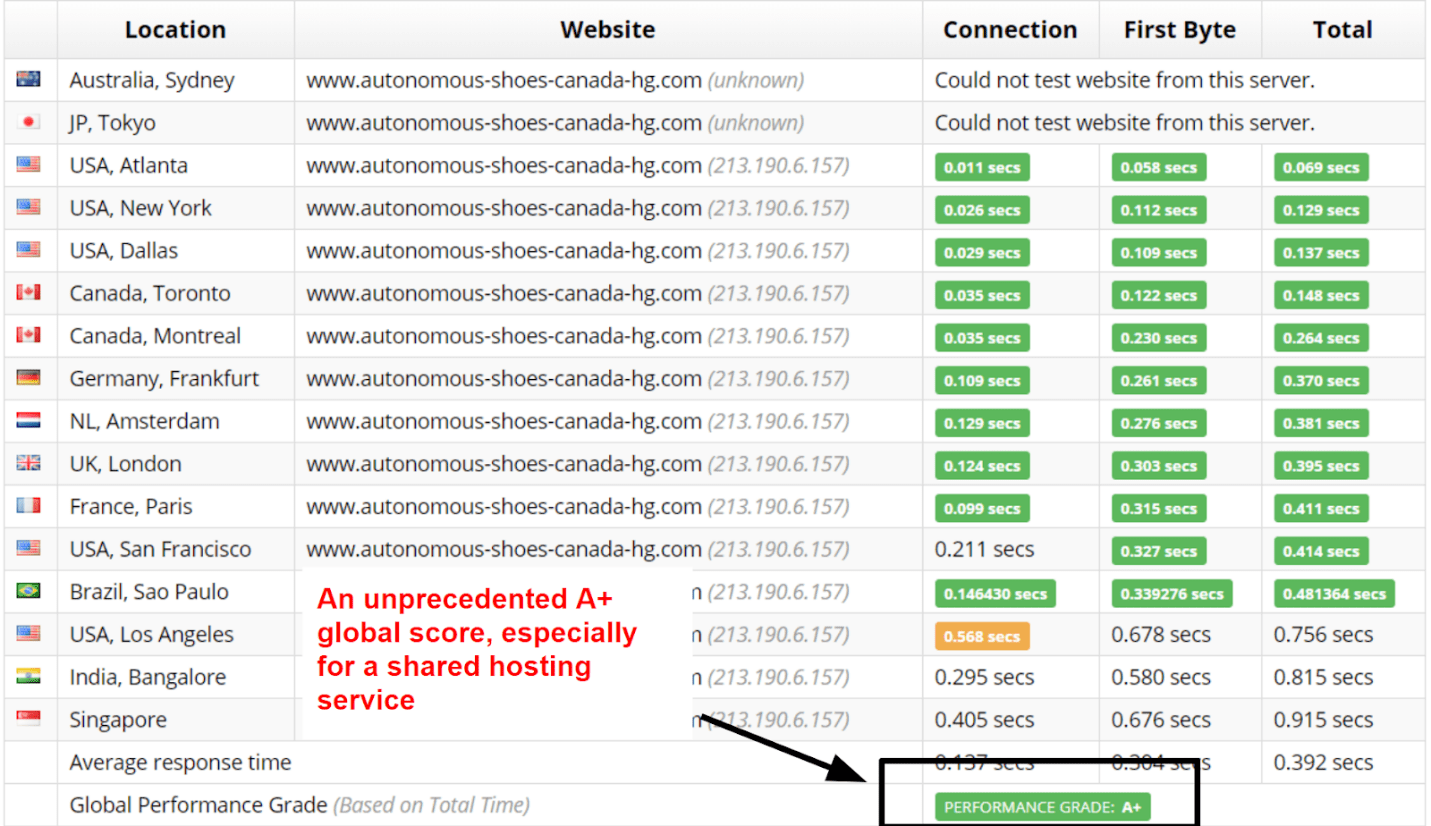 I also tracked uptime for both hosts, and while GoDaddy did okay, Hostinger still came out on top.
 With GoDaddy, I recorded 99.974% uptime, but there were quite a few drops in availability.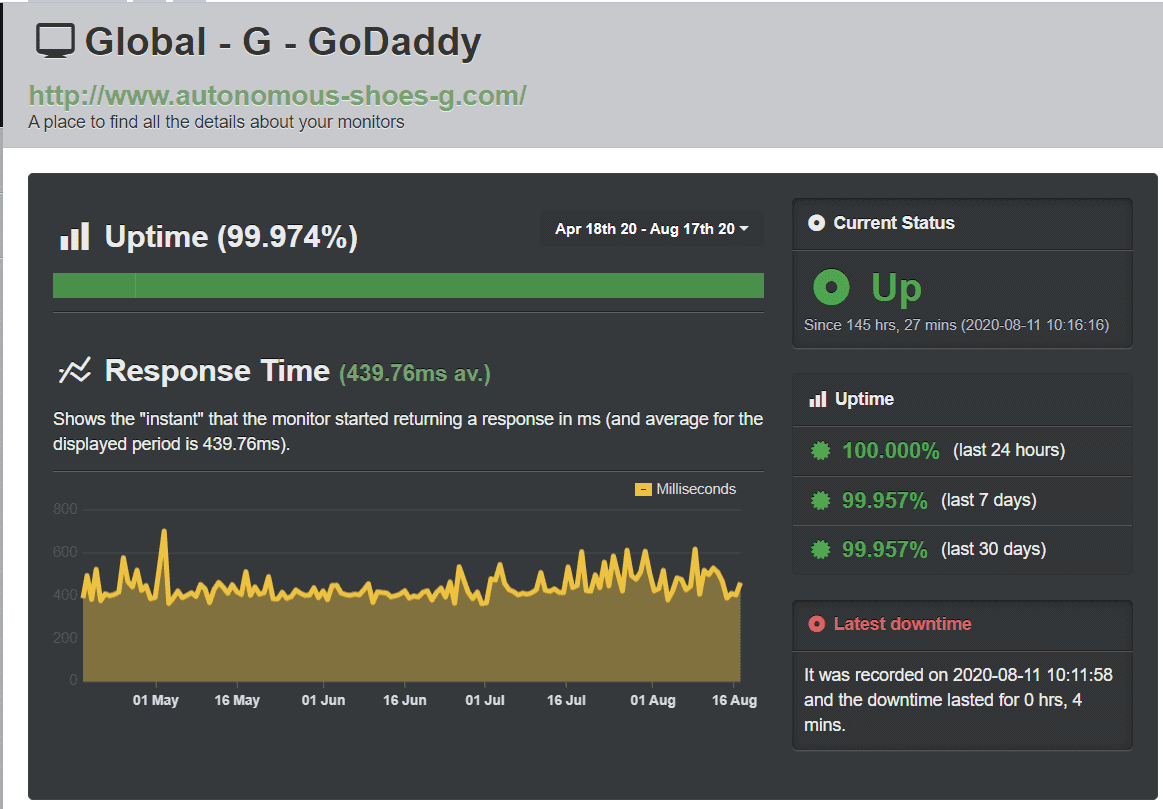 On the other hand, Hostinger had 99.997% uptime, a nearly perfect record.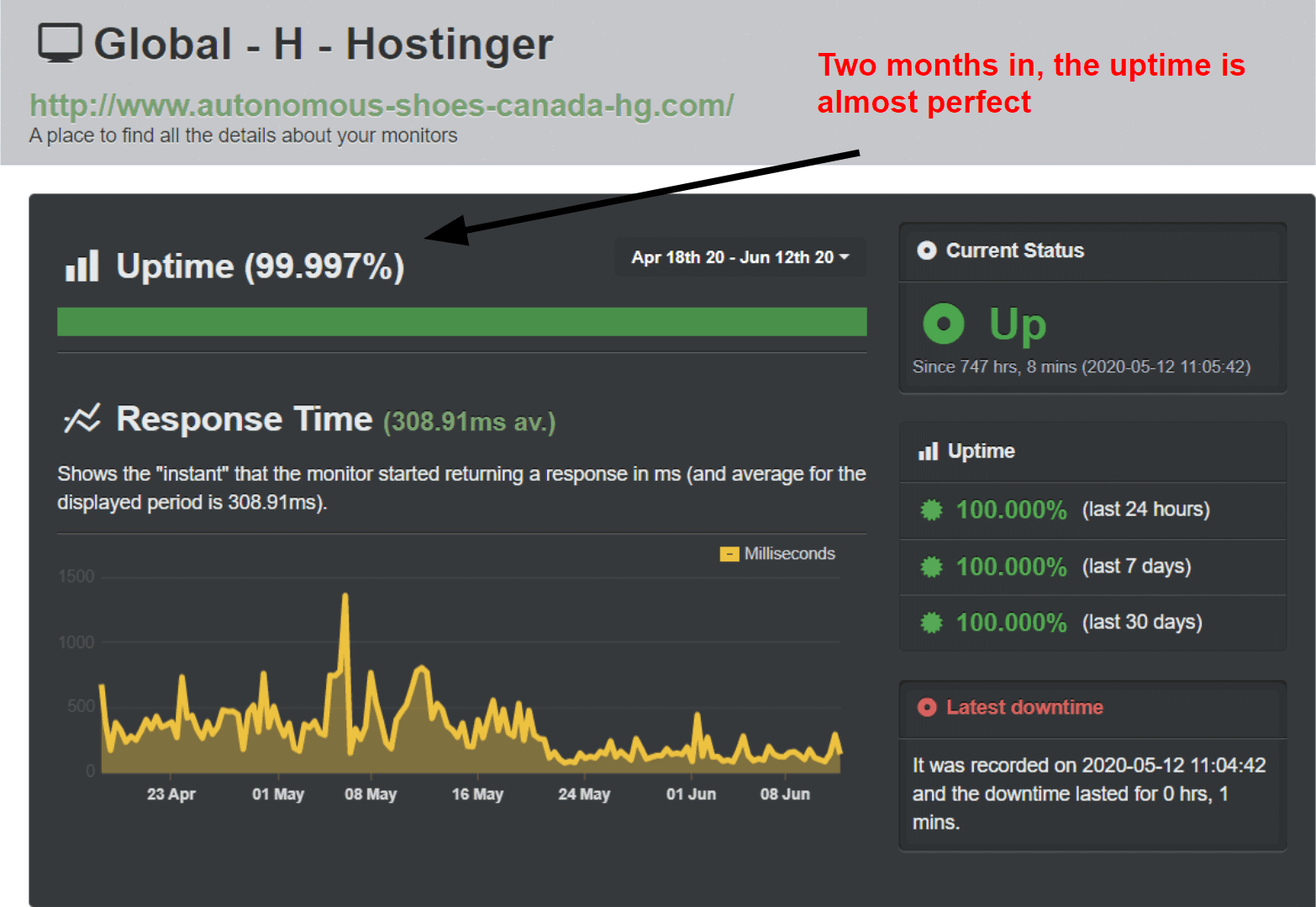 Overall, uptime shouldn't be a problem with either Hostinger or GoDaddy, but GoDaddy's horrible loading speeds make it very undesirable.
 Especially since a cheaper service like Hostinger is so much better.
4. Security
Hostinger Keeps Your Website Safe, GoDaddy Charges Extra
Hostinger not only gives you an SSL certificate on all plans, you also get automated weekly backups (daily on the Business plan), BitNinja security, and Cloudflare protection.
This makes your website less vulnerable to DDoS attacks, malware, brute force attacks, and more.
GoDaddy also has basic DDoS protection and a 24/7 monitoring system, but that's about all you get for free.
 GoDaddy is one of the only big web hosts that still don't give you a free SSL certificate on all plans. Let's Encrypt SSL certificates are free by default, but instead of giving you one of those, GoDaddy makes you pay extra for its own SSL or upgrade to the Maximum plan. And let's be clear about one thing: You absolutely need an SSL certificate to encrypt users' information on your website.
Without an SSL, both your website and your users are vulnerable, and search engines will punish you for it.
With GoDaddy, if you want any kind of malware scanning and removal, you have to pay extra for SiteLock. If you want automated backups, there's yet another fee. GoDaddy says you should be smart and buy its security add-ons.
I say you should be smart and go with a different host altogether.
 Because if there's one thing I really don't like, it's being forced to pay extra for essential things like website security.
5. Support
Hostinger's Support Is Slow, but GoDaddy's Is Far Worse
Both Hostinger and GoDaddy offer 24/7 customer support. Hostinger has live chat and email, while GoDaddy has live chat and phone. Unfortunately, I had some issues with both hosts.
On the one hand, Hostinger took about 40 minutes to respond on average.
 Live chat wasn't even available at times, so I was forced to work with email instead. This might not be a big deal if your problem can wait, but if you have to fix something urgently, you may be in trouble.
When support did reply, the agents were always professional and very helpful.
 For instance, when I wanted to optimize my website for better loading speeds, they provided a detailed answer and a useful link to additional steps I could take. The results, as you saw in the Performance section above, speak for themselves.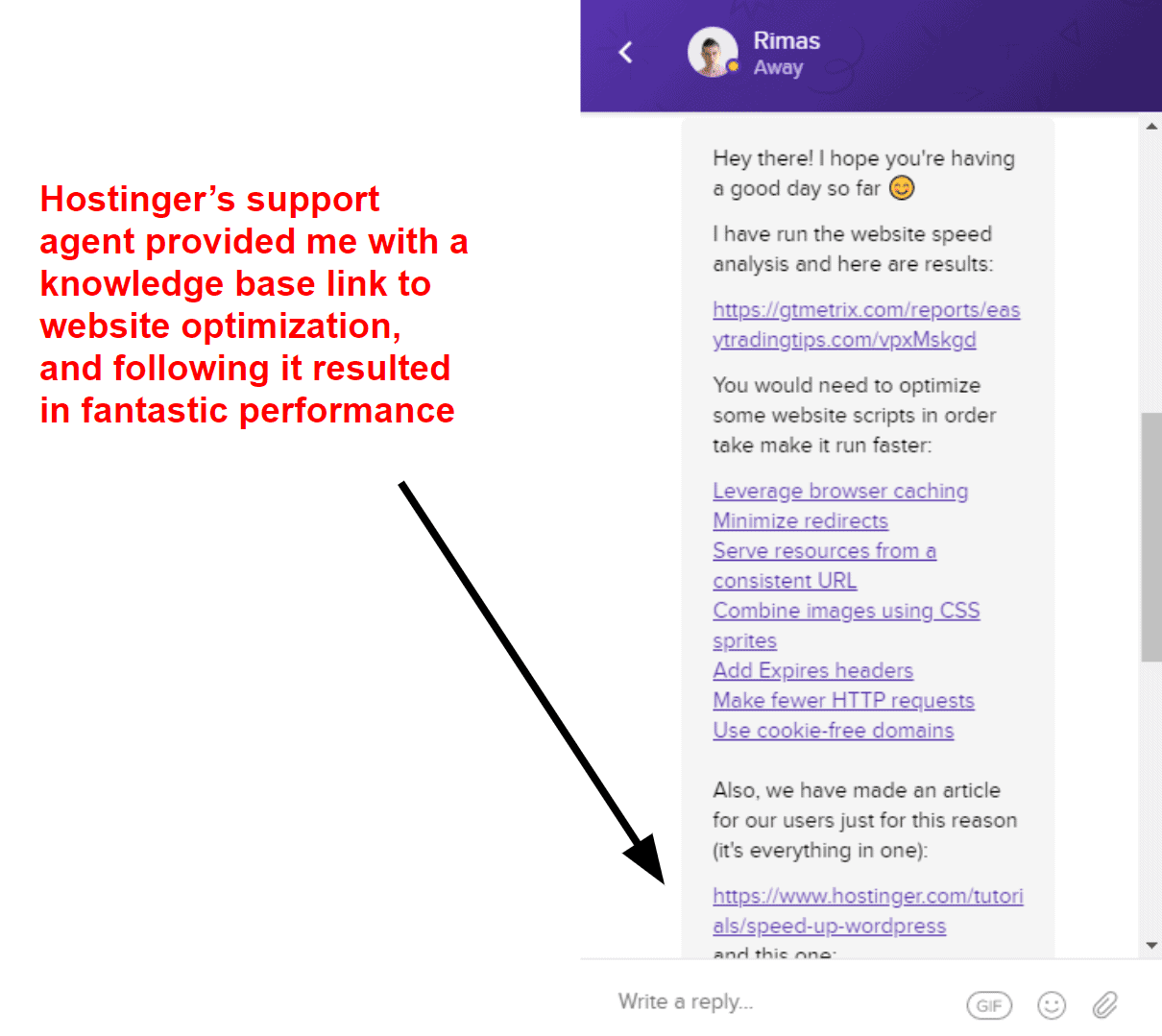 Meanwhile, GoDaddy took significantly less time to respond, but the conversations I had with the support agents were mostly useless.
 Not only did the agents lie to me on several occasions, but I got the feeling that they didn't even know how web hosting works. While I was desperately trying to connect my domain to GoDaddy (because, let me tell you, this was no easy feat), one support agent kept telling me that the domain was already connected. Well, I checked. And I checked again.
But they were either lying or had no idea what they were talking about.
Then I wanted to optimize my website before testing it, and following the suggestions of an agent, I got a measly 2.8-second result on GTmetrix.
The agent then told me that these dreadful speeds were the best I could hope for.
 Wait, what?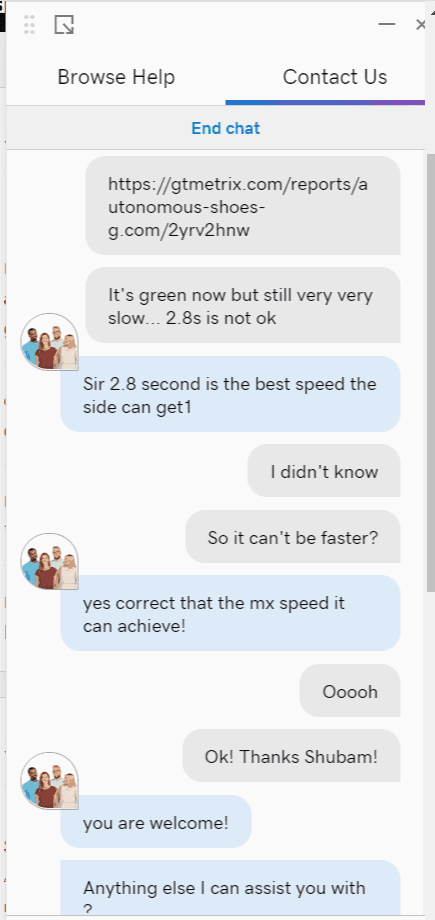 At the end of the day, you're better off using the knowledge base with both Hostinger and GoDaddy.
 That said, there's at least a chance that Hostinger will solve your problem, whereas with GoDaddy, this seems
really
unlikely.
Forget about GoDaddy: Hostinger Is Actually Worth Your Money
As it turns out, the popular choice isn't always the better one. In this case, at least
, there isn't one category where GoDaddy did better than Hostinger.
 In fact, it does far worse in every respect: It costs more, gives you fewer features, and performs very poorly. Hostinger is at the opposite end of the spectrum.
You won't find a cheaper shared hosting service that doesn't force you to compromise on features, security, or performance.
 Support can be slow, but at least the agents are useful when they do get in touch. It's really no wonder that Hostinger snatched the top spot on our list of
the best web hosting services
, while GoDaddy was nowhere to be found.
Click here to see Hostinger's latest deals
.
Plans and Pricing
Significantly cheaper than GoDaddy, better value
Up to six times more expensive than Hostinger, less value for your money
Features
Generous storage space and bandwidth, free domain for the first year on most plans, user-friendly proprietary control panel, free email, 30-day money-back guarantee
Unlimited storage space and bandwidth on most plans, free domain for one year, traditional cPanel, free email only for the first year, no money-back guarantee
Performance
SSD storage, support for Cloudflare CDN, LiteSpeed web server and caching, seven data center locations, outstanding performance for shared hosting
HDD storage, no CDN, no caching, three data center locations, Apache web server, decent uptime but poor performance
Security
DDoS protection, firewall, BitNinja defense, automated weekly backups, free SSL
DDoS protection, automated backups for an extra fee, additional security for an extra fee, free SSL only on the Maximum shared hosting plan
Support
24/7 support via live chat; extensive knowledge base
24/7 support via live chat and phone; extensive knowledge base
FAQ
Is GoDaddy the best host?
Definitely not. GoDaddy is one of the oldest domain registrars in the business, and it's still a decent place to buy a domain. However, when it comes to its web hosting plans, its features and performance are seriously subpar. You don't even get a free SSL certificate on most plans, and you have to pay extra for pretty much every essential feature you can think of. You get far more with Hostinger, even on the entry-level plan, which is six times cheaper than anything GoDaddy has to offer. For more GoDaddy alternatives, check out our list of the best web hosting services.
Is GoDaddy fast?
You'd expect GoDaddy to have decent loading speeds, but it's actually one of the slowest services that my colleagues and I have tested. On GTmetrix, it recorded an average load time of 2.94 seconds, and that was after I optimized my website. If you want to take a closer look at the process, see our in-depth GoDaddy review. I was disappointed with the results, so I reached out to support for some advice. Imagine my surprise when the support agent told me that these were the best speeds I could expect.
Is Hostinger good for WordPress?
WordPress will run on any of Hostinger's shared hosting plans. If our tests have shown anything, it's that you can get great performance even on the entry-level Single plan. It doesn't hurt that Hostinger uses LiteSpeed, which is arguably the fastest and most stable web server for WordPress. Hostinger also has a few managed WordPress hosting plans, but these are short on advanced features. I'd consider them for small projects, but if you're after premium hosting for a complex website or ecommerce store, you're better off with one of these managed WordPress hosting services.
Which Hostinger plan should I choose?
All Hostinger plans pack some serious value for their price, but the Premium shared hosting package has the best price-to-features ratio. You can use it to host an unlimited number of websites, and it comes with a generous 20GB of storage and unlimited bandwidth. You also get a bunch of useful features, such as Hostinger's beginner-friendly control panel, a one-click installer for WordPress, an integrated SSL and CDN, as well as advanced caching.