Using online forms to collect data for sales leads, subscribers, customers, etc., has become an integral part of on-line interaction. But creating forms requires designing, coding, data storage allowance and routing. Even modifications of existing forms, no matter how small, require the same involved process. Formstack allows users to create all types of forms – including secure payments and multipage forms -without any coding or programming knowledge.
This interview was originally published on

October 11, 2018.
Please tell us a little about the Formstack platform and the need it fills.
Formstack is a versatile online form and workflow automation solution that streamlines processes for capturing and managing information. With Formstack, businesses and teams of all types can easily create and use online forms to automate repetitive business processes. Routing leads to the sales and marketing team, forwarding employee reviews to managers and the human resources department, and passing patient check-in information to doctors and administrative staff can be easily automated, saving countless hours per week. Forms can be customized to maintain organizational brand standards and embedded on the user's website or deployed via a mobile app. Formstack is a highly flexible solution that is useful for two-person start-ups as well as Fortune 500 companies with tens of thousands of employees.
How do users create forms?
We have developed an easy form building tool that allows users to create incredibly useful, attractive online forms within seconds. Users create a form by selecting one of our more than 200 pre-built templates and customizing it to their specific needs, or by starting from a blank slate using our robust drag-and-drop editor.
What are some of the advanced features that users can add to forms without any coding/programming knowledge?
One of the features of which we are most proud is our Workflows add-on. Picture the most annoying, repetitive process you manage at work every day. What if you could automate that process and forget about it? Imagine what you could accomplish. Formstack's online form builder makes this possible. Users can set up seamless digital workflows in minutes with the help of more than 200 pre-built form templates, 50+ ready-to-go integrations and exclusive workflow management tools.
Are forms created with Formstack able to be styled to look like their website? How are the forms integrated into websites?
Formstack's powerful Theme Editor allows users to customize their forms with ease. They can quickly upload a company logo to the form and set fonts and colors to match company branding. If users want to do something with their form that's a little off the map, they can also add custom CSS styles to their form. Formstack offers a variety of ways to publish forms. Users can provide a link to a form for use in an email or a hyperlink on a website or PDF, or they can choose to embed a form directly into their website to provide a cohesive experience for customers.
Do you have the capability to make forms GDPR compliant?
To meet the security compliance standards of the General Data Protection Regulation (GDPR), we've taken measures to ensure users have complete control of the information they collect, store and manage with Formstack. We give users the
ability to build forms
that include opt-in/opt-out consent, links to privacy policies, seamless erasure workflows and an engineering department that can respond to incidents 24 hours a day, 7 days a week. A recent survey conducted by Imperva found that 28% of companies are unsure if they comply with GDPR. We have created a free
GDPR Compliance Guide
available to customers and non-customers alike to help all companies be confident in their state of compliance.
What type of security do you employ to keep forms and their data secure?
Formstack users capture a wide range of information: protected patient data, credit card information, names, addresses, and Social Security Numbers. Thus, Formstack is dedicated to providing all users with the highest levels of form security. Formstack offers a number of ways to secure and encrypt this sensitive information. We employ 256-bit SSL (Secure Socket Layer) encryption for all form data, Pretty Good Privacy (PGP) encryption for information sent and received via email, and two-factor login authentication. Additionally, Formstack offers an Enterprise solution that is compliant with the Health Insurance Portability and Accountability Act of 1996 (HIPAA) and includes data encryption, access controls, auditing, and logging.
Once forms are submitted, where is the information stored and how do your customers access this information?
Information is stored within the Submissions database in the user's account and is accessed using their Formstack login credentials. If submissions include uploaded files, those files can be sent to external storage tools like Dropbox or Google Drive via a third-party integration. Users can also send submitted information to any number of other third-party solutions, including email marketing tools, customer relationship managers (CRMs), spreadsheets and payment solutions.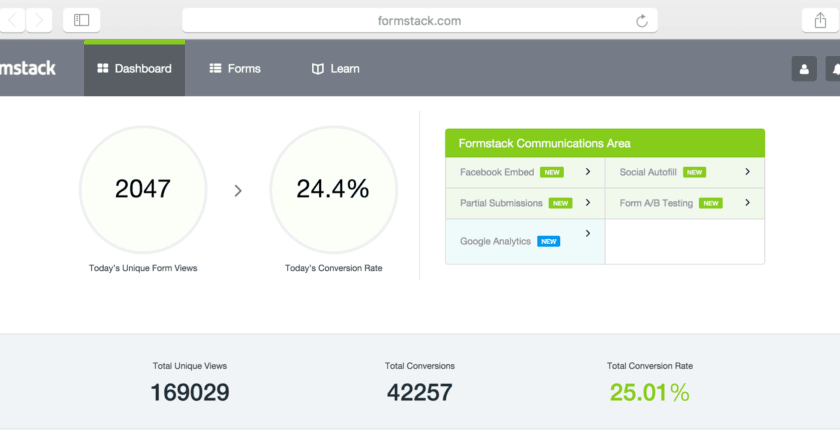 What is your Form Conversion Kit?
Formstack's Conversion Kit add-on enhances users' online forms with conversion rate optimization (CRO) tools. It's useful for those who are collecting leads, registering people for events, processing payments quickly and selling more products, or creating successful surveys to improve research. Conversion Kit features UTM tracking, Google Analytics, partial submission tracking, A/B testing, bottleneck identification tools and form autofill from social media profiles. Using Formstack's CRO tools, Miami Web Company was able to increase signups by 114% and save over 50 hours of development time with just one form.
What kind of payments can Formstack handle and how do they integrate with payment processors?
Payments are the bread and butter of business. Formstack's suite of payment processor integrations makes it easy to collect multiple payment types and follow up with customers, as well as set up service subscriptions, process ecommerce transactions, collect event registration fees, and much more. Formstack currently has integrations with Authorize.Net, Beanstream, Chargify, Dwolla, First Data, PayPal, Stripe and WePay.
What add-ons are available for Formstack?
At present, Formstack maintains direct partnerships with over 50 associates, such as G Suite, MailChimp, HubSpot, Zendesk, and Dropbox. We continuously expand our list of partners. Just this month, Xverify introduced a fresh integration with Formstack, granting our users the benefit of real-time email verification. Users can also connect Formstack forms to over 1,000 other web tools via an integration with Zapier. Also, in addition to the Workflows and Conversion Kit add-ons mentioned previously, we offer Portals and Offline Forms as add-ons. Portals allows users to group forms into hubs for easy sharing and completion monitoring (such as for employee onboarding). Offline Forms allows users to accept form submissions even when they aren't connected to the internet (via our Formstack Go app). Finally, we have a native Salesforce app that allows users to seamlessly build Salesforce forms and surveys in minutes. To learn more, check out our
Formstack review.