While all the builders on my list will get the job done, my personal favorite is Squarespace. It has the best-looking templates around, and all the tools you could possibly need to build your website, integrated straight into its editor (so you don't have to look for them elsewhere). You can take advantage of
Squarespace's 30% discount on annual plans
 to save on your subscription.
Using the wrong website builder is like voting for the wrong political candidate (that would be your opponent, of course). It could mean losing valuable time and wasting money. That's why I've done a lot of research to make it easy for you to choose the right website builder.
Your campaign website is more than just a collection of pages – it's a hub where potential voters go to learn about you and your platform. Unfortunately, not every website builder is equipped to help you create this digital hub. Many of them don't come with the features you need, like site analytics, forms for gathering data, or tools to help you reach more potential voters.
I've tested the best website builders on the market, and chosen five that offer the best features for creating an effective political campaign website.
Short on Time? These Are the Best Website Builders for Political Campaigns in June 2022:
Wix – Offers plenty of apps for your political campaign, including Wix Chat, an easy way for your site visitors to contact you with questions
Squarespace – Provides a built-in email marketing tool that you can use to stay in touch with your potential voters
SITE123 – Has forms you can customize for donors, volunteers, and even endorsements
Jump down to see other website builders we recommend | Comparison table | FAQ
What We Look For in the Best Website Builders for Political Candidates
Ease of use: As your campaign gains momentum, you don't want to be spending your valuable time trying to figure out a complicated website builder.

These builders all come with intuitive site editors that are simple to learn.

Forms, forms, forms: These platforms all have built-in or third-party form builders. You can keep your campaign rolling with customizable forms for collecting donations, creating surveys and polls, and even finding volunteers.
Tools for reaching out to voters: As a political candidate, you'll want to be in tune with your voter base. Your website builder should allow you to share content on social media, and gather and analyze data about potential voters, endorsers, or donors.
Why I don't recommend using dedicated website builders for political campaigns
Services like Poliengine and Online Candidate offer website building for political candidates. Some are website design companies that charge a hefty price for a website you could easily build yourself with a website builder. Others are simplified do-it-yourself website builders with less functionality, and you'll end up paying the same price as for a fully-featured builder (in some cases, even more).
It's usually better to stick with the more established and well-known website builders.
Website builders don't get much simpler than Wix. With the drag-and-drop editor, you can move blocks of text, images, videos, and other content around your page until everything looks exactly how you want it.
Wix has several great templates for political campaigns. I especially like one called The Politician, which has built-in features like a donation button and news and events columns.
Just remember that once you've chosen a template, you can't change it, so make sure you pick one that you'll want for your whole campaign.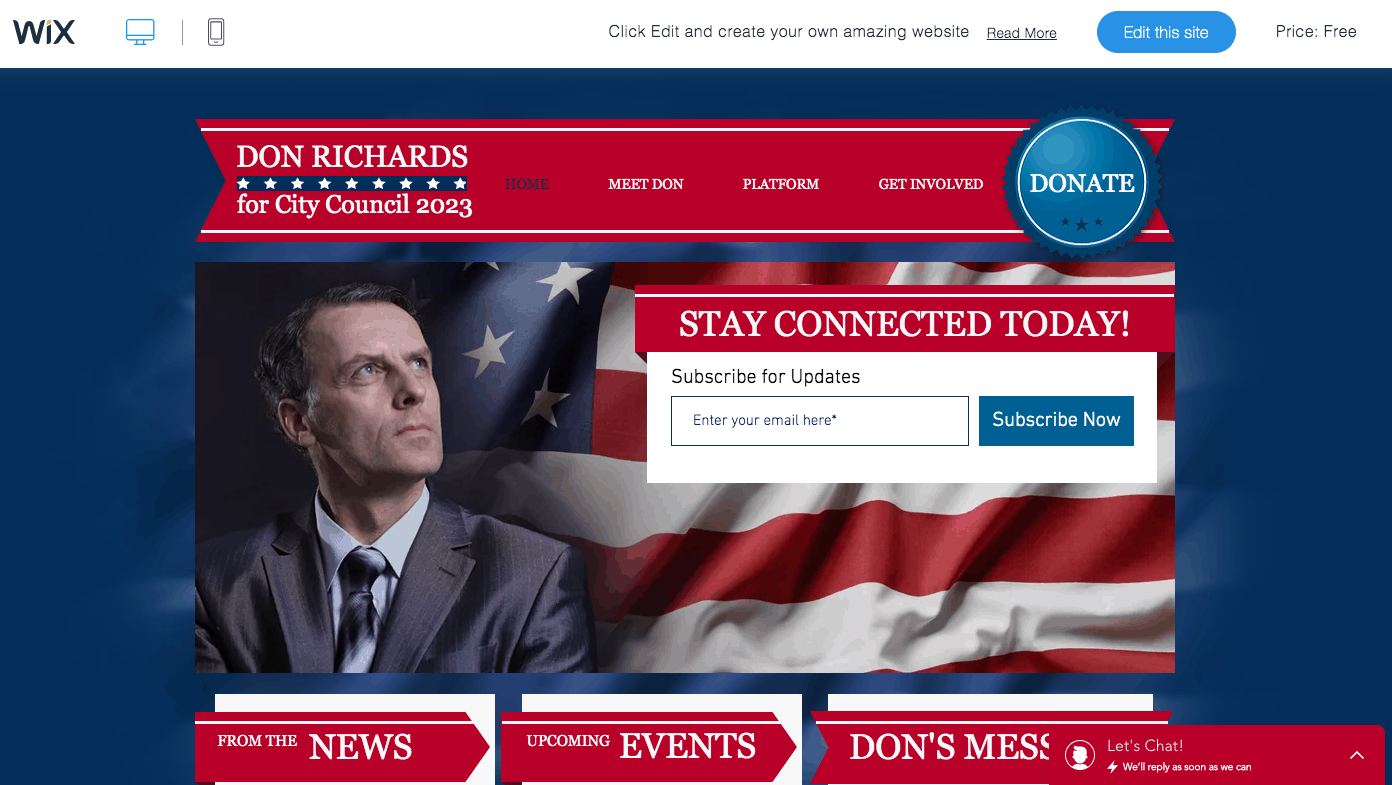 Let's take a deeper look at the features that make Wix a great option for political campaign websites:
Create an online hub with Members' Area: Wix offers you the possibility to create a members-only area of your website. This allows you to give your voters a space to come together and create profiles, have discussions on a forum, chat with each other, and share files.
Upload videos: Wix has a great video player that allows you to upload videos of important speeches and messages to your supporters so that they can get to know you better.
Wix App Market for your other needs: Here you'll find many free and paid apps to add specific functions to your campaign website. There are apps for chatting, building extra forms, tracking visitors, collecting donations, building an events calendar, hosting HD videos, and more.
Learn about other features that can help you promote your campaign site in our expert Wix review.
| | |
| --- | --- |
| Free plan available? | Yes |
| Political campaign templates? | Yes |
| Tracking and analytics features | Built-in integration with Google Analytics |
Squarespace offers a simple drag-and-drop editor with a ton of advanced built-in features, including great marketing and promotional tools you can use to reach a broader audience.
Squarespace doesn't offer any templates specifically for political campaigns, but I recommend using one from the category for local businesses and nonprofits, as they have many of the same features. With a few simple edits to your template, you can get a professional campaign website.
Here are some of the features that make Squarespace stand out:
Donation Blocks: These allow you to connect your PayPal or Stripe account to your website so you can accept donations. You can add suggested amounts or let donors decide for themselves, and add additional fields if you want to collect more information about your visitors.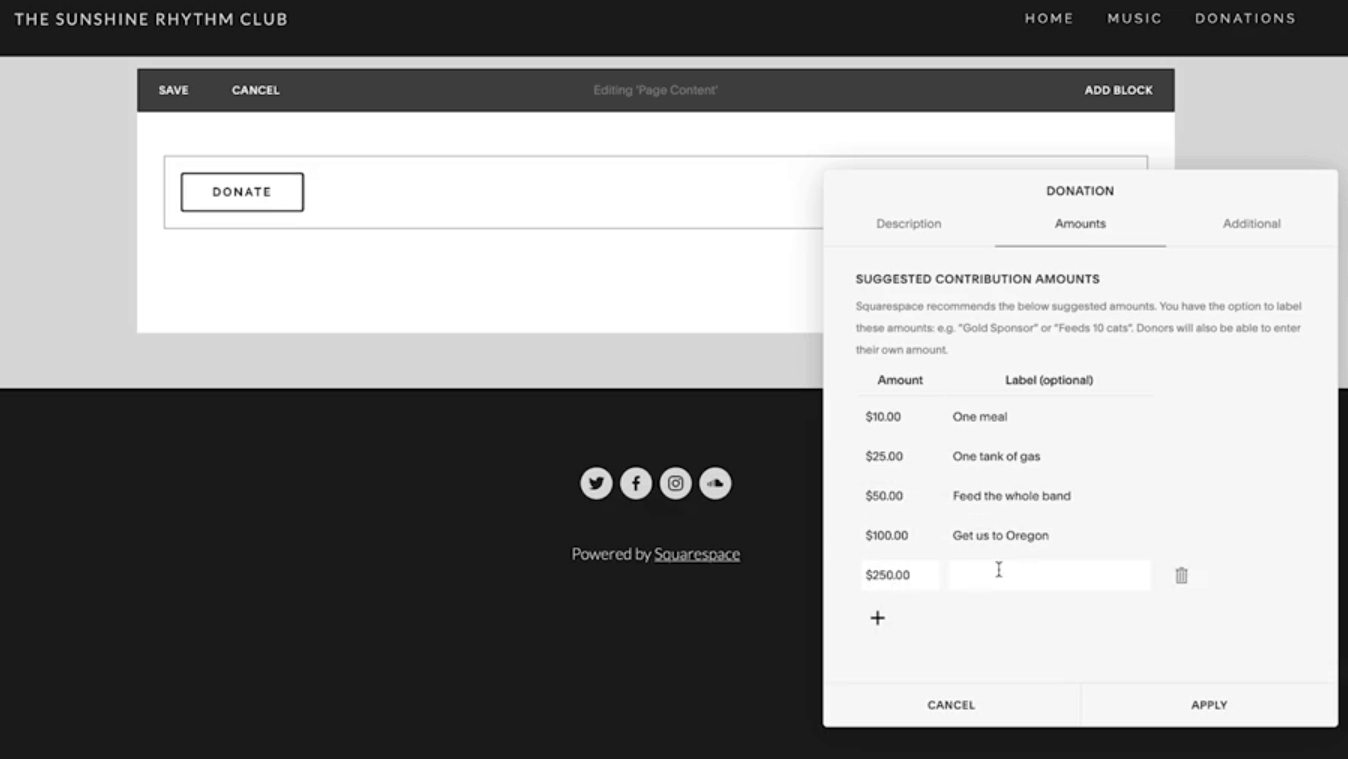 Built-in email campaigns: This feature allows you to build, design, and edit email campaigns, and send them to your mailing list. You can do this on any device, so you can still communicate with voters when you're out campaigning.
Social media integration: Squarespace allows you to link multiple social profiles to your website, so you can post content automatically.
In our full Squarespace review we dive deeper into the platform's features.
| | |
| --- | --- |
| Free plan available? | No, but there's a 14-day free trial |
| Political campaign templates? | No |
| Tracking and analytics features | Built-in Squarespace Analytics app |
SITE123 is an easy, quick, and intuitive website builder. If you need to get your political campaign website online as soon as possible, SITE123 could be your best solution.
There are over 175 templates, but none designed specifically for a political campaign, so you'll have to customize the one you choose. All the templates are mobile-responsive, so your website will look good on any device your visitors are using to view it.
These are some of the best features I found on SITE123:
Simple donation options: SITE123 has an easy-to-use donation page where you can set predetermined amounts, or allow users to enter their own amount. It also offers an integration with Donate.ly, professional fundraising tool.
Tools to get to know your visitors: You can add the Google Analytics app to get a better idea of where your visitors come from, their interests, and how they interact with your page.
Chat with voters: You can also integrate Zendesk Chat so that potential voters know you're always available for a question or even just a quick "hello."
Read our in-depth SITE123 review to learn what else the platform has to offer.
| | |
| --- | --- |
| Free plan available? | Yes |
| Political campaign templates? | No |
| Tracking and analytics features | Integrate Google Analytics |
4. Weebly – The Best Built-In Tools for Tracking Your Campaign's Success
One of my favorite Weebly features is the site dashboard. At a glance, you can track traffic, page views, and site visits. These stats aren't as detailed as Google Analytics, but it's nice to have them built into the website builder.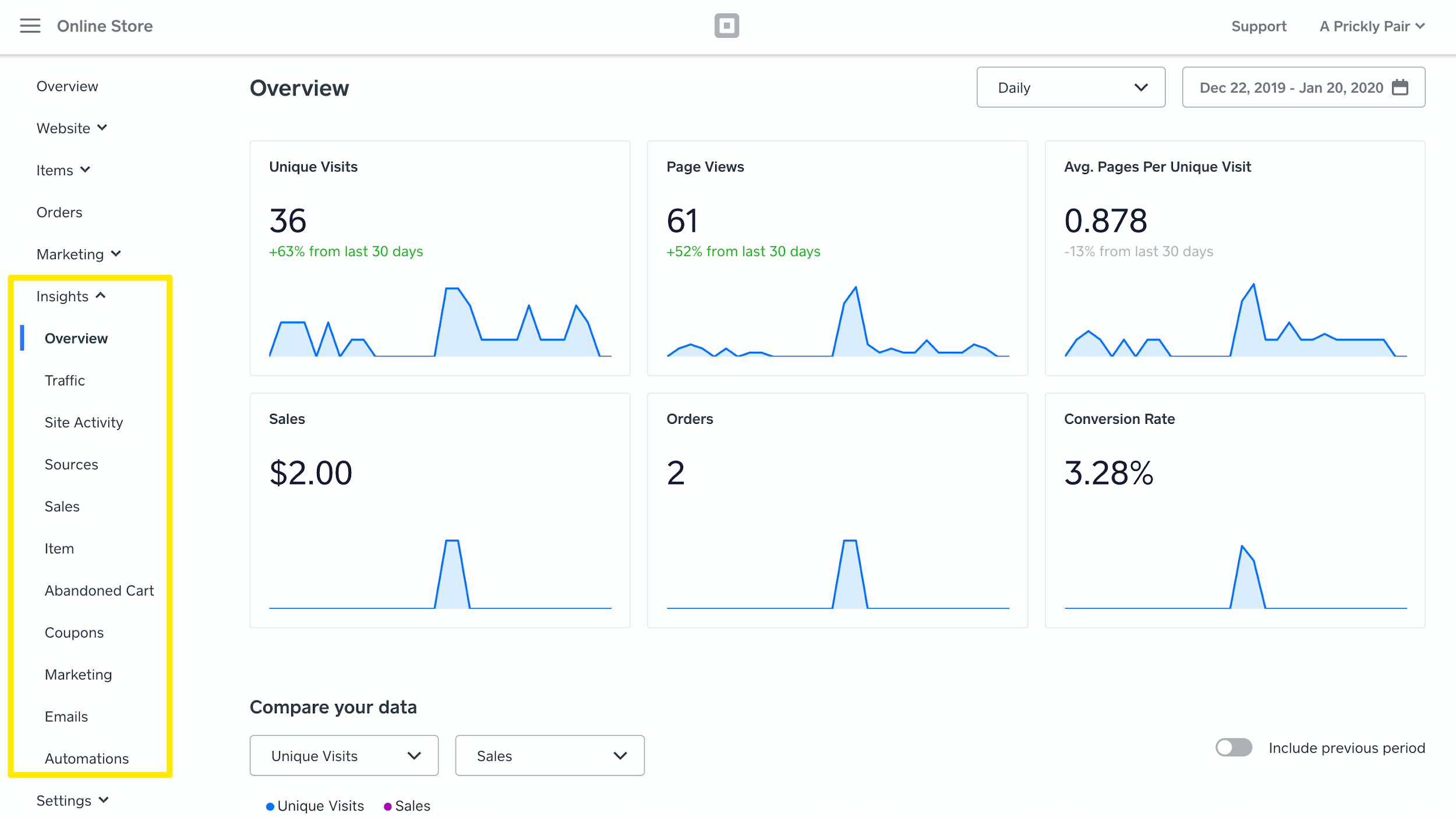 Weebly's theme selection is smaller than what other site builders offer, and there are none designed specifically for political campaigns. However, the themes all have a very clean, professional look, and you can customize them to suit your needs.
Weebly's easy-to-use website builder comes with a lot of great features:
Custom forms and surveys: Weebly has a built-in drag-and-drop form builder. You can create a form or survey with fully customizable text boxes, checkboxes, drop-down menus, and more.
Attractive photo and video galleries: You can show off your photos on a banner, in a slideshow, or even in a photo library. You can also upload or embed videos and display them on your site.
App Center with plenty of options: You can use apps like Social Sharing and Dockvine to get the word out about your campaign on social media channels. There are also email marketing apps, like MailMunch and Welcome Bar, to help you grow your mailing list.
Want to learn more? Read our full Weebly review.
| | |
| --- | --- |
| Free plan available? | Yes |
| Political campaign templates? | No |
| Tracking and analytics features | Great analytics integrations |
WordPress.com offers some of the best features for creating a striking political campaign website. Some WordPress.com users note that the website editor is tougher to learn how to use than drag-and-drop editors. However, once you get used to it, it's not as difficult.
With over 250 themes and plenty of built-in features, WordPress.com affords you a lot of freedom in the way you build your site and the look of the final product.
Speaking of features, here are a few of WordPress.com's best ones:
Variety of third-party political campaign themes: ThemeForest, a third-party marketplace, has a lot of responsive themes made especially for political campaigns. One of my favorites, aptly called "Campaign," is a sleek, modern template with donate buttons, a section for news, contact forms, an events calendar, and much more.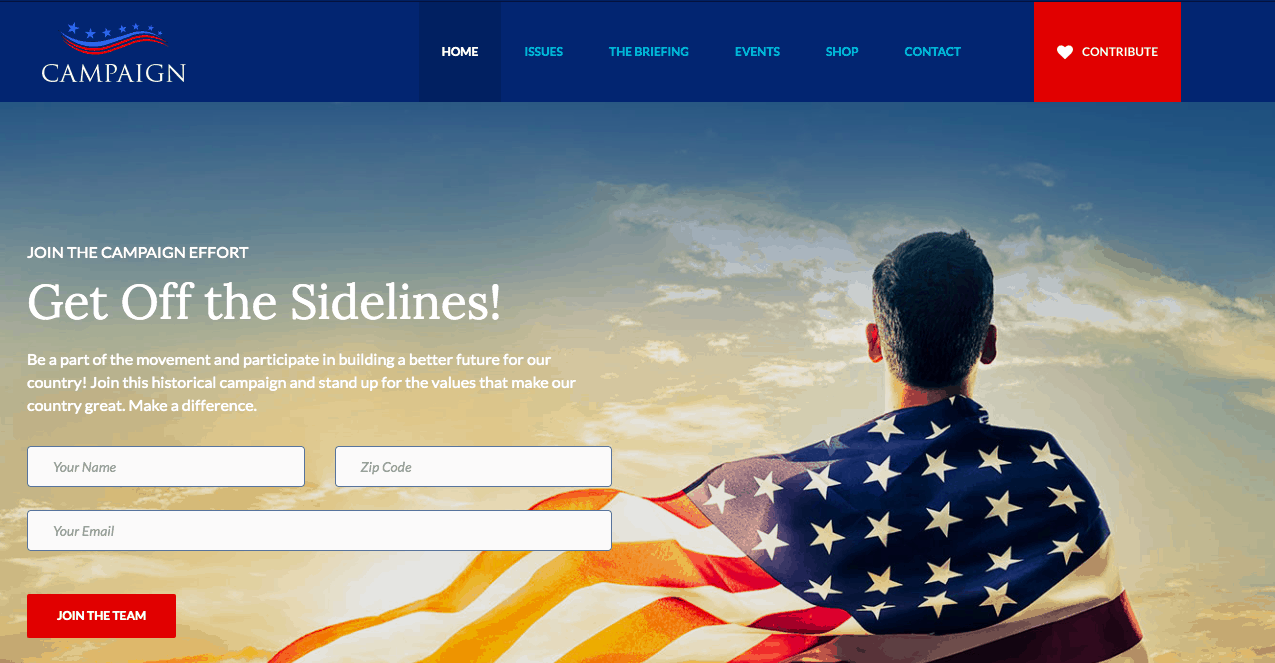 Advanced social sharing capabilities: WordPress.com has built-in social sharing buttons that you can put on each post so your readers can easily share your content and help you reach more potential voters.
Built-in stats tracking: Whether you look at your website's dashboard on desktop or mobile, you'll have access to graphs, lists, and charts that track your website's visitors. You can also see in-depth stats such as where your visitors clicked, and which websites referred them to you.
Read our expert WordPress.com review for some tips and tricks on how to get the most out of the platform.
| | |
| --- | --- |
| Free plan available? | Yes |
| Political campaign templates? | No, but plenty of third-party campaign templates |
| Tracking and analytics features | Built-in stats and tracking functions |
Being a Politician Is Hard, Building a Campaign Website Shouldn't Have to Be
Choosing the right website builder is a simple way to get ahead of your competition and create a space for your voter base to learn more about your platform.
So, which website builder should you choose for your political campaign website? Well, it depends.
If you just want a quick, do-it-yourself website with all the basic features, look into Wix. There are campaign templates you can use to get started, and lots of tools to help you grow your voter base.
If you want a website builder that will help you supercharge your marketing and outreach efforts, then check out Squarespace. Its built-in email campaign tool is ideal for keeping your audience regularly updated on your progress.
This table will give you a good overview of the best features each website builder offers:
| | |
| --- | --- |
| | Standout Features |
| Wix | Good selection of apps to help you customize forms and reach voters |
| Squarespace | Great built-in marketing tools |
| Site123 | Easy-to-use website builder with good forms plug-ins |
| Weebly | Site dashboard to display analytics and easy drag-and-drop editor |
| WordPress.com | Many social sharing and website customization options |
FAQ
How to accept donations on your political campaign website? Accepting donations for your political campaign is something that most website builders support, but the way this is done really depends on the individual website builder. Some, like Wix, have apps available in the app store that are specifically designed for accepting donations (such as the Get Funding app). As long as your website is protected by an SSL certificate (https), you can use a platform like DonorBox and embed a donation form directly onto your webpages. You can also use PayPal buttons to accept donations.How much does a political campaign website cost? The cost of a political campaign website can vary depending on the features you need (for example, some apps may add costs to the base price of your website builder plan) but to give you a general idea, a mid-range plan for a website builder costs around $10-$15 per month. You can, of course, start your political campaign website for free with most (but not all) website builders. To find out more about website builders and their costs, check out our overview of the best website builders. But before you pull out your wallet, make sure you get the very best deal by checking out our coupon page – which is updated daily!What should I include in my political campaign website?There are several features your political campaign website needs in order to be successful. First, you will need to include forms, which allow your visitors to subscribe to updates, register to volunteer to help with your campaign, and even make donation pledges. Second, you'll need to be able to create surveys and polls to help with gathering information about the issues that matter most to your visitors. Third, your political campaign website should include features that allow you to engage with your visitors – for example by having a Facebook Messenger add-on or another chat feature or creating a members-only area with a forum. You'll also want to be able to discover more about your visitors, so you want a website builder that has analytics tools to help you understand the age and location of your visitors. Jump up to see the full list of features we looked for in our recommended political campaign website builders.Where can I find templates for a political candidate website? Not all website builders have dedicated templates for political campaigns, so the best place to find appropriate templates is to choose a website builder that does have these types of templates. Wix has a number of political templates, including one with a built-in donation button (check out recent Wix coupons). If you opt for WordPress, there are plenty of third-party templates for political campaigns available (find WordPress deals here).