Most web hosting providers claim that their plans are "perfect" for Joomla, but what they really mean is that you have the option to install it on their servers – and that's about it. To use Joomla to its full potential, you need more.
Whether you want to use Joomla to create a small business website or a complex company intranet, you need a web host with features that actually improve its functionality. Among other things, the right host will provide a free SSL certificate, automated backups, a CDN, and the resources you need to operate Joomla smoothly.
If you intend to run Joomla on a shared hosting plan, you want a server that will help your website consistently achieve optimal loading speeds. You'll also want a reliable host that backs up its uptime guarantee in a strong SLA. And if you're a Joomla app developer, you might consider a VPS plan that includes SSH root access in addition to better resources.
I tested many different web hosting providers, and created a list of the six best hosts for Joomla. Read on for my recommendations.
What We Look For in the Best Web Hosting Services for Joomla
As I searched the market for the best web hosts for Joomla, I prioritized the following essential features:
LAMP Stack Server: Although the latest version of Joomla works on multiple types of databases and web servers, the best configuration consists of the Linux OS, Apache HTTP Server, MySQL database, and PHP as a programming language. All shared hosting plans on my list come with this set of software (or better) preinstalled.
PHP Versions: As a Joomla web developer, you might work with clients whose websites use different PHP versions. You'll want your shared hosting plan to accommodate multiple versions and provide support for PHP 7.3 at the minimum.
Control Panel: Installing Joomla, performing updates, and managing multiple projects are all made significantly easier with a powerful control panel. This feature also allows you to manage your emails and DNS and, in some cases, run virus scans and create backups.
Resources:Shared hosting plans should include generous SSD storage and bandwidth in addition to MySQL databases to accommodate a Joomla website with decent traffic. If you're ready to upgrade to VPS or cloud, you'll also want as much CPU power and RAM as you can get to ensure that your websites and apps run smoothly.
Extra Features: Some providers offer hosting solutions that are specifically configured for Joomla, while others have an extensive knowledge base, and a few offer specialized support. Each of these features can save you time and ensure that your Joomla websites and apps perform better.
One of Joomla's major sponsors, A2 Hosting, stands out from the crowd when it comes to hosting solutions that are custom-made for this CMS. Its four Joomla shared hosting plans are not only affordable, but they also include all the features you need to develop Joomla websites.
Unlimited SSD storage and data transfer are offered on all plans except the entry-level Startup, alongside the powerful cPanel and the one-click installer Softaculous. You can opt for an account with preinstalled Joomla software to start working on your project right away, and you will be notified whenever a new version of the platform becomes available.
In addition, accounts with preinstalled Joomla are configured with settings to improve performance for websites and apps developed with this CMS. I tried it myself and can confirm that the optimizations actually work.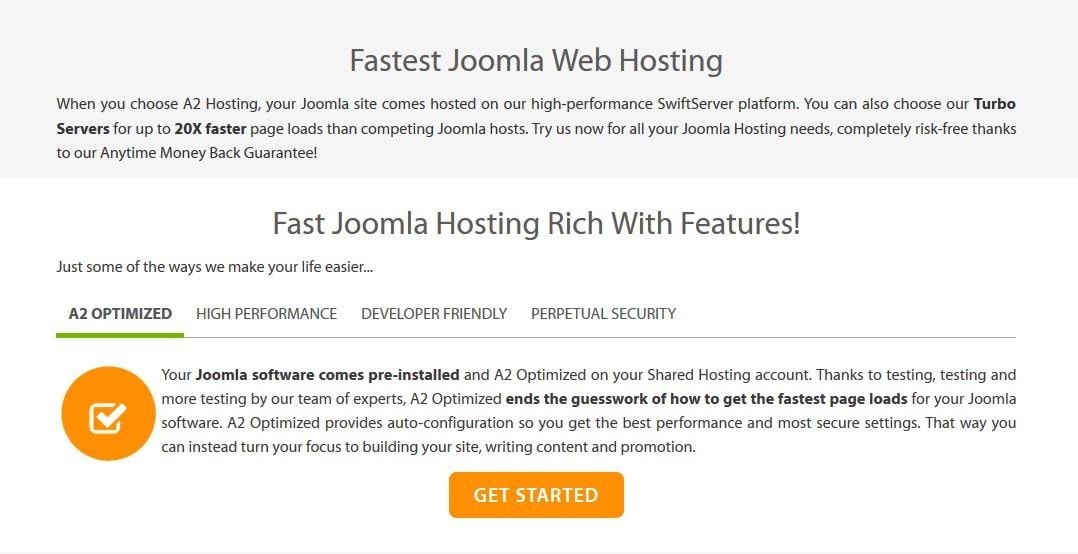 Shared plans feature MySQL 5.6 databases with plenty of room for multiple projects. The Startup and Drive plans come with Apache 2.4, while the Turbo plans use more powerful servers with fewer users for better performance. PHP versions 4.4 through 7.4 are all available, and you can quickly toggle between different versions from the cPanel.
Features:
Affordable shared hosting plans designed specifically for Joomla websites and applications.
cPanel and Softaculous included on all plans. You can choose an account with preinstalled Joomla and update notifications.
Unlimited SSD storage and bandwidth on most plans.
24/7 Guru Crew support staff who can answer specific questions about Joomla.
For a full list of features, read our in-depth A2 Hosting review.
InterServer keeps things simple with a single, Standard shared hosting planthat offers immense value at an affordable price. In addition, its price-lock guarantee ensures that as long as you stay on the standard plan, you won't have to worry about increased renewal fees or surprising hikes.
InterServer's standard plan comes with an unlimited number of websites and domains, as well as unlimited SSD storage and bandwidth. Using the included cPanel, you can easily install Joomla with just one click, while updates for the CMS and related plugins are performed automatically.

The standard plan features an unlimited number of MySQL databases and supports multiple PHP versions, including 5.6 and 7.3. InterServer uses the LiteSpeed web server, a better-performing alternative to Apache.
If you need more dedicated resources for your Joomla project, you can easily switch to InterServer's VPS solution with root access. For those who don't live and breathe Linux, I recommend getting at least 4VPS "slices," to get managed support, along with 4 CPU cores, over 8GB of RAM, and 120GB of SSD storage.
Features:
An affordable standard shared hosting plan with unlimited resources.
One-click Joomla installation and automatic updates.
cPanel included on standard shared hosting.
Price-lock guarantee for shared hosting.
Excellent VPS solutions with managed support for four or more VPS slices.
For a full list of features, read our in-depth InterServer review.
SiteGround is not the cheapest web hosting solution for Joomla, but if you can afford the difference, the added features and excellent support are well worth the price. With three shared hosting plans designed specifically for Joomla, this provider goes above and beyond to get your project running quickly.
With a single hosted website and only 10GB of SSD storage, SiteGround's StartUp plan is suitable for small projects. Although neither the GrowBig nor the GoGeek plan has unlimited storage, the included storage increases to 20GB and 40GB, respectively. Unmetered bandwidth and an unlimited number of MySQL databases are included on all plans.
The default PHP version managed by SiteGround is 7.1, but you can install versions 5.6 through 7.4 on each of your websites if needed. You can switch between versions using Site Tools, a proprietary control panel. The provider's servers are Linux-based, run the latest versions of Apache, and use Nginx as a reverse proxy.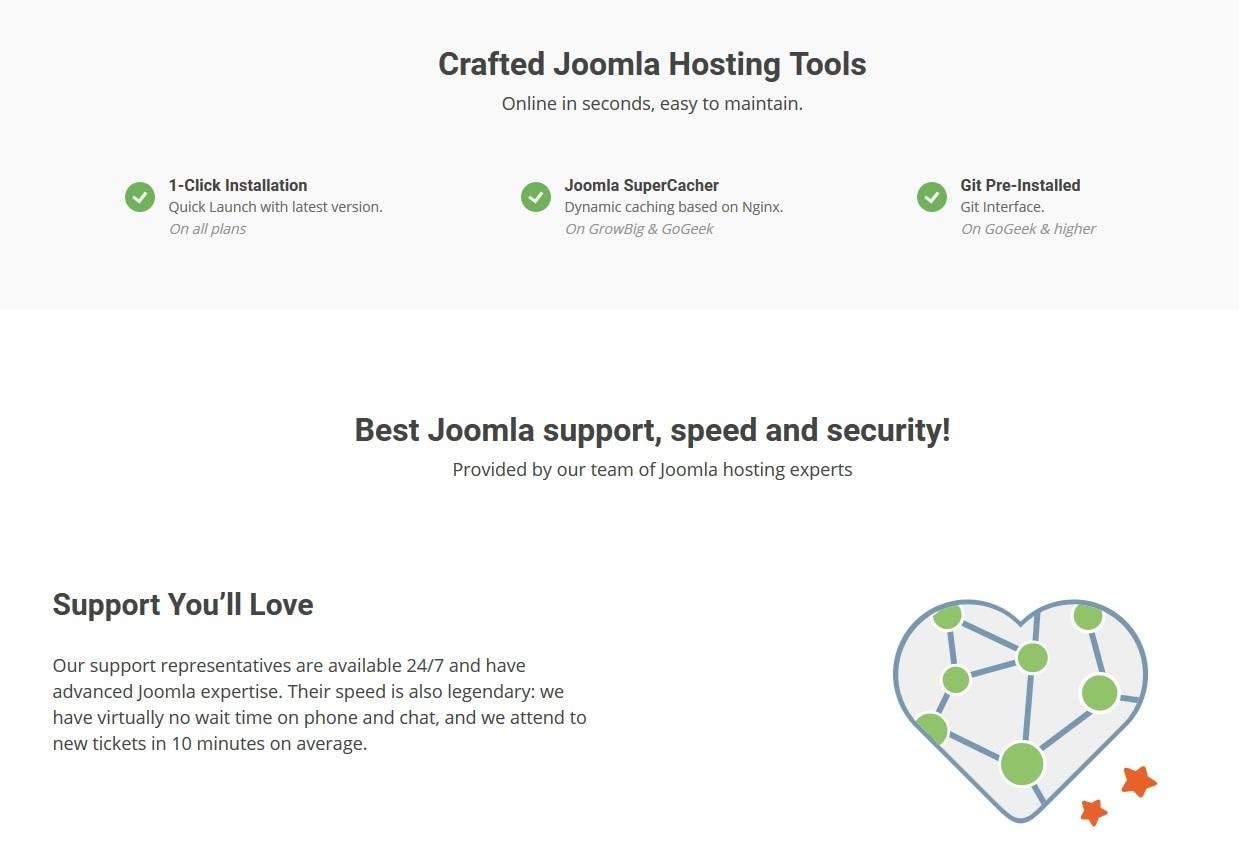 What makes SiteGround truly shine is the set of proprietary Joomla extensions included in some plans. The SiteGround Wizard comes with all plans to help you set up Joomla in just a few clicks, and the jHackGuard extension protects your website against online attacks, from remote code executions to SQL injections and other threats.
The GrowBig and GoGeek plans also include a caching tool developed by SiteGround that significantly improves loading speeds for your website. Finally, if you ever run into trouble with Joomla, SiteGround promises to give you specialized advice and investigate specific issues. In my experience, they consistently deliver on this promise. To learn more about SiteGround, read our expert review.
Features:
Three shared hosting plans designed specifically for Joomla websites and applications.
Site Tools control panel and SiteGround Wizard for Joomla included on all plans.
Unmetered bandwidth and an unlimited number of databases on all plans.
Joomla extensions for enhanced security and performance.
Excellent 24/7 support that addresses Joomla-specific issues.
HostPapa's shared hosting plans offer a great mix of resources and free features that enable you to run Joomla on its servers. Just be aware that the seemingly affordable plans have steep renewal fees.
For an unlimited number of websites, as well as unlimited bandwidth and SSD storage, the Business and Business Pro plans are ideal. cPanel and Softaculous are included in all offers, as is a one-click installer for Joomla.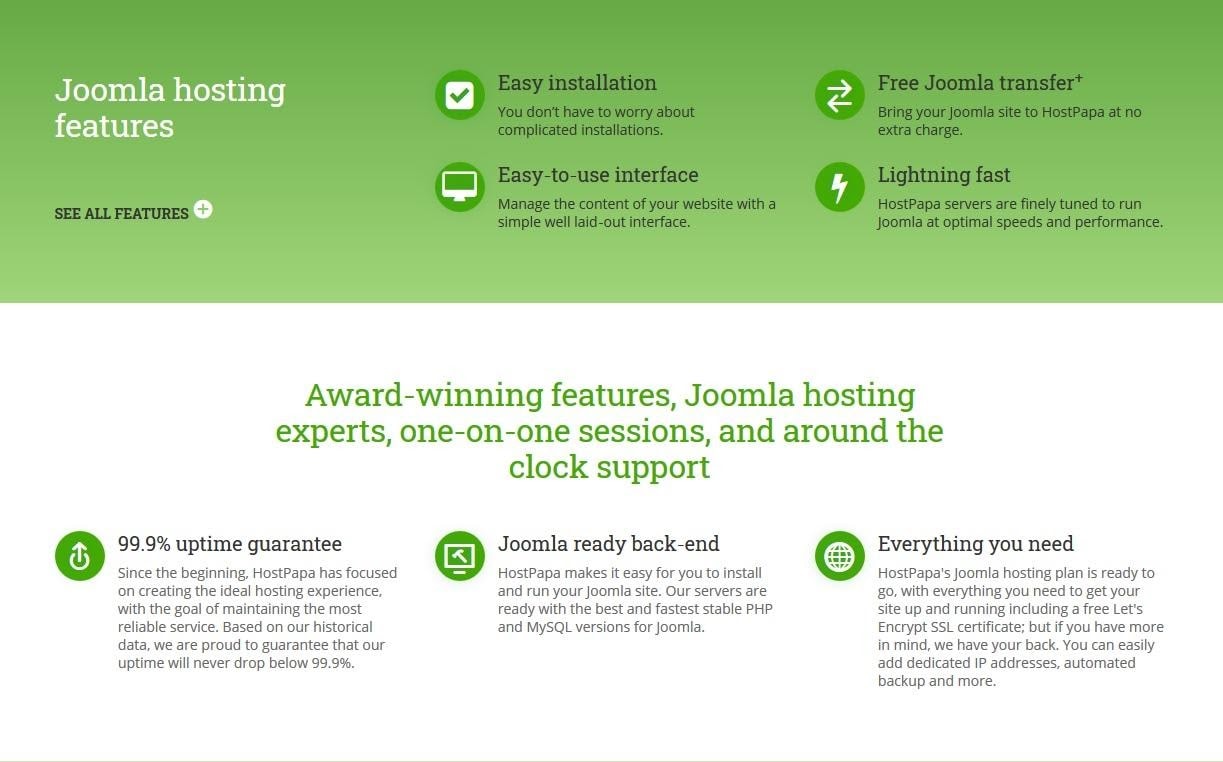 HostPapa's Starter plan features 25 MySQL 5.6 databases, which is more than enough for several Joomla projects. If needed, you can upgrade to an unlimited number of databases with either of the two superior plans. The provider's shared plans support PHP versions 5.6, 7.0, 7.2, and 7.3.
If your Joomla project is growing quickly, you might want to consider an upgrade to one of HostPapa's VPS plans, although even its cheapest VPS option – though reasonable in terms of resources – is rather pricy.
Features:
Three shared hosting plans with generous resources and all the features you need to run Joomla.
cPanel and Softaculous included on all plans.
Unlimited SSD storage, bandwidth, and MySQL databases on the Business and Business Pro plans.
Extensive knowledge base for Joomla-specific issues.
For a full list of features, read our in-depth HostPapa review.
For an affordable price, Scala Hosting offers three Joomla shared hosting plansthat have all the features you need to take advantage of the full potential of this CMS. The provider's VPS solutions are equally inexpensive and offer even more value for Joomla developers in search of better performance, generous resources, and full control.
A control panel and a one-click installer for Joomla are included on all three shared hosting plans, while the Start and Advanced bundles additionally feature unlimited SSD storage and fully managed support. In fact, the Scala Hosting support team will help out with most Joomla-related issues, which is out of scope for many other providers.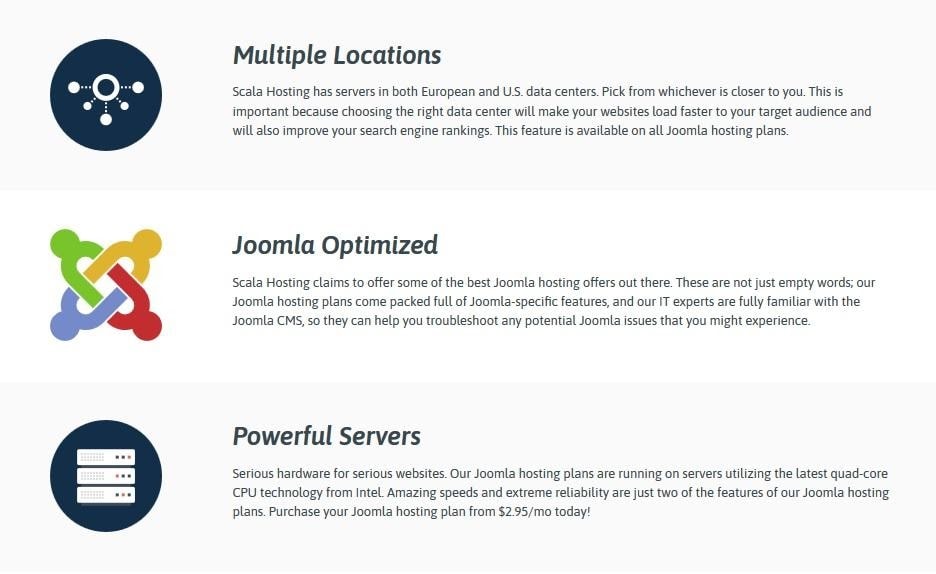 Scala Hosting's Linux servers run on LiteSpeed, which offers better performance than Apache. In fact, LiteSpeed is not only faster, it's also able to handle significantly more traffic and even maintain its functionality in the event of minor DDoS attacks.
Scala Hosting's fully managed Start and Advanced plans are some of the most affordable VPS options out there, while self-managed plans are even cheaper. But you don't have to be intimately familiar with Linux to manage your own Scala Hosting VPS. All VPS plans come with the provider's proprietary sPanel, which makes it easy to navigate a self-managed server.
Features:
Highly affordable shared hosting plans with the right configuration for Joomla websites and apps.
cPanel and one-click installer for Joomla included on all shared plans.
Unlimited SSD storage and fully managed support on the Start and Advanced plans.
Cheap VPS options for Joomla developers who need more resources and more control over their projects.
To see Scala Hosting's full list of the features, check out our in-depth review.
Liquid Web doesn't offer any shared plans, but if you want to significantly increase the performance of your Joomla websites and apps, this provider's Linux VPS optionsare a great value, especially if you're willing to commit to a two-year plan.

All ofLiquid Web's VPS plans are managed, so you can count on their support team to take care of server-related issues while you work on your Joomla project. In addition, this provider gives you a choice of three premium control panels – InterWorx, cPanel Pro, or Plesk Web Pro – on its VPS plans.
Since you have full root access on all plans, you can install and use any version of MySQL and PHP. With 2 CPU cores and 40GB of SSD storage included even in Liquid Web's cheapest VPS bundle, you should have more than enough resources to support a fast and reliable Joomla website.
Scaling your plan is not a problem with Liquid Web's VPS solution, which comes with the flexibility of cloud hosting: You can always add more power to your hosting plan without suffering any downtime.
Features:
Managed cloud VPS plans with great value at affordable prices.
One of three premium control panels – InterWorx, cPanel Pro, or Plesk Web Pro – included for free.
Root access included on all plans. You can install any version of MySQL, PHP, or other software you need for your Joomla projects.
Scalable resources. Liquid Web's cloud VPS allows you to upgrade or downgrade your plan as needed.
To see Liquid Web's full list of the features, check out our in-depth review.
Take Advantage of Joomla's Advanced Features with an Optimized Hosting Service
Joomla is best known for its powerful features, but the performance of your website or app will truly depend on the quality of your web hosting service. To find the right host for you, you have to factor in your specific needs.
For instance, if you're looking for an affordable web hosting solution, choose one of A2 Hosting's shared plans for Joomla. With unlimited resources and preinstalled software designed to improve the functionality of the CMS, these plans will give you everything you need to develop websites and apps with Joomla.
If you're willing to pay a bit more for additional value, you should go with one of SiteGround's Joomla-specific shared hosting plans. Alongside comprehensive Joomla support, this provider offers a set of proprietary extensions designed to increase the performance of your websites.
Alternatively, you could opt for one of Liquid Web's cloud VPS plans if you're a professional developer and you need a premium host to support multiple rapidly growing Joomla projects.
FAQ
What is Joomla?
Joomla is a free CMS that can help you publish websites fast and easily, without having to use any programming language. It is the second-most used CMS, after WordPress.
How is Joomla hosting different?
How do I host a Joomla website?
Which is better, Joomla or WordPress?