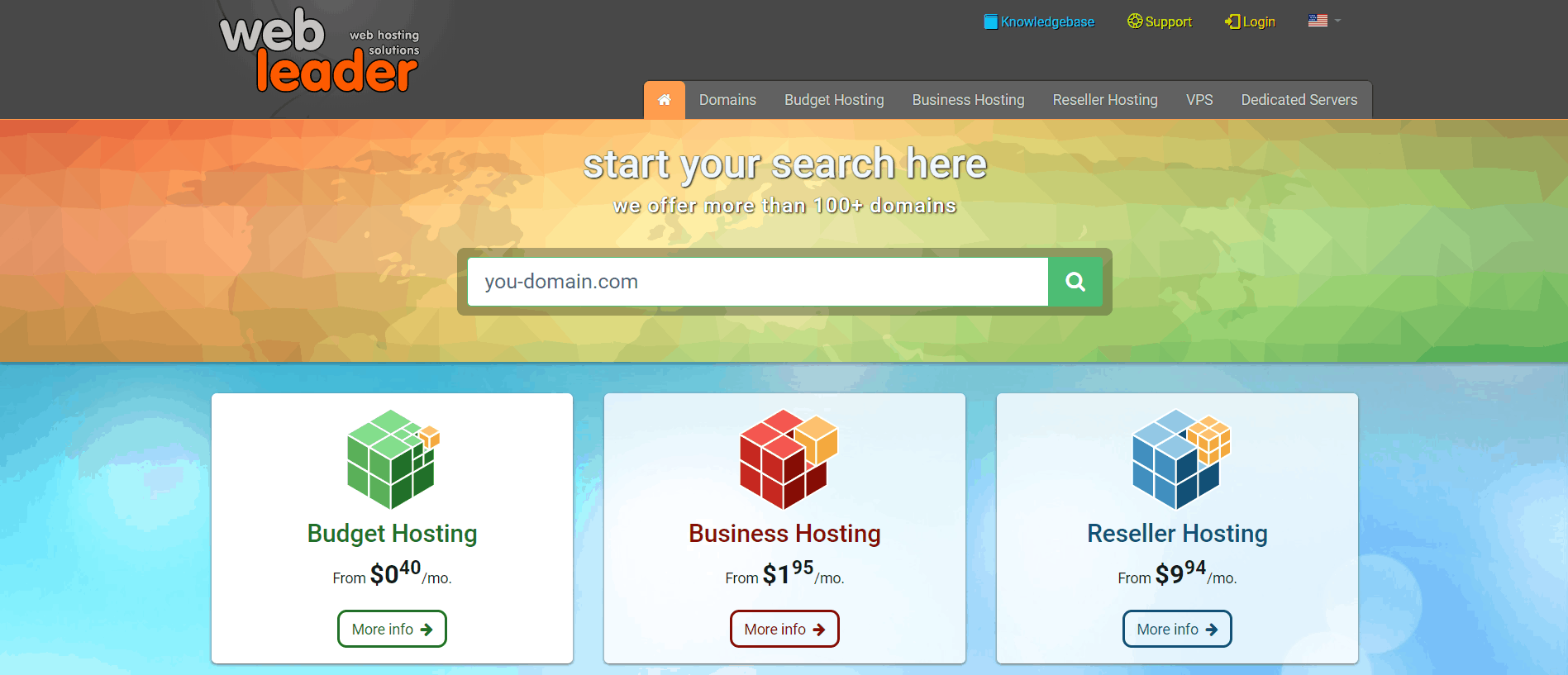 Founded in 2008, Web Leader is a U.S. based website hosting provider.
Their website is available in English, Czech, Polish, and Ukrainian
. They serve customers in Canada and America, along with Eastern Europe.
Features and Ease of Use
Web-Leader offers a variety of website hosting services including shared hosting, business hosting, dedicated servers, reseller packages, and virtual private servers. They also offer domain registration.
Customers of their "budget hosting" or shared hosting packages enjoy the following features:
99.9% uptime expected, no service level agreement
Domain registration is available at additional cost
Add-on domains possible in higher priced plans
Free Let's Encrypt SSL certificates
25GB to 125GB monthly traffic
500MB to 1.5GB disk space

In terms of uptime, it's very important to consider, they do not have a service level agreement or guarantee. They do state in their frequently asked questions that you can expect 99.9% uptime, however they do not, and clearly state they will not, back it up with any form of guarantee. I think it's a shame they don't offer some form of service level agreement, as they clearly do have a great service.
Their packages are simple and straightforward with clear inclusions. In terms of their budget hosting they have three packages, each with specific bandwidth and disk space quotas. For example, the lowest package comes with 25GB of traffic, whilst their largest budget hosting plan includes 125GB, which are both reasonable for everyday users. However, be sure to check the disk space limits, which are quite limited in all of their budget hosting website plans.
Pricing and Support
The prices are extremely affordable when compared to local and international competitors. What's more, they include a free SSL certificate and, in most plans, add-on domains. It's worth noting that domains are not included in any of the budget hosting packages.
Once I began to check out, it became clear that I needed to pay for one year upfront and there was no other option. That said, the annual price is very affordable. They do offer a 15-day money back guarantee for website hosting, however, not for SSL certificates, domain registration, or dedicated servers.
Their customer service is available 24/7 via live chat and email. They do not offer telephone support. They have a useful resource center with a good number of help documents. I love that they have live chat, however, I have tried to contact them and waited a long time for a response. This is a little frustrating when they advertise 24/7 live chat support.