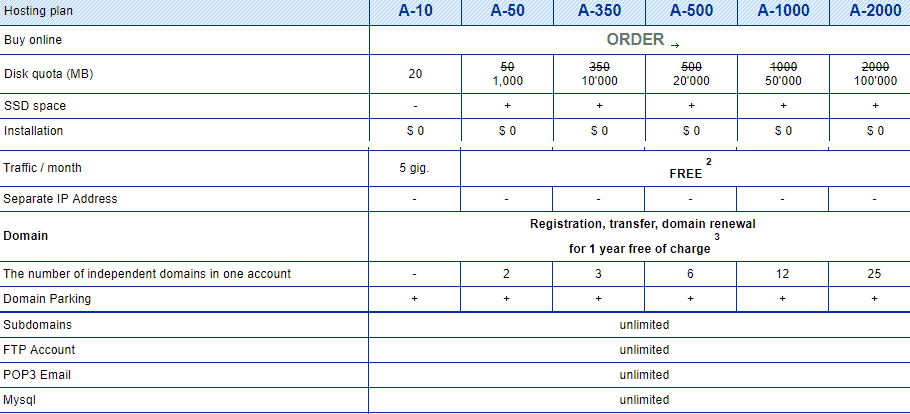 ProHosting is a shared web hosting provider located in Ukraine. With two data centers in Russia and the United States respectively, it offers shared hosting plans with enough storage space for personal websites and business web storage needs. However, it still uses the older Red Hat Linux technology and lacks many advanced features.
ProHosting offers five hosting plans with the following standard features:
Free domain
Up to 100GB SSD
Up to 25 domains on one account
There are no beginner-friendly tools, and that's a major downside to this web host. ProHosting doesn't offer a one-click installer or website builder. Also, given that it doesn't have specific managed plans for CMSes like WordPress or Joomla, it means that users will either need to hire developers or have the technical skills themselves to set up applications and handle other management activities.
ProHosting does have support for e-commerce, though. E-commerce startups and simple stores that need shopping carts can take any of the top three plans, which provide a shopping cart that you can use on your website to sell your products.
Concerning developers tools, there's support for scripting and programming languages such as PHP and SSI, but if you want Python, you might have to look elsewhere as this web host doesn't support it. It allows users to set cron jobs in the control panel but doesn't give SSH access. There's also no mention of anti-DDoS technologies, CloudLinux, or any advanced technologies that optimize hosting.
Pricing and Support
A-10, the starter plan, can't take most web hosting needs as the storage space is 20MB and the traffic allowed is 5GB monthly, which wouldn't be enough to store most scripts, emails, and serve visitors. For example, the WordPress core is about 10MB. When you add in themes, plugins, page data, and posts, you'd have an overload of files needing space.
However, from the next plans up, A-50 to A-2000, there's enough storage space for most website needs and they run on SSD.
That said, the plans are low-priced but not cheap enough for the resources that ProHosting offers. Many other web hosts offer better features and resources for those same prices. Another limitation you will face is that it doesn't provide SSL certificates; you'll need to purchase one from an outside vendor.
Fortunately, it does offer free domain registration, transfer, and renewal on your first year of taking a hosting plan. It also has a 30-day money-back guarantee.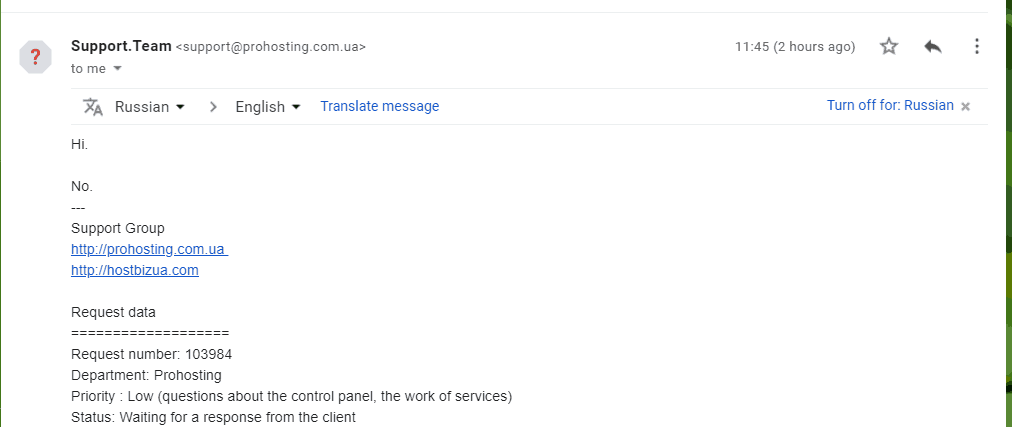 The ProHosting support team is quick to respond. Based on my experience, I received a response within 15 minutes. However, the website does not provide information about their expected response time, so it is unclear whether they operate 24/7 or not. I also noticed that the emails I sent received brief answers without any explanations, even when I asked questions that required a more detailed response.
You can reach them via email, phone, a physical mailing address, and the contact form on their website. There's no live chat or help center.