Ucraft
was founded in 2014 by a group of design enthusiasts and today is trusted by 360.000 active users all over the world. We spoke with
Gev Balyan, founder and CEO,
about their easy-to-use web tools, which allow anyone to start, promote, and maintain an online presence, including a fully functioning eCommerce store, without any coding skills.
This interview was originally published on July 22, 2020.
What is Ucraft?
Ucraft is a website building software and platform on which freelancers, designers, marketing teams, and agencies can build websites for themselves and/or their clients. It allows the creation of various websites; from a single conversion landing page, to a large site with a few hundred pages, to a high-level eCommerce store.
Where are the landing pages and sites created with Ucraft hosted?
When a user creates a new website on our platform, we create an instance for them and host the site on Google Cloud – a vast ecosystem of different servers in Europe and the United States. We host their website files, like images and media files, on a CDN powered by Google.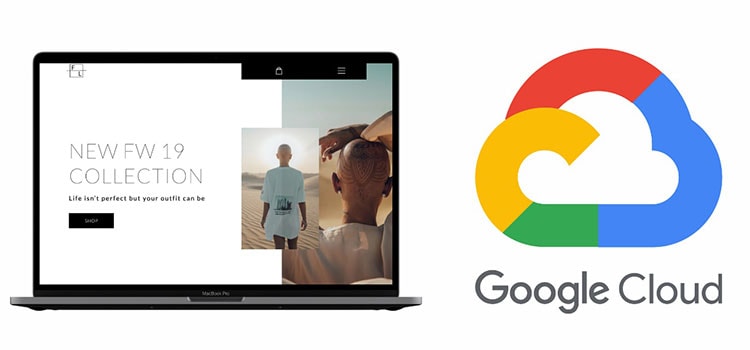 What would a URL or domain name look like for a landing page or site you host?
As soon as a user creates a website, we utilize their website name and generate a temporary URL such as mysite.ucraft.site. If they wish, they can connect their domain to that website, but that temporary URL will still be available for them to work on their site before publishing it to their main domain. Our web building tool is available under mysite.ucraft.site/design where users can go to change their website design, layout, content, etc. I think we have a really strong advantage over our competitors, since we are the only platform that allows users to connect a custom domain to their temporary URL for free.
What kind of tracking and analytics is available on sites built with Ucraft?
All tracking and analytics information is readily available for our customers, thanks to the Google Analytics integration. Once a user creates an account with Google Analytics, we put their tracking idea into the analytics integration application within Ucraft. We then inject the analytics JavaScript into the site, so the user can start tracking their traffic, sources of the traffic, audience information, conversions, live activity – basically all the insights that Google Analytics provides.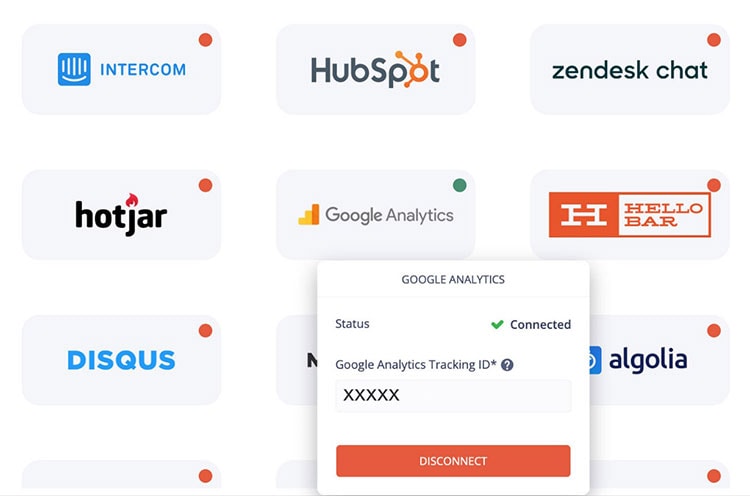 What is the process of creating a website on your platform?
The process starts with selecting a template built by our team. Based on our research, we have designed and written content for a successful website in numerous niche industries. Along with the template, you receive all the tools to change the layout and page structures, add or remove pages, adjust the language settings, choose your integrations – pretty much everything. You can experiment with fonts and colors and add or remove blocks. You can edit every single pixel; from the typography, to the UI kit, to the layout and content. Since our templates have no predesigned constraints, you can remove elements from the template and custom build your website, if you choose to do so.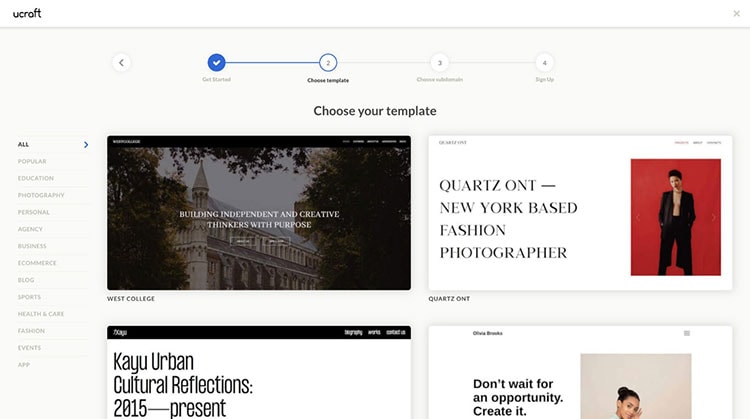 What kind of interactivity and functionality can be integrated into a Ucraft site?
There are many different functionalities available for integration through our dashboard. Among our features is the ability to set up multi-regional and multi-language websites. Our powerful language functionality allows multiple languages and translations. We also offer domain functionality supporting several unlimited domains to point to the same website, as well as the ability to associate some domains with some languages. For instance, if a user in Spain or France comes to your site, the system will redirect that user to mysite.es or mysite.fr, respectively. We also provide other functionalities, such as the ability to set up subscriptions, registrations, FAQs, tabs, countdowns, and an excellent form builder to create forms for any purpose.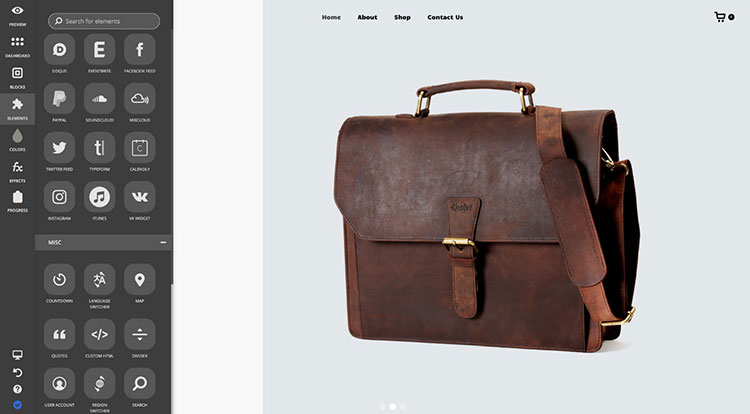 Are these third-party plug-ins, or are all these features developed by Ucraft?
All the functionalities I mentioned so far are Ucraft-native functions, but we do have some third-party integrations as well. With our site builder, you can integrate Typeform, Intercom or Hotjar, iTunes, Spotify, and many others onto your site.
How does your eCommerce platform work?
We have a very solid eCommerce platform with around 250 payment method integrations and about 40 shipping method integrations. Our platform allows users to create an eCommerce store in a matter of a few clicks by setting up categories and then adding products to those categories. The products themselves can have variations such as fabric, color, and size, with the ability to have the product price changed based on these options. You can set taxation rules for your entire store, which can be overridden for specific products. We also have integrations with various third-party selling platforms such as Facebook, Facebook Messenger, Instagram, eBay, Amazon, Shopzilla, Google Shopping, Yandex.Market.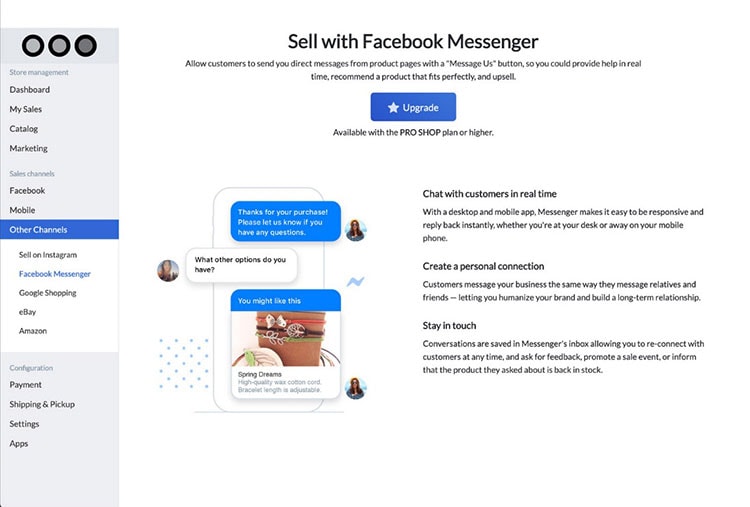 Does the integration with other shopping platforms allow users to update products in Ucraft, and then have them automatically updated across all the other platforms?
Yes, exactly. Your product list is synchronized with those third-party platforms so that when you add or modify a product, it syncs with those platforms. Additionally, when you receive a new order, we send the order information to those platforms, and vice versa – if you receive an order on Amazon, we submit that information to your store so you can manage your inventory.
What if you wanted to carry out some testing? Is it possible to have one price on your Ucraft store and a different price on Amazon for the same item?
Yes, you would first synchronize the products to make sure the products are available in both stores, then disable that product from synchronization and update the prices on Amazon. You can still keep your order synchronization on so your orders will remain synchronized even if your product-related information is not.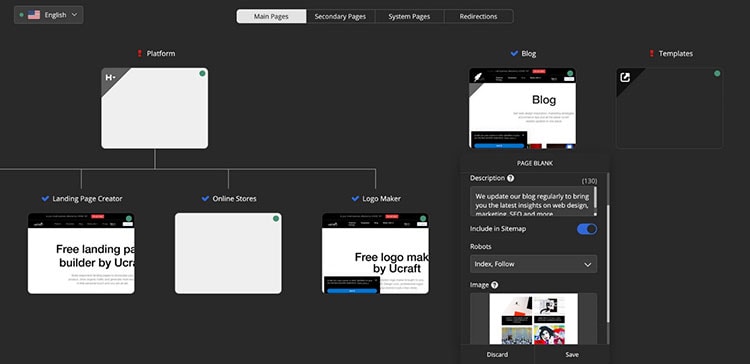 Do you offer any SEO services?
I'm a big SEO fan. For the last 12 years, I have been basically living a life of social engine optimization! As a result, when we were building Ucraft, we had SEO at the forefront of our product. We have a free application for all Ucraft users, which automatically creates a sitemap, robots.txt, and adds schema markup to the pages so that Googlebot can understand each specific page. It allows users to set up their page title description, create canonical tags as well as hreflang tags for multilingual websites, and create redirections from one page to another for SEO purposes.
What type of support is available to Ucraft customers?
We have 24/7 support via live chat in English and Russian. We also have a public community forum where users, our support team, and our community managers actively assist each other.