SiteGround is a very good overall web host, but the truth is that its performance isn't what it used to be. Its higher-tier plans offer a lot of powerful features, but its entry-level plans could use a complete makeover. 
Hostinger is more affordable and offers better performance than SiteGround. Its stack is just better – and it doesn't even use Google Cloud infrastructure on all of its plans, like SiteGround does. 
I thoroughly tested and researched both services, and the results speak for themselves. Hostinger wins, hands down.
Get Hostinger's latest deals now, or read on to get all the juicy details in this Hostinger vs Siteground showdown.
1. Plans and Pricing
SiteGround Can't Match Hostinger's Affordability
SiteGround's pricing was never its strong suit, and this becomes most obvious when you compare it to Hostinger.
Hostinger's most popular shared hosting plan is its mid-range one, the Premium. SiteGround's equivalent is the GrowBig. Both offer unlimited websites and unmetered bandwidth. But the Hostinger plan offers five times more SSD storage, and is roughly three times cheaper than SiteGround's for long-term contracts.
On renewal, you'll have to pay the full rate with both hosts: With Hostinger, this means just a few dollars more per month, while SiteGround almost triples the initial cost.
What about cloud plans? Glad you asked. The resources on SiteGround's Business plan are roughly on par with Hostinger's Cloud Professional one. The SiteGround plan includes slightly more RAM, but Hostinger gives you more than double the storage space.
What's more, Hostinger's cloud plans are almost six times cheaper than SiteGround's (for the first year in a one-year commitment), and three times more affordable on renewal.
Seeing a pattern here?
Both companies offer a 30-day money-back guarantee on their shared plans, which gives you enough time to try them out and get a refund if you're not satisfied.
2. Features
SiteGround and Hostinger Have Similar Features
Both Hostinger and SiteGround have proprietary control panels that include everything you need to manage your website and then some. SiteGround's Site Tools and Hostinger's hPanel are both easier to use than cPanel.
Both web hosts have free transfers, but the fine print shows quite a difference in how they're done. Hostinger's tech squad will migrate your websites for you free of charge, but with SiteGround you have to pay for managed migrations. Sure, you can use its WordPress plugin, but if you don't have a WP website and you need help, you'll have to pay a hefty fee for each migration.
If you want to collaborate with others on your website, Hostinger and SiteGround have collaboration tools to create accounts and give permissions to everyone on your team. The difference is that Hostinger's Access Manager is available on all shared plans, while SiteGround's Accounts feature requires a higher-tier subscription.
That said, SiteGround has several neat features for developers, such as staging and the ability to easily ship sites to clients.
Hostinger has an advantage over SiteGround in the form of a free domain name for one year, available on all plans except the Single. Although a domain registrar itself, SiteGround doesn't include a free domain name.
One plus for SiteGround is that its shared hosting plans include managed WordPress services. This means you get automatic core and plugin updates for your sites, specialized WordPress support, and some advanced WordPress tools.
To get the same with Hostinger, you have to opt for one of their managed WordPress plans. These are still cheaper than what SiteGround has to offer but more expensive than regular shared hosting.
To help you compare the two hosts quickly, I've put their essential features in the table below:
| | | |
| --- | --- | --- |
| | Hostinger | SiteGround |
| Hosting Type | Shared, WordPress, Linux and Windows VPS, cloud | Shared, WordPress, cloud dedicated servers, reseller, custom enterprise solutions |
| Free Domain | Yes, on yearly Premium and Business plans | No |
| Free SSL Certificate | Yes | Yes |
| Disk Space | 30GB to 200GB on shared plans | 10GB to 40GB on shared plans |
| Bandwidth | 100GB to unmetered | Unmetered |
| Automatic Backups | Weekly on Business, daily on Premium | Yes (daily) |
| Control Panel | hPanel | Site Tools |
| Email Accounts | Unlimited on higher tier plans | Unlimited |
| Free CDN | Only on the Business plan | Yes |
| Free Site Migration | Yes | Only for WordPress sites |
| Money-Back Guarantee | 30 days | 30 days |
Hostinger and SiteGround are very close in this category, but in the end, Hostinger offers just a little bit more.
3. Performance
Hostinger Performs Better Than SiteGround
It's time to get technical and find out what goes on behind the scenes. If you don't feel like reading all the geeky stuff (entertaining as it may be), the winner here is Hostinger.
All of Hostinger's features are aimed at improving page loading times. For instance, the company upgraded to the LiteSpeed web server, which is known for its exceptional performance. On the other hand, SiteGround uses Apache with NGINX, which is set up as a reverse proxy. This means your website will load fast, since NGINX does certain things better than Apache, but the entire configuration is complicated.
Both hosts offer SSD storage on their shared plans and the Cloudflare CDN built into the dashboard, so you can expect decent performance around the world. They're roughly on par in terms of data center locations, with servers in the US, Europe, and Asia, though Hostinger is a better choice if your main audience is in South America.
To test Hostinger and SiteGround, I signed up for their entry-level plans, published the same website on both platforms, and then tracked its performance for several months.
On GTmetrix, SiteGround was disappointing. The fastest time my site achieved was 1.4 seconds, while the slowest was an unacceptable 2.5 seconds. The average page loading time was 2 seconds, which is when experts say you'll start to lose customers to competitors' websites.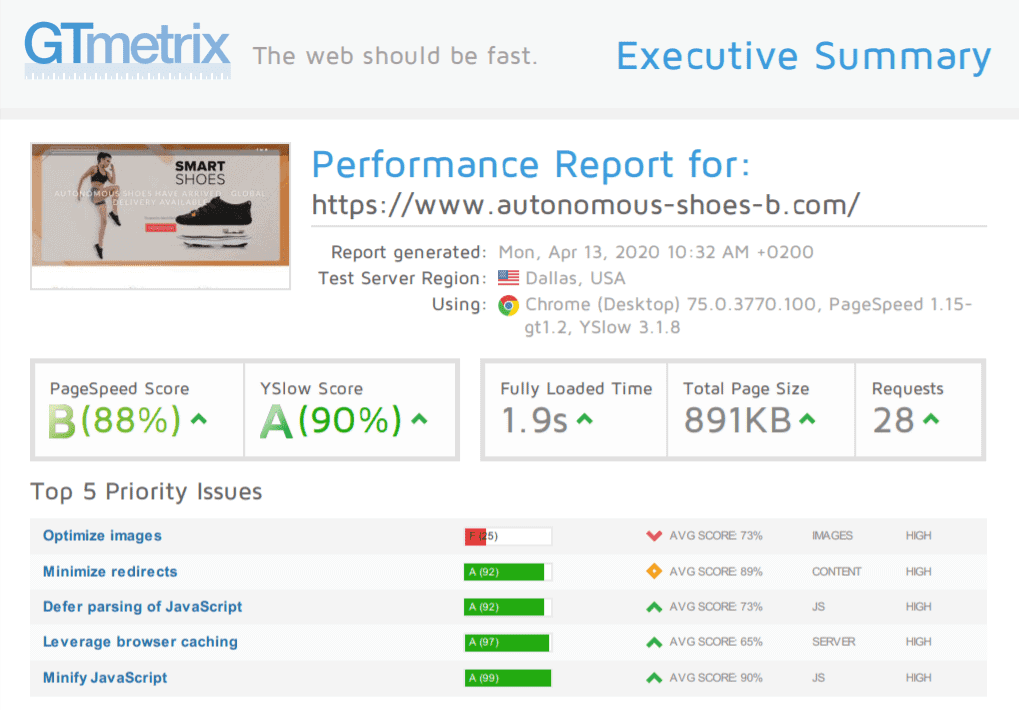 On the other hand, Hostinger surpassed my expectations. The fastest page loading time was 1 second, while the slowest was just under 2. This put the average at 1.5 seconds, which is much better than my results with SiteGround.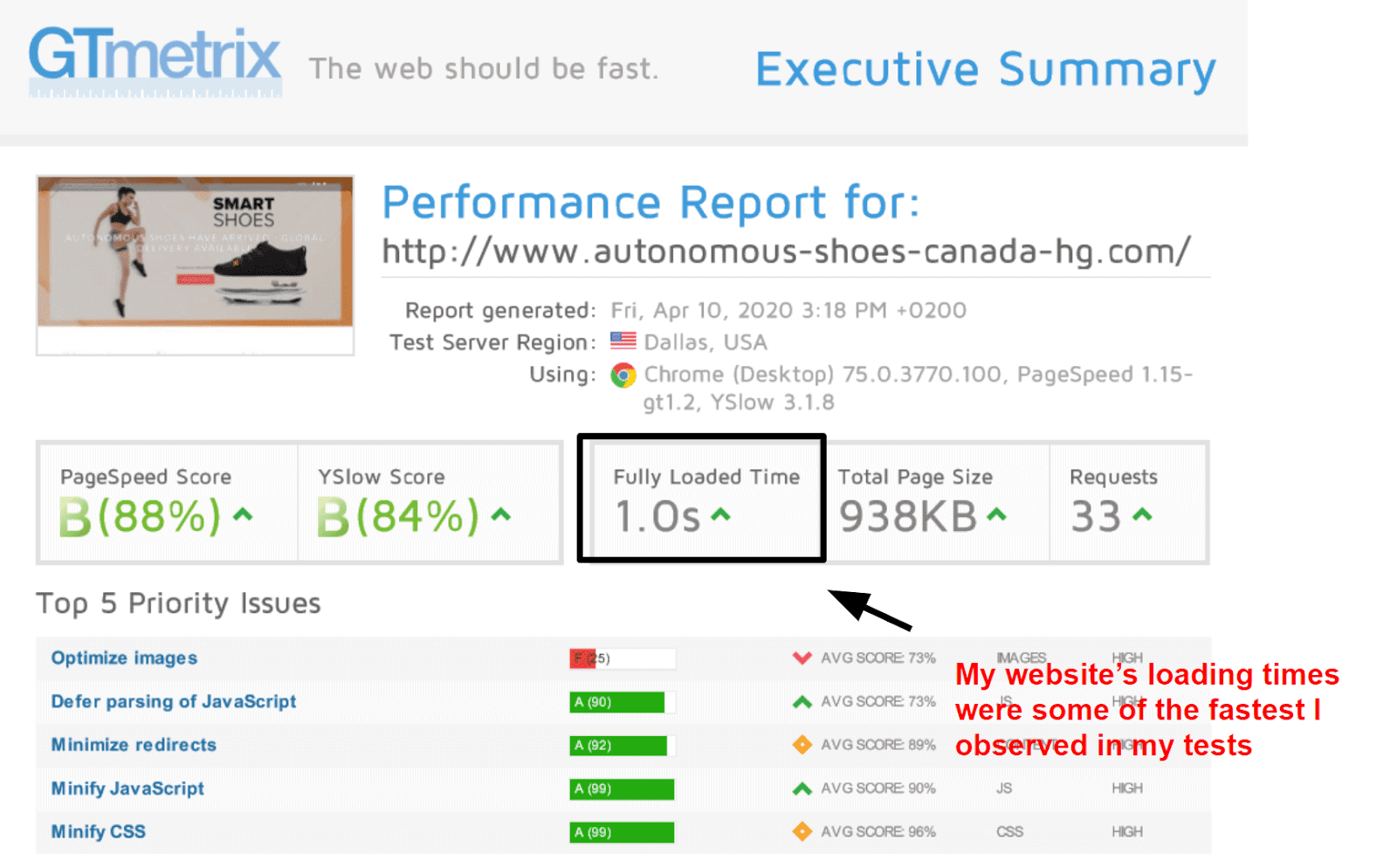 To confirm these results, I repeated the tests on Sucuri Load Time Tester. Hostinger's LiteSpeed web server managed an outstanding performance. The fastest loading time was 0.17 seconds, while the slowest was 1.1 seconds, which resulted in an average of 0.499. Pretty stunning.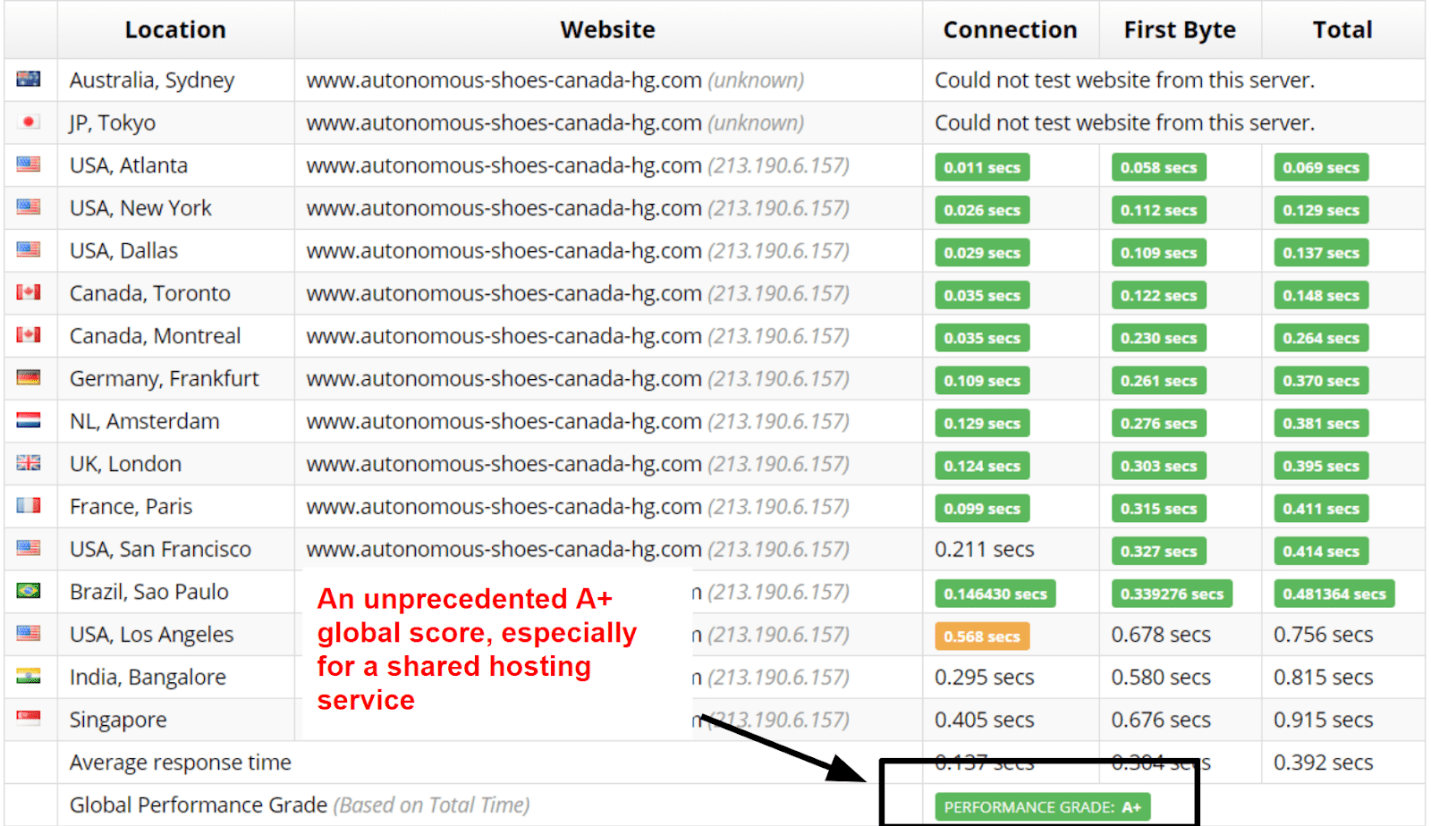 SiteGround was also better this time around. From North America to Europe, and even in Singapore, the host performed admirably. It's not a headline performance, but at least it's not as embarrassing as the GTmetrix score.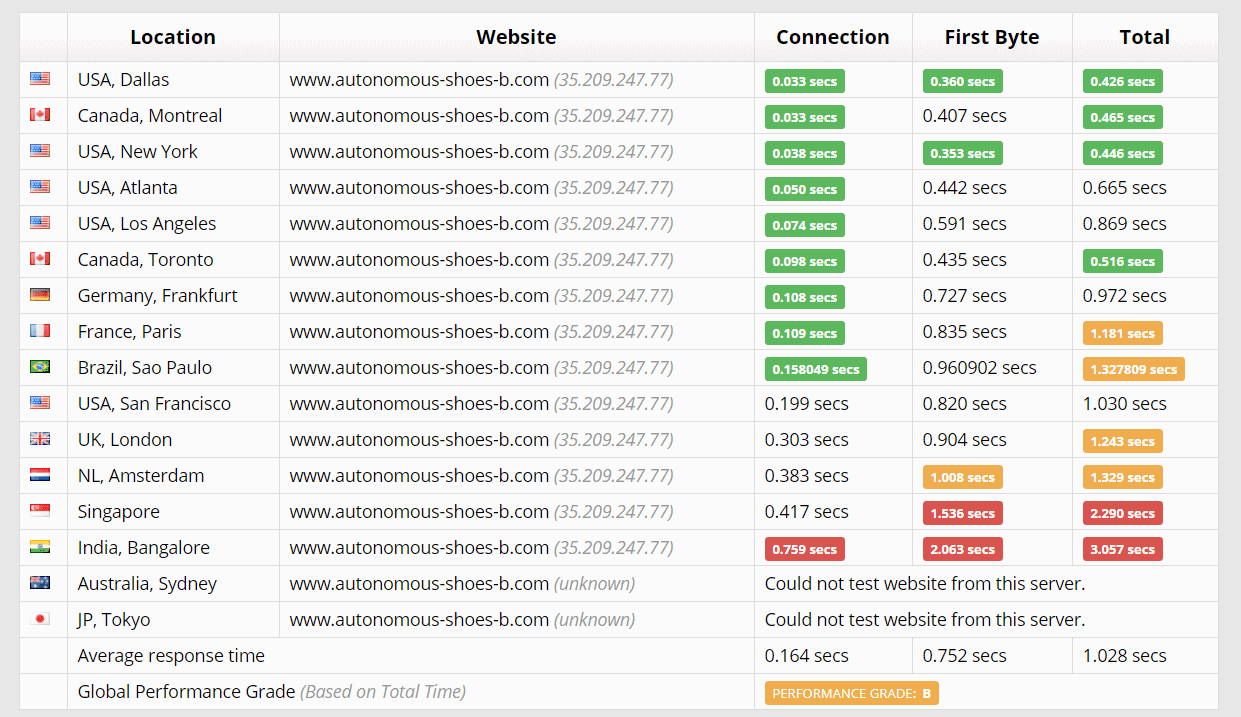 Uptime was a closer contest, as both SiteGround and Hostinger went above and beyond their 99.9% guarantee. Both hosts pulled off an excellent 99.997% service availability over the course of two months.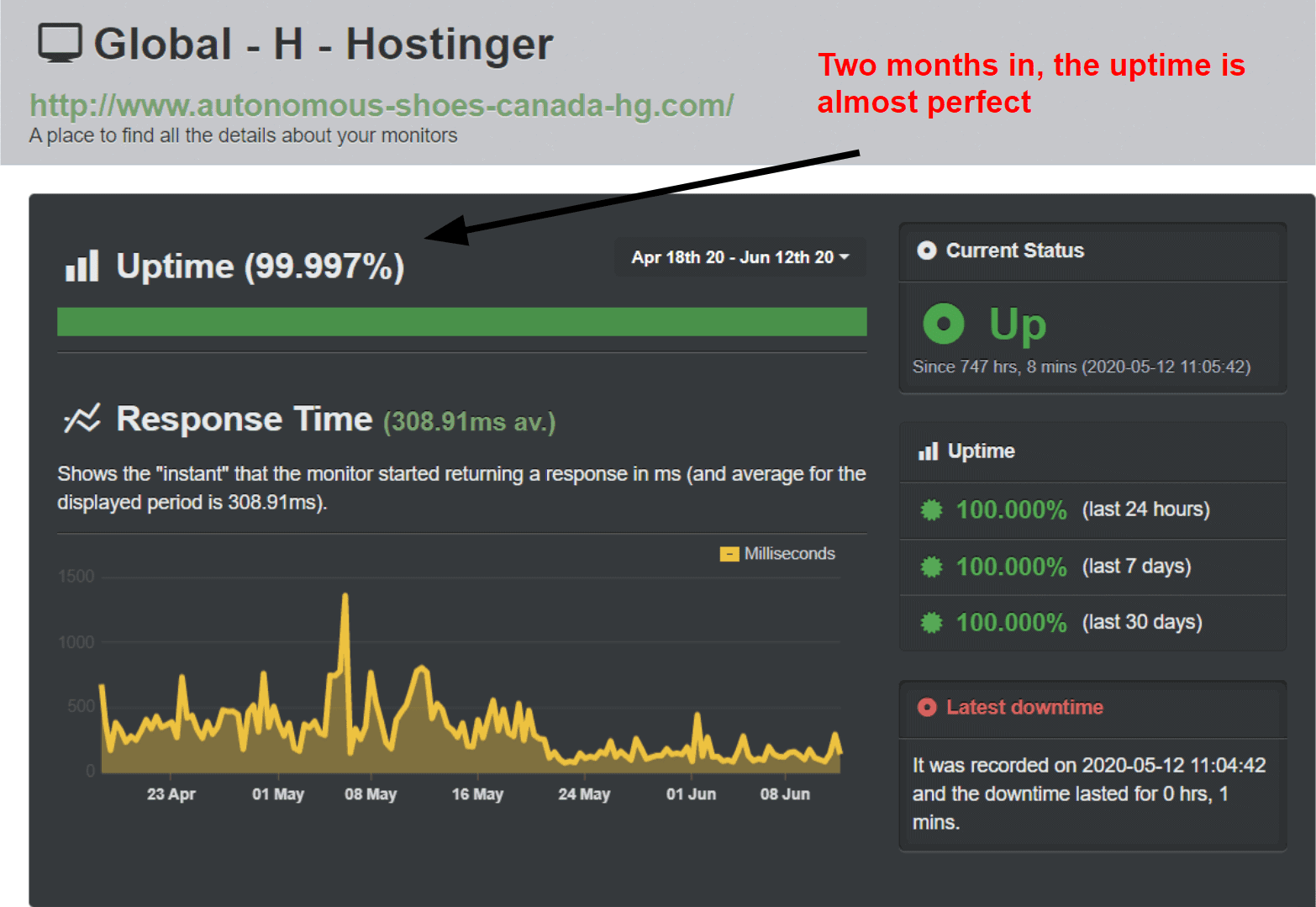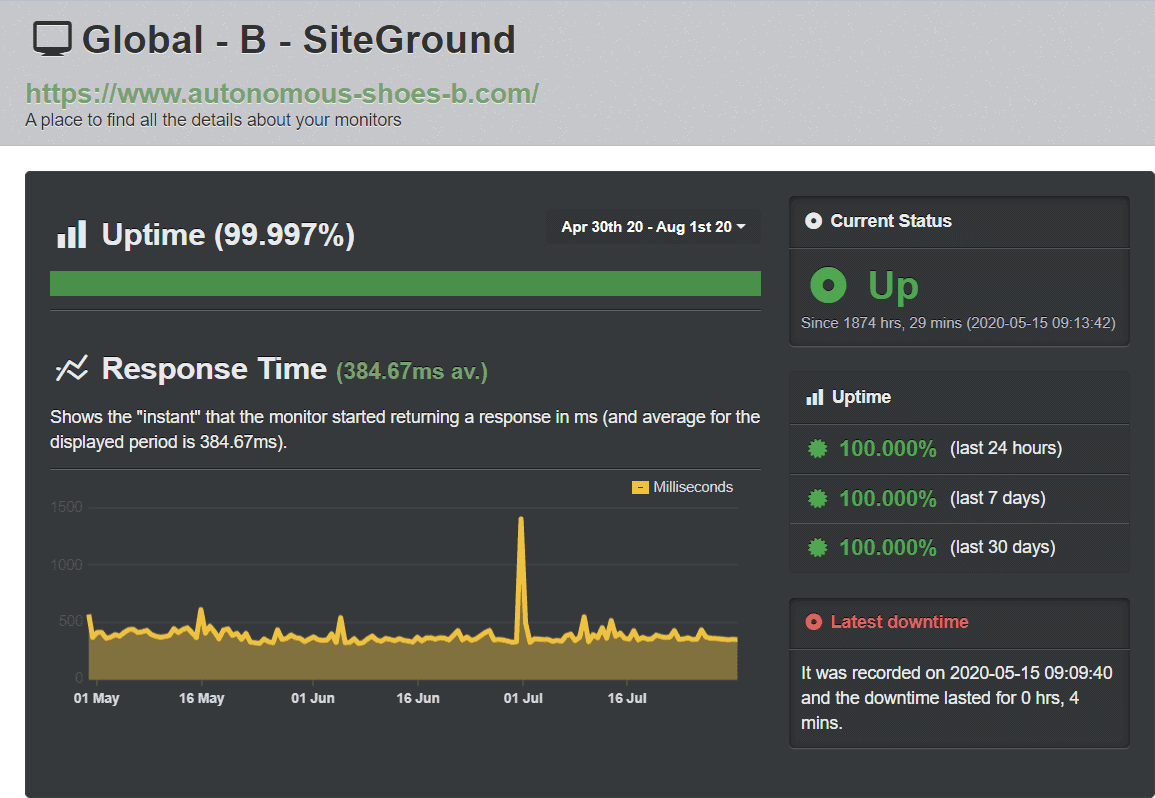 Both services offer some form of compensation if your uptime is lower than 99.9%. However, it's unlikely that you'll ever have to use this clause, and it's much better this way.
4. Security
No Threats Get Past These Two Hosts
Whether you choose Hostinger or SiteGround, you can rest assured that your website will be safe. Both services offer free SSL certificates, DDoS protection, a spam filter, and a strong web application firewall.
Shared hosting means your website will share a server with many others, but both web hosts protect your account using Linux containers. These keep your resources isolated, which means that even a DDoS attack on one of your neighbors shouldn't affect you.
In addition, both SiteGround and Hostinger have security teams monitoring network health 24/7. While SiteGround has its proprietary real-time scanning software, Hostinger uses Wanguard, a dedicated, industry-leading solution.
If you're like me and constantly worry about things that might happen, you can turn on the CDN on either service and make your website an even more difficult target for botnet attacks.
5. Support
Both Hostinger and SiteGround Might Make You Wait
SiteGround and Hostinger offer 24/7 support through live chat, and SiteGround also features a phone channel and ticketing system. I like to open a messaging window to see if anyone is available, otherwise I prefer a DIY solution.
The problem with both Hostinger and SiteGround is that you'll likely have to wait a while before you get in touch with a live chat agent. The waiting time for both platforms can sometimes be as much as 40 minutes.
When I finally got in touch with one of Hostinger's agents, they told me everything I needed to know. For more complicated tasks, I was also provided with knowledge base links that described the process step by step.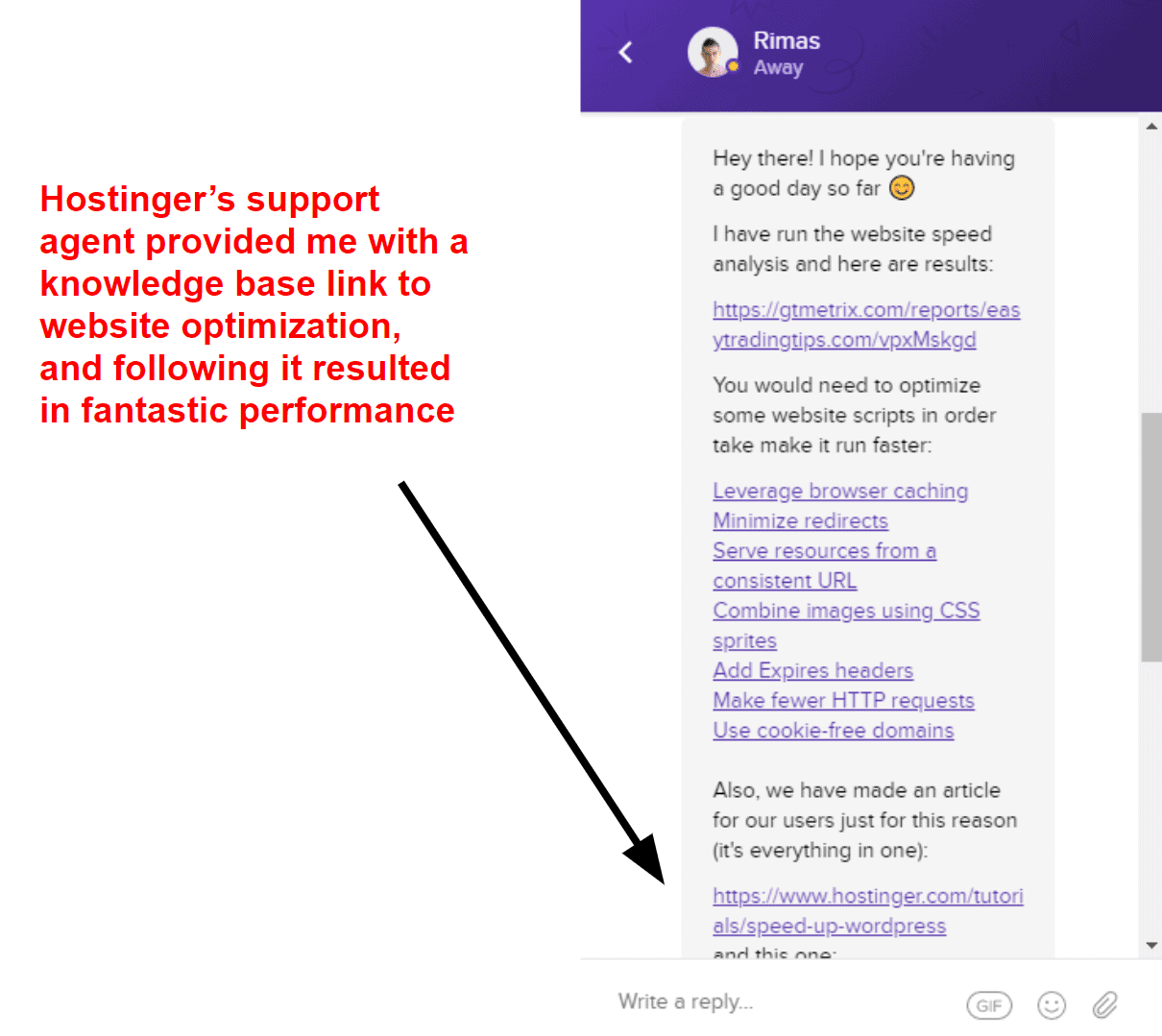 My experience was similar with SiteGround. After a bit of a wait, the agent who picked up my query helped solve every issue I had. They even took the initiative in re-installing an SSL certificate on my behalf.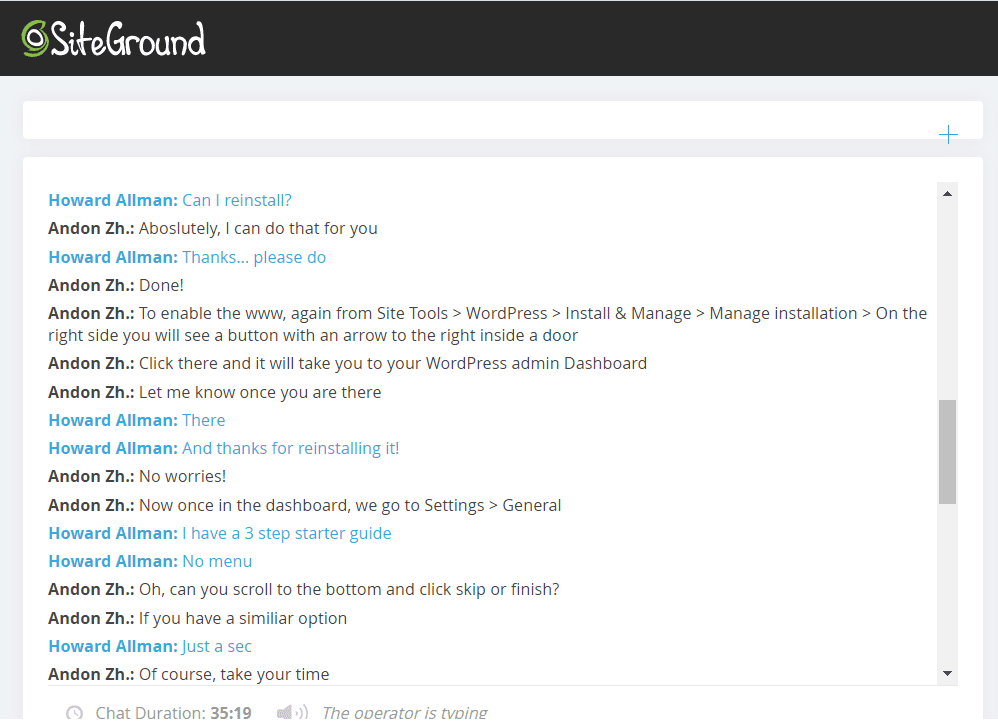 If your problem is not that serious, you can rely on either host's knowledge base for easy, DIY tutorials.
It's a Photo Finish with Hostinger in the Lead
Overall, Hostinger is the winner of this comparison, but it was close. Hostinger is one of the most affordable hosts out there, and its excellent price-to-performance ratio makes it the best-value web hosting service on the market.
SiteGround has its advantages too, namely its managed WordPress features, streamlined control panel, and advanced developer tools. And both hosts are comparable in terms of security and support.
Even though both providers made our list of the best web hosting services, SiteGround didn't grab a podium finish. This means you'll find several other hosts in between these two that are excellent in certain use cases.
If you're still undecided, check out this quick summary of my comparison between Hostinger and SiteGround:
Plans and Pricing
Much cheaper than SiteGround for initial term and renewal, free domain name included
More expensive than Hostinger for initial terms and renewals, managed services included
Features
Unlimited websites and bandwidth on most shared plans, proprietary control panel, free migrations (managed)
Unlimited websites and bandwidth on most shared plans, proprietary control panel, free automatic migrations (unmanaged)
Performance
SSD storage, LiteSpeed web server, Cloudflare CDN, seven data center locations, excellent performance and uptime
SSD storage, Apache and NGINX Nginx web server, Cloudflare CDN with Railgun, six data center locations, good performance, great uptime
Security
DDoS protection, custom firewall, free SSL, spam protection, automatic weekly backups
DDoS protection, custom firewall, free SSL, spam protection, automatic daily backups
Support
24/7 support via live chat, extensive knowledge base
24/7 support via live chat, ticketing, and phone; comprehensive knowledge base
FAQ
Is SiteGround better than Hostinger?Not anymore. SiteGround used to be one of the best web hosts on the market, but the quality of its service has slipped lately; specifically, page loading times have increased. Hostinger is currently better than SiteGround. It offers better performance, much better prices, and comparative levels of security and support. The only thing you'd be missing out on is some developer-oriented features you might not need in the first place. If neither of these hosts addresses your needs, check out our list of the best web hosting services to find the right one for you.Does Hostinger use SSD storage?Yes. Solid state drive (SSD) storage can have an impact on page loading speeds. All of the best-performing web hosts use SSDs in their cutting-edge infrastructures. Hostinger is one of the most affordable SSD hosts, but there are others you might also want to consider.Does SiteGround use cPanel?Not anymore. SiteGround switched from cPanel to a proprietary solution when cPanel raised its licensing fees. It's not the only host to do so – Liquid Web and Hostinger have also moved away from cPanel. The good news is, SiteGround's Site Tools is better than cPanel in a lot of ways. With small exceptions, like the fact that it doesn't have an auto-installer like Softaculous, there's no loss of functionality.Does Hostinger offer a free domain?Yes. With the exception of the Single shared plan, all of Hostinger's cloud and shared plans come with one year of a free domain if you purchase at least one year of hosting. Many companies have moved away from this freebie, so enjoy it when you find it.