Aruba is one of the leading web hosts in Italy and has been operating in the field since 1995 and Hostinger is also an extremely popular hosting service provider and has been serving customers across the globe
. Apart from their huge popularity, both of these providers offer extremely cheap solutions and cater to the needs of both beginners and established businesses. Due to all these similarities, it becomes really difficult to choose a particular one. To help you make an informed decision, I performed a
Hostinger vs Aruba
comparison while focusing thoroughly on key parameters such as plans, features, performance, support, etc. The results clearly indicate that Hostinger would be your best bet in terms of getting a better value for your money. You can either check out
Hostinger's latest deals
 to choose a package or continue reading to learn about the comparison in detail.
1. Plans and Pricing
Hostinger offers more variety of solutions – Aruba offers more flexibility
Both Hostinger and Aruba let you enjoy solutions at extremely low prices
. But the catch is, to get the lowest monthly price with Hostinger, you need to sign up for a period of forty-eight months. But Aruba offers a similar monthly price by having you signed up for twelve months. But again, Hostinger offers a monthly billing cycle whereas Aruba offers annual terms only. With Hostinger, you can take your pick from
shared hosting, VPS hosting, WordPress hosting, cloud hosting, Minecraft hosting, and email hosting
.
Aruba hosting
also offers different solutions including
shared hosting, WordPress hosting, VPS hosting, and dedicated servers
. However, there's an advantage with Aruba hWordPress hosting – it offers both unmanaged and managed solutions whereas Hostinger only offers unmanaged solutions.
A free domain name is included with some hosting plans from Hostinger
2. Features
Aruba lets you choose the OS – Hostinger offers more features
In terms of shared hosting, a major advantage of Aruba is that it offers both Linux and Windows solutions – the option you'd only get with
Hostinger VPS
. Hostinger comes with an array of industry-standard features like
free SSL certificates, LSCWP plugin, 1-click app installer
, among others. Aruba also offers
1-click app installer, GDPR-ready features including SSL certificates, daily backup
, etc. However, their offerings come with different advantages. For instance, Aruba offers a free website builder, which you need to pay for with Hostinger. See this comparison table to take note of the major features quickly.
| | | |
| --- | --- | --- |
| | Hostinger | Aruba |
| Hosting Types | Shared hosting, WordPress hosting, cloud hosting, VPS hosting, Minecraft server hosting | Shared hosting, WordPress hosting, VPS hosting, dedicated servers |
| Free Domain | Plan-dependent | ✓ |
| Free SSL Certificate | ✓ | ✓ |
| Disk Space | 30GB SSD-300GB SSD | Unlimited |
| Bandwidth | 100GB-unlimited | Unlimited |
| Automatic Backups | ✓ | ✓ |
| Control Panel | hPanel | cPanel, Plesk |
| Email accounts | 1-unlimited | 5-Unlimited |
| Free CDN | ✕ | ✕ |
| Free Site Migration | ✓ | ✓ |
| Money-Back Guarantee | 30 days | ✕ |
3.Performance
Hostinger with its 99.9% uptime guarantee wins
Hostinger brings you an array of performance-enhancing features like SSD storages, LiteSpeed Cache, etc together with an
SLA-backed 99.9% uptime guarantee
. Aruba also comes with features including redundant hardware,
but it doesn't mention any clear uptime guarantee
. Aruba has
green, Tier IV datacenters
in four locations whereas Hostinger comes with
Tier III datacenters
spread across seven locations throughout the globe. Though in terms of datacenters, Aruba is certainly a better option, I think what matters most to the end-user is a clear uptime guarantee.
To get a clear picture of their performance, I tested both web hosts. While both came out with impressive results, Aruba showed a slightly better average response time.
To learn more about what happened with Hostinger, you can see our
in-depth Hostinger review
. You can also take a look at our
comprehensive Aruba review
 to check the details of the performance test.
4. Security
Hostinger is a clear winner with more features
Apart from offering free SSL certificates and automated backups, Aruba provides enhanced data protection due to its status as a European service provider. This exempts it from U.S. laws, adding an extra layer of security. Additionally, Aruba's datacenters boast certified security standards, ensuring the safety of your data. Hostinger offers a host of security features like SSH access, free SSL certificates, and automated backups. Its servers are protected by the
BitNinja server security tool
which is popular for providing robust defense mechanisms. You'd also get protection from malicious bots, DDoS attacks, etc through its
Cloudflare protection
. In addition to these, one notable advantage of Hostinger is that it lets you
buy SSL certificates
based on your needs to improve your site's security quotient.
5. Support
Hostinger wins with efficient, speedy support
While both these web hosts offer
24/7 support
, there're significant differences between their offerings. Hostinger lets you contact its support team through
live chat, support ticket, and contact us form/email
. With Aruba, your options include
phone, email, and ticket submission
. I contacted Hostinger's support team round the clock and received prompt and efficient responses every time.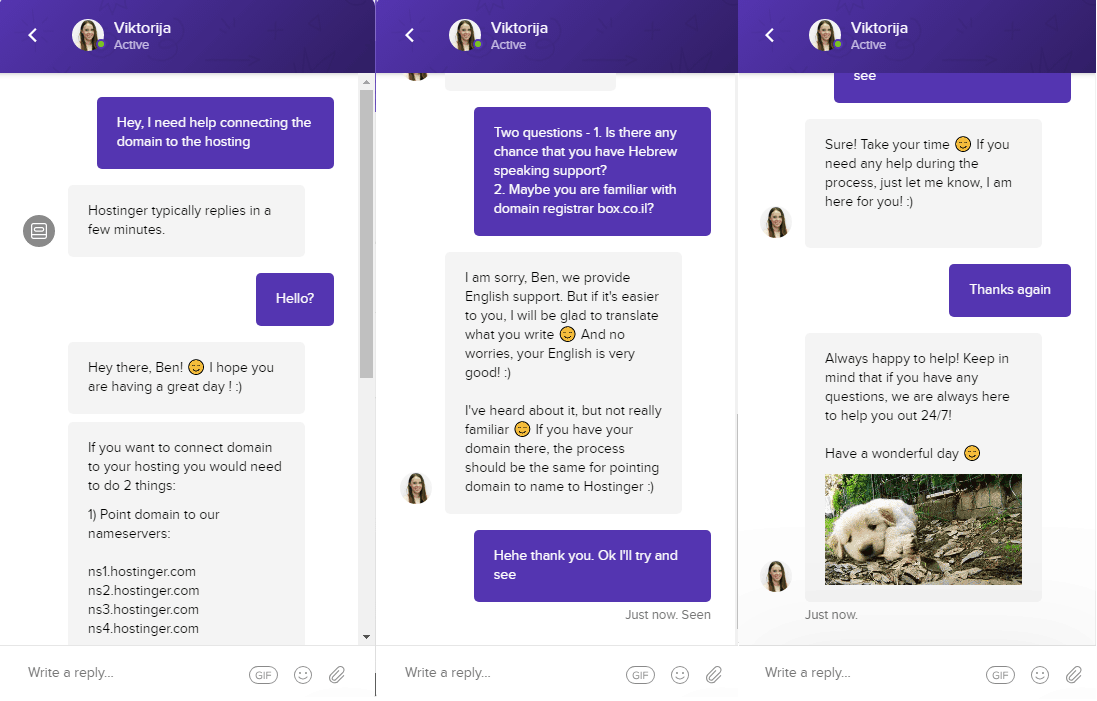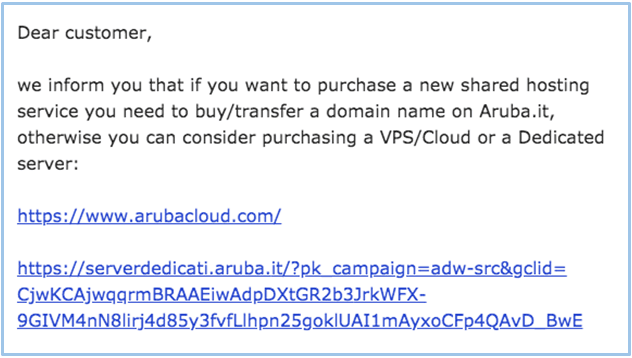 On the contrary, as you can see in our
Aruba hosting review
, Aruba's support team took almost twenty-four hours to reply back to my question. I also contacted them through Facebook messenger, but the chatbot told me to submit the online form. In terms of self-help resources, Hostinger offers an
exceptional knowledgebase and lots of tutorials
whereas Aruba comes with a good number of
how-to guides
.
Hostinger Gives You a Much Better Value for Your Money
As you can see in the above battle between Hostinger and Aruba, Hostinger excels in performance, security, and support. And in the case of the other two parameters, it comes with its own advantages. If you are looking for excellent hosting,
sign up with Hostinger
. There're only two situations when you might want to
sign up with Aruba
. The first is if you want a shorter lock-in period to get the lowest price, and the second is if you want to have the flexibility of choosing the operating system. Also, to keep in mind when choosing, Hostinger has made our list of
top 10 web hosting providers
, which is also a proof of its exceptional overall service.
Comparison Table
Plans and Pricing
A wide range of dirt cheap packages
A good range of flexible solutions
Features
30GB-300GB SSD disk space, 100GB-unlimited bandwidth, flexibility to choose OS for VPS,  standard and advanced features, money-back guarantee
Unlimited disk space and bandwidth, standard features, flexibility to choose OS for shared hosting
Performance
99.9% uptime guarantee, Tier III datacenters across seven locations
Tier IV datacenters across four locations
Security
Cloudflare protection, free and paid SSL certificates
Industry-standard features
Support
24/7 speedy support via live chat, support ticket, contact us form/email along with exceptional knowledgebase, lots of tutorials
24/7 support via phone, email, ticket submission, useful guides
FAQ
Is Hostinger better than Aruba?
Yes, Hostinger offers a much better value for your money than Aruba. You can see our list of the best web hosting services to review other available options.
Does Aruba offer WordPress hosting?
Yes, you can choose from managed and unmanaged solutions. To see other similar options, you can check out our list of the best managed WordPress hosting providers.
Does Hostinger offer VPS hosting?
Yes, you can choose the OS from Linux and Windows based on your needs. If you want to check out some similar web hosts, see our list of the best cheap VPS hosting services.