Are you trying to build a landing page that will help you gain further subscribers or convince visitors to convert on an offer? If so, then you've come to the right place.
According to Campaign Monitor, email marketing generates $38 in ROI for every $1 spent. In fact, it produces a higher ROI than any other marketing channel, which is precisely why online businesses are so eager to grow a focused email list.
Sounds good, right?
However, building a landing page that is persuasive enough to make a prospect sign up to your list is not an easy task. There are a few guidelines that you need to follow to achieve the best possible results.
#1: Offer an Incentive
People generally don't give out their email addresses for no reason, which means you need to provide some sort of incentive.
After all, you're going to have access to their personal information, allowing you to market to them at a click of a button; therefore, it's only fair that there's something in it for them too—right? Consider this incentive an ethical bribe.
What are some popular types of incentives? Well, you could try any of the following:
An eBook or report
Infographics or other visual materials
A course, webinar, or seminar
News and information
Special deals or discounts
What makes sense will really depend on your industry and audience. But as long as it's a valuable freebie, you're doing it right. Check out Rachel Ray, who promises everything from recipes to life hacks and DIY ideas, all in exchange for your email address.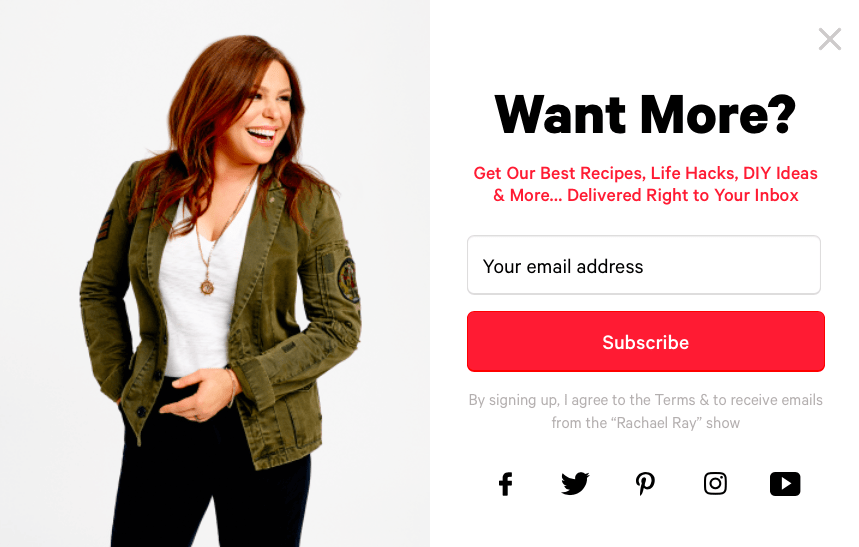 Bonus Tip: Be prepared to get a few savvy subscribers who are looking to "beat the system" and provide you with a trash email address or unsubscribe as soon as they get their hands on the freebie.
To combat this, you can always break the freebie into parts—for instance, a four-part webinar split up over the course of four weeks. Alternatively, you can keep teasing what content you've got coming up in future emails in order to ensure that your subscribers stay enticed.
#2: Keep Your Layout Simple
In addition to offering an incentive, it's important to keep the layout of your landing page super simple.
Why? Well, visitors don't like feeling overwhelmed or as though they're being "sold to." If you bombard them with too much information, multiple offers, or too many fancy graphics, chances are they'll leave pretty quickly—and that's not really what we're aiming for.
Instead, make sure that you include the following elements:
An Attention-Grabbing Headline: This needs to instantly catch the attention of your visitor and make them want to continue engaging with your landing page. It helps if it contains a benefit, such as: "Learn How to Supercharge Your SEO to Explode Your Website Traffic."
Informative Text Below the Headline: This text needs to be short and briefly note the details of your incentive. For instance, if you're offering a free webinar, let your visitor know when and for how long.
An Attractive Photo or Visual: It's also a good idea to use a photograph of yourself or your product/service. This provides further credibility, helps you relate to your visitors, and gives them a sense of what they can expect. More broadly, visuals also help to break up the text and create a more interesting design.
A User-Friendly Opt-In Form: Some landing pages include an opt-in form for visitors to fill in their email address and other personal information. If your landing page requires a form, it needs to be as simple as possible: don't ask for more information than you need, and use autocompletes where possible.
An Effective CTA Button: This needs to be reasonably large in size, clearly visible in terms of layout and color, and use proactive and enticing language that encourages visitors to convert on the spot.
For more ways to create a killer landing page that converts, read our guidelines on the 4 do's and 3 don'ts.
#3: Include Persuasive Language
As mentioned earlier, people generally don't just go around signing up for email lists anytime they have the chance; they need to feel like there is a good reason to do so. In combination with the tactics listed above, persuasive language creates a sense of urgency that encourages visitors to act.
Implied urgency, in particular, is where you use specific buzzwords to gently nudge your visitors in the direction of conversion. The following examples are particularly effective:
Now
Today
Soon
Fast
Hurry
Close
Approaching
Never
Over
Instant
You can also use these buzzwords in compelling phrases like "increase your sales today," "grab it now," or "join me before it's too late." Master Class does a good job of creating urgency in the header, "Your Classes Are Waiting," as well as by stating that there is "only one more step."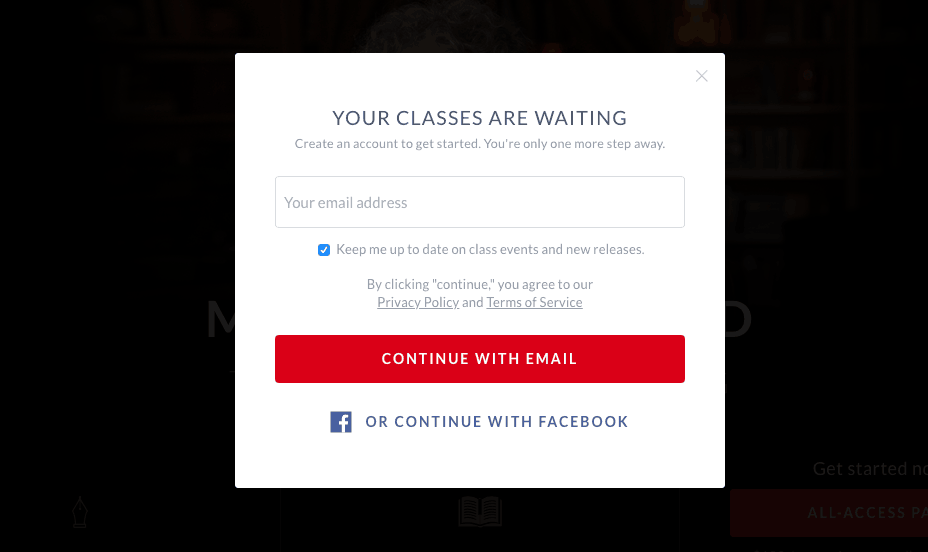 Bonus Tip: Using persuasive language doesn't mean writing a book that outlines all of the different reasons someone should submit their email address. It means making sure that the minimal copy you have on your landing page is powerful, convincing, and wisely utilized. Quality over quantity always reigns supreme in this case.
For more information, check out our guidelines on the seven ways that you can create a sense of urgency on your landing page.
#4: Feature Subscriber Testimonials
Social proof is everything in the world of online marketing. Subscriber testimonials can help you build credibility with your products and/or services and encourage visitors to also join your email list.
It's one thing if you already have a dedicated following that you are trying to direct toward a new email list, but if your visitors are not yet familiar with your brand, then they will need some additional reassurance.
Enter, social proof.
Whether in copy, imagery, or video form, be sure to place your subscriber testimonials strategically on your landing page. They should be immediately visible without taking the attention away from your headline and CTA button.
And if you're wondering how to get testimonials from satisfied customers, read our guideline exploring nine different ways.
Test Along the Way to Continually Increase Subscribers
Creating a landing page that can effectively encourage users to sign up isn't easy. In fact, only about a quarter of businesses are satisfied with their conversion rates, according to Econsultancy. With that being said, it's important that you do all that you can in order to incentivize and persuade your audience, fill them with confidence, and make the entire process as seamless as possible.
To increase the likelihood of clicks and conversions, you should also be trying out different landing page designs with A/B testing. Some of the best (free) landing page builders can help you do this. Simply change certain elements to see which visuals, copy, or CTAs best resonate with your visitors—testing and applying iterative learnings will ensure that your landing pages are as strong as possible.
---
Sources
https ://www.campaignmonitor.com/resources/guides/email-marketing-new-rules/#seven
https ://instapage.com/blog/email-landing-page-examples
https ://blog.hubspot.com/blog/tabid/6307/bid/15051/how-effective-are-dedicated-landing-pages-new-data.aspx
https ://www.copyblogger.com/email-landing-page/
https ://econsultancy.com/four-key-findings-from-our-conversion-rate-optimisation-report/