At first glance, Crazy Domains appears to be cheaper than SiteGround, but it charges you for lots of addons that SiteGround offers for free. After evaluating Crazy Domains and SiteGround in five different categories (pricing, features, performance, security, and support), I found that Crazy Domains has many limitations in WordPress hosting. SiteGround also scored better results in the performance tests.
Click here to see SiteGround's latest deals
or keep reading to discover what makes SiteGround the winner of this comparison.
1. Plans and Pricing
Crazy Domains Is Cheaper, but SiteGround Is Better Value for Money for Serious WordPress Users
Crazy Domains offers shared, VPS, and managed WordPress hosting. While SiteGround offers shared, managed WordPress hosting, WooCommerce, cloud hosting, reseller, and dedicated servers. Crazy Domains has slightly lower prices for its managed WordPress hosting packages. However, it has limited resources and fewer features than SiteGround (see the Features section).
A free domain name is included with some hosting plans from SiteGround
Crazy Domains Web Hosting
Crazy Domains charges for more add-ons than SiteGround when you checkout. These add-ons include SSL certificates, WHOIS domain privacy protection, personal email, automatic daily backups, website builder, and more. With Crazy Domains, you can choose to be billed quarterly, annually, biennially, triennially, or decennially (10 years). SiteGround's subscriptions are monthly, annually, biennially, or triennially. With both hosts, the longer the subscription term, the less you pay. Crazy Domains has a 60-day money-back guarantee, while SiteGround offers a 30-day money-back guarantee. You'll get free website migration with some SiteGround packages, but not with Crazy Domains. Neither host provides a free domain name. While SiteGround isn't known for being cheap, it does offer better value for money than Crazy Domains. The winner here is SiteGround.
2. Features
SiteGround for WordPress Has More Resource Allocations and Value-Added Features
Crazy Domains and SiteGround both have three plans for WordPress hosting, but SiteGround's plans come with more resources. SiteGround's WordPress hosting packages come with free automated WordPress transfer (migration tool), auto-updates, SG-Git (with GoGeek), pre-installed WP-CLI, 1-click WordPress staging (with GrowBig and GoGeek), and automatic daily backups. You can host from 1 to unlimited websites, get 10 GB to 40 GB SSD storage, unlimited email accounts, and unlimited databases. SiteGround also offers a good selection of freebies such as free SSL, free Cloudflare CDN, Site Tools, and the Weebly website builder. Crazy Domains also provides free WordPress auto-updates, a free 1-click migration tool, WordPress staging, pre-installed WP-CLI, and pre-installed Git. Unlike SiteGround, Crazy Domains only has weekly backups. With Crazy Domains, you can get from 1 to 5 hosted websites and 10 GB to 50 GB SSD storage. As previously mentioned, Crazy Domains doesn't have any extra freebies (like SiteGround). See more differences between Crazy Domains and SiteGround in the following comparison table:
| | | |
| --- | --- | --- |
| | Crazy Domains | SiteGround |
| Hosting Types | Shared (Linux and Windows), WordPress hosting, VPS (Linux and Windows) | Shared, WordPress hosting, WooCommerce, cloud, reseller, dedicated servers |
| Free Domain | ✘ | ✘ |
| Free SSL Certificate | ✘ | ✔ |
| Disk Space | 10 GB – Unlimited GB (depending on the plan) | 10 GB to 120 GB |
| Bandwidth | Unlimited | Unmetered |
| Automatic Backups | Weekly | Daily |
| Control Panel | cPanel, Plesk | Site Tools |
| Email Accounts | 100 – Unlimited | Unlimited |
| Free CDN | ✘ | ✔ |
| Free Site Migration | ✘ | Yes, but not on the cheapest shared or WordPress plans |
| Money-Back Guarantee | 60 days | 30 days |
SiteGround easily wins the features challenge for providing more optimized WordPress hosting plans and various free extras.
3. Performance
SiteGround Has a Broader Range of Performance Features
Crazy Domains delivers its services through server locations in Australia, the U.K., the U.S.A., Belgium, India, Hong Kong, and Singapore. SiteGround has servers in the U.S.A., the U.K., the Netherlands, and Singapore. Crazy Domains only uses SSD storage with specific plans, while SiteGround uses it with all its plans. SSD storage performs much faster than regular HDD storage in terms of website data processing. In return, this reflects directly on your website's loading speeds and overall performance. SiteGround includes free Cloudflare CDN with all its plans, but Crazy Domains doesn't. A CDN, or Content Delivery Network, boosts your website's loading speeds, among other benefits, by placing it on a global network of cloud servers. Crazy Domains promises a 99.9% uptime guarantee, and SiteGround promises a 99.99% uptime guarantee. Both hosts proved to exceed these promises with few to no downtimes. When we tested the Crazy Domains loading speed using Sucuri, it showed good timings from U.S.A. locations, but the rest weren't as promising, resulting in an overall test result of a C.
See all the results in this Crazy Domains review
.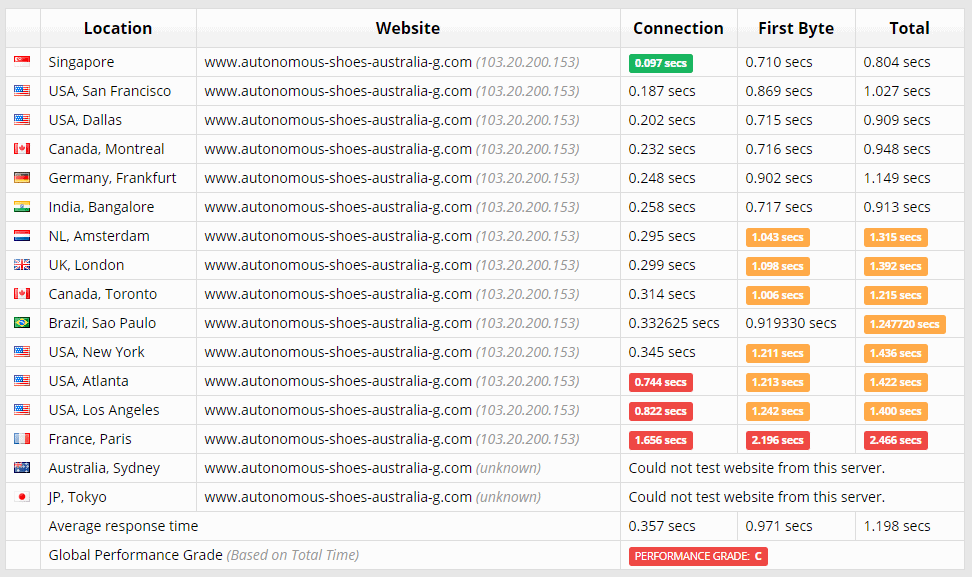 When testing the loading speeds of SiteGround, the individual loading times near the U.S.A. and some locations in Europe and Asia were promising. But several other locations showed poor numbers. Like Crazy Domains, SiteGround also scored a C. However, you can improve this score by using the free Cloudflare CDN that SiteGround provides.
Check out this in-depth SiteGround review to see all the results
.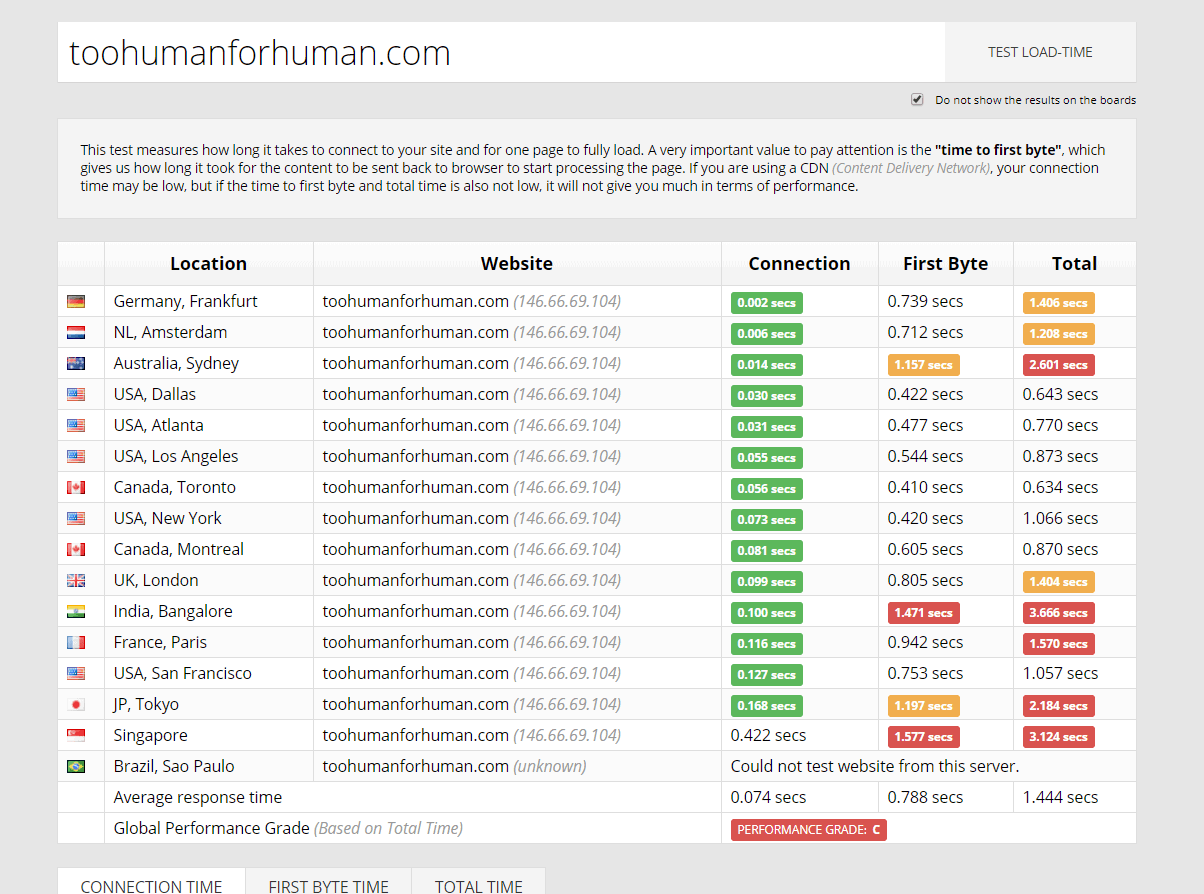 SiteGround's more comprehensive range of performance features earns it the winning title of this round.
4. Security
SiteGround Provides More Security Features
Crazy Domains protects all its websites with DDoS protection and 24/7 server monitoring. It also protects all email accounts with anti-spam and antivirus. SiteGround's security features include a web application firewall (WAF), an artificial intelligence (AI) anti-bot system (to protect against malicious attacks including DDoS and Brute-Force), 24/7 server monitoring, and access to the Sucuri-developed SG Scanner (antimalware). Crazy Domains uses CloudLinux OS with all its Linux-based plans. SiteGround uses a similar system referred to as Unique Account Isolation. Both these systems are responsible for securely isolating your website or account from others on the same server to protect it against unwanted threats. Crazy Domains includes automatic weekly backups with its plans and daily backups as an optional paid add-on. SiteGround includes daily backups with all its plans for free. Both Crazy Domains and SiteGround take security seriously. However, SiteGround has more to offer in this department, making it the winner of this challenge.
5. Support
SiteGround's Support Staff Are Better Trained and More Attentive
Crazy Domains has a neat website that's easy to browse, but SiteGround's website is even sleeker and more user-friendly. Both Crazy Domains and SiteGround offer informative and comprehensive knowledgebases covering most major topics. Also, SiteGround has video tutorials on both the website and YouTube. Crazy Domains' support is available 24/7 through live chat, phone, email, and support ticket. However, the sales chat team can sometimes be offline and will direct you to the email channel. When I tried the live chat, I was instantly connected, but there were several time gaps between questions and answers. Some of the information provided was inaccurate.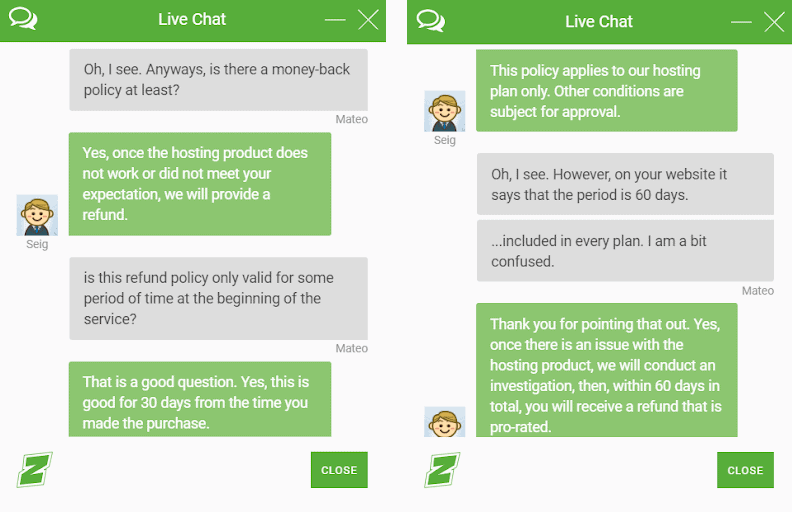 SiteGround also has 24/7 support via live chat, phone, and support ticket. I went for the live chat and connected instantly to an agent. Unlike Crazy Domains, the agent was quite knowledgeable, and there weren't any time gaps between questions and answers, no matter how technical the questions were.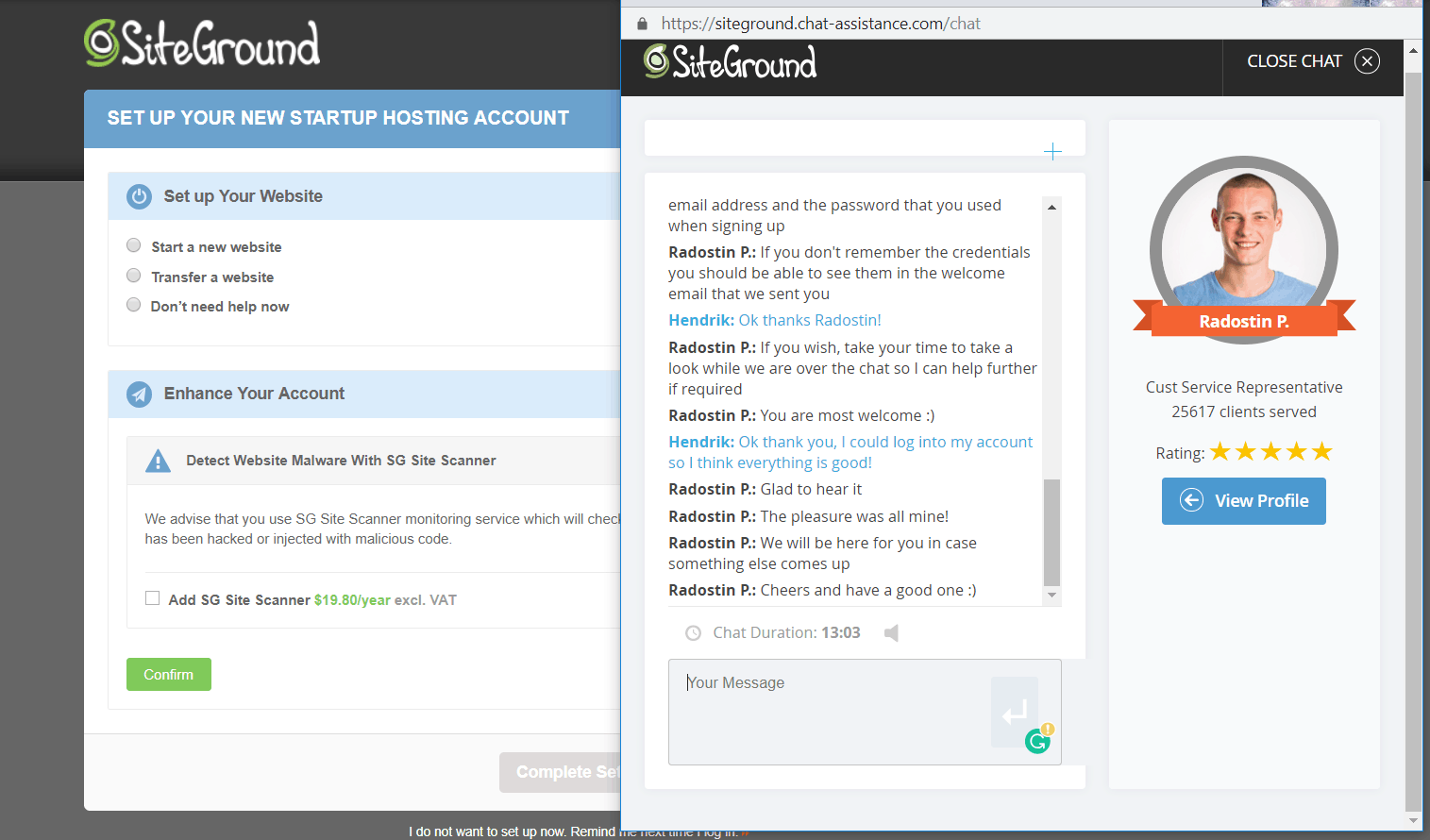 While Crazy Domains offers a broader array of communication channels than SiteGround, SiteGround's agents stand out for their superior training and responsiveness. Consequently, when it comes to customer support, SiteGround emerges as the more dependable choice.
Crazy Domains Loses Out to SiteGround
It's a clear-cut win for SiteGround. While Crazy Domains brings the necessities to its hosting packages,
SiteGround has more value-added features
and uses more advanced technologies to provide overall better performance. That's why SiteGround is a little more expensive than Crazy Domains. Nevertheless, it offers lots of free extras that Crazy Domains charges you for, which was a big drawback for Crazy Domains in this comparison. SiteGround is also listed by our experts among
the best web hosting services
 in the market today.
Plans and Pricing
Cheaper initial prices, lots of paid add-ons, and a 60-day money-back guarantee
Slightly more expensive plans, offers more freebies, and a 30-day money-back guarantee
Key Features
SSD storage, cPanel, and Plesk
Free SSL, SSD storage, free Weebly site builder, and Site Tools
Performance
More server locations, SSD storage with specific plans, 99.9% uptime guarantee, very few downtimes, below average loading speeds
Fewer server locations, SSD storage with all plans, free Cloudflare CDN, 99.99% uptime guarantee, very few downtimes, average loading speeds
Security
DDoS protection, antispam/antivirus, 24/7 server monitoring CloudLinux OS, free weekly backups (with WordPress hosting), optional paid automatic daily backups
WAF, AI anti-bot system, 24/7 server monitoring, SG scanner, Unique Account Isolation, free automatic daily backups with all plans
Support
Comprehensive knowledgebase, 24/7 live chat (not always available), phone, email, and support ticket, inadequate staff
Comprehensive knowledgebase, video tutorials, 24/7 live chat, phone, and support ticket, knowledgeable staff
FAQ
Which is better, Crazy Domains or SiteGround?
SiteGround is definitely a better option if you're looking for quality hosting (especially for WordPress). Crazy Domains has its limitations and almost no freebies, so you'll end up paying more money for your subscription. SiteGround is also featured in the top 10 list of the best web hosting services.
Does Crazy Domains use SSD?
Not with all hosting packages. Crazy Domains only offers SSD storage with its VPS and WordPress hosting plans. Crazy Domains isn't quite right for you? Check out this list of cheap and fast SSD hosting services.
Does SiteGround use cPanel?
SiteGround has recently developed its own in-house control panel called Site Tools. It has a user-friendly interface and lets you handle most of your website's tasks with a single click. Explore more cPanel alternatives.
Does Crazy Domains offer a free domain?
No. Crazy Domains doesn't provide free domain name registration. However, it sometimes offers a free ".online" domain name for one year. If you're not sure which domain name is good for you, don't miss our ultimate guide to choosing and buying a domain name.