While all the builders on my list will get the job done, my personal favorite is Squarespace. It has the best-looking templates around, and all the tools you could possibly need to build your website, integrated straight into its editor (so you don't have to look for them elsewhere). You can take advantage of
Squarespace's 30% discount on annual plans
 to save on your subscription.
There are a lot of website builders out there, but not all of them will give you the features you need to build and maintain your webcomic site.
You'll need a builder that provides good blogging tools and enough storage space to upload and display all your images with no loss of quality.
 You may also want the ability to set up an online store to sell prints or other merch. If you don't pick the right website builder from the beginning, you might find yourself spending tons of time and money rebuilding your website when the first one no longer supports your needs.
I've tested dozens of website builders, and compiled this list of the five best for webcomics.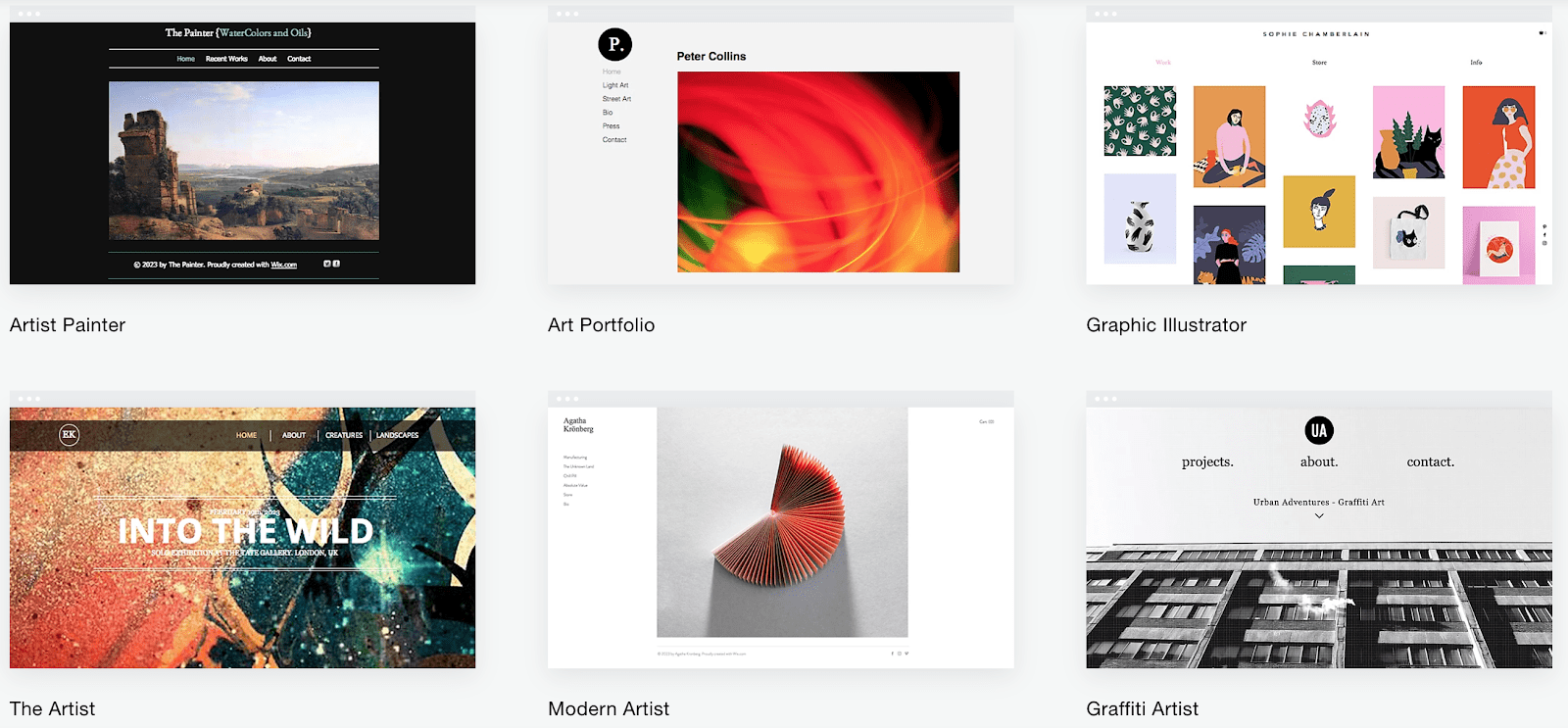 Wix is the most popular website builder, and for good reason: its drag-and-drop interface is easily the most user-friendly out of all the options listed here. You can choose from over 900 different templates, including a few blank ones. There's a special category for templates to showcase artwork, but you can choose any template from the library and easily customize it to match the tone, feel, and style of your webcomic. Wix is unrivaled for the creative freedom it gives you, even on the free plan.
All Wix sites come with a free blog feature that includes robust commenting functionality and social media integrations.
 The Wix Mobile App lets you communicate with your followers from any device. There's also a suite of email marketing tools, so
followers who want to be notified of new comics can sign up to receive an email every time you post.
 If you want to sell merchandise through your site, it's easy to open a Wix store and there are no sales commissions. Need more features? The Wix App Market offers more than 300 apps that integrate with the website builder. These are just as easy to install as it is to design the website, keeping you from spending time or money on expensive web design or development. Find out more about in our
expert Wix review
.

Where SITE123 really stands apart from the competition is with guaranteed mobile-responsive templates. Your site will automatically look great both on both desktop and mobile devices without any extra effort on your part. With a high chance that your webcomic will be read on a smartphone, this can be a huge advantage.
SITE123's blogging platform has one of the strongest commenting systems, allowing comments from Disqus, Facebook, or the platform itself.
 If you want to build a community following for your webcomic and encourage engagement, the variety of simple commenting options is a huge plus. These features are included in the free plan. The blogging platform also comes with social media integrations for any platform you like.
You can publish posts directly to Facebook, Instagram, and more, and include social share buttons on your page
 so your fans can share your content with their networks. E-commerce and email marketing functionality are available on SITE123 as well, but the best tools and features are only available on the higher-tier paid plans. Other advanced features, such as multilingual support or next-level analytics, also come at a higher price point. When it comes to ease of use and variety of templates, SITE123 isn't bad, but it's not at the top of my list.
The editor is simple, to be sure, but doesn't quite have the drag-and-drop freedom of Wix. The template library boasts over 180 templates, but many look fairly similar.
Read our
in-depth review of SITE123
for more on its pros and cons.
3. Squarespace – An Online Store Set Up for Webcomics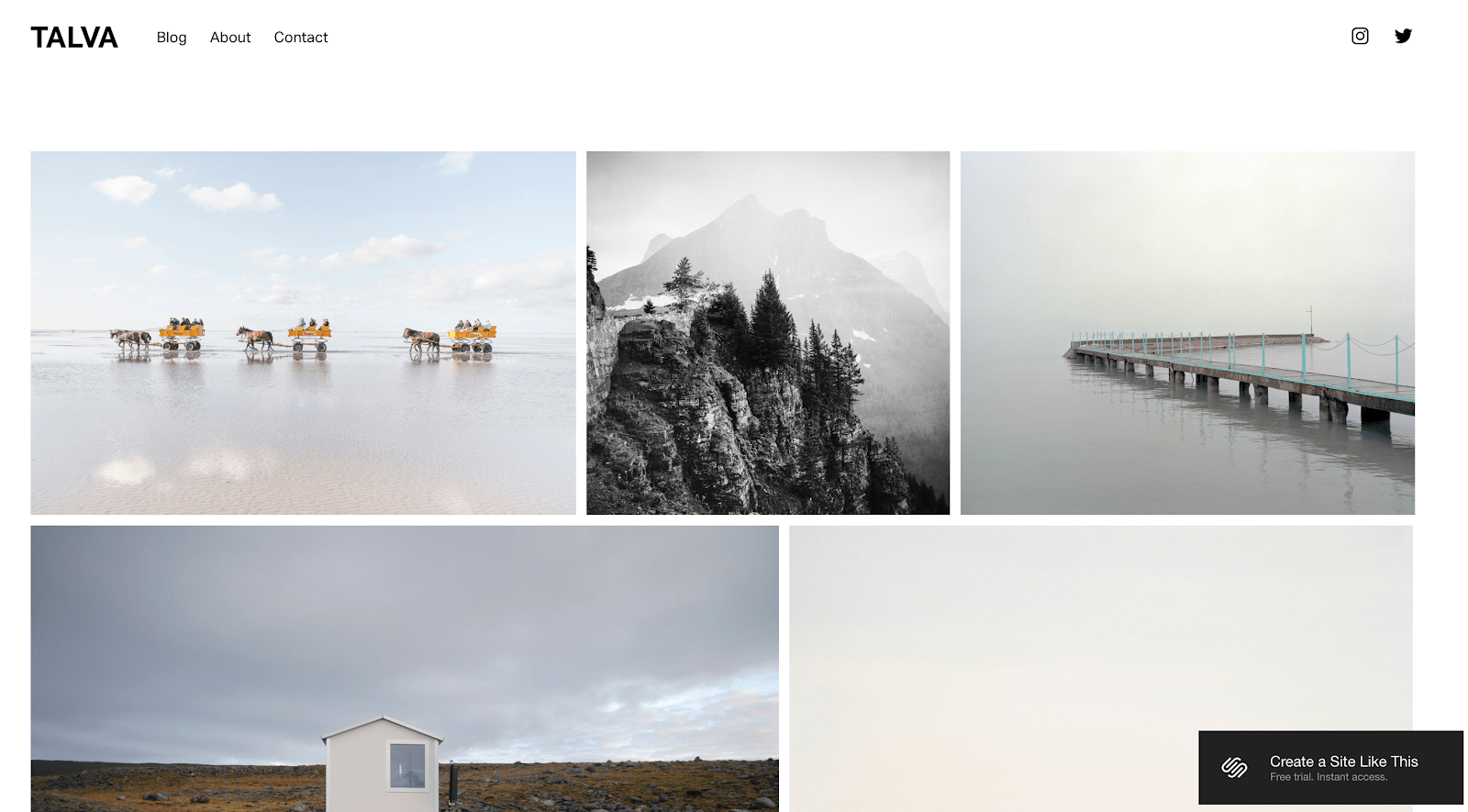 Squarespace is popular among creatives for its clean, modern templates that draw readers' eyes to the featured images.
 Although you don't get as much creative freedom as with Wix, you can customize the templates to some extent and move content blocks around on the predefined grid. Squarespace's blogging platform is strong and comes with all the expected functionality, like social media integrations and commenting systems. With the built-in Email Campaigns tool, you can send out a newsletter or email notification directly from each post once it's published. Squarespace is also strong in the e-commerce arena, so if you plan to set up an online store, it may be a good option for you. Even if you don't have merchandise to sell,
Squarespace offers some other interesting ways to monetize your site, such as Google AdSense and Amazon Affiliates integrations.
Squarespace doesn't offer a free plan, but there's a 14-day free trial. Check out our
detailed Squarespace review
to learn more.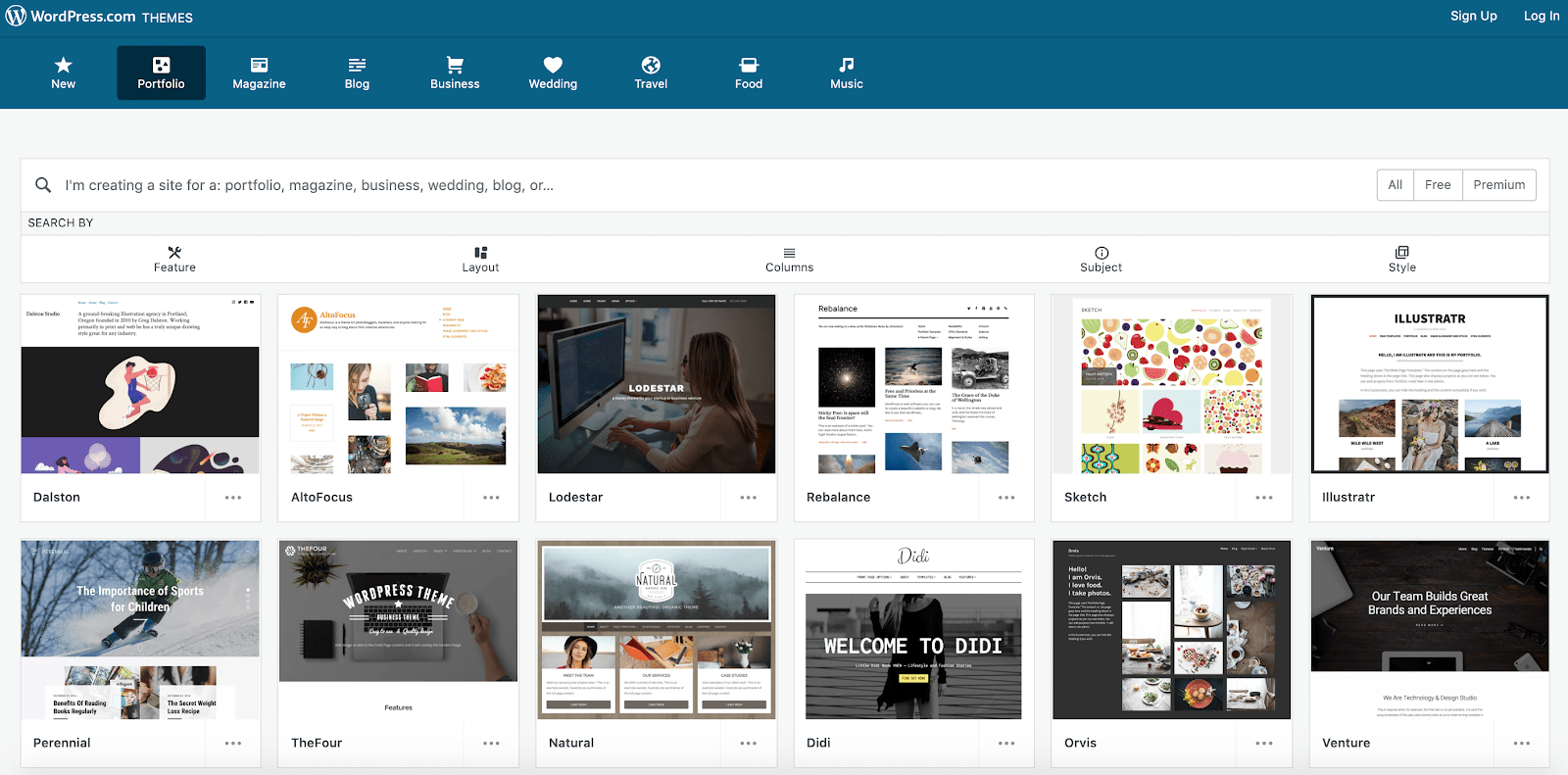 WordPress.com can be an ideal choice if you want to display your webcomic in blog format. It's a bit more complex to use than your average drag-and-drop builder, but don't let this scare you.
Once you get used to the WordPress interface, you'll discover it has a lot to offer.
There are a few free WordPress.com themes designed for artists and illustrators, but if you want to use a third-party theme or install plugins on your site, you'll need to upgrade to the Business Plan or higher. WordPress.com's blogging features include automatic social sharing to the platforms of your choice, and the option to schedule posts ahead of time. Readers can choose to comment on your posts through WordPress or through Facebook login or Disqus. Read our
expert review of WordPress.com
for more details.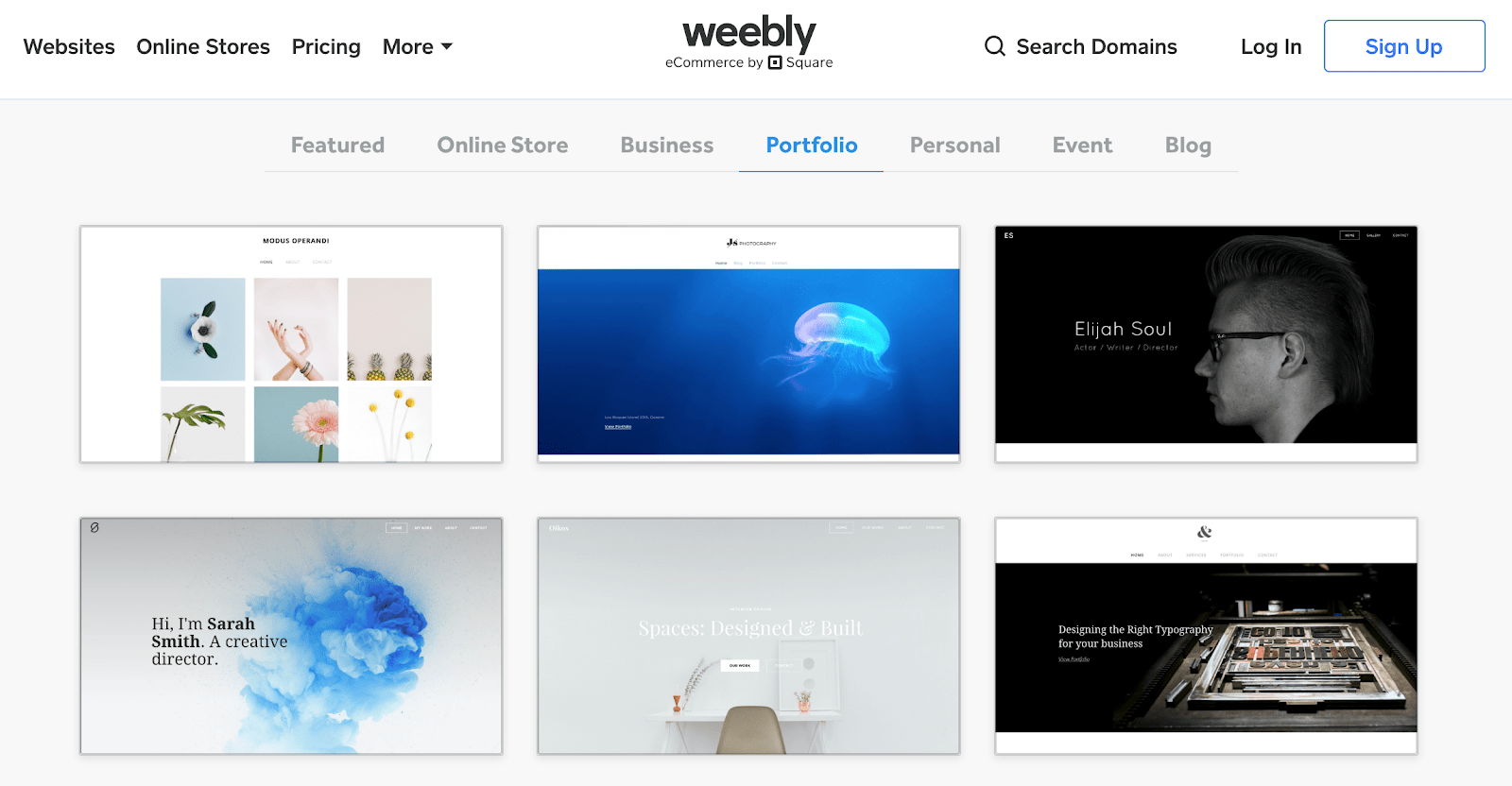 Weebly claims to be the easiest website builder to use, but that ease comes at the expense of a large template library.
 There are just over 40 Weebly templates and they are categorized very broadly, so you'll have to do a bit of work to customize a template to fit your needs. The site editor will walk you through each step as you build your site Weebly's tools are also a bit limiting, but it still has everything you need to get your webcomic off the ground. You can schedule blog posts and integrate them with your social media accounts and there's a strong categorizing and tagging system to create a custom browsing experience for your readers. One great feature of Weebly is the ability to upload a custom font, meaning you can use your comic font anywhere on your website. You can also upload a custom background image featuring characters or images from your webcomic, to bring an immersive feel to your site. For more details, see our
expert Weebly review
.
Which Builder Will Help Your Comic Stand Out?
If you want complete creative freedom to customize your site, try Wix.
It also provides
the flexibility to grow your site, as your needs increase.
If you want beautiful templates and excellent e-commerce and blogging tools, go with Squarespace.
 The social media integrations can help you reach more fans. Here's a final summary of my findings on the best website builders for webcomics.
| | | |
| --- | --- | --- |
| Website Builder | Standout Features | |
| Wix | An all-around best website builder for ease-of-use, available templates, and ability to customize and scale. | |
| SITE123 | The top choice for a mobile-responsive site and for building a community through robust commenting features. | |
| Squarespace | Online store and website monetization solutions and built-in email tools to create newsletters directly from your blog posts. | |
| WordPress.com | Excellent blogging features and plenty of webcomic-specific add-ons to do what you need. | |
| Weebly | Lets you upload custom fonts and customize your background image to match the unique feel of your webcomic. | |