The world is changing rapidly and with it, our communication habits. But have you ever stopped to think about what those habits might look like in 5 or 10 years from now? In this article, we asked the leaders of 5 email-focused companies about the things they find particularly exciting these days around email, and what they might look like in the future. Here's what they had to say.
Better Data Security With Private and Hybrid Cloud
Alex Orlov, Co-founder and CTO of AfterLogic:
"In our field, I see a growing interest in self-hosting. 10 years ago, we saw the global adoption of cloud storage, but now we see the pendulum swinging in the opposite direction. Compliance, local regulations, and willingness to control your data dictate this setback. Now we have hybrid clouds and private clouds of all sorts. Demand for security and privacy-related technologies is rising exponentially. Incidents of massive data theft from top corporations or government institutions occur so often that they have become mundane. Besides hackers looking for ransom, local federal agencies may enforce the provider to let them search through any customer's data or simply take out storage hardware for inspection. This raises the interest in end-to-end encryption technologies which transfer the encryption mechanism to end users' devices, leaving the server with only encrypted data and no keys to decrypt them. This approach has become very popular in instant messenger apps and now is gaining recognition in file storage services and email apps. We, at Afterlogic, are adopting this approach throughout our entire product line. Email is here to stay. 10 years ago, everyone was saying that email is dead, but it's still with us. It's becoming a platform for more formal, official communications, much like postal mail used to be. Email messages are time-stamped documents while instant messages are not. That said, messaging platforms will tend to unify multiple communication channels, be it chat, email, voice, or video. Major service providers like MS Office 365 and Google GSuite will still leave some room for smaller players, as local businesses need the level of support and customer dedication that major providers simply cannot sustain. IoT will radically increase the number of communications, notifications, and storage volumes. Big data still sounds like rocket science for many. Soon, we'll treat it as just "data", taking "big" for granted. The ability to index, search, and analyze data in all meaningful aspects will become an inherent property of any information system. Today, it's a feature. Tomorrow, it's a must."
Here's a snapshot of AfterLogic's solutions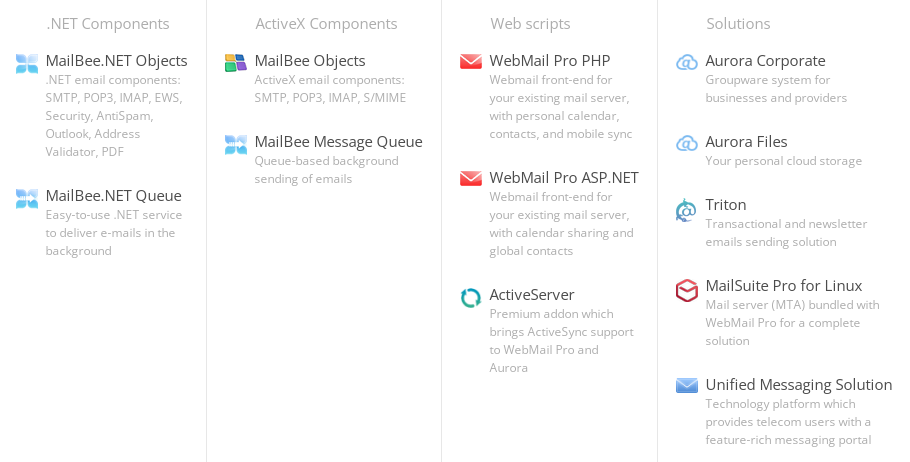 Fewer Distractions 
Andrea Loubier, Co-founder & CEO of Mailbird:
"The primary trend with AI and machine learning for email aims to reduce the time spent on email. For example, when you're typing something in Gmail, it auto-detects what the rest of the sentence might be. AI also enables you to ensure communication is well crafted and will anticipate what you want to communicate based on the context. It's insane! Another element that induces decision-making fatigue when managing emails is the sorting of emails. Using AI, they can automatically segment what folder or what category an email should fall into. When you check your inbox, you can then focus on priority emails and hide promotional emails altogether. Cutting out microseconds in actions and decision-making with email communication is everything, and AI will support this progression and advancement in the future of email as a core communication platform. There is a lot of focus on eliminating distraction, and that's one of the key initiatives that I'm excited about with the evolution of AI within the space of communication technology. Of course, some negative implications are already surfacing from our daily habits with communication technology. You constantly hear about statistical inferences in studies, pointing out the dopamine fix you get every time you tackle one email or check your inbox or receive an anticipated message. It will be interesting to watch and potentially try out different experiments with AI to see how we can help people better manage their time and have a much more relaxing, yet effective experience with email management. The future of email is going to be exciting. You can already see it happening with all of these additional tools being developed upon the infrastructure of email. When we look at the future of email, the first thing we should look at is differentiating where and when to use email. Considering the impact of the pandemic over the last two years, and the massive shift towards remote work, the reliance on these technologies has become even more significant. So, I hope and look forward to seeing it evolve in a way that helps people find work-life balance and better manage their communications. I also hope to see tools that support the elimination of decision-making fatigue that comes with email. I hope to see things slow down, yet become more efficient."
Or view this quick introduction to Mailbird
Unified Multi-channel Communication
Michal Bürger, CEO of eM Client:
"There are many chat and team collaboration technologies and services nowadays and some of them are really good. However, all of these services tend to be more and more closed and vendor locked. The biggest advantage of email is that it is vendor-independent. Nobody owns email or its technologies. Rather, it is an open standard. This is not true with chat and other communication technologies that exist today. From that perspective, Email is the only free way to communicate. That's why it is still here and will be for a long time. Of course, there is still a lot of space for improving and reinventing email in many areas. We want to make eM Client omnipotent on all conceivable platforms, with a recognizable and unified user interface across all these platforms. We also want to run our own service to offer our users the full user experience across all these devices including easy-to-use secure encrypted communication, central management and synchronization of signatures, templates, text snippets, and many other things. We also have eM Client 9 in our road plan for this year with many improvements not only in email but also in task and project management areas."
Or watch eM Client in action
Trackable Interactive Emails
Eduardo Manchón, CEO of Mailtrack
"I see greater use of corporate communication tools where you get fewer messages, but you only get the important ones. We have seen accelerated mobile pages (AMP) that will make email more dynamic by executing code inside the email. Google already made steps in this direction where emails are more like web pages that you can interact with. It will change everything, primarily, the purpose for which email is used. Right now, your inbox is like the old physical mailbox, you get letters and that's it. But if an email is like a brochure, you can see content, compose, manipulate and interact with it. If an email is more like a website, it means you can track everything that happens inside it, and know exactly where users have clicked and why. There's a whole world of opportunities that we don't even know of. Altogether, I see a very bright future for email innovation and I believe we will soon start to see these changes."
Or watch this quick introduction video
More Personalized Email Marketing
Jeff Kupietzky, CEO of Jeeng:
"In the future, every marketer or every publisher will need to come up with a way to "own their audience" by having that one-on-one relationship with them. In order to survive, you will need to take back control from Google, Facebook, Amazon, and Apple, and ultimately do that in a cross-channel way. Our product vision and overall strategy is a multi-channel, personalized messaging platform for publishers that automatically delivers the right content over the right channel to the right person at the right time to maximize engagement. Our feeling is that every marketer will need this because ultimately, their users will be engaging with their brand across multiple channels, and they will want relevant content personalized to their interests across all those channels. If you provide a user with identical generic content in a newsletter, push alert, or even a chatbot when they express interest in a specific topic, they are unlikely to engage. However, delivering highly targeted and relevant content aligned with their interests results in a significantly higher level of engagement. So, over the course of the next few years, we feel strongly that people will be moving away from cookies, away from silos, and toward this multi-channel model. We believe the email address will be at the core of the identity graph. And, having the ability to target a user with the right content over the right channel, on the right device even, and at the right time of the day will be the ultimate solution. To do that, brands and publishers will have to partner with companies like Jeeng, which can give them that Software as a service. Building their own way of doing it in-house would simply be too complex and time-consuming. We're super excited about that future, where we can help publishers increase the relevancy of their content, attract more engaged end users, and do it in a way that directly grows their revenue."
Or watch Jeff's message in this video
Summary
Since the inception of the internet and to this very day, email has been the number one communication channel in the world. Evidently, there are more email accounts in the world than people. With better security, fewer distractions, easy tracking and navigation, and a world of marketing opportunities just waiting to be discovered, users can expect to be getting much more out of their email. And with a growing number of addons and integrations making it even more powerful, saying that email is here to stay is an understatement.