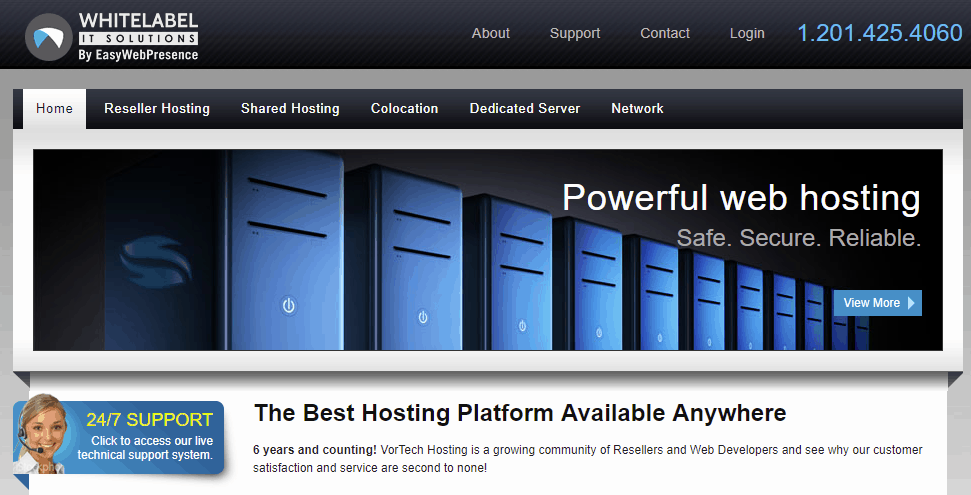 In business for over six years, VorTech Hosting offers shared hosting, reseller hosting, dedicated servers, and colocation. This United States-based company is owned by WhiteLabel IT solutions and has its servers located in Hackensack, New Jersey. Its website is available in English.
Features and Ease of Use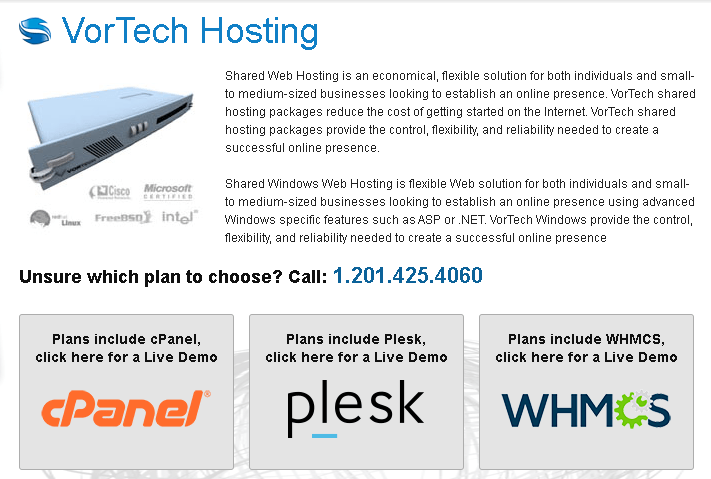 VorTech Hosting offers a total of eight shared hosting plans – four on Linux based operating system and four on Windows operating system. These are some of the features that this company provides in the shared hosting plans:
99.9% Uptime Guarantee
Weekly and monthly automatic backups
Either ten or unlimited domains
Up to 1000GB bandwidth
100GB to 500GB storage space
One disadvantage of shared servers that puts some people off from going for them is being affected by the actions or requests on another user's website like website sluggishness and overload of the server due to another user's spike in traffic. VorTech Hosting uses the CloudLinux operating system to combat this issue.
CloudLinux creates a lightweight virtualized system that shares server resources and separates each user into their own apartment ensuring that all they do only affects them. This saves you from a slow website just because your neighbor is sucking all the resources. It limits security breaches and the spread of malware and virus from another person to you.
Another great feature that VorTech hosting offers is its load balancing of 1Gbps ports. Ports are like lanes in traffic; the more you have, the wider your lanes and the more room there is for vehicles to pass through. For the website, it means that your website can take packets of traffic per second as against a 100Mbps port. The company also load-balances them across several ports.
CloudLinux customers receive cPanel as their provided tool, while Windows customers are provided with Plesk. Both platforms support PHP and ASP.NET. If you're not into programming but still want to manage your website without a developer, you can easily install WordPress or any other CMS of your choice using the Softaculous application installer.
Pricing and Support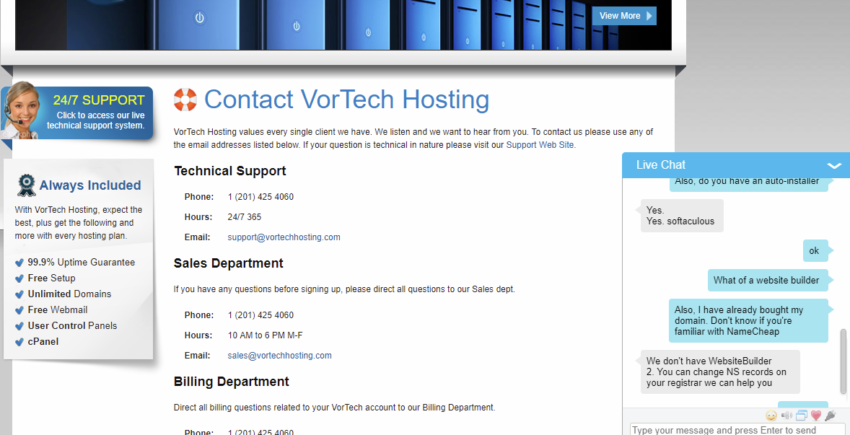 VorTech Hosting's prices are low cost for the features on offer. The dedicated servers and reseller hosting plans are reasonably priced. However, be aware that you won't be able to order the plans on its website directly.
The VorTech Hosting shared plans page redirects to the WhiteLabel IT solutions page when you want to order with completely different plans. On the plus side, the new plans are on the low end price-wise and provide approximately the same features as those on the VorTech website.
The difference is in the website builder that is provided on the new plans and the lower timeframe on a money-back guarantee. While VorTech quotes 30 days as its money-back guarantee period, the WhiteLabel IT solutions page show seven days. That's a significant difference.
I contacted customer support concerning the different plans, and was told to just get the new plans without much explanation as to why. Also, the answers received to some of my other questions came across as a support agent who used template responses. At least, they were able to get connecting my domain right.
You can contact them 24/7 through phone, email, and live chat.