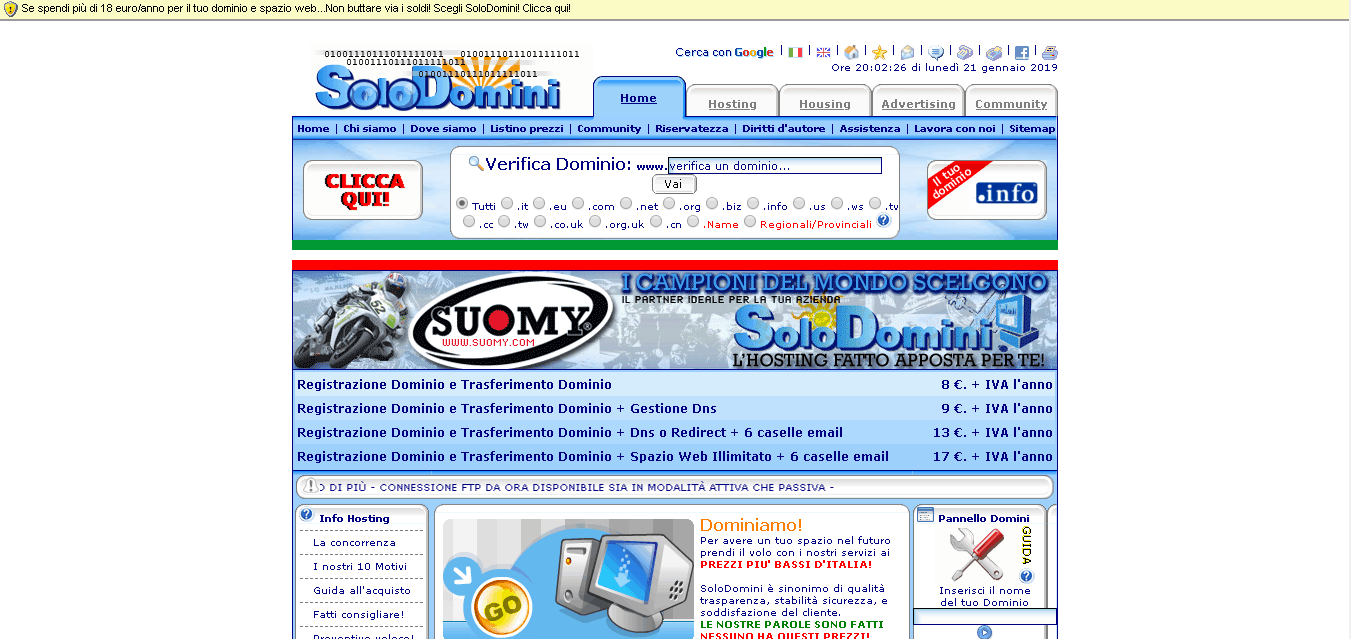 SoloDomini is a web hosting vendor based in Italy. Established in 1999, this company has a customer base of at least 85,000 and is ideal for small and medium-sized businesses.
Features and Ease of Use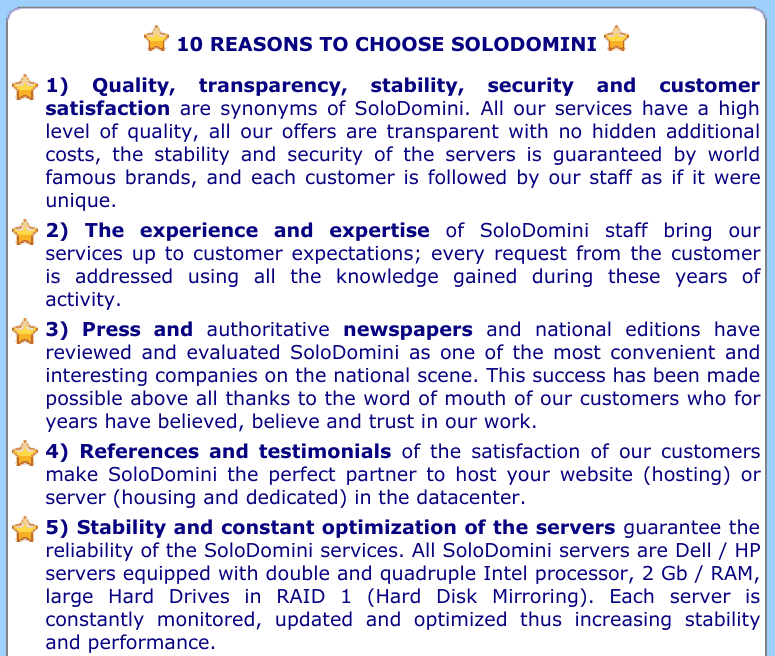 SoloDomini's web hosting solutions include the following features:
RedHat Linux operating system
Windows operating system
phpMyAdmin database
Unlimited HTML web space
SoloDomini offers a variety of hosting and domain services such as domain name registration, DNS management, domain transfer, and domain exchange. The vendor uses Dell and HP servers that are monitored, updated, and optimized to guarantee that all the websites they host provide robust performance. The company says that when technical problems arise, their staff intervene promptly. Their servers also have redundant hardware components designed to avoid frequent shutdowns.
The SoloDomini website is extremely unappealing, not at all user-friendly, and navigating is a big hassle. While it first appears to be available in both Italian and English, the link to the English version of the website is actually a link to an on-the-fly translation by Google Translate.
Pricing and Support
SoloDomini's prices are listed in euros and they offer just one billing cycle by annual subscription. Although this vendor's prices may seem pocket-friendly at first, their cheap plans have very limited features, thus forcing users to upgrade to their more expensive packages. SoloDomini has no money-back policy and no uptime guarantee.
The main problem with this vendor appears to be related to the renewal of hosting plans. Many customers have experienced issues with failed reactivation of their hosting plans, even when they were set to auto-renew. This occurs when customers forget to send a receipt of payment to the vendor. It is clear that the vendor's auto-renewal system has a flaw, and several customers have reported unresolved renewal issues lasting for over a month.
You can reach the SoloDomini support team via telephone, SMS, email, or live chat, but the company has no support ticket system. While they offer 24/7 customer support, many customers find it hard to get in touch with the technical support team, and my experience was no different. I sent several emails, called them many times, and when they did finally respond, they came across as somewhat arrogant and incompetent. They do not have a knowledge base, but they do have a 'community' link that leads to what looks like their live chat.