Thailand-based P&T Hosting has been in business since 2006, and over the years it has served over 7,500 customers with more than 6,000 hosted websites and 20,000+ registered domains.
P&T's servers are placed in a CAT Telecom data center in Thailand, and its website is in Thai.
Features and Ease of Use
P&T Hosting offers shared hosting, VPS, dedicated servers, and colocation services. The ten shared hosting plans provide different amounts of storage space and bandwidth. Customers on any of these plans can enjoy the following features:
99.9% uptime
Weekly automatic backups
Free shared SSL
Up to ten domains on one account
From 30 MB to 50 GB storage space
The first three plans are suitable only for simple static websites due to the low storage, especially since the WordPress core can take up around 30 MB when installed, then your theme will take another 10+ MB, and plugins could account for 100 MB. And that's before you add in your MySQL database, emails, images, videos, and other content. Put simply, serious businesses users should choose the middle "Plan1150" package or higher.
Customers get access to the DirectAdmin control panel that lets you install additional applications – including Joomla, Drupal, WordPress, Mambo, and osCommerce – via the LNW installer. But there's no website builder, so you'll need to know HTML or find someone who does.
At the expert level, P&T only supports PHP, so you'll have to look elsewhere for Python or other programming language support.
RAID 1 disk striping and monitoring ensures that data is not lost if the primary storage drive fails.
Pricing and Support
P&T provides shared hosting at reasonable prices with free SSL certificates. But there is no free domain registration, so you'll pay for your domain from the very first day.
Since there is no free trial, you might be best signing up on a monthly billing cycle initially, to see how you take to this Thai host. If you are tempted to sign up for six months or a year, you might take some comfort from the fact that this provider will give refunds "at its discretion," but you have no assurance at all.
P&T's 24/7 technical customer service can be contacted by telephone, email, or live chat (during certain specified hours). I received a reply to my exploratory email almost immediately: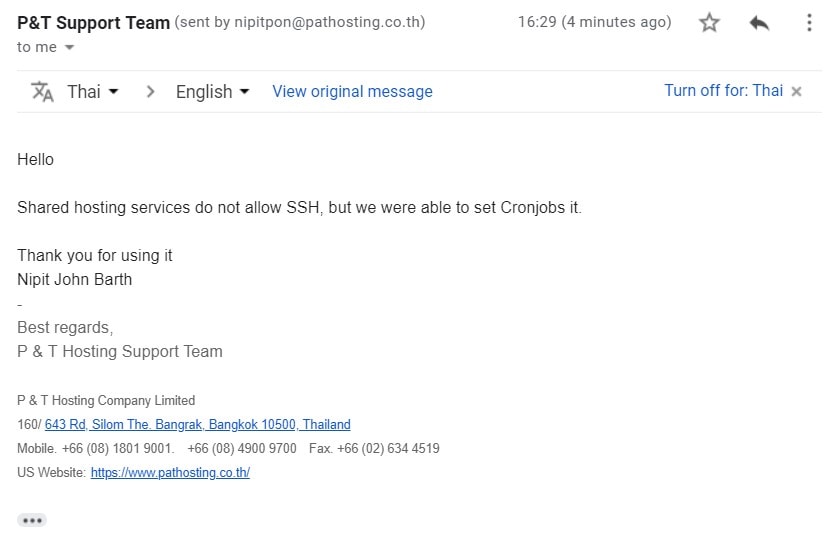 For self-support, P&T provides an online user manual.