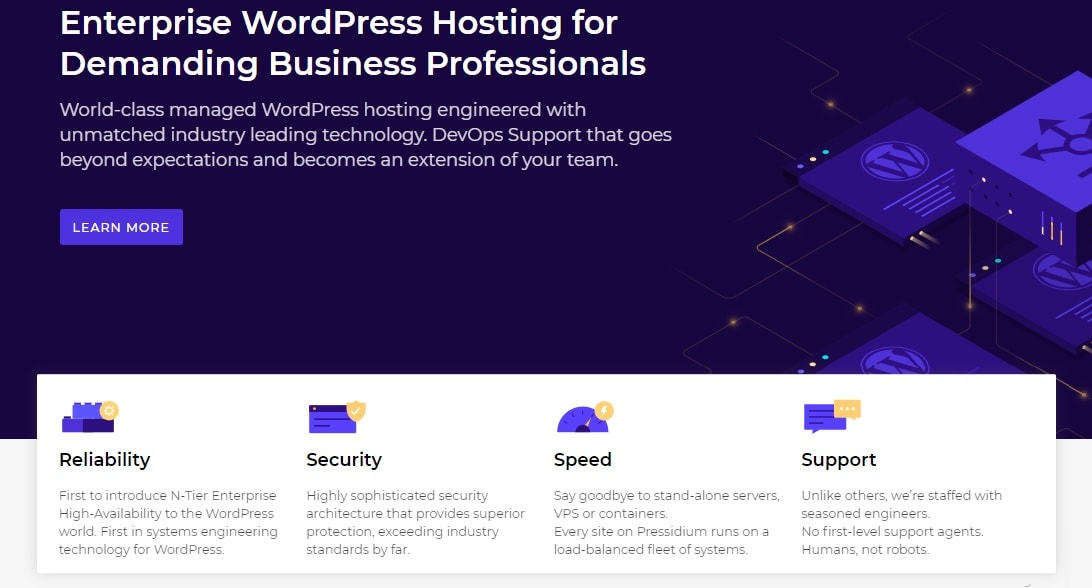 A team of experienced developers and engineers launched Pressidium six years ago to offer scalable, secure, and hassle-free premium managed hosting solutions for WordPress. Today, the company has four main data center regions in Europe, North America, Asia Pacific, and Oceania, along with 42 strategic edge locations across the world.
Pressidium offers WordPress hosting plans along with customized enterprise plans for Fortune 500 companies, digital agencies, tech startups, media outlets, and universities.
Its website is available in English and prices are listed in US dollars.
Features and Ease of Use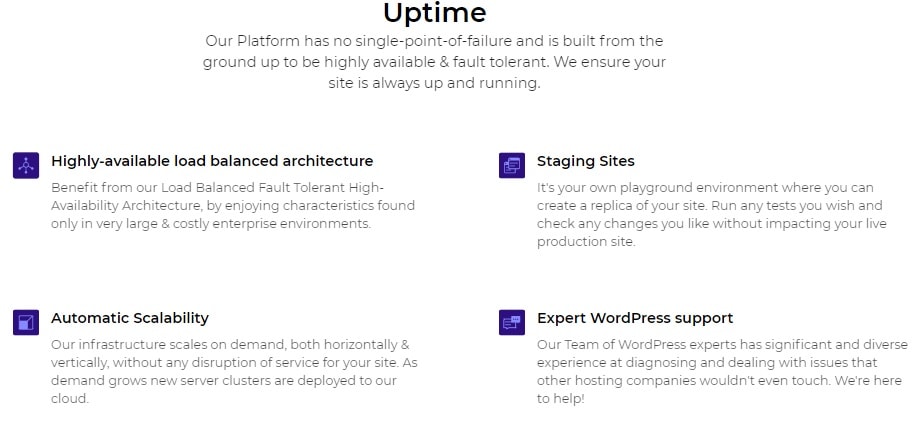 Pressidium offers five fully managed WordPress hosting plans along with customized enterprise plans (capable of scaling up to 10 million visits/month and more) for which you can request a quote. With the company's five WordPress hosting plans, you'll get:
1 to 50 hosted WordPress sites
5 GB to 40 GB SSD storage
Unlimited bandwidth
Let's Encrypt SSL
Automatic daily backups
Pressidium provides a 99.95% uptime guarantee. If uptime falls below that mark, Pressidium will give you a credit of 5% of your monthly fee for each hour of downtime.
It uses load-balanced, fault-tolerant HA (high availability) architecture, ensuring your website's uninterrupted availability. The company's file system employs a blend of asynchronous and synchronous replication, which speeds up your site's performance.
Pressidium enables you to effortlessly scale your infrastructure both vertically and horizontally, ensuring no service disruption for your website. The staging environment provided by Pressidium allows you to generate a replica of your site, facilitating the execution of tests and implementation of changes without impacting your live site.
To make your content available quickly to your target audience (especially if your site is media heavy), CDN (content delivery network) provisioning via ticketing is also available.
Pricing and Support
The managed WordPress hosting plans are priced competitively. You can pay for your plan with all major credit and debit cards, including Mastercard, Visa, American Express, Diners Club, Discover, and Maestro. Available billing periods per month or per year. All annual subscriptions come with a two-month-free discount.
Pressidium offers a 60-day money-back guarantee for its standard plans (with a monthly billing cycle). Annual and Enterprise plans aren't eligible for a money-back guarantee unless a customer has been specifically given such a guarantee in writing. Since it's so easy to scale, starting with a monthly plan and its money-back guarantee might be a great way to test out the service with little risk.
For its existing customers, Pressidium offers 24/7 technical support via support ticket, which can be accessed through the customer portal. For general inquiries and those related to sales and billing, you can reach the company's customer support via email or a contact form. I used its contact form to ask questions and got an elaborate response quickly.

Pressidium offers multiple self-help tools – from a thorough knowledge base (with an FAQ section) and a blog to the company's cloud status. The cloud status page lets you see how Pressidium's platform and services are working and even provides updates on any emergency maintenance at its specific data centers.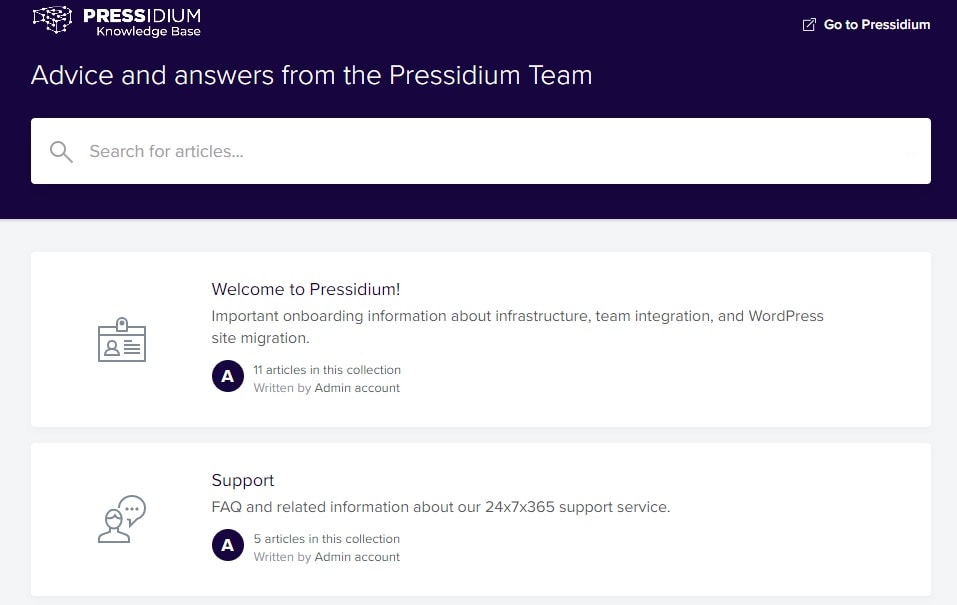 Pressidium WordPress Hosting