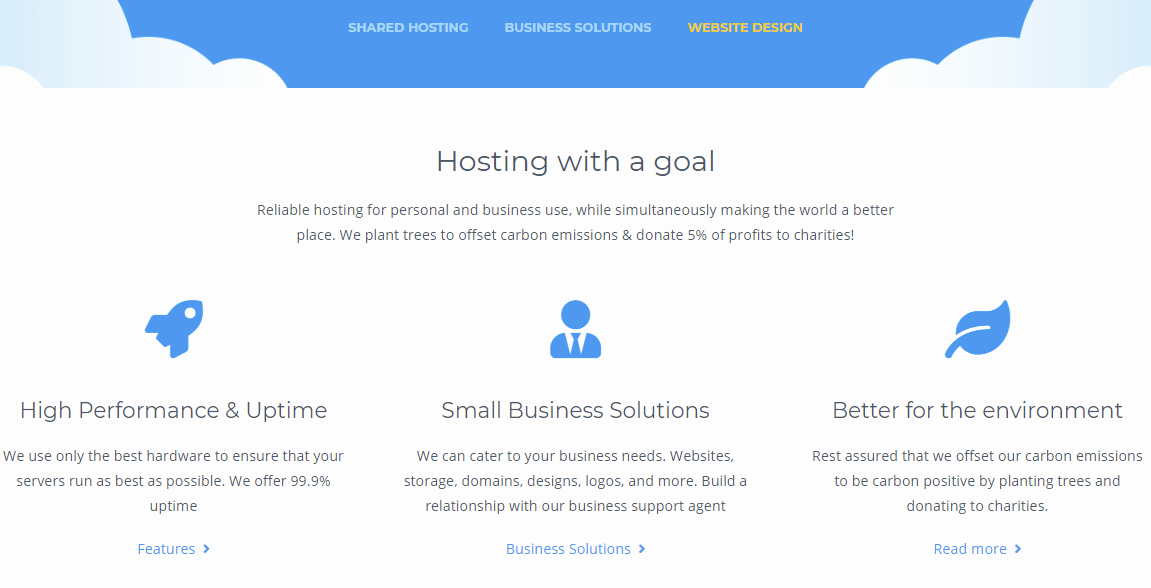 To compare the best web hosts, we hosted the same WordPress website on each one and tested performance, customer service, and value for money.
Check out the results here.
Founded in 2018, Obble Hosting is an Australian hosting company. Its goal is to make a positive impact on the world through offsetting carbon emissions from hosting by at least 50 tonnes yearly and contributing to charities.
It offers web hosting that is activated instantly, domain names, and online business solutions. Its servers are located in Sydney, Australia, and its website is available in English only.
Features and Ease of Use
Obble Hosting offers web hosting only; no VPS, cloud hosting, or dedicated servers. Its shared hosting is divided into three plans catering effectively to individuals, startups, and enterprises. Shared hosting customers enjoy the following features and benefits:
99.9% uptime guarantee
Free SSL certificate
One to four add-on domains
From 10GB to unlimited storage space, depending on plan
It currently doesn't offer automated backups, only offsite backups on a regular basis, which you cannot fully rely on. So, you'll have to set this up yourself. Fortunately, it allows cron, so you can set up cron jobs to take backups at the duration you want.
If you're looking to use WordPress, you can use Obble Hosting's one-click WordPress install from the control panel (cPanel). You can set it up and use a website builder plugin to ease your building. Unfortunately, there's no website builder.
There doesn't appear to be much support for anything but PHP. Most vendors support PHP already. If you are looking to use the Python framework, you'll either have to look elsewhere or wait until it supports Python, which it says it's working on. That might or might not be available any time soon.
Nevertheless, it has its perks such as instant activation. Unlike some vendors that promise 30 minutes to 24 hours for activation, Obble Hosting activates customers accounts immediately once payment is confirmed
Pricing and Support
Obble Hosting's prices are low-cost for the features that it offers. If the resources that it offers are too little to fit your needs, you can contact them directly for a custom solution.
You can pay for subscriptions lasting between a month to three years. If you choose to go for one year and above, you get a discount and one to three trees planted. However, it's safer at the start to go for a short-term duration, because this vendor doesn't offer a money-back guarantee; all fees are non-refundable.
It doesn't offer a free domain, but it does provide a free SSL certificate. With Google's focus on website security with HTTPs, having an SSL now is essential, so this a perk that saves you the added cost of purchasing an SSL certificate.
Even though automated backups are not included for free, you have the option to purchase them as an add-on, along with additional storage space and a dedicated IP address.
Obble Hosting's customer support is available through live chat, email, and support ticket. You can also request a phone call. I submitted a ticket and received a response in less than 30 minutes.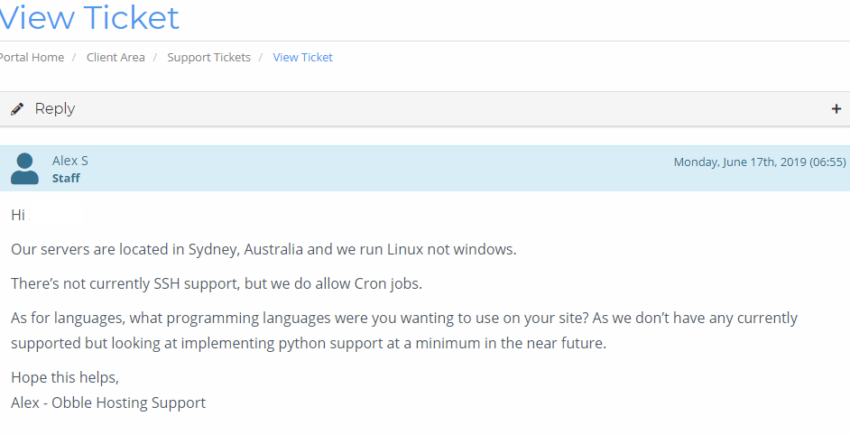 It also has a knowledge base, but it contains only two articles which aren't enough for self-support in most web hosting cases.
How much does Obble Hosting cost?
Obble Hosting offers plans from $3 to $10. The price depends on which type of hosting plan you choose. You can see the updated pricing table (updated weekly) below.

Which Obble Hosting plan should I get?
My recommendation is to start with a cheaper plan. You can always upgrade later on. Obble Hosting can help you with the migration to a more expensive plan. The increase in visitors many times takes longer than expected and you shouldn't pay a lot of money until the need arises. Of course, your needs may vary, and you can consult with a hosting expert from Obble Hosting here.

How good is Obble Hosting's customer support?
Obble Hosting is not ranked as one of our top web hosts. But that can also be a result of Obble Hosting being a small, under the radar, hosting provider. There are advantages to a small hosting company – as a customer, you are more important to them. You can also check out our comparison of the most popular web hosting services here.