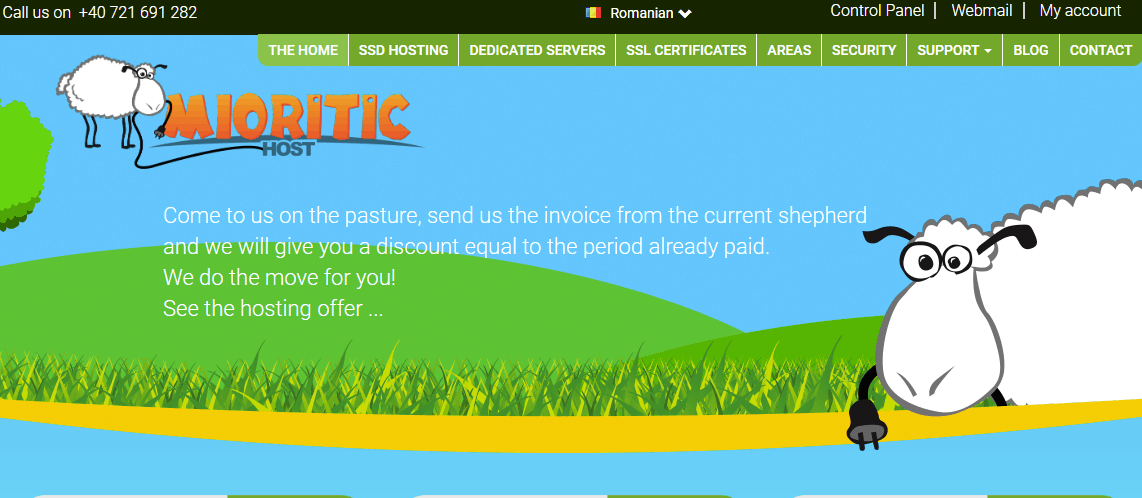 In 2011, MioriticHost began its web hosting business from Romania. It focuses on domain registration, shared hosting, dedicated servers, and SSL certificates. Its data center is located in Romania and its website language is Romanian and English.
Features and Ease of Use
Under SSD hosting, MioriticHost offers seven web hosting plans, three of which are reseller plans. The features on them are:
99% uptime guarantee
Daily automatic backups
From 1GB to 30GB disk space
Unlimited bandwidth
Free SSL certificate
There are no limits to the number of MySQL databases, email addresses, domains, and subdomains that you can set up. Plus, all plans come with dedicated IP addresses. This gives you a higher level of server control and if you need to access your account remotely, it gives you an easy way in.
MioriticHost uses the CloudLinux operating system, which provides isolation and protection on each user account, in terms of allocated or consumed resources.
It supports multiple versions of PHP. This not only allows you to select any version that you require, but also keeps you up to date with the latest version of the programming language. To manage this setting and the other resources, it offers cPanel for the shared hosting plans and WHM on the reseller plans.
For beginners, there's the Softaculous suite from which over 400 content management system (CMS) can be automatically installed. For users who do not have coding skills to design a website, all they need to do is click on one of the CMS options like WordPress and have it installed on their account.
There is a free SSL certificate that comes with each plan so that sensitive information of your website will be encrypted and your visitors will not have to deal with security warnings. Plus, Google looks out for SSL these days, so it's great to have it for free.
MioriticHost uses SSD-based servers to host all shared accounts to ensure that the speed and performance of the hosting accounts are top-notch.
Pricing and Support
Whether you're selecting a shared plan or opting for a reseller plan, you can be confident that you won't need to allocate a significant budget for it. MioriticHost offers highly affordable prices for the provided features. Additionally, they present a variety of billing cycle options including monthly, quarterly, semi-annual, annual, biennial, and triennial, giving you flexibility in payment.
While there's no free plan, there is s a seven-day free trial that you can take advantage of since there doesn't seem to be a money-back guarantee. MioriticHost uses PayPal, credit/debit cards, and bank transfer as its billing methods.
Client support is available through a contact form, knowledge base, and phone. I filled out and submitted the contact form, but never got a reply.