🏆

Performance Grade
B+

⏱️

Uptime Guarantee
No

🔒

Free SSL
Yes

🔧

Hosting Types
Shared

💡

Basic Plan Features

Storage: unlimited
Bandwidth: 250 GB

💲

Starting Price

$

3.99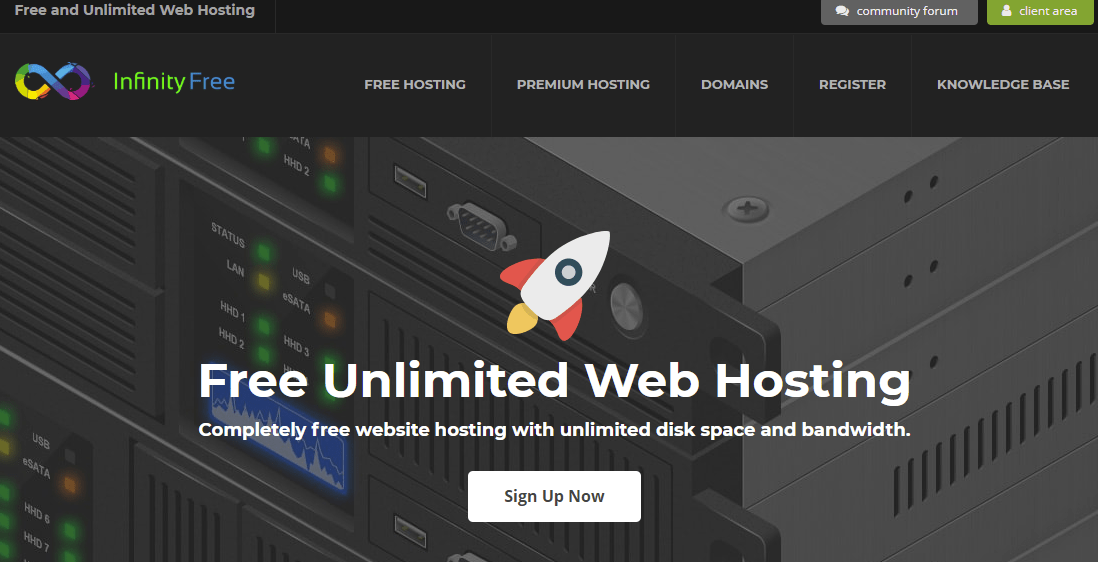 Not all free web hosting is actually free. Some companies can seem to be free in the beginning, by offering a certain number of days for free, or a free trial period for example, just so you can later find out that they are not entirely free in actuality. 
Then there are other hosting services that are free, but they come at a price. They cost you by wasting your important resources like time, spamming your site visitors with ads, or offering you extremely limited storage space and bandwidth. 
As its name implies, InfinityFree vows to offer a free hosting option as long as it's still around. And it does. With no ads. However, if you want to get quality hosting services at an extremely low price, I'd recommend Hostinger. 
Hostinger provides you with all the features that InfinityFree is missing, and more. Not only that, but Hostinger has achieved an excellent score in our performance tests, exceeding every other shared host we tested.
See how my experience with InfinityFree made me realize that by trying to save money, I was actually wasting time.
Features and Ease of Use
InfinityFree offers free hosting with the following features:
99.9% uptime
Free subdomain
Free SSL
Unlimited storage
Although the company provides "unlimited" storage and "unlimited" bandwidth, don't have high expectations for its features. It offers free hosting, so you shouldn't expect the best of services. For these "unlimited" services, it has lots of limits for server resources.
If you want to host a website with a few images, you're likely to get hit with a "server limit reached" message or similar even before you finish building the website. If you want to run a text hobby website or want to test something really simple, then you can try out InfinityFree. For other things, including a simple company website, you should look elsewhere.
One thing that I noticed is that it doesn't support the installation of Let's Encrypt SSL certificates and similar free SSL services. For a free hosting service, I doubt that its free SSL are paid ones, so I don't understand the restriction on customers being unable to set up these free SSLs themselves.
Despite its limitations, it does do well for beginners with the Softaculous application installer. Experienced users can program their website with PHP and choose the version that they prefer. Also, the company provides 400 MySQL databases, Linux operating system, and Apache webserver.
Customers get 10 email accounts. That's more than enough for a hobby website. To enhance performance, it helps customers easily connect with CloudFlare CDN from their control panel. For the panel, customers get cPanel.
Pricing and Support
As I mentioned above, InfinityFree hooks you up with a free web hosting service. There's no money involved. If you don't want to or don't have the cash to buy a domain, you can use their free domain.
However, as mentioned above, you shouldn't use the service for more than hobby websites. Customers that expect it to work for more are disappointed. Hence, the many negative reviews online.
The company still makes money, but from ads. The ad don't show on customers' websites, but on its own company website and your control panel.
Given its lack of money-making from customers, the company doesn't provide one-on-one support, so you can't call or email for support. It explicitly states that its email address is not for support.
However, there's a robust knowledge base and a forum that's filled with already answered questions and solutions. Its search engine is powerful, so you can find your answer quickly. If it isn't there, you can ask and are likely to get a response. These are some of the results that I got from its search engine: