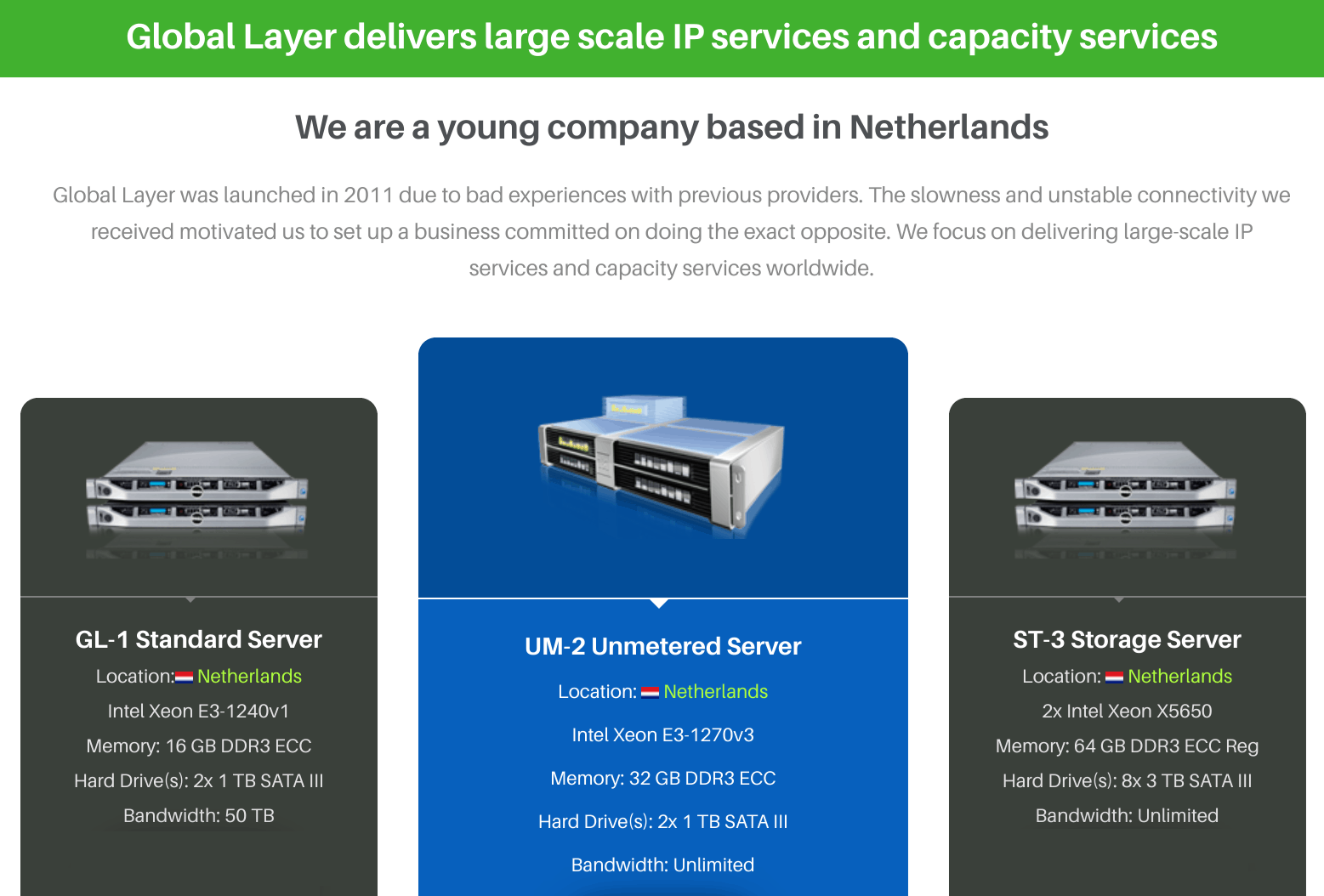 Bad experiences with previous providers were instrumental to Global Layer's founding in 2011. This young Netherlands-based company offers large-scale global IP services and capacity services for its worldwide clients. Its website is in English, but its cart area supports twenty-five additional languages.
Features and Ease of Use
Global Layer offers three dedicated server plans — GL-1 Standard Server, UM-2 Unmetered Server, and ST-3 Storage Server — which use Xeon E3-1240v1, Xeon E3-1270v3, and 2x Xeon X5650 processors respectively. These server plans also provide:
16 GB to 64 GB RAM
2 x 1 TB to 8 x 3 TB storage
1 Gbit to 2 Gbit bandwidth
50 TB to unlimited traffic
Since the GL-1 Standard Server is the only one that can be bought at the time of writing this review (the others being "out of stock"), this is the one I'll tell you some more about. It is customizable in several respects, in some cases at extra cost. You can choose your processor, RAM, storage, operating system (CentOS, FreeBSD, Debian, or Windows 2008), and control panel (cPanel/WHM, DirectAdmin, or Plesk). That's not all, since you can also opt for software or hardware RAID 1 (at extra cost) for extra resilience.
This vendor boasts 100% power uptime and 100% network uptime, and with the aforementioned GL-1 Standard Server you get a 99.9% uptime SLA that can be upgraded to a 99.99% uptime SLA.
Pricing and Support
Global Layer's dedicated servers are competitively priced. You can pay for them in euros via various methods (credit card, bank transfer, or Bitcoin) on monthly, quarterly, semi-annual, or annual billing cycles. There is no money-back guarantee as far as I can see, but this is not unusual for dedicated server solutions. As I already said, you can only order the GL-1 Standard Server at the time of writing this review.
You can contact Global Layer via live chat, telephone, support ticket, or email. Although the live chat was unavailable when I wanted to try it, my offline messages were answered almost immediately: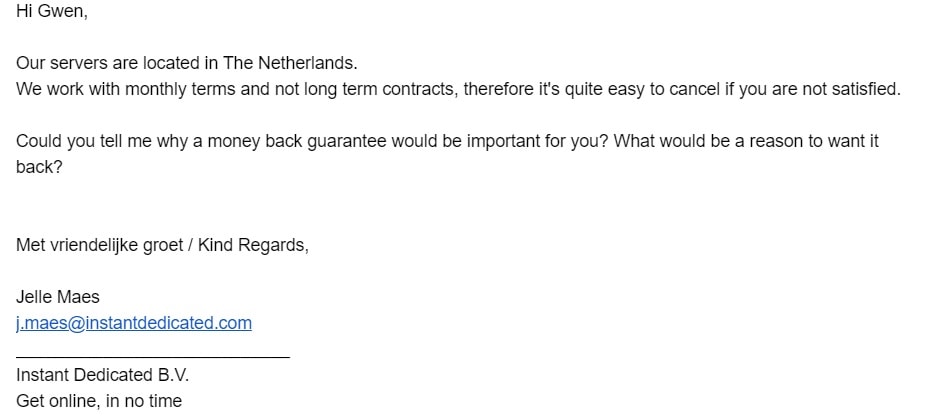 Global Layer's knowledge base is empty, so you're out of luck for self-support, but this is not that unusual for sellers of dedicated server solutions.