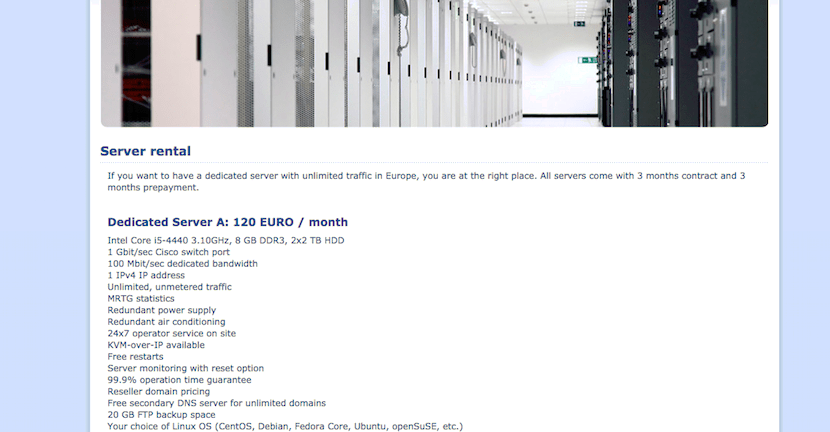 Deninet is a hosting provider located in Hungary. They do not offer shared hosting, instead,
they focus on dedicated servers and collocation
. Unfortunately, there is not a huge amount of information about what they do, so it's not clear how long they've been in business or how many customer they have. This may suggest they are a new or small business. Their website is available in English and Hungarian, as is their support.
Features and Ease of Use
Deninet offers a streamlined selection of services for large businesses or enterprises. As standard, they offer the following features in their dedicated server plans:
9% operation time guarantee
Intel Core i5-4440 3.10GHz
IPv4 IP address
20GB FTP backup space
Reseller domain pricing
24×7 operator service on site
The first thing that struck me about Deninet's service is that they only offer two dedicated server packages. However, upon checkout, it becomes clear there are options to change the configuration of these two base packages. It's possible to choose the brand of the server, the amount of Hungarian and international bandwidth, the operating system, the number of IP addresses, firewall, remote reboot, and more. Whilst these configurations do increase the price, it is certainly a flexible way to configure your server.
Their hardware is good quality; their dedicated servers feature Intel Core i5-4440 3.10GHz, 1 Gbit/sec Cisco switch port, 100 Mbit/sec dedicated bandwidth, and 1 IPv4 IP address, as well as unlimited, unmetered traffic. They have engineers on site 24/7, free restarts, and server monitoring with reset option.
In terms of a dedicated server rental, they are easy to pay and get setup. Many companies do not allow you to purchase and configure your server online, while Deninet does. What's more, they will get you set up within seventy-two hours.
Pricing and Support
The prices are quite expensive when compared to other companies providing a similar dedicated server package, especially when considering the cost of the add-ons. That said, Deninet are clearly specialists in dedicated website hosting and they are an excellent choice if you want to have a dedicated server with unlimited traffic in Europe.
Their contract terms are all refreshingly simple. They provide a monthly price, dependent on your configurations, which is paid upfront in three month instalments. It's important to consider, there is a setup charge for some of their customizations and they don't offer any incentives, discounts, free trials, or money-back guarantees.
Their customer service options are quite limited. You can reach them through their telephone number, email address, or online contact form. They offer support in Hungarian on their website and direct you to another website for English support, which can be a bit confusing. I have contacted them via email a few times, and unfortunately, their response time is a bit slow. They don't have a knowledge base or help desk on their website, but this is understandable since they only provide managed dedicated servers with 24/7 on-site engineers.