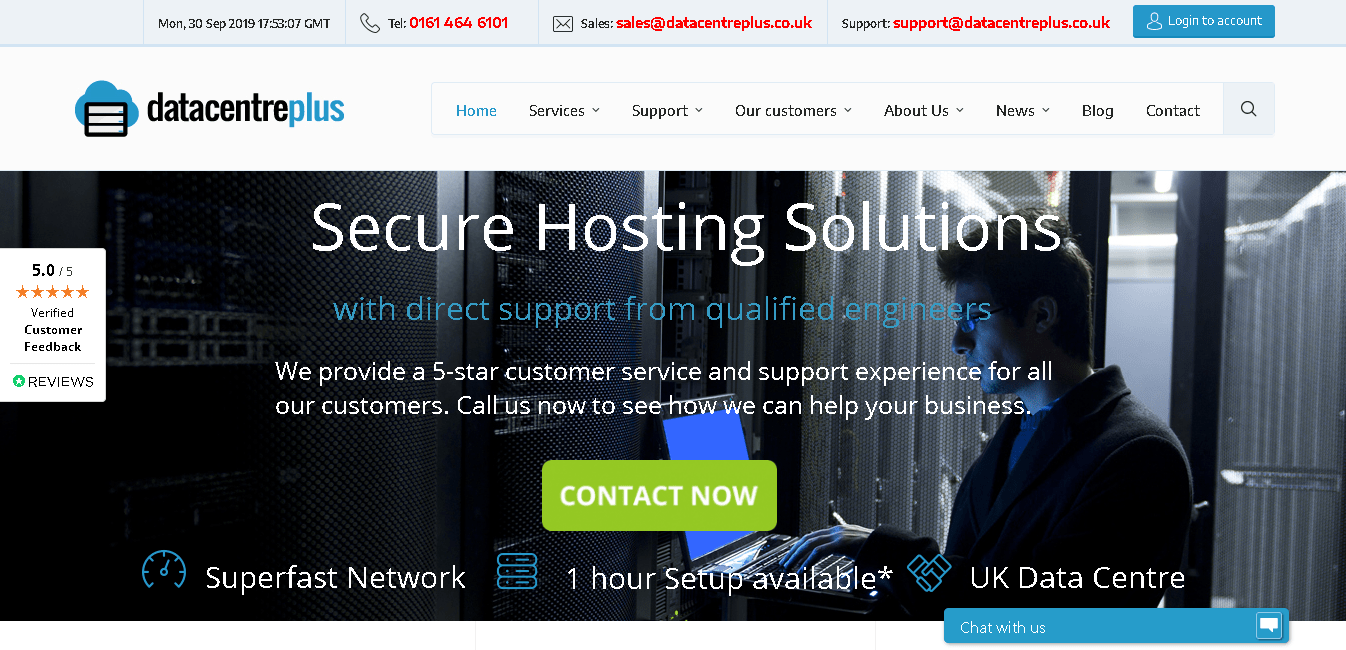 Founded in 2014, Datacentreplus is a United Kingdom-based company with a data center in Manchester. It provides hosting to businesses in the U.K. and throughout Europe through dedicated servers, cloud servers, and colocation services. The website is in English only.
Features and Ease of Use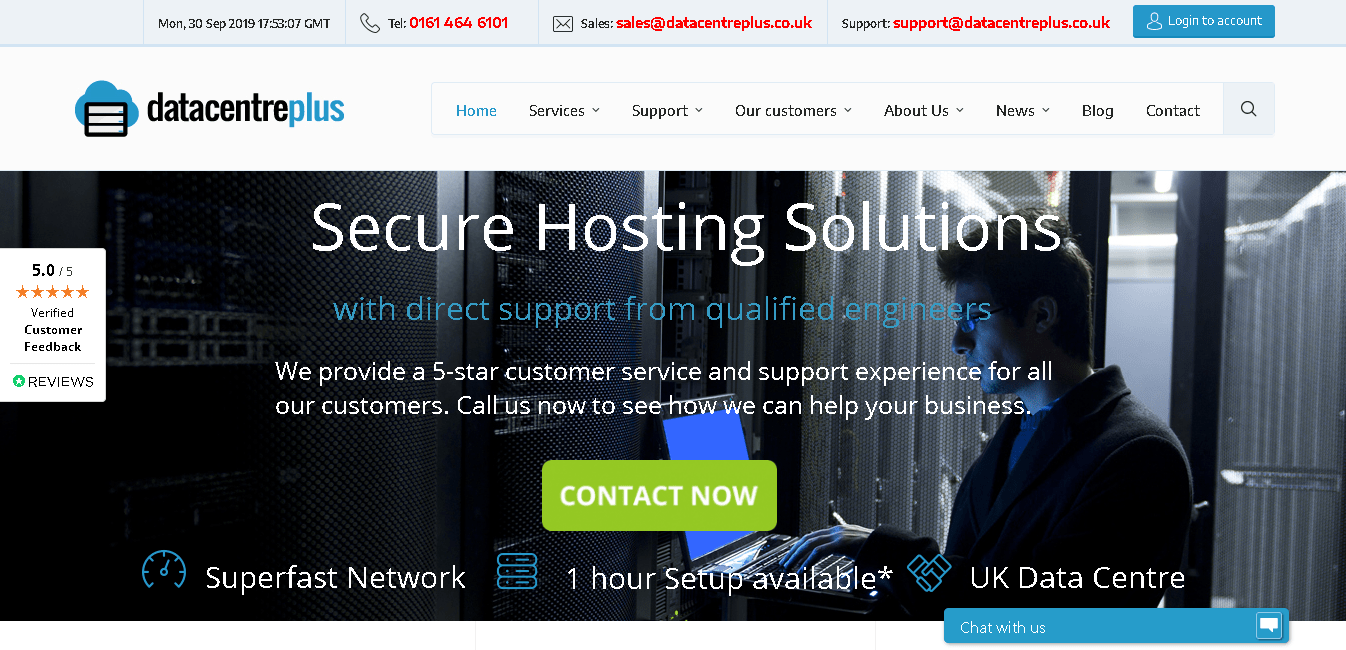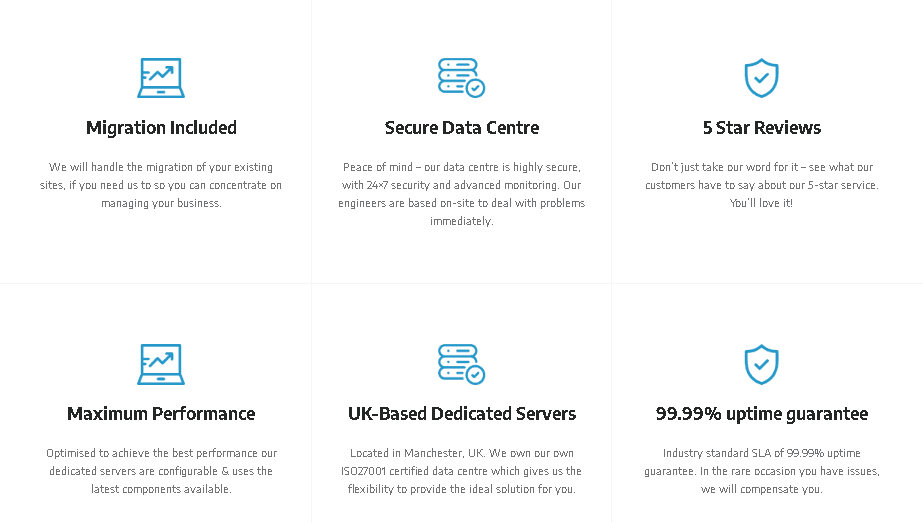 Datacentreplus offers managed and unmanaged dedicated servers and cloud servers to businesses. These are some of the features that its customers get to enjoy:
99.99% uptime guarantee
Regular automatic backups on the managed offers
Anywhere from 50GB to 200GB SSHD on cloud
Up to 4x 240GB SSD on dedicated servers
Its uptime is backed by an SLA. If you don't experience up to 99.99% uptime every month, you're entitled to between a 5% to 30% credit of your monthly cost. This warranty doesn't come in for things like scheduled maintenance, which the company will give you five business days notice for before that happens.
A plus for the cloud servers is the scalability and flexibility. If you're doing a big marketing push and expect a spike in traffic, you can scale your resources to meet your needs and down again after that time.
Given the level of its services, Datacentreplus doesn't seem to be for beginners. Then again, not every developer can manage servers, so if you need to install any software or patch a software security instability, the vendor will help you do that as well to ensure that you are always running the latest stable versions. It also has firewalls in place. cPanel and Plesk are an added option on cloud servers, but for the dedicated servers, you'll get them for free.
Datacentreplus supports digital agencies with customized plans, be it a small or big company. Another sector that it focuses on is E-commerce. If you're handling anywhere from one to one million transactions per year, this company can help you with PCI compliant servers. You get a firewall, SSL certificate, protection against viruses and malware, two-factor login authentication, network security features, etc. Also, it gets scanned every quarter by an approved scan vendor to ensure continuous PCI compliance.
Pricing and Support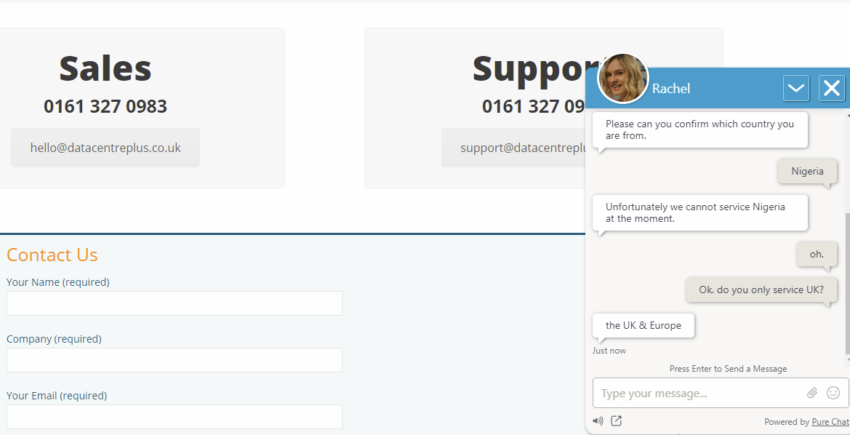 Datacentreplus has a completely customized pricing structure. Since the company is aware that not every plan will fit your needs, you'll have to contact them for a quote. What I did notice for cloud servers, though, is that the price is low cost.
You can reach Datacentreplus customer support 24/7 through call, email, and live chat. It has an SLA of between 30 mins to one business day maximum response time, depending on the priority (critical to low) of your issue.
I tried using the live chat to ask them about assisting cloud hosting customers with OS installation. Unfortunately, I couldn't proceed because they don't support my country.
Although I did not experience its technical support, there are many customer reviews online with a positive review about it.