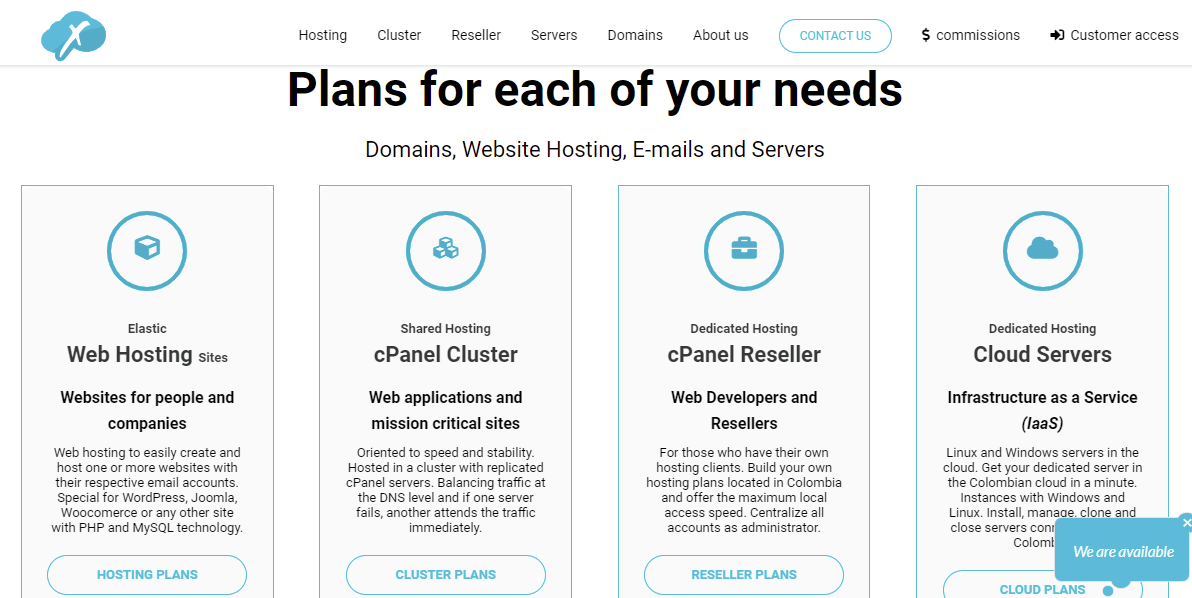 Conexcol Cloud was founded in January 1998, and is one of the older web hosting companies in Columbia. Within one year, the company had grown to host over 10,000 websites. It provides cloud web hosting services, cloud clusters, reseller hosting, and servers through a data center in Columbia. Its website is available in Spanish only.
Features and Ease of Use
Conexcol Cloud offers two categories of web hosting for those not looking to get a server. There's the Elastic web hosting for individuals and companies that need easy support as they grow and there are the cPanel clusters. These are Conexcol's offered features:
Automatic backups
Free SSL certificate
Free domain (.com .net .org)
Five, ten, or unlimited domains
Up to 4TB per month
The company offers cPanel regardless of the web hosting category that you choose along with other beginner-friendly tools. One is an auto-installer that gets you set up in less than a minute. The other is a website builder with templates.
For developers, Conexcol Cloud supports different versions of PHP, Python (WSGI app), Ruby (Rack app), NodeJS, Meteor, Coldfusion, and Java.
Conexcol Cloud offers some security features. To start with, there are firewalls that make up an Intrusion Detection System (IDS) which detects and blocks attempted attacks. Also, it provides Security Imunify360, which aside from detecting attacks, protects against Denial of Service attacks and works with artificial intelligence.
Furthermore, the setup works with CloudLinux and CageFS to create a light-weight virtualization system that's focused on security and server stability.
Conexcol Cloud provides SAN with SSD SAS disks. These provide fantastic read and write speeds. These are in RAID 10 disk arrays for optimal data redundancy to prevent data loss due to hardware failure.
Also, it improves speed for PHP applications/websites with mod_Isapi and opcache. For customers in Colombia, it guarantees response times of less than 30 milliseconds.
Moreover, cPanel provides customers on the cluster with a load balancer, mod_pagespeed module, brotli_compression, Redis cache, and integration with Cloudflare CDN. Additionally, the servers are organized in clusters and are responsible for handling DNS. Therefore, in the event of one server failing, another promptly takes over the traffic.
Pricing and Support
Conexcol Clouds web hosting prices are low, and its offered prices for the cPanel clusters are affordable as well.
It offers month-to-month plans, but if you pay for a longer period, you get a discount. As of writing this article, for six months, there's a 5% discount, for a year, 10%, for two years, 15%, and for three years, 20%. Also, it offers a free domain for one year and longer. Plus, it provides a free SSL certificate.
It uses PayU, PayPal, and bank transfer to take payments, and accounts are configured immediately once payments are received.
Customer support is available through a knowledge base, email, ticketing system, and phone. I sent an email to the support team and got a response a few hours later.