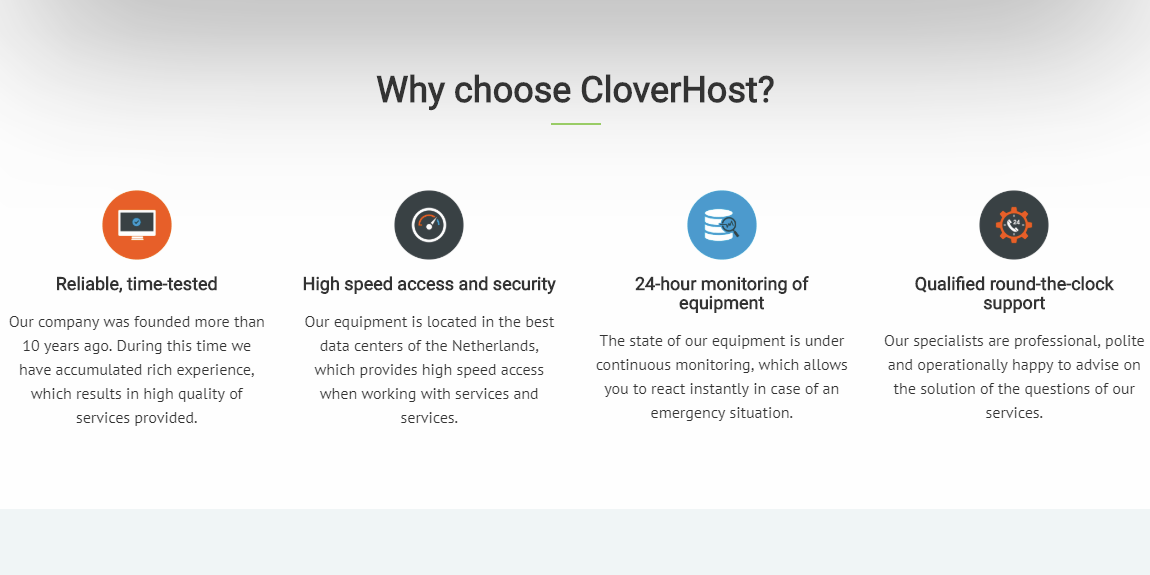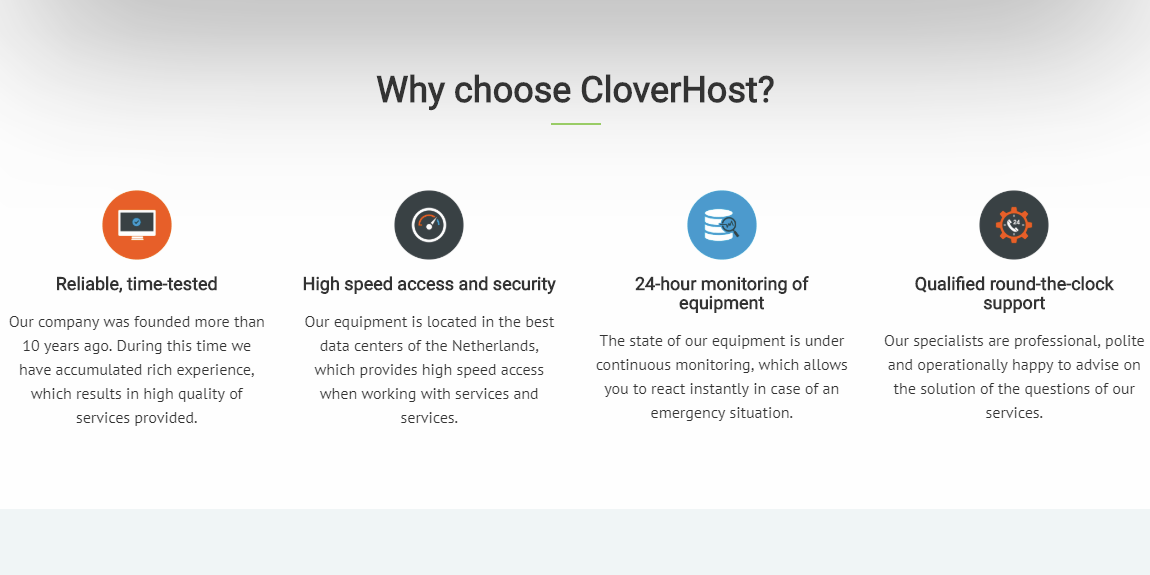 CloverHost, a Ukraine-based company that has strived to provide top-form uptime, has over 1730 customers and 415 registered domains. Founded in September 2008 to provide shared hosting services, and rebranded in 2010, this company has grown to offer more hosting services such as VPS and dedicated servers, and website development.
CloverHost uses servers that are located in Europe, Asia, and North America. Its website is in Ukrainian only, but it also provides support in English.
Features and Ease of Use
Starting with the shared/virtual hosting, there are four plans offering enough for personal and business websites. Your website is going to need enough storage for images, videos, gifs, etc., all of which need sufficient space. CloverHost offers 10GB SSD with the highest plan, and 1000MB with the base plan.
These are some other features offered with virtual hosting:
99.9% uptime
Free SSL certificate
Nightly automatic backups
Unlimited traffic
Two, four, eight, or unlimited websites on one account
Although its uptime is 99.9%, it strives for 100% and from third-party tests, that has been consistent for a while now.
Multiple users share the CPU and resources on a shared server, and in cases where one of the websites on the server gets so many visitors or script loads at the same time that it has an effect on the resources, your website will suffer the effect. However, there's a solution with CloudLinux operating system. It isolates users in cages where they only influence and use the resources that they pay for. CloverHost offers this feature within the virtual hosting.
Although many web hosts offer cPanel, CloverHost differs a bit with DirectAdmin. It has its perks like the fact that it uses less resources than cPanel. It also has a lean and tidy interface due to the fewer plugins. It's great but, CloverHost didn't couple it with a software installer.
Setting up a CMS without an easy plugin to handle it in two to three steps can be hard if you don't know what you're doing. You have to configure databases, upload software files, configure the software to connect with the database, etc. Beginners might get very frustrated if they get it wrong. Unfortunately, there's no help here.
It does support WordPress, Joomla!, Drupal, and more. If setting up CMSes and website development is not a problem for you, then you'll be glad to know that this company offers basic DDoS protection.
Pricing and Support
CloverHost offers reasonable prices for its hosting services, with renewal rates the same as initial subscription rates. You'll have to sign up for a year to get the best deal, which provides almost two months of hosting free. The other subscription periods include one month, three months, and six months.
CloverHost doesn't offer a free domain, but it does provide free SSL certificates. You can pay with Visa, MasterCard, WebMoney, Qiwi, Bitcoin, and more. The vendor provides a 14-day money-back guarantee, and while that is not as generous as some other hosting companies that offer as high as 90 days, it can still go a long way to cover you after you sign up and try the service out.
The 24/7 customer support is accessible through email, live chat, and phone to help you solve any issues. I connected with an agent via live chat and he was polite and answered all the questions I had.