CloudLix is a Lithuanian web services company that's been in business since 2011. They offer shared hosting, dedicated servers, and managed server options. Their shared hosting plans are a bit more expensive than the industry average, but they also offer features that are superior than standard providers.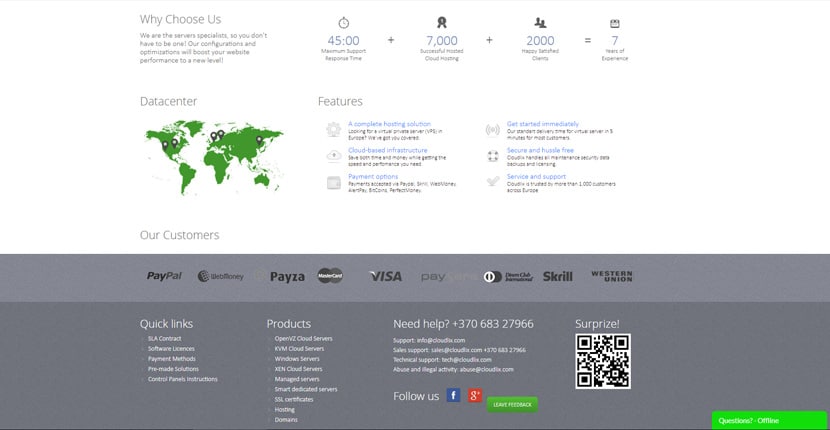 Features and Ease of Use
CloudLix offers shared hosting services with excellent basic features on all plans. Check out some of what their plans offer:
Unlimited storage
Unlimited bandwidth
Unlimited email accounts
Installatron auto-installer
Free website migrations
All of this is hosted on a CloudLinux OS setup, which affords your website better protection in the event that other websites on the server are hacked or other users abuse their resource limits. You also get some outstanding value-added features, such as:
Anti-DDoS attack protection
Supports Perl, Python, CGI, and PHP 5.2 – 5.5
Supports Cron jobs
Free automatic backups up to 10GB or 100,000 files/folders
5Gbps CDN
I like that they offer advanced developer features such as Python along with the free CDN. The top plans also offer unlimited databases, which make this an excellent option for businesses and those needing robust database support. I do wish they'd upgraded their servers to handle more than just PHP 5.5 though; most providers support at least PHP 7, which runs twice as fast.
Two things they don't offer are free domain names and SSL certificates. However, they do provide cheap certificates for single domains.
While they don't offer a website builder, they do offer Installatron, an auto-installer which provides access to dozens of apps that include WordPress, PrestaShop, Joomla, Magento, and more. Otherwise, you can use cPanel and FTP access to upload your files.
CloudLix guarantees a 99.9% uptime SLA, and if they fail to meet this minimum uptime in any month, they offer credit as compensation. It's important to note that this SLA applies only to their fully managed services, so customers on shared hosting accounts may not be eligible.
Pricing and Support
CloudLix offers unlimited shared hosting services with all of the features listed above with only minor differences in plans as outlined below:
| | 3GHZ | 4GHZ | 5GHZ | 6GHZ |
| --- | --- | --- | --- | --- |
| RAM | 1024MB | 1280MB | 1536MB | 1792MB |
| PHP Processes | 20 | 30 | 40 | 50 |
| Databases | 1 | 3 | Unlimited | Unlimited |
| Emails Per Hour | 100 | 300 | 500 | 700 |
The 3GHZ plan is best suited for a single domain or multiple domains that don't require database access. If you need robust database support, you'll want to go for the 5GHZ plan or better.
These plans are a bit pricier than your standard web hosting; however, they do offer unlimited storage, bandwidth, and domains. The added features listed earlier also make up for the difference in price.
Take note about SSL certificates. They offer a cheap single domain option, but their multiple domain certificates can be a bit expensive. Unless you're hosting ten domains or more, I'd stick with single domain certificates as they are significantly cheaper.
CloudLix has decent support with live chat, telephone, email, and live ticketing support. However, their live chat support is not 24/7. It was offline when I attempted to contact them. Also, they don't appear to offer an online knowledge base.