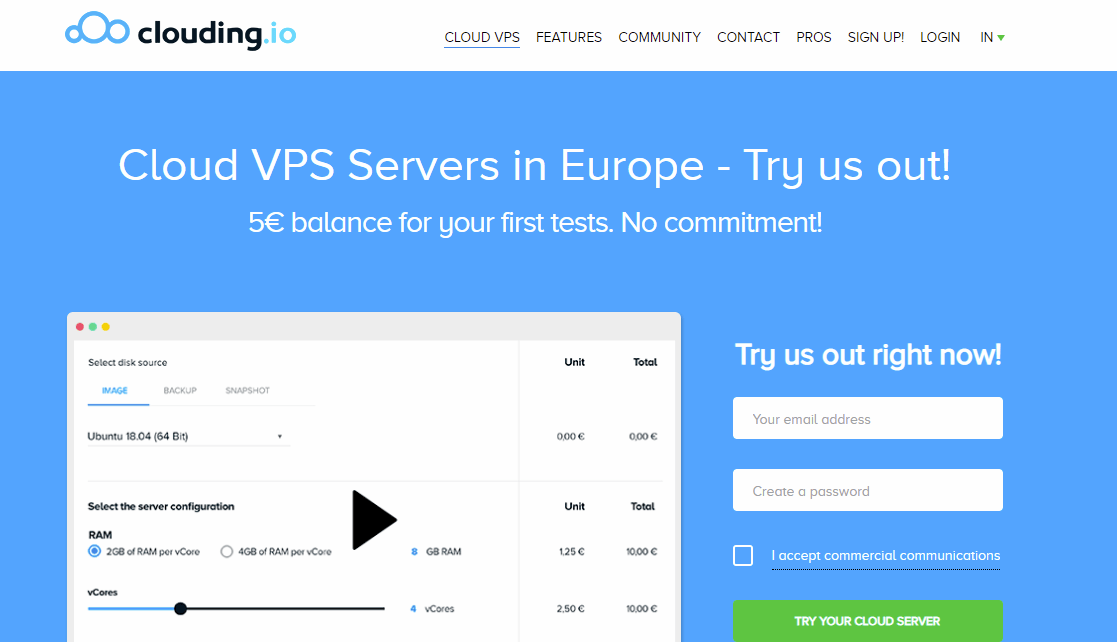 Founded in 2014, Clouding.io is a spin-off of SiliconHosting. The company provides self-managed cloud solutions, and its website is available in Spanish, English, and Catalan. Clouding.io uses servers housed in data centers in Spain.
Features and Ease of Use
Clouding.io is a true cloud solution. It doesn't come with prepared plans. You can configure a cloud server entirely from dragging features until you get what you need for your website or online store. Given that the cloud hosting is on Virtual Private Servers, small websites might end up with much more than they need. These are some of the features:
99.95% uptime SLA
Anywhere from 5GB to 1900GB SSD
Up to 16 vCore
Either 2GB or 4GB of RAM per vCore
Clouding.io provides powerful servers on Intel Xeon cores and Solid State Disk to ensure optimum performance at all times. The company uses three tiers of cache in the RAM to speed up operations. One notable feature is its type of storage, which is Ceph storage, and there are many benefits. For one, it replicates three copies of your data automatically to multiple nodes, so if one fails, the data can always be retrieved from a different node. Ceph storage also has an extra data protection system in place called erasure coding.
For security, the company has Anti-DDoS measures in place to detect untrustworthy IPs and prevent them from connecting with your server. It handles the small attacks but directs bigger traffic attacks to an external provider that can handle up to 20Tbps.
Snapshots backups can be easily taken and you can edit each snapshot and have hundreds of them on your server without utilizing large amounts of space. For full backups, Clouding.io offers a paid backup service.
Clouding.io's system is virtualized with KVM. For the operating system, you can choose either Linux or Windows, while configuring your server. It provides a client control panel that you can use to manage your VPS, and you can actually reduce or increase your server capacity through it for as long as you wish.
Pricing and Support
Would you find a hosting company that will pay you to join it? Not likely. But apparently, Clouding.io does. It offers a free trial so that you can test its service and if you take that trial, you get €5 free balance. When it comes to pricing, it's low-cost, and you get to pay by the hour. So, if you want to take your website offline at certain times, you won't pay for the time and resources that you aren't using.
You can make payment using a credit card, and once you choose to proceed and set up authentication and phone verification, your first cloud server will be up and running in less than 30 seconds.
Customer support is available through live chat, email, and phone. While you can reach support agents through email 24/7, phone support only works from 9:00 AM to 2:00 PM and 4:00 PM to 7:00 PM, Monday – Friday. I sent an email and got my first response in less than three minutes.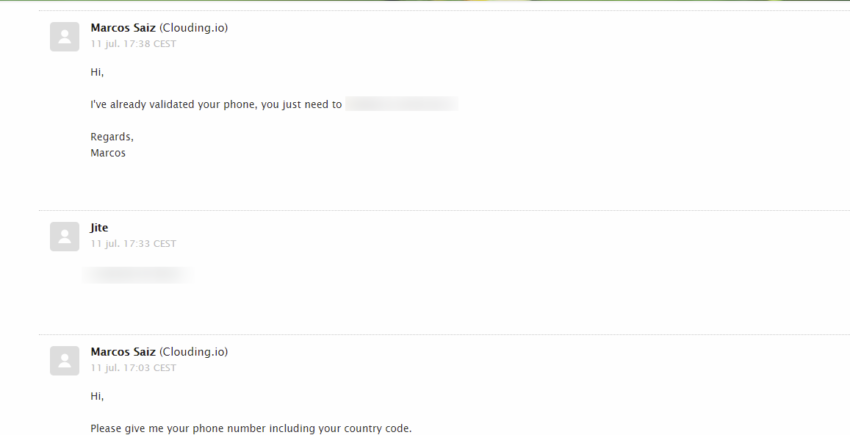 There's also a community forum, blog, and knowledge base section with tutorials.
How much does Clouding.io cost?
Clouding.io offers multiple plans priced highest to lowest. The price depends on which type of hosting plan you choose. You can see the updated pricing table (updated weekly) below.

Which Clouding.io plan should I get?
My recommendation is to start with a cheaper plan. You can always upgrade later on. Clouding.io can help you with the migration to a more expensive plan. The increase in visitors many times takes longer than expected and you shouldn't pay a lot of money until the need arises. Of course, your needs may vary, and you can consult with a hosting expert from Clouding.io here.

How good is Clouding.io's customer support?
Clouding.io is not ranked as one of our top web hosts. But that can also be a result of Clouding.io being a small, under the radar, hosting provider. There are advantages to a small hosting company – as a customer, you are more important to them. You can also check out our comparison of the most popular web hosting services here.