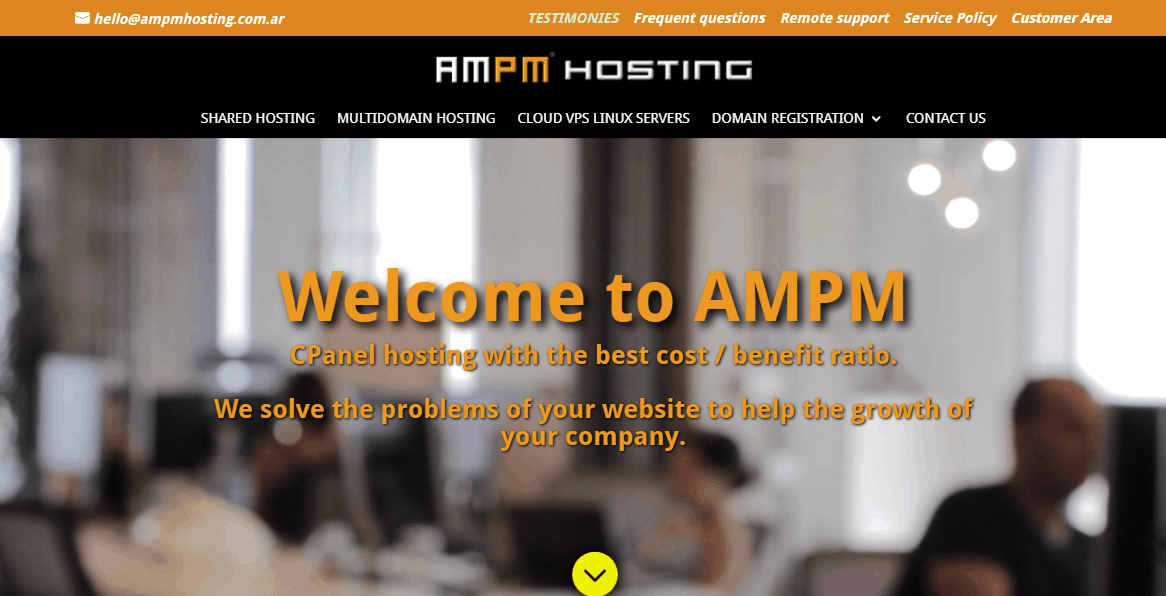 AMPM HOSTING is an Argentinian web hosting provider. It offers shared hosting, reseller hosting, VPS, and domain registration services. Its data center is located in the United States and its website is available in Spanish only.
Features and Ease of Use
AMPM HOSTING's shared hosting plans have the following features:
99.9% uptime guarantee
Free SSL certificates
From 2GB to 16GB disk space
From 90GB to 300GB bandwidth
Weekly backups
It supports different versions of PHP programming language along with Perl + CGI-bin execution and PECL / PEAR modules. Furthermore, it provides MySQL/MariaDB databases on Linux operating system.
AMPM HOSTING is one of the numerous web hosting companies that offers customers the cPanel control panel. Via cPanel, you can access files, schedule tasks (Cron Jobs), manage DNS, and do a host of other administrative tasks related to your account.
You also get access to the Softaculous application installer via cPanel. This tool enables you to set up CMSes/applications like WordPress, Joomla, Prestashop, and Magento on your domain quickly and automatically. No special skill is required to use Softaculous.
AMPM HOSTING also offers a WordPress maintenance plan that comes with WordPress updates, themes, and plugins. It also includes optimizations that make your website run faster, implement security improvements, monitoring, local backups, and basic SEO.
There is a free Let's Encrypt SSL certificate that comes with AMPM HOSTING's shared plans. Also, as part of the security feature, the company provides antivirus (ClamAV) and antispam (SpamAssassin, RBLs, and Greylisting). Furthermore, it uses Intel core servers with a strict security firewall.
The vendor offers SSD drives as an option to store your data. SSDs have proven to be more reliable, with better speed and performance. For these reasons, many users look specifically for hosting providers that offer them.
Shared hosting only works for simple websites, so if your website or E-commerce platform receives more traffic (visitors) and requires more resources, you'll need to scale up to the VPS plans. VPS is provided on the cloud infrastructure.
Pricing and Support
AMPM HOSTING provides four shared hosting plans suitable for beginners, growing businesses, and professionals, all of which come with affordable prices. Additionally, it offers free domain registration, exclusively available for .com extensions on annual plans and above.
Its subscription periods are monthly, quarterly, semiannual, annual, and biennial with discounts on annual plans and above. Only the starter plan does not offer a monthly subscription option.
Payments can be made through wire transfer, PayPal, and Market Payment. Be aware that any payment method that is not wire transfer will have an added administrative fee.
Support is available on WhatsApp, knowledge base with tutorials, ticketing system, email, and remote support via TeamViewer. I sent an email and got a reply in less than five minutes.