ZeroBounce
is a fast-growing email validation and deliverability platform that helps organizations communicate more effectively through email. In this interview,
Liviu Tanase, Founder & CEO of ZeroBounce
, and Forbes Next 1000 honoree of 2021, discusses the importance of email validation and its impact on email campaigns.
Please describe the story behind the company: What sparked the idea, and how has it evolved so far?
As a serial entrepreneur, I'd been involved in a business that relied on email for delivering critical messages to customers. While email remains such a tremendous communication channel, we saw first-hand how pervasive data decay was. On average, about 22% of an email list deteriorates every year. Businesses invest a lot of resources and effort into gathering email addresses. Email is the number one channel they use to send transactional messages – such as account confirmations or invoices. Email is also an impressive marketing avenue, offering an average return on investment (ROI) of
$42 for every $1
 you spend. Despite this potential, email data is fragile and needs consistent tending. My partners and I decided to build a fast and reliable way to restore and enhance the quality of email databases. That's how ZeroBounce came to be. We fully launched in 2017 as an email validation and list enhancement service. Then, every year, we've added new features and tools to help our customers keep their lists fresh and land their emails in the inbox. Today, ZeroBounce has exceeded its initial goal and has evolved into more than an email validation and verification service. It's a rich deliverability platform that serves more than 125,000 customers across the globe.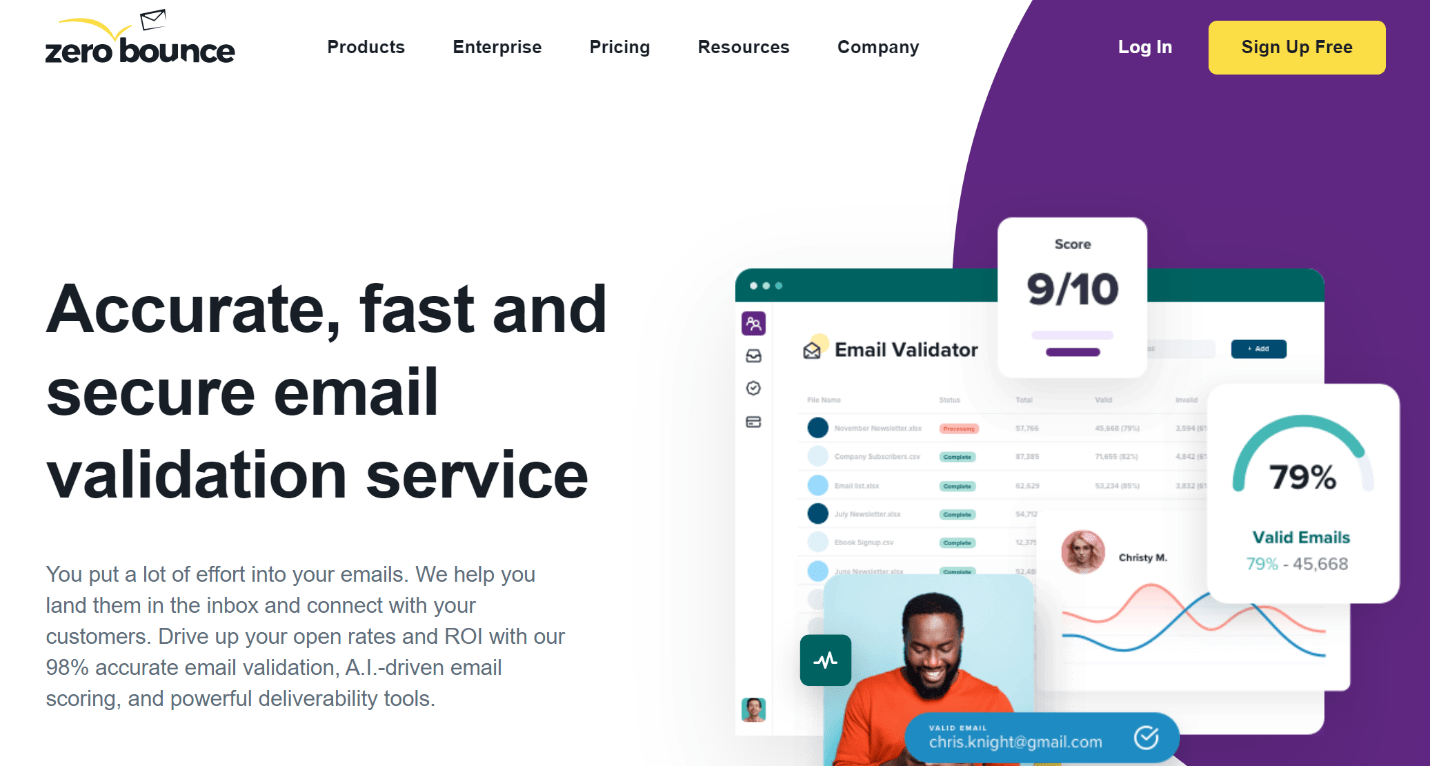 Caption: ZeroBounce relaunched its website earlier this year.
We love helping them and seeing them succeed, and they reward us every day for the hard work we've put into ZeroBounce. In 2020, our company took no. 40 on the Inc. 5000 list. This year, no. 9 on the Inc. 5000 Regionals Florida list. It's been quite a ride so far, and so exciting to be a part of this industry at such a high level.
What are some of the challenges that you solve for your clients?
Most of our customers reach out to us when they experience obvious signs of poor email hygiene. Their emails bounce, they get many spam complaints, or their open rates are low, which is an indicator that their emails may be landing in spam. Figuring out why their email newsletters and campaigns aren't reaching people can be difficult for our customers. This is where ZeroBounce comes into play. First, we help them determine what's wrong. It could be that their email lists need pruning, so they run their data through our email validator. However, there's more to achieving good deliverability. For instance, the domain and IP you send from matter. The content of your emails matters. How consistent you are with your sending is important as well. It's a puzzle with many pieces, and it's great when someone helps you put them together so you can see how to improve the results. Things get even easier when you have all the right tools at your disposal to fix potential issues quickly. Apart from the email verifier, ZeroBounce has a mail server and inbox placement tester, a blacklist monitor and several other tools to ensure emails are going where people can see them – in the inbox. Here is how you can get started using ZeroBounce:
What are some common beginner mistakes around email automation, and how can they be avoided?
Automation gets marketers excited, and for a good reason. It's improved our workflows and it is saving us so much time and energy. However, many beginners rely on the idea that you can set and forget certain things indefinitely. In reality, your automated email marketing and sales require periodical adjustment. You have to keep an eye on your metrics, test and optimize your content, and sometimes even wipe everything out and start over. Another mistake that I see is businesses wanting to automate too soon. Ideally, you'd make sure your list is in good shape, you have a clear segmentation strategy and a good email service provider. Once you can check off these aspects, then you can start planning for automation. Start slowly and build your way up with great attention to detail.
How does your platform interact with third-party software applications?
ZeroBounce integrates with virtually all the popular apps out there. As an email company, we have native integrations with platforms like Mailchimp, HubSpot and Constant Contact, to name just three. This makes it a breeze for our customers to import their lists into ZeroBounce, validate them, then export them back onto their email marketing platform – all with just a few clicks. Apart from the direct integrations, our email validator connects with hundreds of other applications via Zapier. For instance, if you use Zoho CRM or Salesforce, you can easily validate your contacts with ZeroBounce through Zapier. What's more, if you're gathering email addresses on LinkedIn or other social media channels, the ZeroBounce API will validate them in real time. This way, you add only real, solid leads to your database.
How do you expect recent developments around user privacy to impact your business and industry?
User privacy and data protection have been at the core of our service since the very beginning. When we launched ZeroBounce, there were three goals we had in mind: the service had to be effective, fast, and safe. To the best of my knowledge, it is – still – the most secure email verification platform out there. Not only do we adhere to GDPR and other data privacy regulations but also deploy strict, military-grade mechanisms to protect our customers' data. As for the recent user privacy developments, we're well-positioned and believe their goal is to enhance our daily experience with email. Before we put on our business and marketing hats, we remember that we're email users first. So we want the same level of security and protection for our audience as we do for ourselves. Some of these changes, like Apple's Mail Privacy Protection, will force marketers to find more reliable ways to track their performance. As uncomfortable as it seems now, we have to consider what we can learn and how we can improve – for both our customers and ourselves.
If you were a policymaker, what would you change in the way email is handled today?
While spam has been consistently declining in the past years, about half of all email today is still spam. I'd focus on strengthening regulations for email senders that aren't making good-faith efforts in their practices. Increasing enforcement against these bad actors would make email safer and more transparent.
How do you envision the future of email?
Email will continue to evolve, as it has, and it will be an integral part of the way we communicate long into the future. Despite all other platforms, there's still no other channel quite as powerful as email, and there are plenty of stats to prove it. In fact, all these other platforms rely on email. It's the lifeblood of our online communication. When it comes to email marketing, we'll probably see more sophisticated levels of targeting, automation, and interactivity. However, not all companies will subscribe to these trends – and they don't have to. A small business can very well send out an old-fashioned, plain text email manually and still see impressive ROI. If that email lands in the inbox and the copy is convincing, it's all you need.