Monitoring your own website used to be a complicated matter, but not anymore. These days, there are quite a few easy-to-use website monitoring tools out there, and some are even free. The most complicated matter is
knowing which one to choose.
As with any type of free service, it can be hard to know which ones you can really rely on – and choosing your website monitoring tool is a particularly critical decision. You don't want to risk
losing leads, customers, and revenue
because of a tool that isn't working properly.
Pingdom used to be an excellent, reliable free option, but now that it's no longer offering a free plan, our experts set out to find
the best FREE alternatives the web has to offer. 
You can also use this
website down or not tool
to check the status of your website.
We tested dozens of services to present you with this list, which includes not only the five best free monitoring tools, but also four paid ones for businesses with more complex requirements. We check the services on our list regularly to make sure all the information is up to date.
Best Free Monitoring Services
Best Paid Monitoring Services
Free Website Monitoring Services
1. StatusCake – Feature-Packed Monitoring That Won't Overwhelm Beginners
StatusCake
is a London-based company that's been around since 2012 and boasts an impressive client list, including Microsoft, GoDaddy, and Netflix. While most other free tools only check on your websites from a single testing node,
StatusCake has 48 testing locations
spread across 28 countries around the world.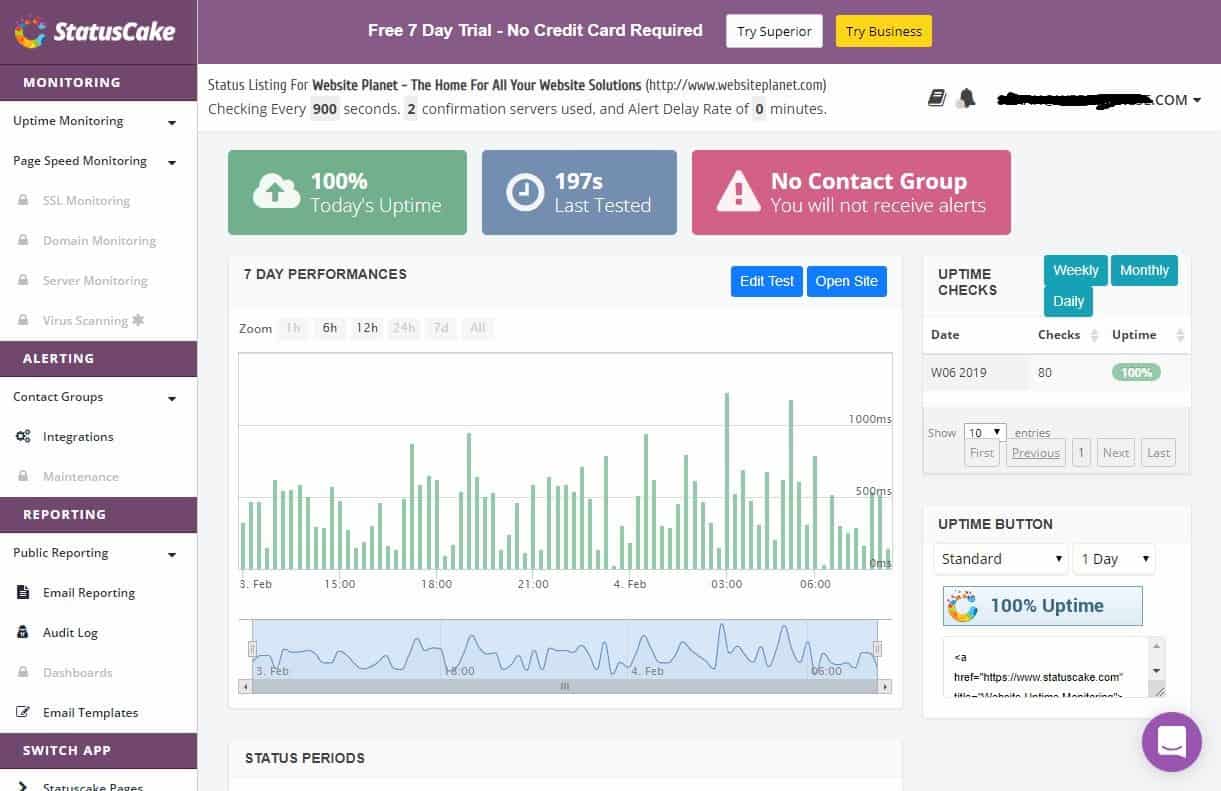 Key Features
Performance monitoring: A full breakdown of the load times for all the pages on your website, tested from different locations.
Uptime monitoring: Robust uptime monitoring that includes website checks in intervals as low as 30 seconds.
Server monitoring: Monitors user-defined thresholds of RAM, CPU, and disk usage.
Alerts: Configurable to receive via email, SMS, Twitter or through third-party integrations including Slack, Discord, Pushover, PushBullet, HipChat, and others. You'll also get unbranded reporting, so you can set how you'd like these downtime notifications to be displayed to your social media followers.
Pricing
StatusCake offers a free version which includes basic uptime and speed testing,
and will allow you to test up to ten websites. The two paid plans, Business ($24.49 per month) and Superior ($79.99 per month) allow you to test 100 or 300 websites, and also offer a wealth of additional features. The paid plans come with a
7-day free trial
– no credit card information required. When you sign up for a yearly subscription, you get a discounted price and two months free.
Pros
The convenient, user-friendly dashboard provides detailed information on your tests
The paid plans offer an impressive list of features
Your sites are checked from multiple locations all over the world
Cons
The free plan is quite limited, including only the basic features
The support team isn't always available to answer questions
Best for:
Companies of any size that want to try out straightforward, feature-rich monitoring to see if it works for them. Agencies or marketing professionals will also find StatusCake to be a good choice.
2. Uptrends – The "Something for Everyone" Player in the Website Monitoring Space
Founded in 2007,
Uptrends
provides a variety of monitoring services, from standard website monitoring to real user monitoring. The company's impressive client list includes big names like Microsoft, HP, Virgin, and Zendesk. While the paid plans offer an extensive list of advanced features, you can find several free tools on the company's website, including
a free-forever website monitoring tool
that will monitor your site from locations all over the world. The free version will send you an email alert whenever there's a problem – but not before your site has been tested from two different checkpoints, to prevent false alarms. You also get detailed data reports which you can export to PDF or Excel.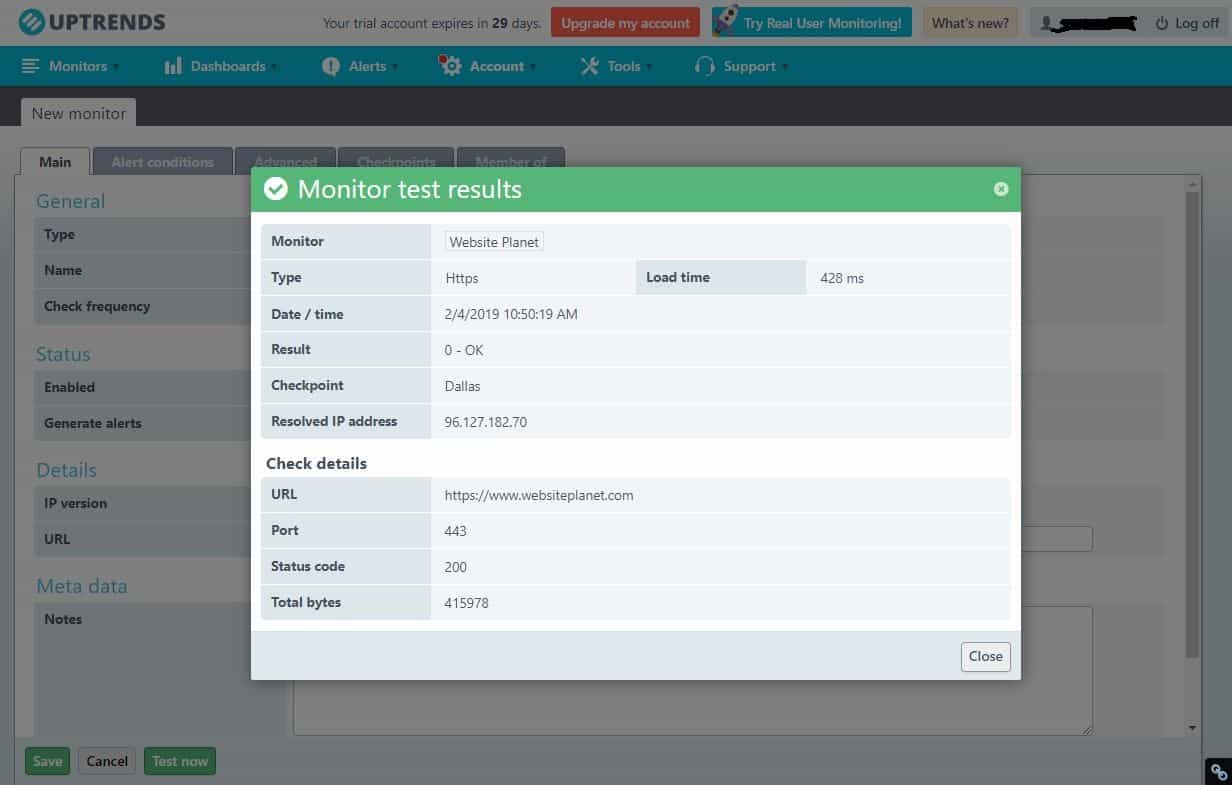 Key Features
Multi-browser monitoring: Uptrends offers "real browser monitoring," which hits your website with the three major browsers to recreate your users' experience. The Full Page Check feature hits every webpage and element on your website, and it's got 200 worldwide checkpoints for a true global performance monitoring.
Private checkpoints: In addition to the company's 200+ checkpoints around the world, you can also get your own private checkpoint which can run behind your firewall and monitor your business' intranet and internal applications.
Transaction recorder: Record and monitor all transactions on your website and get detailed information on shopping processes, website functions, and load times. Analyze your results with a series of powerful tools.
Pricing
Uptrends offers three Basic and two Advanced plans. The basic plans range from $14.59 per month for 10 monitors to $204.21 per month for 250 monitors. The two advanced plans offer premium services like
multi-browser monitoring and transaction monitoring.
They are priced at $34.94 for the business plan and $63.21 for the enterprise plan.
Real User Monitoring
can be added to any plan for an additional fee, which varies according to the number of pageviews. All plans come with a
30-day free trial
– no credit card information required. You get 20% off the price when you sign up for an annual plan.
Pros
The free version offers decent features you won't find with most other free services
The paid plans offer valuable features such as mobile web and real browser monitoring
Over 200 checkpoints around the world – you can have your site tested from all locations, or just select the ones you need
Cons
The free version is still quite limited
Not the most user-friendly interface
Best for:
Basically any type of user, from private users who want to monitor a single website for free, to large businesses who have the budget to invest in one of the feature-rich paid plans.
3. Uptime Robot – Basic but Reliable Service in a Free Plan
Malta-based
Uptime Robot
has been around since 2010 and has grown to become a popular and well-respected website monitoring service provider. Your websites are tested from
20+ locations around the world.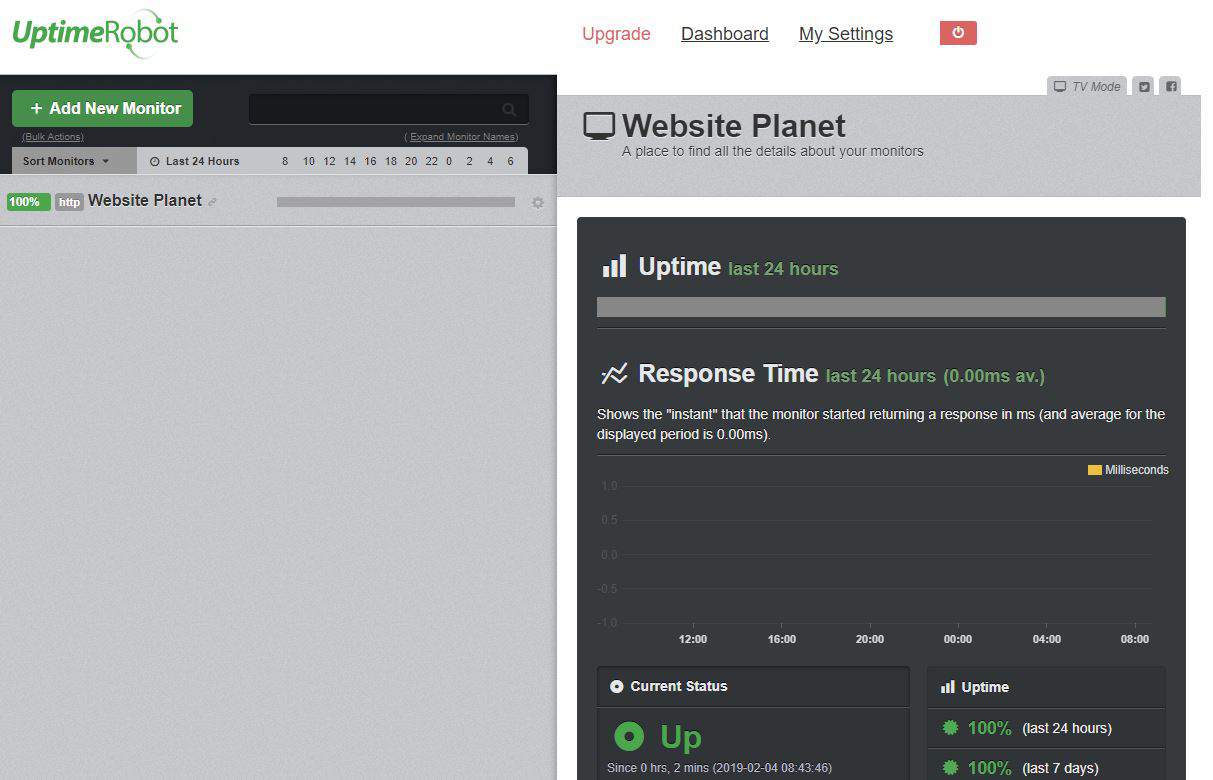 Key Features
Uptime monitoring: Uptime Robot will test your websites every five minutes to make sure it's up and running. With the Pro Plan, you can test in one-minute intervals.
Downtime alerts: Standard alerts come through email, but with the paid plan, you can get text message or voice call notifications.
Platform integration: Uptime Robot has recently added integrations with a number of other platforms, including Google Hangouts, Twitter, Telegram, Slack, and more.
Pricing
Uptime Robot offers a standard free plan that includes
50 monitors per month and two months of logs.
 With the Pro Plan, you select a number of monitors and the price is adjusted accordingly, ranging from $5.50 per month for 50 monitors to $746 per month for 20,000 monitors (larger accounts are available upon request). If you pay annually instead of month-by-month, you get a
20% discount.
All the paid plans offer 12 months of logs plus advanced alert features, such as customization based on downtime duration thresholds. You can also get SMS or voice-call alerts.
Pros
Reliable monitoring and alerts when your website is down
Configurable advanced notifications to ignore minor downtimes
Multiple integrations with social media and third-party apps
Cons
No speed monitoring (uptime only)
Dashboard isn't the most user-friendly
Best for:
Small and medium businesses and private users looking for a reliable, budget-friendly monitoring solution. Large companies and more tech-savvy users would probably be better off with a difference service.
4. Montastic – No-Frills Website Monitoring for Free
Montastic
keeps things simple with a clean, minimalistic website and no extra features. It does exactly what it says it will do: monitor your website and send you an email if it's down. You also have the option to enter keywords and choose to get alerts if they are present or not present on the page in question.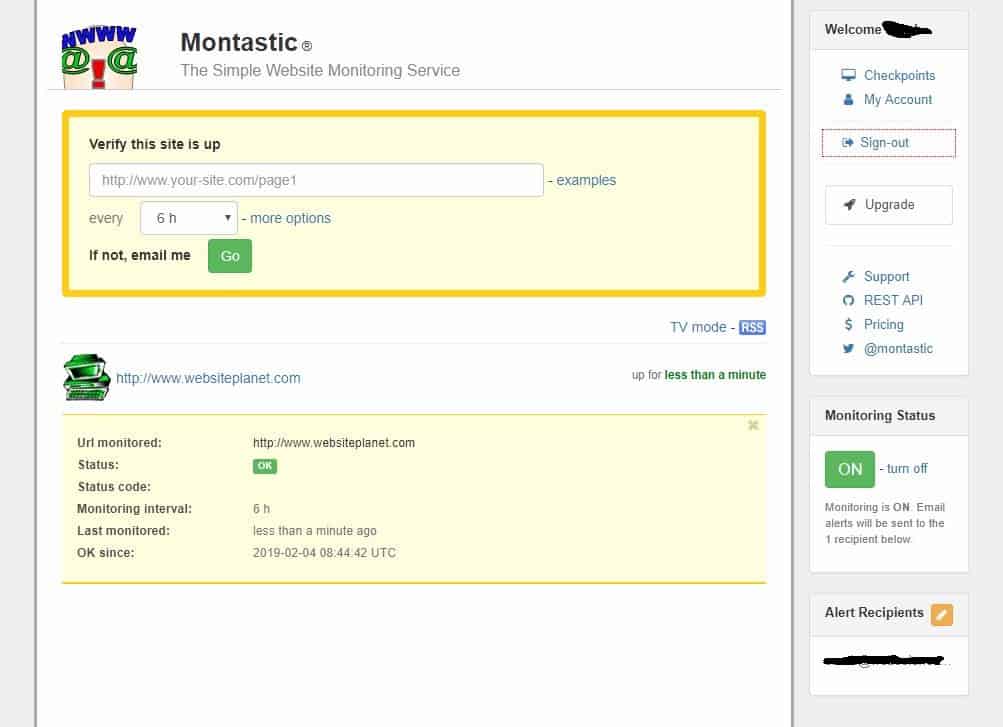 Key Features
Uptime monitoring: Montastic checks your website in intervals of 30 minutes, 60 minutes, 3 hours, 6 hours, or 24 hours. It sends you an email when your website goes down, and another email when it comes back up.
Log in with Google: Montastic requires you to sign up to use its service, but Google login integration allows you to skip the registration process by connecting your Google account instead.
Multiple Alert Recipients: Instead of only sending the downtime alerts to a single email address, you can add multiple recipients so that all relevant personnel are notified whenever your website goes down.
Pricing
Montastic offers a
basic free plan
that will check the availability of up to three websites every 30 minutes. With the paid plans, which cost between $5 to $49 a month, you can monitor up to 500 websites with intervals as low as five minutes. The plans are billed monthly, so you can downgrade or cancel whenever you like.
Pros
Reliable, uncomplicated, eand easy to use
Affordable and flexible paid plans
Email alerts can be sent to up to six recipients
Cons
No advanced features such as performance or transaction monitoring; could be overly simple for some users
No text message alerts
Best for:
Small companies with limited budgets and non-technical users who only need to know if their websites are up or down.
5. Uptimia – All the Important Features Without too many Extras
Uptimia
is a relatively new player in the market, but it's already shown impressive growth, landing clients such as Pepsi, Akami, and Nokia. The company offers monitoring services for small businesses and large enterprises, including uptime and speed monitoring as well as transaction monitoring and real user monitoring. The company offers
a free-forever plan
which allows you to monitor one website in five-minute intervals. The free plan includes uptime monitoring only.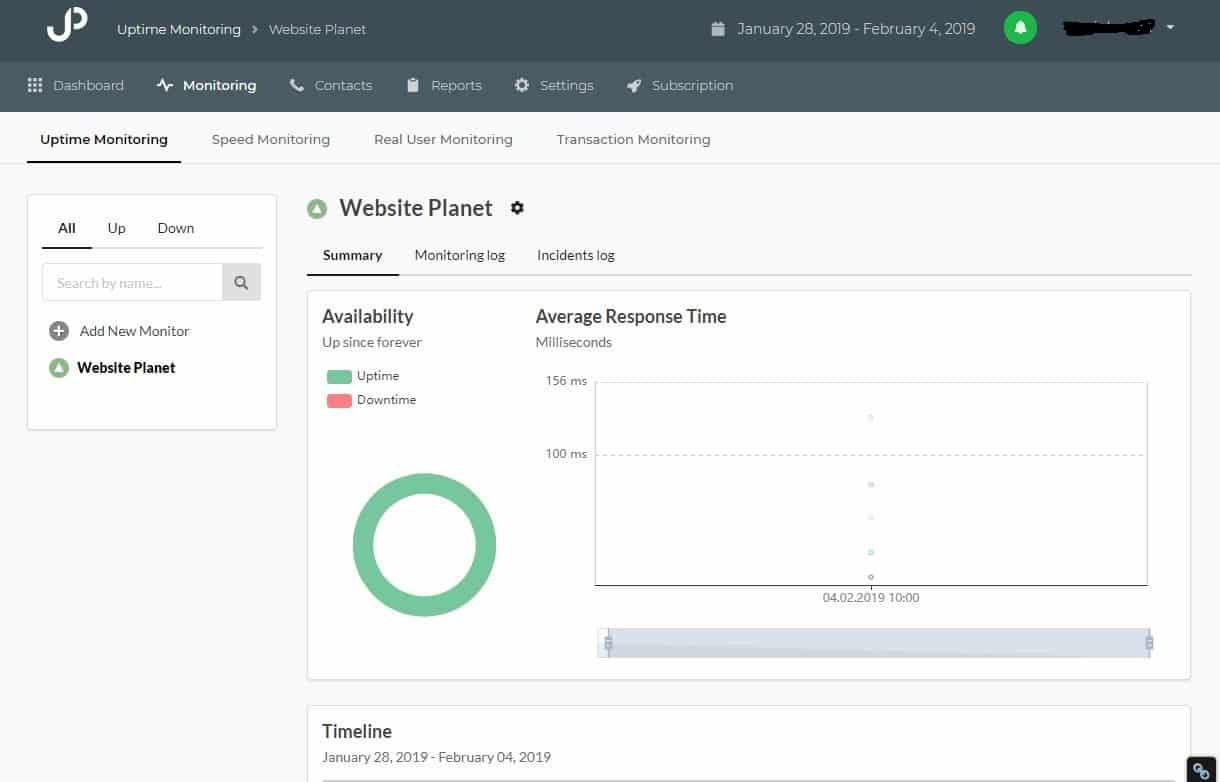 Key Features
Uptime monitoring: Monitors your website from 170+ global locations at intervals as low as 30 seconds.
Performance monitoring: Includes monitoring load times with real browsers as well as real user monitoring (RUM), which can measure your website's performance according to individual visits.
Custom-branded reports: You can use your company's logo and color scheme for the daily reports, making Uptimia a good choice if you're part of an agency managing websites for your clients.
Pricing
Uptimia offers three basic monthly plans: Starter at $10 per month, Standard at $34, and Advanced at $90. There's also an Enterprise plan at $185.
You get significant discounts when you sign up for an annual plan.
Plans differ primarily in the number of uptime checks and advanced checks, real user monitoring pageviews, and number of users. The free plan can be used on a single website and reports uptime only, but there's also a
fully-functional 30-day free trial
which requires no credit card information.
Pros
The company's redundant infrastructure includes two data centers, meaning the service can operate smoothly with no interruptions
Detailed failure analysis and root-cause analysis allow you to understand exactly what went wrong and figure out a quick solution
Speed monitoring detects loading problems with internal and external elements
Cons
The free version is very limited
Many performance metrics are capped for individual plans
Best for:
Companies of all sizes that need a straightforward monitoring service from an impressive number of worldwide locations. If you're a private user looking for a free service, you'd probably be better off with one of the other options on this list.
Paid Website Monitoring Services
1. Pingdom – The BMW of Monitoring Software
Sweden-based
Pingdom
was founded in 2007. Acquired by IT management software giant SolarWinds in 2014, the company has grown fast and is now providing services to many large brands, including Amazon and Major League Baseball. Pingdom offers a comprehensive list of features to
monitor everything from speed to user experience.
Detailed reports allow developers and managers to make informed decisions on steps they can take to improve their websites.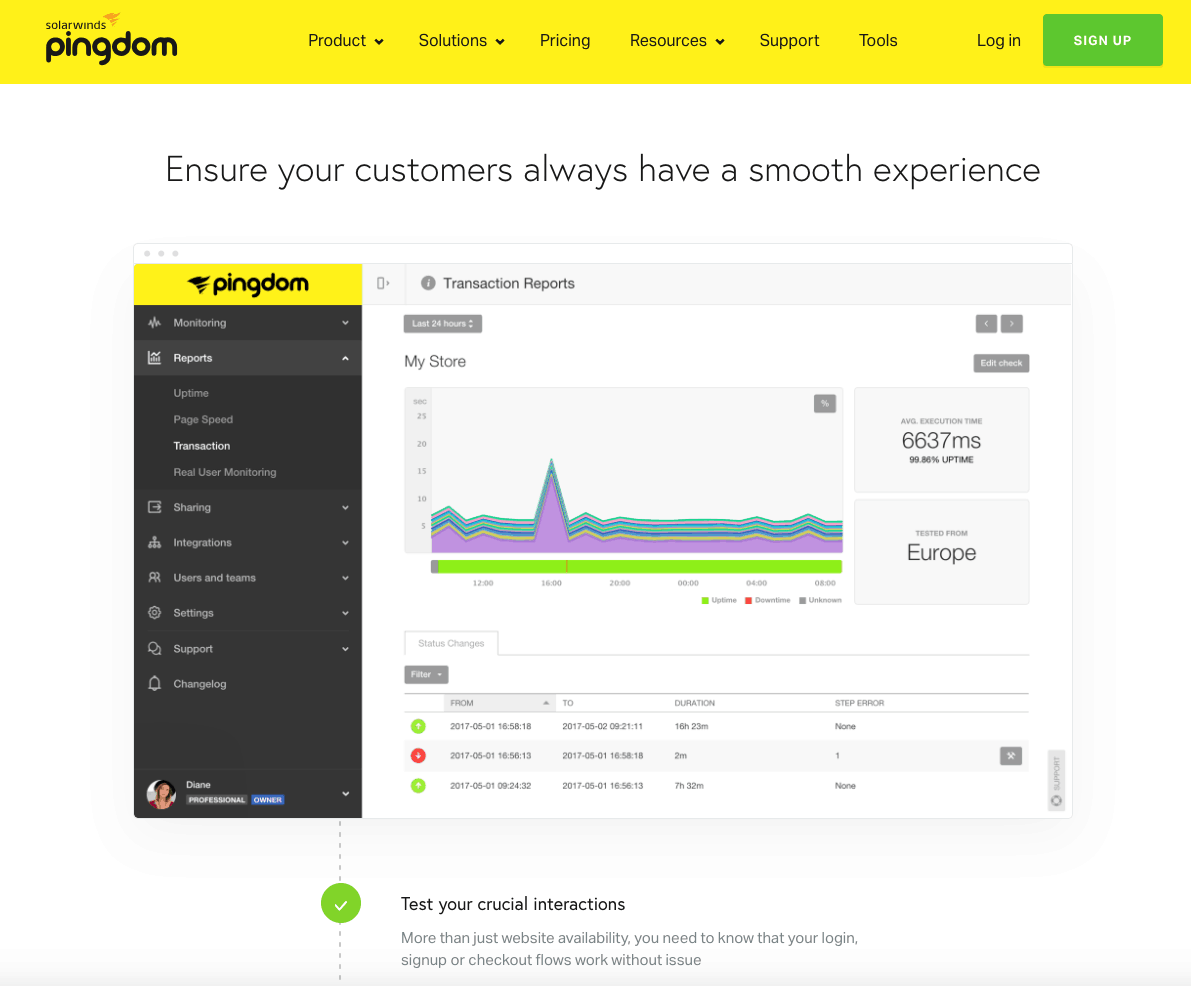 Key Features
Uptime monitoring: Pingdom not only checks the availability of your website, applications, and servers – it also provides you with detailed information so you can quickly fix any issues.
Visitor insights: Website experience monitoring provides you with real-time data from actual visitors to your site, enabling you to get to know your users and understand how changes in performance affect their experience.
Solutions by industry: Pingdom's solutions are tailored to different industries, such as e-commerce, web development, and entertainment.
Interaction monitoring: Pingdom can monitor and assess the end-to-end performance of particular interactions, like e-commerce transactions. This capability offers valuable detailed information about how visitors are encountering your website.
Pricing
Pingdom offers four different packages, ranging from $14.95 per month for the Starter plan to $199 per month for the Professional plan. The plans differ in the number of websites you can monitor, number of pageviews per month in the Visitor Insights feature, and a few other advanced features. You get a 20% discount if you pay annually. When you sign up for a new paid account, you get a
14-day free trial
so you can test out the service before you commit. The website will ask you to enter your credit card information to get the trial. However, sometimes it pays to wait –
if you don't sign up for a plan right away, you'll receive an email offering a free trial with no credit card information.
Pros
Many advanced monitoring features you won't find elsewhere
Specialized solutions for different industries and different challenges
Detailed reporting provides you with all the information you need to improve your site
Cons
The company is no longer offering a free plan
The user interface may be challenging for non-technical users
Best for
: High-volume websites with serious risks attached to website performance. If your company has a mission-critical need for consistent performance tied to revenue or customer relationship management, Pingdom is an excellent choice. If you're just looking for an easy way to monitor your website's uptime, a simpler solution could probably do the trick.
2. Host Tracker – The Dream App for "Big Data" Geeks
If you choose to go with
Host Tracker
, a reputable service provider who has been around since 2007, you'll be in good company. Its client list includes giants such as Microsoft, Panasonic, and Colgate, among many others. The service allows you to perform various types of tests, such as uptime, page speed, and health & security, from
140+ locations around the world.
You can also check if your website is listed on any known blacklists.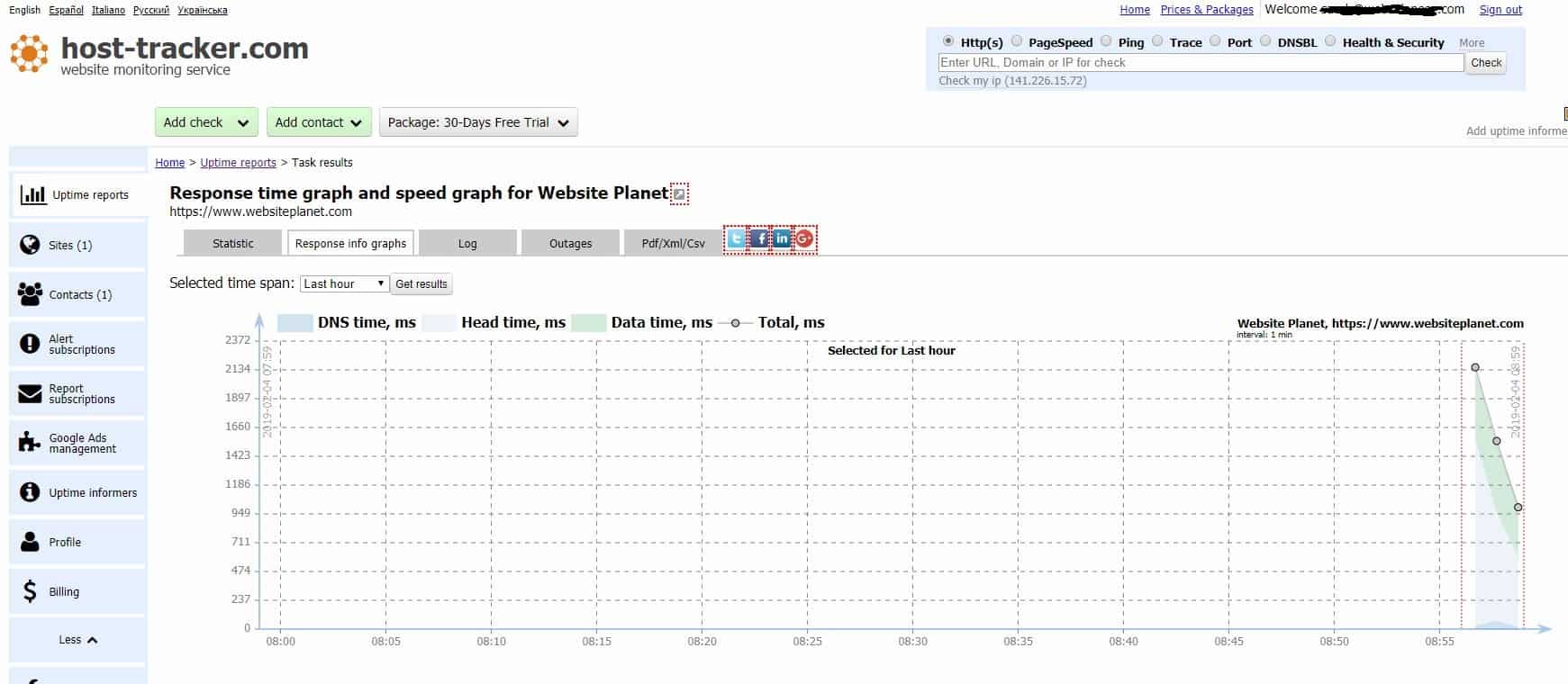 Key Features
Performance monitoring: HostTracker breaks down its performance measurements into DNS lookup time, connect time, "first byte" time, and download time. This enables a granular view that makes it easy to spot specific bottlenecks.
Uptime monitoring: HostTracker's "availability check" feature is similarly detailed and can be configured to check not only the website and server availability but also applications connected to your website as well as your database connections.
Alerts: Highly customizable alerts via your choice of email, voice message, SMS, Skype, Google Hangouts, or Viber. You can also set conditions and assignments for alerts to ensure that each team member gets only the appropriate ones.
Auto-pause Google Ads: HostTracker can automatically pause your AdWords campaign if your website is unavailable, and start it when the site is back up.
Pricing
Host Tracker offers four monthly plans: Webmaster at $14 per month, Business at $29, and Enterprise at $99. If you sign up for an annual plan, you get discounts ranging from 24% to 37%. There's also a
30-day free trial
available – no credit card information required. The main differences between the plans are the number of URLs you can check, the frequency of the checks, and several advanced features.
Pros
You can have unlimited alerts sent to unlimited contacts (or 10 contacts in the Webmaster plan)
Google Ads Management saves you money by pausing your AdWords campaigns when your site is down
Website is available in multiple languages
Cons
The dashboard interface is quite basic and a bit old-school
Free-forever version no longer available
Best for:
Small and medium-sized businesses with multiple websites and complex web applications that need a lot of granular data on website performance. Companies that have multiple projects or revenue sources will especially appreciate the ability to customize reports.
3. Site24x7 – A Service that Time-Crunched IT Professionals Will Love
Site24x7
is a U.S.-based company, founded in 2006. The company provides performance monitoring solutions targeted at DevOps and IT professionals. You can use the service to
monitor your websites, APIs, servers, and much more.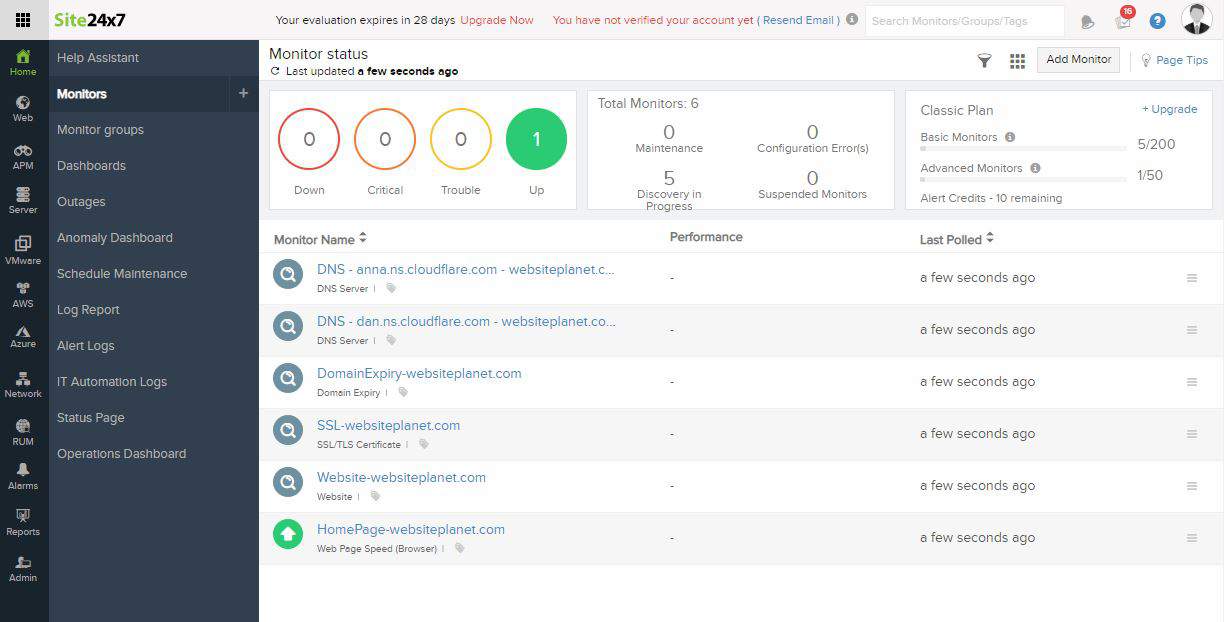 Key Features
Performance monitoring: Comprehensive performance monitoring from 90 global locations, checking internet services, internal network performance, web page components, and more.
Real User Monitoring (RUM): Real-time tracking will tell you everything you need to know about your users' experience on your site. Detailed reports will allow you to analyze your visitors' behavior and spot any pertinent issues.
Public status pages: This feature allows you to notify your customers of any downtime. They are sure to appreciate your business transparency.
Pricing
Site24x7 offers three basic monthly plans: Starter at $10 per month, Pro at $39, and Classic at $89. There's also an Enterprise plan which starts at $225 per month. If you pay annually instead of month-to-month, you get attractive discounts. The plans differ primarily in the number of websites you can monitor and the number of synthetic web transactions that are deployed when using the Real User Monitoring feature. All plans come with a
30-day free trial – no credit card information required.
Pros
Offers many additional features like network and server monitoring packages
Pro-level dashboard UI for users with a strong tech background
Mobile app performance monitor available
Cons
Limited alert customization, causing some users to get overloaded with alerts
Highly complex service, not appropriate for beginners
Best for:
Companies with IT and DevOps teams that need a robust feature set in an affordable and user-friendly package. Keep in mind that non-technical types may find it challenging to learn.
4. Monitis – A User-Friendly and Easily Customized Service
With clients like clients like Visa, Puma, and Harvard University, you know you can trust Florida-based
Monitis
with all your website monitoring needs. The comprehensive service is aimed at business executives, IT specialists and service providers.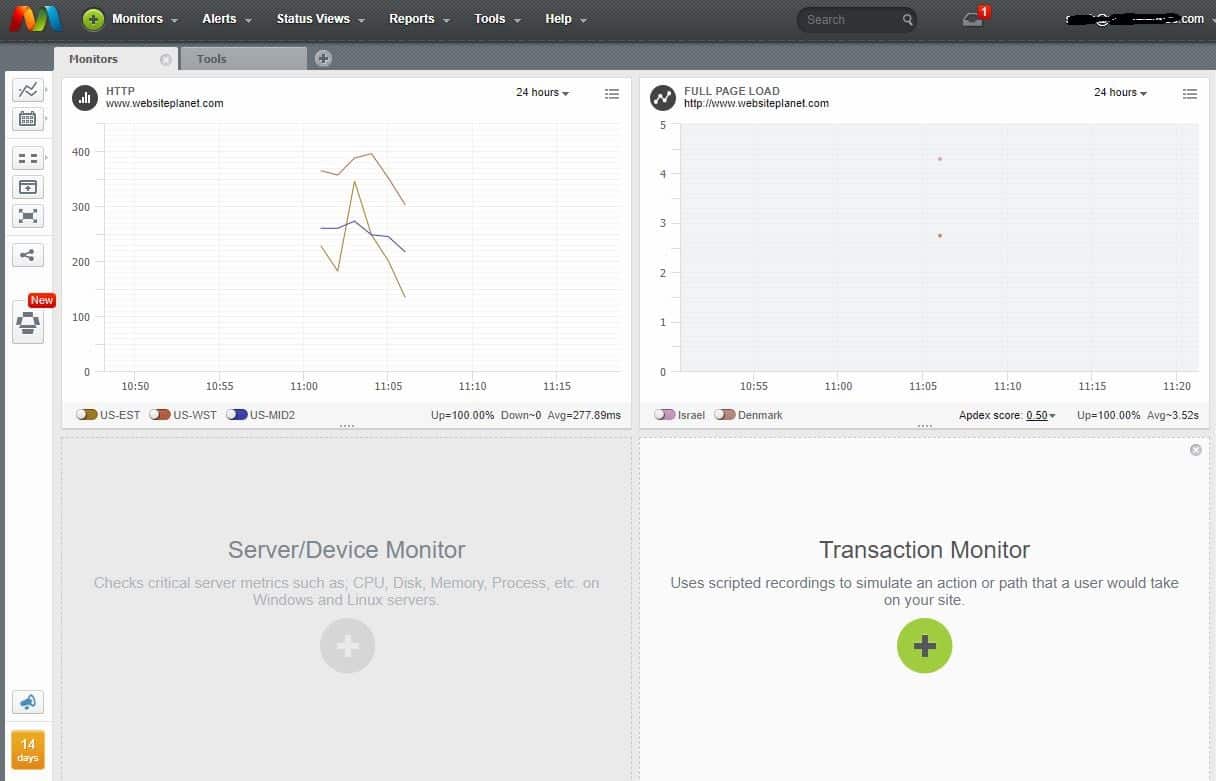 Key Features
Uptime monitoring: Monitors multiple protocols to ensure the smooth performance of your websites, servers, networks, email, and more.
Performance monitoring: Includes load monitoring and website stress tests to anticipate outages, along with synthetic transaction monitoring to test individual user journeys through your website.
Data retention: Performance logs are stored for two years, which is longer than many other monitoring tools out there.
Pricing
Monitis offers a "build your plan" approach that offers features in an "a la carte" menu. The minimum plan costs $9.80 per month. There's a ton of flexibility here, though opting for every feature can quickly rack up your costs. You save 20% with the annual plans, and you can also take advantage of a
15-day fully-featured free trial (no credit card required).
Pros
Cloud-based software; no downloads or installations required
Live chat and phone support in English and German
Customizable plans; pay only for what you need
Cons
If you need a lot of different features, the plans can get pricey very quickly
The dashboard is quite complex, and could be difficult for new users to learn
Best for:
Companies of all sizes that need a strong feature set combined with excellent support. Time-strapped IT pros will especially appreciate the ability to customize features and interfaces.
Which Monitoring Service Is Right for You?
If you're not already monitoring your website, or you're unhappy with your current service, it's a great time to take a look at your options. Were you surprised by the results of your uptime test? Don't forget to read our
10 Fastest Ways to Increase Your Website Uptime Today
.
| | | | | | | | | |
| --- | --- | --- | --- | --- | --- | --- | --- | --- |
| |  Uptime Monitoring | Speed Monitoring | Real Browser Monitoring | Customer Journey Monitoring | Configurable Alerts | Popular App Integrations | Monitoring Locations | Cost |
| StatusCake |  x |  x | | |  x |  x |  48 |  $0 – $66.66 |
| Uptrends |  x |  x |  x |  x |  x |  x |  200 |  $0 – $50.57 |
| Uptime Robot |  x | | | | |  x |  1 |  $0 – $746 |
| Montastic |  x | | | | | |  Unknown |  $0 – $49 |
| Uptimia |  x |  x |  x |  x |  x | |  171 |  $0 – $159 |
| Pingdom |  x |  x |  x |  x |  x |  x |  70 |  $11.95 – $995 |
| Host Tracker |  x |  x | | x |  x | |  142 |  $9.92 – $74.92 |
| Site24x7 |  x |  x |  x |  x |  x |  x |  90+ |  $9.00 – $449 |
| Monitis |  x |  x | |  x |  x |  x |  35 |  $9.80 & up |