With the emergence of the "Gig Economy," the number of companies looking to outsource projects to creative freelancers has increased. We spoke with
Stuart Logan, founder & CEO of Twine,
about their unique process of connecting companies with the required freelance talent, and how their platform is set up to protect and enhance the experience for everyone involved.
This interview was originally published on June 12. 2020.
Please tell us a little bit about your background before founding Twine.
I come from a tech background, having studied computer science, but have also always had a massive passion for the creative industries and did a lot of freelance web design and development during university. After graduating, it didn't really occur to me to get what you'd call a "proper job" (laughs), and I continued freelancing. I created my first company, in a real niche area, going on to found Clowdy, a network to fill the gap where LinkedIn did not work particularly well for people in the creative industries. Over a year or so, we got to 40,000 users and had to choose whether we wanted to focus on full-time recruitment or freelancing. We chose the latter and rebranded as Twine.
What is Twine?
Twine is a marketplace that connects companies to creative and digital freelancers – everything from animators and illustrators to marketers, web designers, and web developers. There are currently 300,000 freelancers on Twine, so it is a really vibrant network. Companies use Twine's simple job posting process to prepare a brief of their project. We then connect that job with relevant freelancers who can contact and pitch to the client.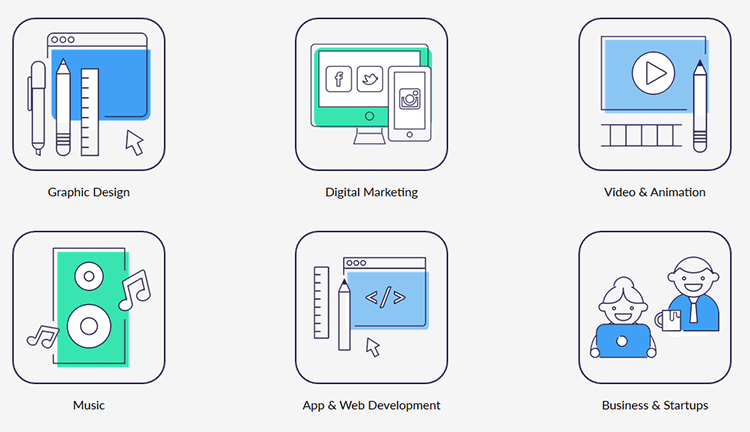 Where we differ from some other platforms is that we vet pitches before presenting to the client. We want our clients to have a good experience, so we make sure these proposals hit our relevancy threshold and quality level. We won't block a pitch for something intangible like a freelancer's style because it's tough to determine what a client might like. Our vetting also benefits freelancers since we give them feedback if and why we feel their pitch won't be accepted, which helps empower them to improve their process and build their careers.
What type of advice might you give a freelancer?
Our website has a lot of information for creating the perfect pitch. But one of the most common mistakes we see is freelancers not being specific about how their particular experience is relevant to the project. We try to help them get into the mindset of the client so they can better express why they are a better choice than the others bidding for the job.
How do companies and freelancers register with Twine?
There is no cost for companies to post jobs or for freelancers to register. We make our money by charging companies a commission at a fee above the project's agreed-upon price.
Are freelancers required to have a certain level of expertise or amount of experience to register with Twine?
I think that's one area where we differ from other marketplaces. Our mission from Day 1 has been to empower freelancers and creators, so I believe that anyone should be allowed to register. I don't want a situation like some other platforms that are not truly open to new members, and their limited set of freelancers create a "rich get richer scenario." I feel the competition in our platform really raises our quality. A less experienced freelancer can benefit by winning smaller jobs where a client might be looking for someone more junior at the beginning of their career. Working on these smaller jobs is how they gain experience, build more trust on the platform and go on to compete and even win larger jobs against more experienced people.
How does the "matchmaking" process work?
After vetting and putting through the pitches that hit our criteria, we encourage clients to start discussions with the freelancers. Frequently, especially if it is a more complex project, freelancers will have questions that need answering to understand the full scope and give a final quote. Once the client decides who they want to work with, whether it's one or multiple freelancers, payment is made through Twine to secure them. For a fixed project, companies will pay a deposit, which is held by us, sort of like an escrow. Once the client is happy with the final deliverable, we collect the remaining balance and release the monies to the freelancer. Alternatively, if companies choose to hire based on daily or hourly rates, they can tie into our weekly billing system.
How many pitches on average would you put through to it to a client?
It's really interesting because in the early days, I thought, incorrectly, that a client will only want to see a few pitches, so we would curate and send them three to five of the best ones. What the data actually showed was that clients were more likely to hire once they had reviewed between ten and fifteen options as, especially with creative work, they need to see a variety of different styles and price options. Clients can close the job to more pitches earlier than that if they have reviewed enough, or they could open up for more if they're not happy with any of the ones they've already received.
Is there a limit to how many pitches you will submit for a freelancer?
There are two tiers of freelance accounts, a standard free one and a pro one. Free accounts are limited to 15 pitches per month for two reasons. One is to stop spammers and secondly, to really encourage freelancers to be selective of the jobs they really want rather than just copying and pasting pitches without putting in much time or thought. Pro accounts are limited to 50 pitches per month.
What collaborative tools on Twine facilitates companies and freelancers working together?
Clients and freelancers can message each other through our platform. For file sharing, we integrate with Dropbox and have plans to open up to additional file transfer services like Hightail. We are currently working on creating an open platform that will enable freelancers and clients to integrate their favorite tools and services with Twine to create a familiar, efficient workflow.
What happens if a company wants to stop a project or change freelancers once it has begun?
Because of the way we set projects up, it doesn't happen often, but we encourage the freelancer and client to resolve it between themselves. A freelancer who has not started or gotten particularly far into a project may decide to waive their fee. Or they may feel they're owed payment for the amount of work they have done so far. We will feed that back to the client for their position and try to mediate the situation. Ultimately, it's between them and what is in their contract, so we encourage them to communicate and resolve the situation.
What if there is a freelancer who seems to not work well with just about every client assigned to them?
As with most marketplaces, we have a rating system for freelancers to help qualify success within our platform and are in the process of building a rating system for clients as well.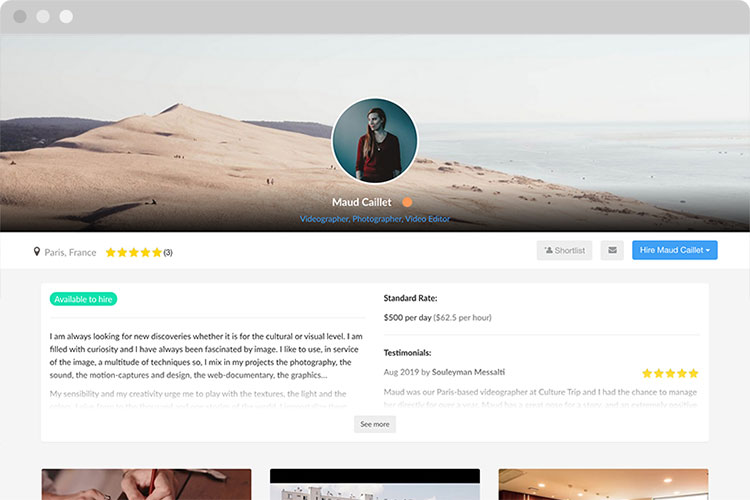 How does Twine protect a freelancer's work?
Our project-based system is set up so that companies only receive the final project files once payment is completed. Additionally, our contract terms state that all work remains the intellectual property of the freelancer until they assign it over to the client. Stolen intellectual property is a criminal matter which a freelancer can pursue.
What is Twine Enterprise?
Twine Enterprise is for larger companies who do a substantial volume of freelance hiring. One of our current enterprise customers has 200 freelancers working to produce thousands of pieces of video content to create an open-source database for machine learning. Our commission rate for these companies is slightly lower, and we assign a customer success team member to help them with their projects as well.
Now that companies and employees have become more comfortable with remote working due to COVID-19, do you think we will see an increase in freelancing?
Definitely, the reason we initially started focusing on freelancers was the emergence of three really interesting trends. The first is the well-documented "Gig Economy" trend, which indicates that 40% of the US workforce will freelance in some capacity this year. What is more interesting is that when looking at Generation X, Millennials, and Generations Z, we see that each generation is more likely to freelance than the one before it, so this was a growing trend anyway. Then there is the automation revolution, which, due to technology, will automate 30% of today's jobs by the mid-2030s. That will mean considerable shifts in company budgets as they move towards research, development, creativity, strategy, marketing, basically any area that cannot easily be automated. This will create a huge skills gap, which I think can only be closed by being open to a remote workforce, a big part of which is freelancing. Thirdly, is company hiring in this time of high-frequency change. An interesting statistic shows that in 1950, companies were in the S&P 500 index for an average of 60 years, now they're only in it for 15. Today's companies are changing, growing, and getting into competition more quickly than ever before, so they need to be flexible, and a flexible freelancing workforce is a big part of that. I think these three trends, combined with the current COVID-19 pandemic, will definitely accelerate the growth of freelancing.