For a business to be taken seriously, there is nothing more important than professional and consistent corporate branding.
Yali Saar, CEO of Tailor Brands,
explains how their proprietary platform uses design experience, AI, and Machine Learning to guide you through the creation of a successful logo and extended branding.
This interview was originally published on May 17, 2020.
Please tell us a little about your background before Tailor Brands.
I actually come from quite a different background. I started as a television and theater actor, and then transitioned into journalism, eventually becoming a political spokesperson. I then did some creative work at various ad agencies. After moving to New York to study, I started a non-profit,
Raising the Bar
, which focuses on rebranding education. The organization is still active today in New York, San Francisco, Hong Kong, Sydney, and Melbourne. In 2014, I cofounded Tailor Brands with Tom Lahat and Nadav Shatz. Tom is a UI/UX designer, while Nadav has a physics background and worked at a couple of tech startups like JAJAH and AppCard – he's the tech wiz of the bunch! Together, we built an algorithm that could do the creative things we did, such as my copywriting and Tom's designing. From personal experience, we realized how difficult it is to get a business off the ground if it doesn't look professional, so we decided the first application of our algorithm would be a logo design tool. The tool was a great success, but it wasn't enough for our customers. They kept making additional requests, such as: "I have a meeting at the bank/with a new partner, can you help me with a presentation?" "Can you help me create a business card?" "Can you help me set up a website?"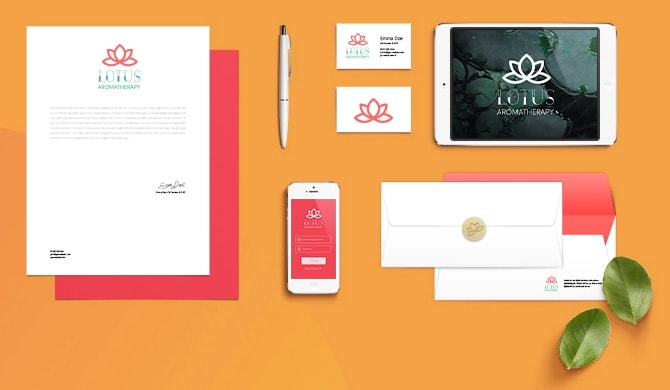 When we took a closer look, we realized that the big branding agencies were servicing big brands with large budgets – and nobody was taking care of smaller businesses. We knew how important great design and branding are to a business's success. It's what helps a business look professional from the beginning, which ultimately gets people to trust it, buy from it, invest in it…you name it. We wanted to give small businesses who couldn't afford big agencies a fighting chance to succeed. So we expanded our algorithm to create a suite of branded tools for small and solo businesses.
Why is branding so important?
In today's world, it's really difficult to stand out. If you look at the statistics, more than half of new businesses close within their first year. When you start a business, you really don't have anything yet – you don't have customers, you don't have a big fancy office, you don't have a lot of connections. But if you manage to help people see and believe in your business idea as you do and take you seriously, you have a better chance at success. Branding helps you achieve all that.
How does your logo creation tool work?
Our logo creation platform uses AI and Machine Learning to help anyone create and customize the perfect logo without using generic templates. When we looked at the logo design industry, we saw that the only options available for logo design were either simple template-based logo generators or crowdsource/marketplace services.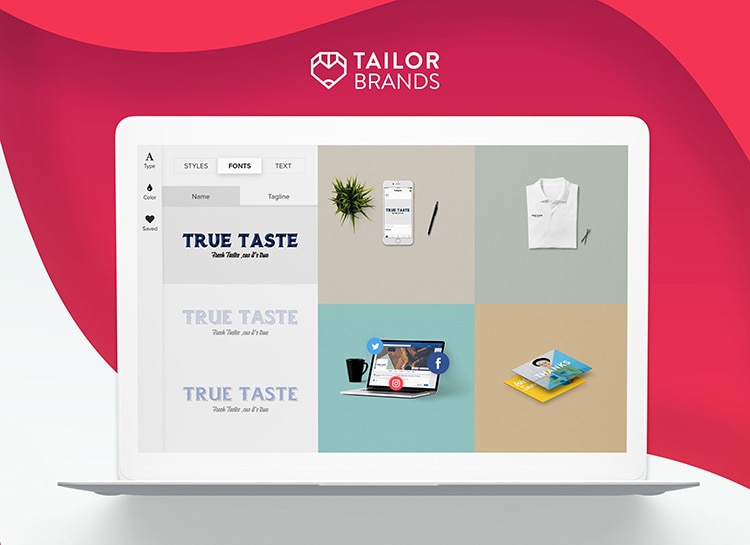 We couldn't understand how in today's day and age, you can create a website in minutes, but for a logo, you have to either settle for bad design or go to a crowdsource platform, wait a couple of days, and then maybe get what you want – or maybe not. We wanted to streamline the logo design process, so we became the first to incorporate ML to design logos without templates running in the background – making sure that everything was truly unique and customizable. Tailor Brands uses three different ML functions to analyze your business's needs based on your input and combines it with hundreds of millions of data points we've created over the years to create the perfect logo design just for you. And, a "perfect logo design for you" doesn't just mean a logo you'll love – our platform also understands which logos will work best for your type of business and industry.
So, your algorithm gives recommendations based on knowledge of which designs are successful?
Yes. And that's thanks to the ML technology running in the background (that other logo design companies don't have). Tailor Brands is the largest AI-powered logo design platform in the world, with 14 million+ businesses using our platform and over half a million new customers every month. We have an excellent understanding of what works and what doesn't. The process is simple and takes just a few minutes. First, you enter your business name, industry, and some additional information about your business. The platform then walks you through a set of visual examples, and, based on your selections, creates your profile. Using your profile, our ML function creates thousands of different logo designs for your business.
These designs will match your taste. Perhaps even more importantly, they'll also be relevant for your industry since we know the structure, typefaces, styles – basically everything that goes into a winning logo for the specific industry that you're targeting. During the logo creation process, we want you to feel as if a designer is sitting right next to you.
It's about designing something you love with the guiding hand of our technology telling you what will be successful.
And if you ever have a question or feel your logo is missing that final touch, our customer service team will help you complete your design.
What other branding tools do you offer?
Once you've designed your logo, you can take your brand to the next level by creating a branded website, designing on-brand, beautiful social posts, and creating and printing branded merchandise. Our platform gives you everything you need to take your business from the idea phase to having it up and running out there in the world.
What can be created with your online design tool?
A brand is expressed through every touchpoint that a business has with potential customers. That's why your social media presence must be compelling and have a consistent brand language. Our new design tool now makes it easier than ever to create beautiful, on-brand social media designs, such as posts, banners, profile pics, etc.m in seconds, based on your logo and brand style. This ensures consistency across your social media.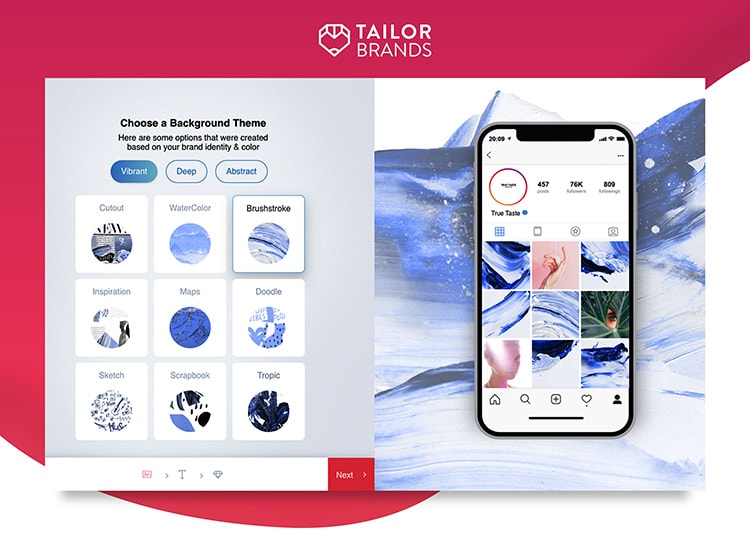 When purchasing a domain or building a website with Tailor Brands, must it be hosted on your servers?
You can purchase a domain through us and connect it to any website hosted with any provider. Similarly, when building your website with our tools, you can choose to host it with us or another website provider.
What is your merchandise design tool?
By now, you realize that we believe your logo is the center of your brand. So, once you've finished creating your logo, we create a t-shirt design, sweatshirt design, notebook design – just about any merchandise you can imagine, all on-brand. Of course, if you wish, you can edit it to your liking, but it's ready to go, and you can print it through one of our partners on our site and have it delivered. Our mission is to help anyone start their business and thrive. We believe that every business idea deserves an equal opportunity to succeed, and we can help make that possible by designing everything that solidifies that idea into an actual business. Because at the end of the day, Tailor Brands is optimized to help you achieve the best professional results.