People.ai
delivers the industry's leading revenue operations and intelligence (RO&I) platform. Using its AI-powered SmartData(™) platform, it transforms business activity such as email, meetings, and contacts, into account and opportunity management solutions that increase sales rep productivity, accelerates revenue growth, and maximizes marketing return on investment. In this interview
Joseph Lee, Vice President of Growth Marketing at People.ai
shares his insights on how data intelligence platforms help salespeople thrive, driving customer retention and current trends particularly following the effects of the global pandemic.
Please give us a bit of background to People.ai and the solutions you provide to customers?
People.ai is the world's leading revenue operations and intelligence platform. We capture all sales data from your emails, calendar and meetings, match that data to accounts and opportunities in Salesforce, and provide insights for sales reps, coaches and managers on their coaching. We help sales leaders figure out how their teams are performing and how they can optimize teams to meet and exceed their goals. We also build account and opportunity management solutions utilizing that data, helping sales teams ensure better deal execution and a better understanding of companies and the accounts that they are going after. We make data actionable for sales.
What makes People.ai stand out from other data intelligence platforms?
Taking a step back, if we think about the relatively brief history of how we have used data in enterprise, first there was digital data in customer relationship management tools, like Salesforce. The problem was salespeople having to manually enter all that data. A range of solutions became available to automate this, ingesting all the data possible. This became what we now know as big data. Unfortunately, when you indiscriminately ingest all data, it becomes unactionable.  At People.ai we understood the critical importance of making the data actionable and creating relevant and compelling insights from that data. So, for example, say I'm a sales leader. If I look at my Salesforce dashboard and see my sellers have had 100 meetings last week, that in and of itself is useless data to me. Were they good meetings? Were they with the right people, and did they have positive outcomes?  With People.ai, we not only ingest those meetings, but also associate those meetings to the company or the business unit they were with and the active opportunity. We then pull insights out of that data. For example, out of those 100 meetings, perhaps we determine that 20% were with executives and 15% of them were in a specific business unit. To have that level of matching, you would historically have needed a human to read the meeting notes and the emails, and you'd then need to connect it to the right place in your CRM. But we don't stop there. We are taking all of that actionable data and providing managers with insights – real action steps – that they can pass onto their salespeople. Competitors come out of this big data play by just ingesting data, which is just an unactionable mass of data. We are building something for you that is smart. We actually call it "smart data." Managers look at the data and instantly gain insights needed to make decisions on how best to coach their sales teams.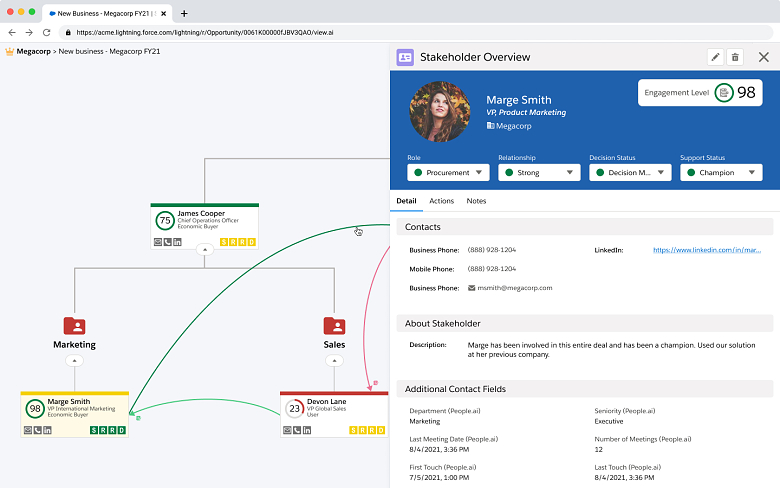 How does People.ai help salespeople thrive in the new age of digital sales?
We increase sales productivity several ways. For one, we automate a lot of your manual data tasks. For the tasks that we can't automate, like meeting notes or opportunity notes, we make that data entry process even easier.  We recently released PeopleGlass+, a spreadsheet-like interface that sits right on top of your CRM and enables sales reps to go in and quickly update fields of their deals and notes. It syncs with Salesforce, so reps no longer have to click through multiple screens on Salesforce.  With that data, we surface insights to the reps, reminding them of opportunities that may have a lack of engagement or where less executives are involved with than what may be required statistically to have a higher chance of closing a deal.  At an individual level, our platform is constantly trying to increase sales productivity by generating more revenue per rep. Another layer is how we help managers and leaders coach and manage their teams.  If you have been around sales circles, you may relate to the stereotypical management scenario, where you see top management demanding sales from reps, then disappearing and reps hitting the pavement trying to do whatever possible to close a deal. I think there is still some of that culture in sales today. Compare that scenario to an Olympic sports team, for example, where you have monitors tracking your heartbeat and lung capacity and dozens of other metrics. The data is analyzed and optimized all in an effort to win the gold/be the best you can be. That is how we see the future of sales. That is the type of technology we are creating, where we track all the little things that make a great sales rep and coach them towards excellence, constantly beating the last year's records.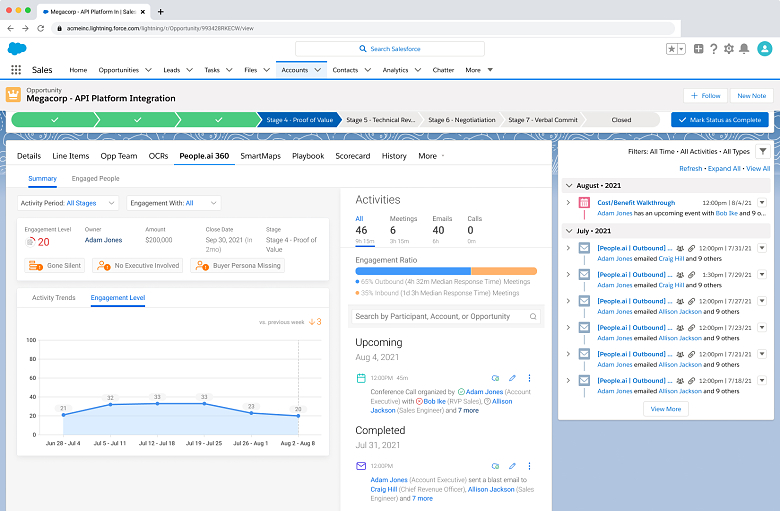 Most marketers pay attention to new customer acquisition strategies with less focus on customer retention – in your view, what can marketers do more of to create this connection and bridge the gap?
The world of marketing has changed rapidly in the last 10 to 20 years. You think about the classic Don Draper marketer from Mad Men—the creative, the artistic brand guy—and you think about where we have gone since then, especially in the last 20 years. With the advent of technology, you had marketing automation, which created the marketer who was all about generating MQLs – – marketing qualified leads – – which invariably led to the classic sales versus marketing battle: marketing is not sending me enough leads/sales is not following up on my leads. What has happened in the last 10 years is marketers have realized that to show value to sales, they need to align with a metric that matters to them. Marketers have become all about the pipeline, with complex attribution models trying to measure pipeline influence. I think that CMO 3.0 will be all about revenue. With the technology we have, especially in more consumer, high velocity roles, CMOs can now generate revenue directly without a salesperson and all online. For a marketer to care about retention and upsell, you must orient them around revenue, which is going to force them to care about the entire customer lifecycle journey. In my business, especially in B2B enterprise, the funnel looks something like this: drive brand awareness; capture the lead or contact; spin up the opportunity; close the deal into revenue; retain that deal for ongoing revenue. Upsell to generate more revenue; and make that customer an advocate, creating a referral. You must understand your funnel – where the leaks and opportunities are, and have an honest conversation with yourself or your Go-To-Market team.  "How can marketing best impact those leaks and opportunities?" Sometimes the marketing organization is not set up to create the upsell and cross sell. The opportunity could fall into "lead acquisition" or "new business" divisions.  In partnership with your Go-To-Market partners, you should figure out who is best to handle and tackle the leaks and opportunities at every step of the funnel.
What are some of the best ways for B2B marketers to drive better retention practices?  Can this be supported with People.ai?
First and foremost, partner with sales and customer success because they are involved in the upselling and cross selling deals. Then we need to spin up programs for customer advocacy, product adoption and account expansion. Advocacy is all about mobilizing your customer base to sell for you. You do this with reference programs, case studies, and leveraging social media to pump folks up. It can also entail gifting and inviting folks to different experiences we host. The goal is to create raving fans who are creating referrals and giving you free marketing, free impressions. Then there's leveraging product adoption. Typically, in a CS team, there is a customer enablement or education department. Take all the good material work they're doing and use our marketing channels to make sure the content is being consumed to increase retention. People who use your product typically stay using your product. Finally, account expansion. This is the upsell and cross sell. It means partnering with Sales and Customer Service to run marketing campaigns to generate more revenue from the business. Overall,  
People.ai
 data, along with our account management solutions are critical to increasing customer engagement and improving retention rates.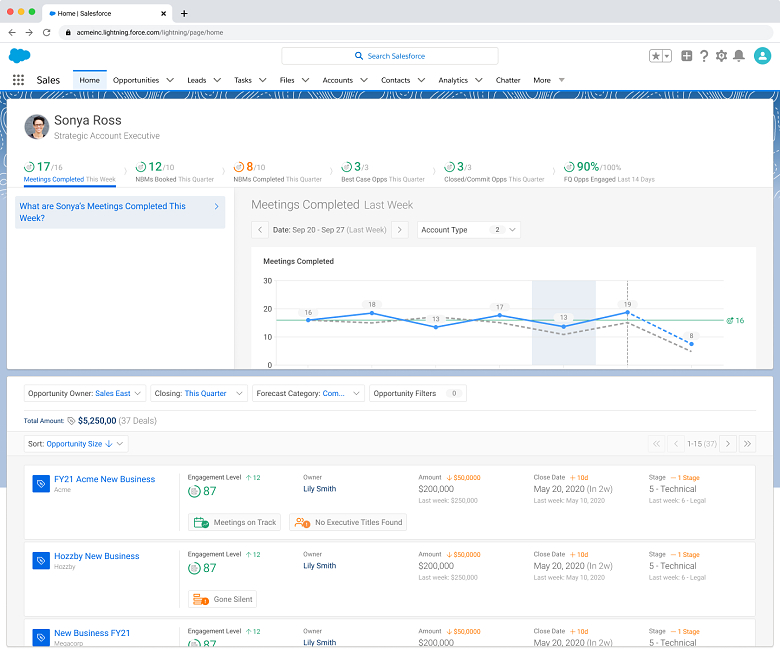 In the lead-prospect handover to sales, what are some common challenges you see marketing-sales teams struggle with? Any advice to help?
We talked about, "Marketing isn't sending me enough leads" and "Sales is not following up on my leads"—both of which are very common occurrences.  The other common occurrence as we are evolving now is "Marketing isn't generating pipeline" or "Pipeline influence is a meaningless metric." Sit down with your sales and operations counterparts and talk through the following:
What are the qualification criteria every step of the way? If you are focused on leads, what does a qualified lead look like? Agree to it and have hard qualification criteria so the moment there is a dispute on the quality of leads you have the qualification criteria that both parties agreed to.
What are the rules of engagement and service level agreements? Do you have a plan when a lead comes in? What happens to those leads? What do the handoffs look like? What are the time frames of those handoffs? At People.ai, I run our sales development team, which takes all of our inbound leads. There is an service-level agreement (SLA) of two hours for a demo request, meaning they need to follow up on that lead within two hours, or 24 hours for a piece of content. They then need to hand it off to sales, who then have an SLA and specific time to determine how to handle that lead. Ensure your tools and systems are properly set up.  One of the biggest mistakes I see high growth marketing teams do is under invest in operations up front, meaning their databases and tool stack are inadequate, and nothing integrates with each other.
The next area is enablement. You have the rules of engagement, you have the SLAs, but are people trained on how to do this?  That's a fact we often forget.
You must also consider dashboards and unified dashboards. Does everyone have a single source of truth that they agree is single source of truth, and do they trust the data?
And finally, consider interlocks. What is your cadence of meeting with your sales counterpart to make sure all this is functioning?
What are some of the core B2B marketing trends that you've been observing, and in what ways are you seeing the effects of the global pandemic change the way marketers change their core processes?
I would say two years ago, my answers would always have been about continuing trends like account-based marketing (ABM,) personalization and artificial intelligence/machine learning (AI/ML), but now I think it's very different. For one, there was a lot of fat cutting and a lot of focusing on great execution. We saw a return to the basics to a certain degree, budgets were slashed, and everyone was uncertain if our programs that had been successful for the last five years would continue to be successful. What I noticed was a return to virtual events and executing those so well. The creativity was a little bit more frugal, which I think created a lot of great foundational pieces.  It has been an odd time where we don't have a lot of budget but still need to figure out how to keep the business going, and we have no idea how to continue to spend money in this brave new world. I think the trend in marketing has been to pendulum swing between tactile and digital. Previously, everything was about virtual events and webinars and then everything was about direct mail and billboards. What COVID made us do was consider both, and you're still seeing that, especially as we emerge out of it, because there are all these people now who are itching to go out, so we've spun up live field events again, and they've come back with a vengeance. However, you still have people who are not willing to engage in that, so we are also now doing cocktail-making parties at home, for example.  There is this interesting hybrid motion that is going to become more and more important as we emerge out of the pandemic. I've also seen an acceleration of the emergence of the revenue focused marketer. During the pandemic, the marketer has become more important than ever.  Sellers lost their primary selling tool, which is being able to hop on a plane and meet face-to-face with their account. It was the marketing departments in the most successful companies that came up with creative ways to help sellers bridge that gap. Sellers, more than ever, have become interlocked with their marketing partners. As I think about 2022, and I'm starting to talk to my peers, I am excited, assuming we continue on this positive trajectory, because there is a ton of pent-up demand for two things: growth and face-to-face interaction. Every company had their COVID plan, which was some percentage of their actual growth plan, and now everyone's asking, "how do we turn the ship so we could actually go back to the three-year plan that existed two years ago?" At People.ai, we took a big strategic risk about six months ago to say, "we are going to go 'all in' on field events in the fall, because we believe there's a first mover advantage." Whoever is in the field first will get all the attendance. Every single one of our field events have been oversubscribed this fall. Budgets in 2022 will be restored. There will be a buzz with all these new hybrid type motions, and the marketer will be more important than ever.  Assuming we trend the way we are currently trending, next year could be some kind of marketing renaissance in terms of what we do.
Are there any new developments or exciting updates in the pipeline that you would like to share?
2022 is going to be a fantastic year for us. One of the things we're most excited about is a new category emerging. Five years ago, we were one of the first companies to coin the term 'Revenue Intelligence' and we defined this category. Last year, we were one of the first to start seeing the trend in an emerging category, and we said, actually, it's not just revenue intelligence, but revenue operations. So we coined this phrase on our website, 'Revenue Operations and Intelligence.' You not only need the intelligence, but you need the tools to make that intelligence actionable.  Both Gartner and Forrester have defined a category as RO&I, Revenue Operations and Intelligence,. We believe in the next six to 12 months, the magic quadrant is going to come out and say, "This is it, this is the category that future companies are going to need." It is all going to be about the data, because that is what makes it happen. As I said in the beginning, smart data is what makes us unique. It's going to be a great year for us next year, as we're positioned as the leader of this emerging space. On top of that, our platform continues to mature. We are creating new tools like PeopleGlass+ that not only helps automate the data but makes the data entry easier than ever.  So now we have this really nice package solution that is going to be validated by this new emerging category, and I think the rest is going to be history.